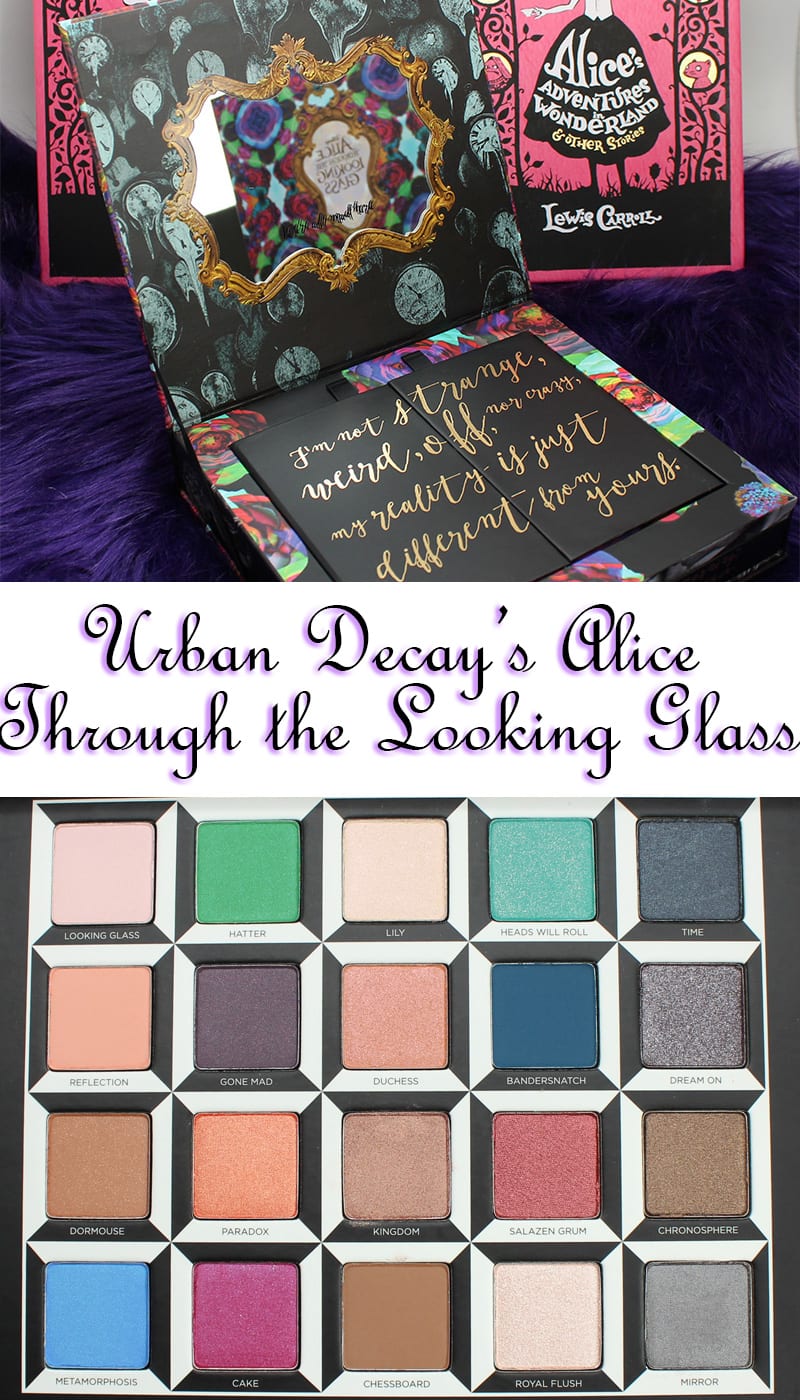 As soon as I saw that there would be another Alice movie, I fervently hoped that UD would do a collaboration. I'm excited to share with you my thoughts on the new Urban Decay Alice Through the Looking Glass Eyeshadow Palette. I LOVE Urban Decay. This is no secret. They're my #1 favorite brand. I'm sure that's clear because of the numerous looks, reviews and giveaways I've done. They're also the brand that gets the most attention from you on my blog! Make sure you check out the Alice Through the Looking Glass lipsticks too!
Urban Decay Alice Through the Looking Glass Eyeshadow Palette
PR sample.
This collection launches May 1, 2016 on Urban Decay's website and then it will launch later at Sephora, Ulta, Macy's and Beauty.com. It's Limited Edition and will likely sell out fast.
Watch my thoughts on this collection in my video!
Price
$60 for 20 x .04 oz
Where to Buy
UrbanDecay.com, Ulta, Sephora, Macys, Beauty.com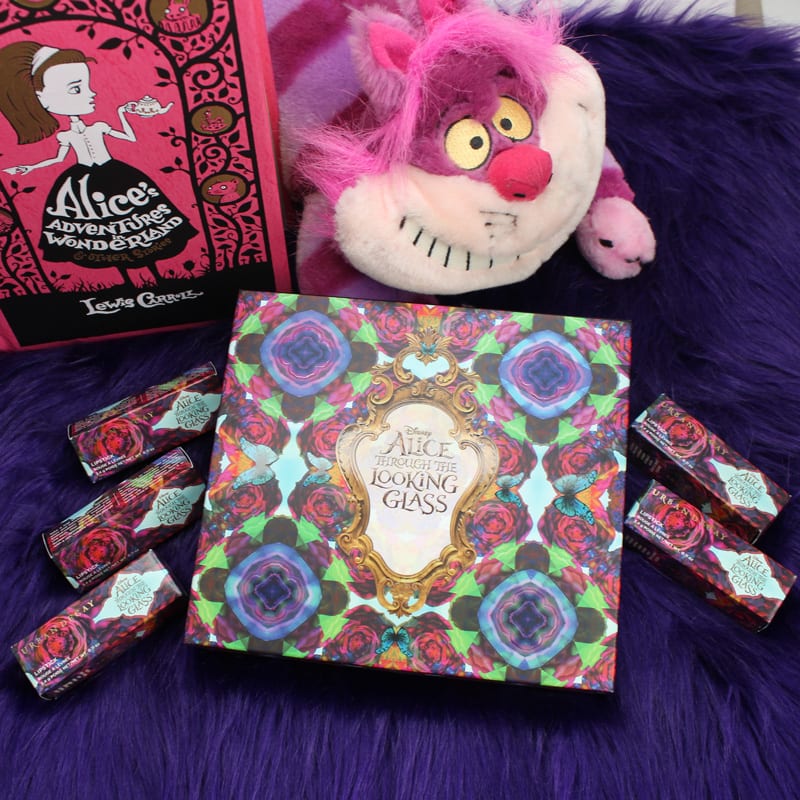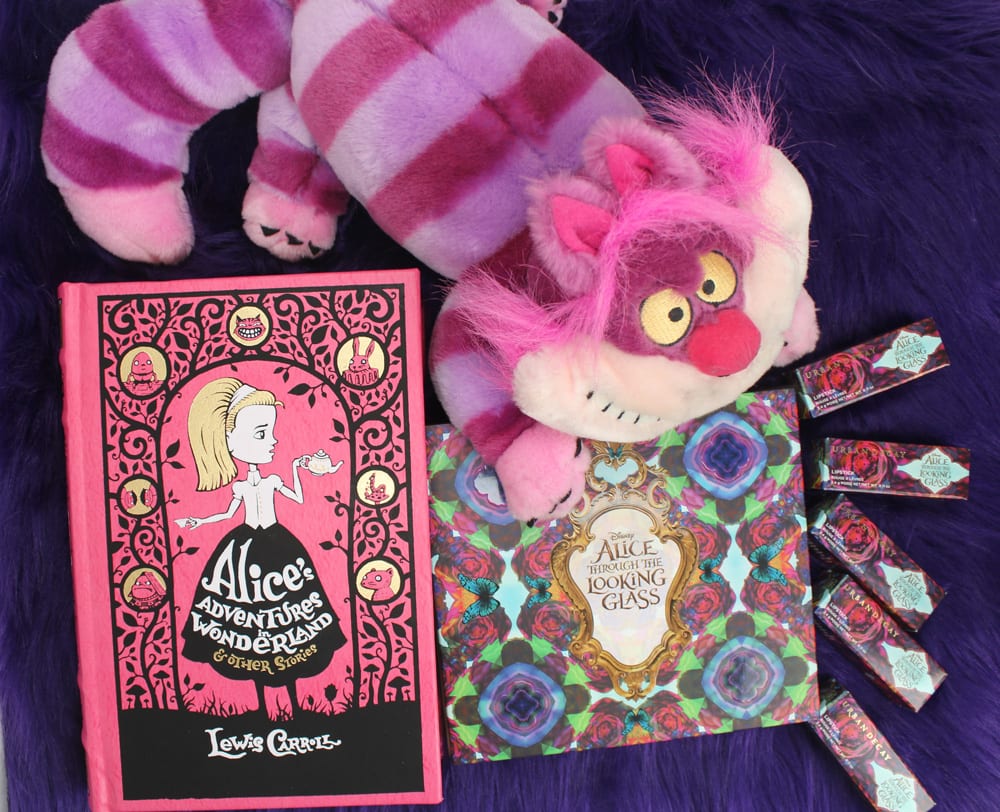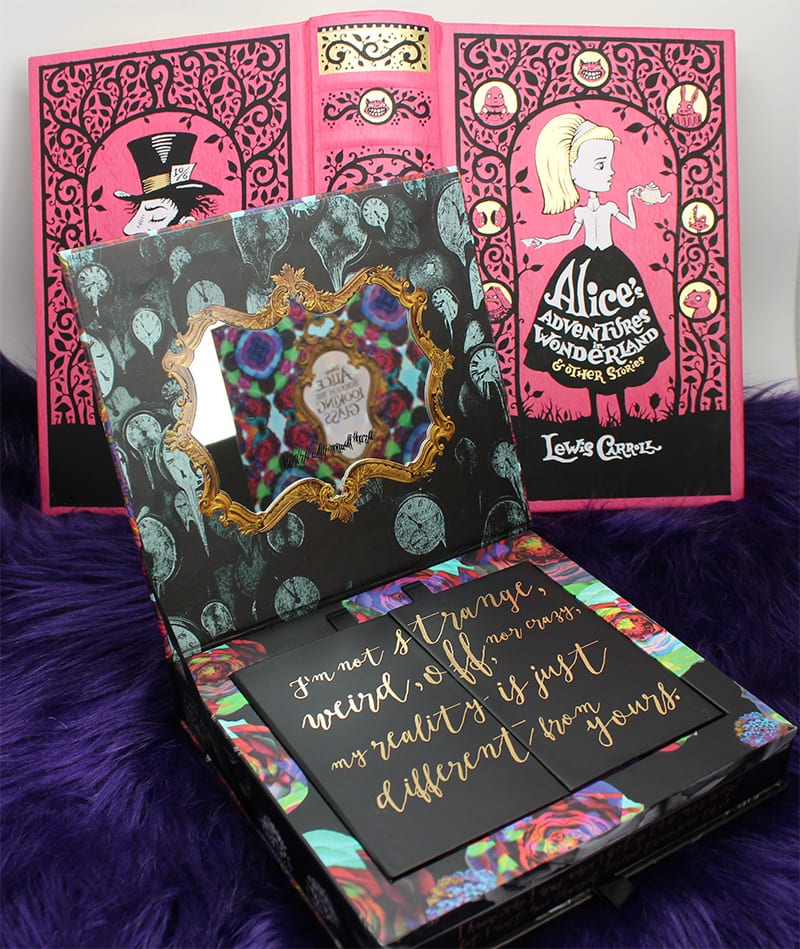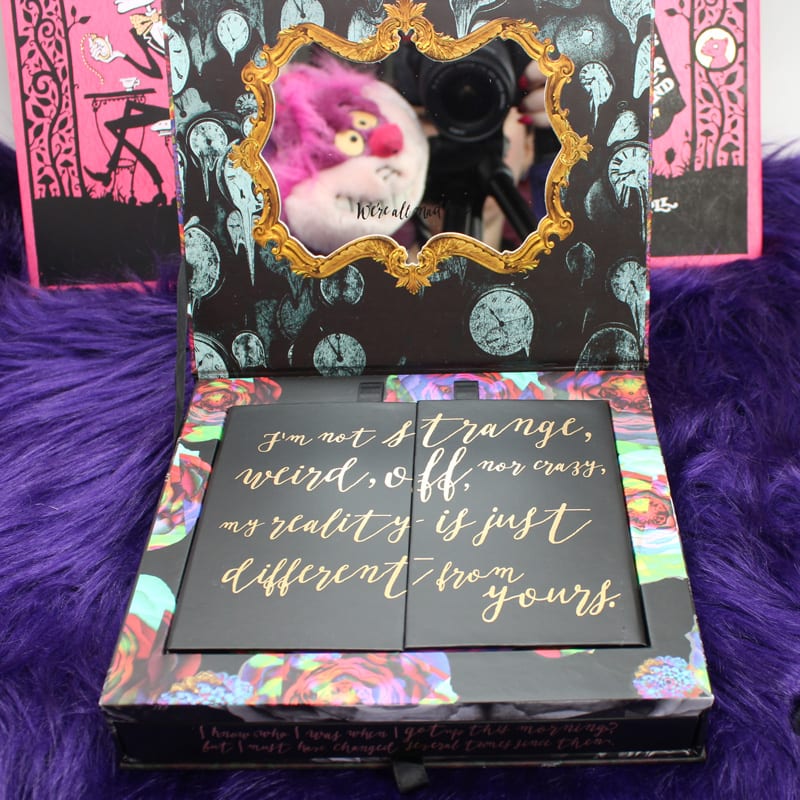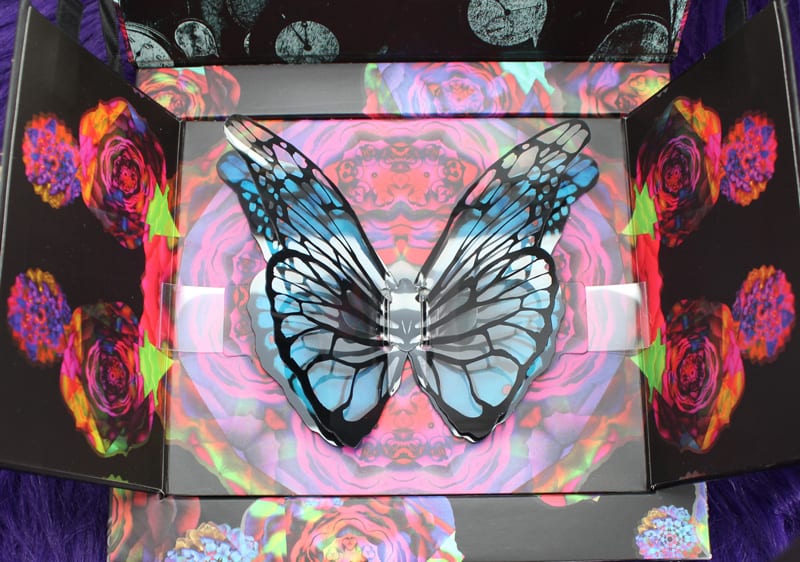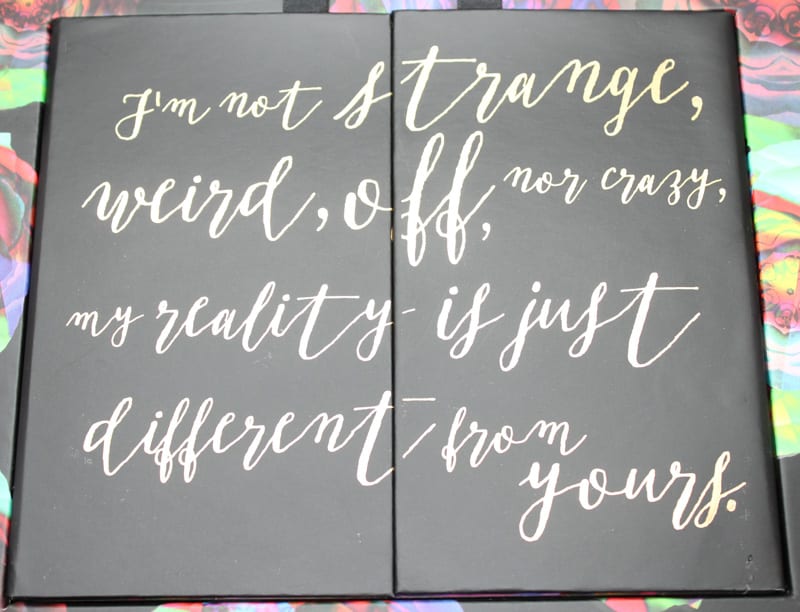 "I'm not strange, weird, off, nor crazy, my reality is just different from yours." – The Cheshire Cat. I LOVE this quote!

"I know who I was when I got up this morning but I must have changed several times since then." – Alice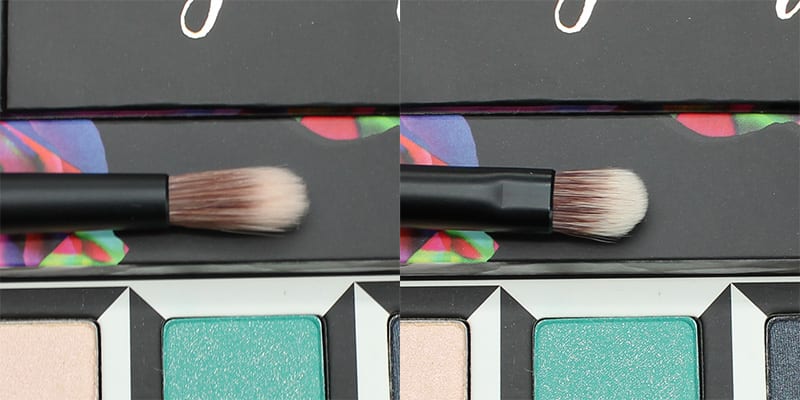 The Dual ended brush that comes with the palette.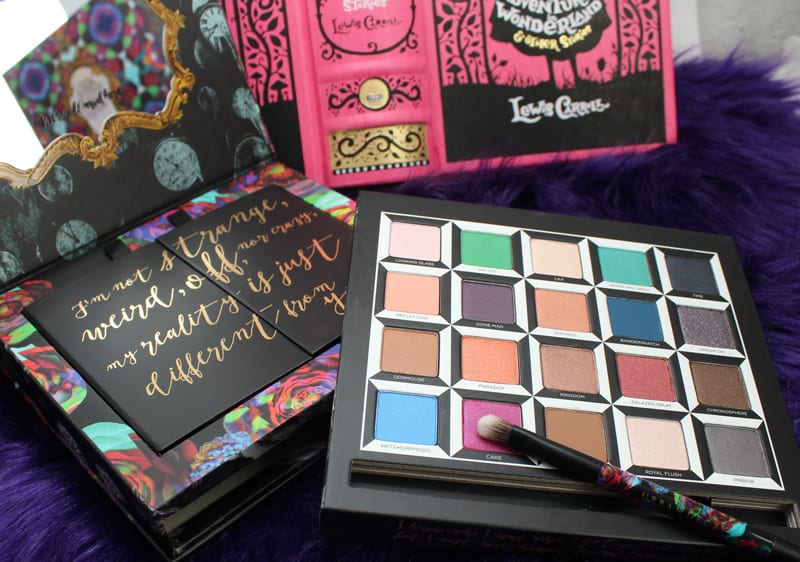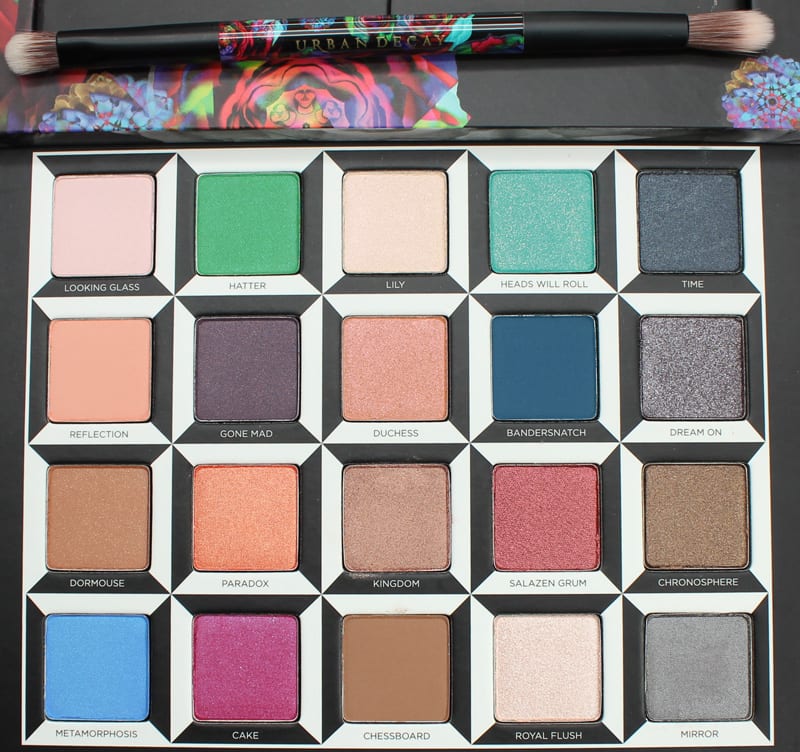 The Alice Through the Looking Glass Eyeshadow Palette is truly a collector's item and beautiful to behold. The colors are arranged by character in columns from the left to the right – Alice, Mad Hatter, Mirana, Iracebeth and Time. They each have coordinating lipsticks too. All 20 shades in this palette are brand new. The packaging will seriously blow you away. It's so stunning.
Not gonna lie, I did cry when I realized this was probably Alan Rickman's last movie. He plays Absolem the Blue Caterpillar. Johnny Depp is back as the Mad Hatter, Anne Hathaway is the White Queen, Helena Bonham Carter is the Red Queen, Sacha Baron Cohen is Time, Mia Wasikowska is Alice, and Michael Sheen is the White Rabbit.
Urban Decay did another Alice palette several years ago and it sold out almost immediately. So if you are an avid Alice in Wonderland collector and you love this palette, keep your eyes peeled for it. Urban Decay LOVES Alice in Wonderland and many things around their headquarters are Alice themed. You can see more about their Headquarters here.
All of the swatches below are on primer. In the shots where you see multiple colors at a time, the top swatch is primer, the bottom is bare skin.
ALICE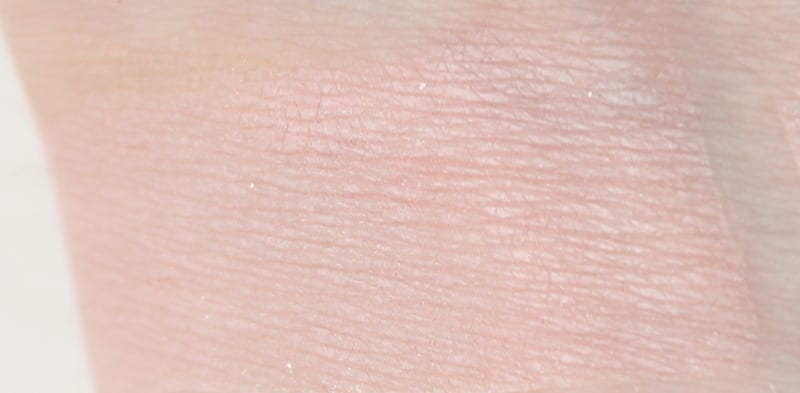 Looking Glass
pale pink demi-matte
ultra pale pink satin-matte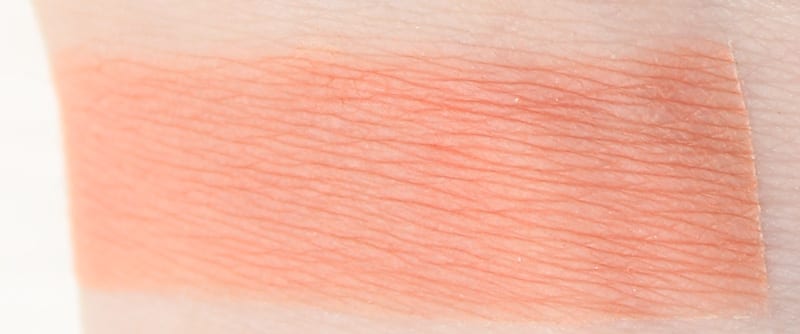 Reflection
soft peach matte
light peachy orange matte

Dormouse
warm brown matte with floating gold micro-sparkle
brown with orange undertone matte and subtle gold sparkle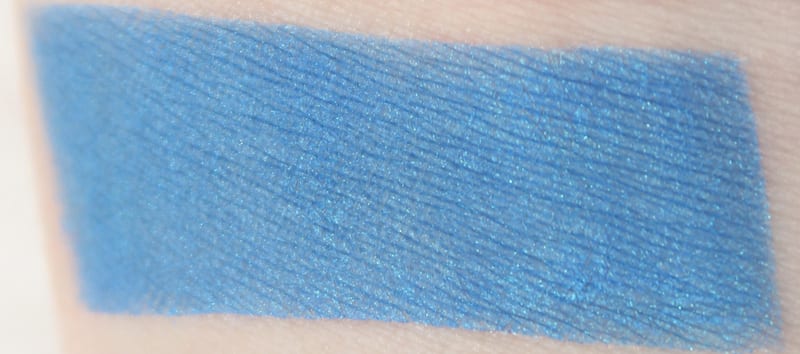 Metamorphosis
vibrant periwinkle blue with micro-sparkle
vivid cornflower blue with subtle sparkle, less pigmentation than I liked but easily built up on primer. This does make me think of the Caterpillar.
MAD HATTER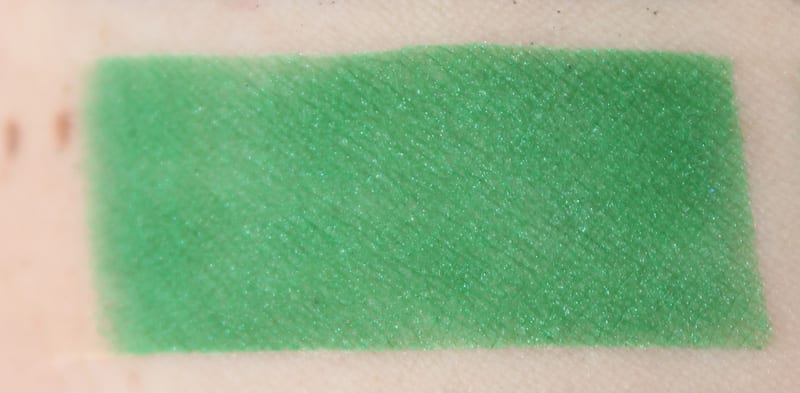 Hatter
vibrant green with tonal micro sparkle
bright, rich green with subtle green micro-sparkle, less pigmentation than I liked but easily built up on primer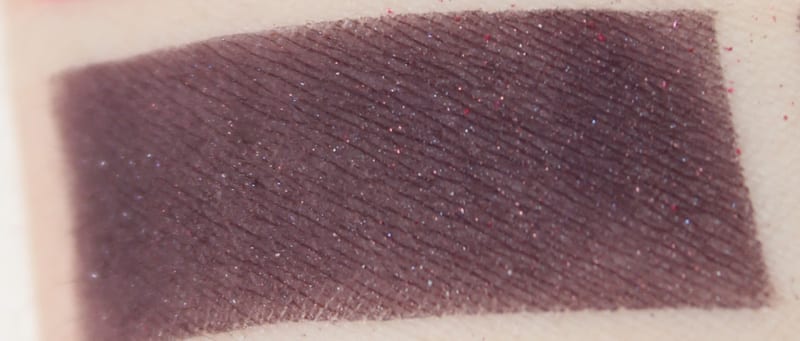 Gone Mad
aubergine with pink iridescent pearl
deep eggplant purple with brown undertones and subtle pinky-violet micro-sparkle (wish this was a blue-toned or royal purple, I'm tired of this shade of purple being everywhere)

Paradox
vibrant orange with gold pearl
bright orange with gold shift, really gorgeous

Cake
saturated blue-pink with silver micro-sparkle
deep fuchsia pink with silver micro-sparkle, really pretty
MIRANA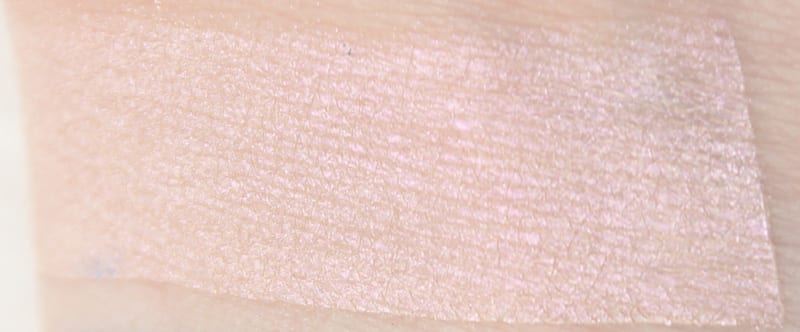 Lily
opal pink pearl
white pearl with pink iridescence, love this duochrome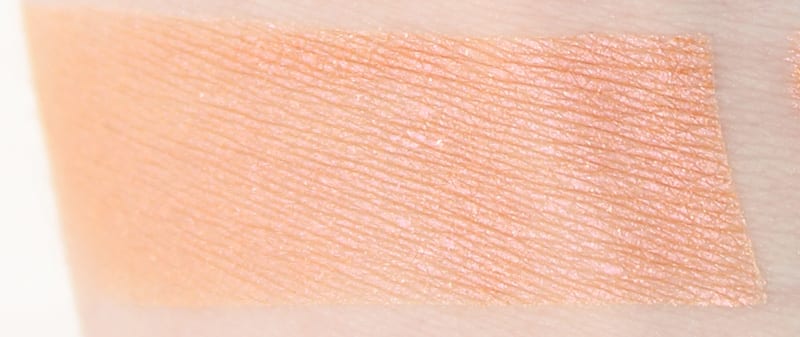 Duchess
peach with pink shift and micro-sparkle
soft peachy orange with strong pink iridescence and micro-sparkle, love this soft duochrome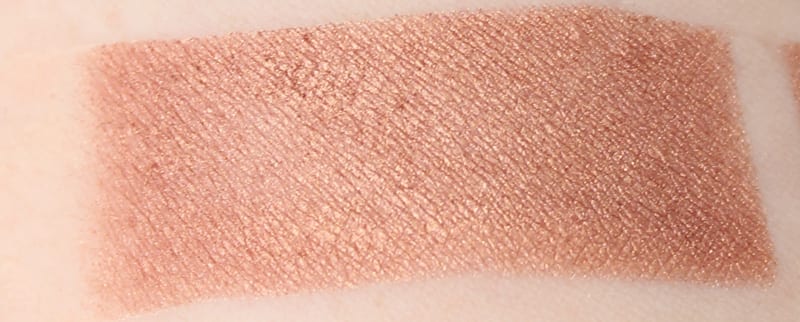 Kingdom
copper-bronze pearl
coppery brown pearl

Chessboard
medium brown matte
midtone brown matte
IRACEBETH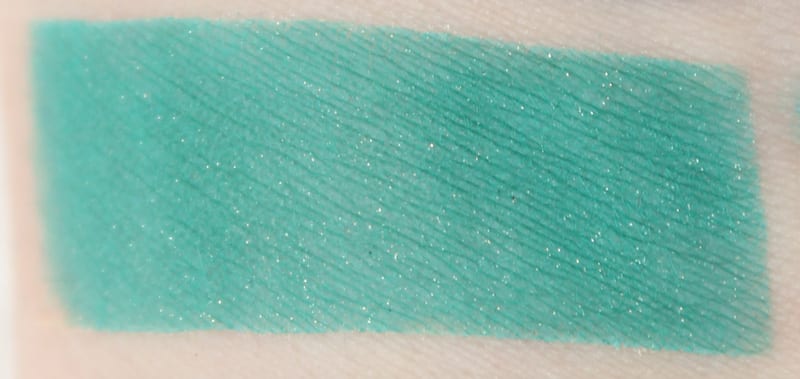 Heads Will Roll
vibrant turquoise with gold micro-sparkle
vibrant turquoise green semi-matte with gold micro-sparkle. I wish this was more blue-toned than green toned. This was pretty easy to work with layered on top of Bandersnatch.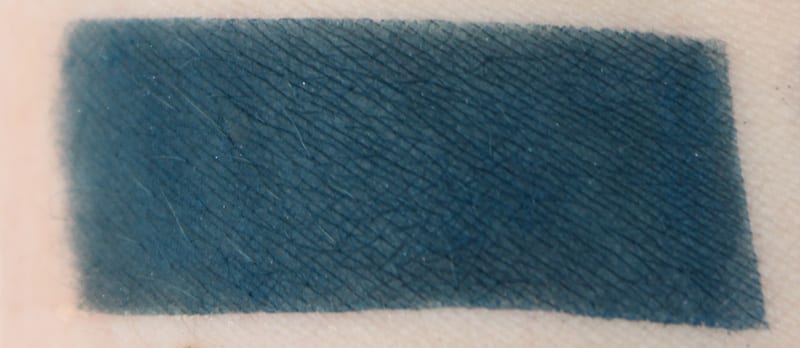 Bandersnatch
deep teal matte
deep dark ocean blue with navy tones (love) This took a little bit of effort to blend out in my crease.

Salazen Grum
metallic crimson
metallic red with orange undertone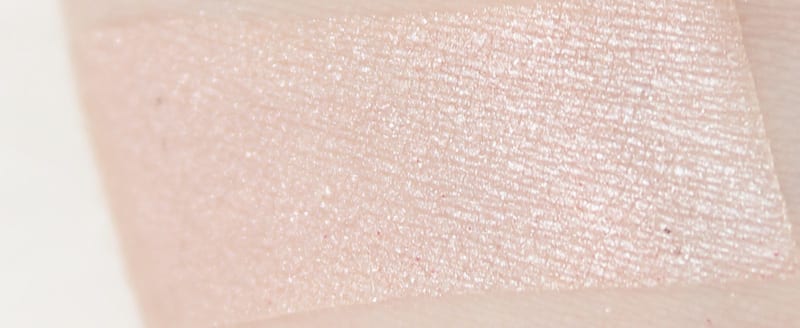 Royal Flush
pale beige shimmer
ultra pale pinked beige shimmer, works nice to layer on top of other shades
TIME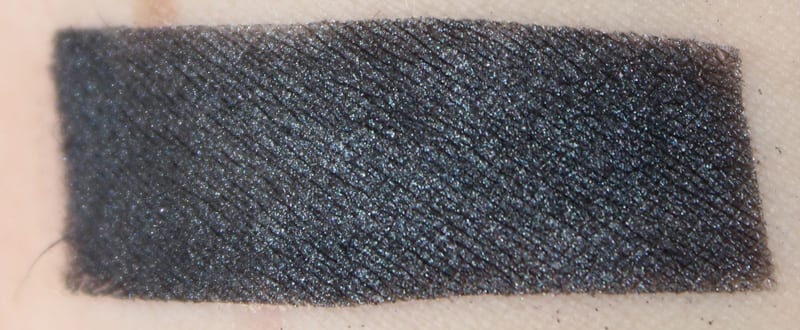 Time
black-navy satin with soft iridescent micro-sparkle
gorgeous blackened navy with iridescent micro-sparkle (love) One of the best shades in the palette and so easy to work with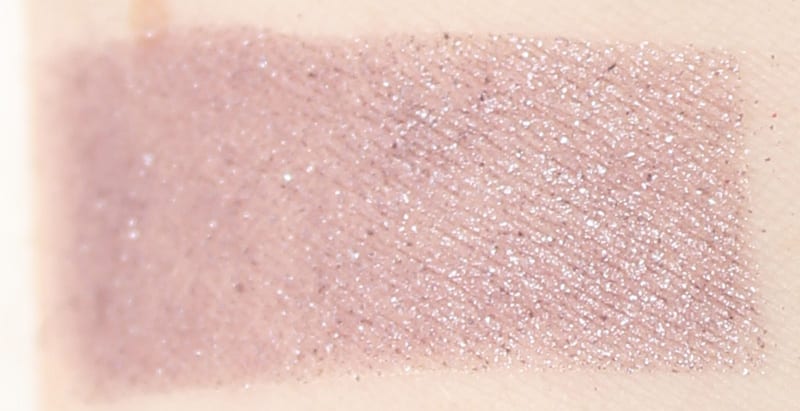 Dream On
metallic purple-silver
super sheer grape purple with silver sparkle (disappointing, the worst shade in the palette)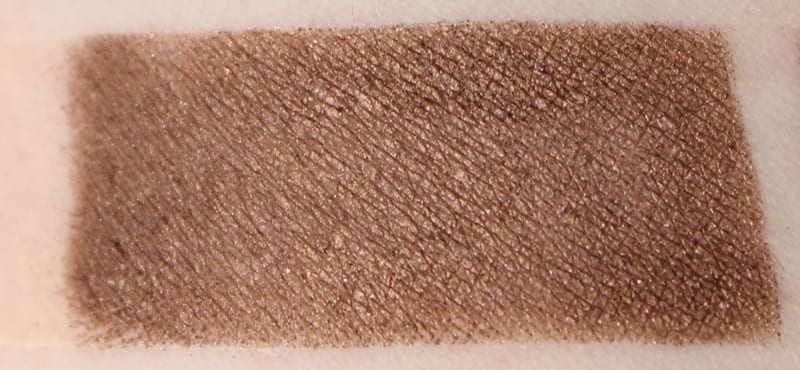 Chronosphere
metallic deep bronze
Metallic deep bronzey brown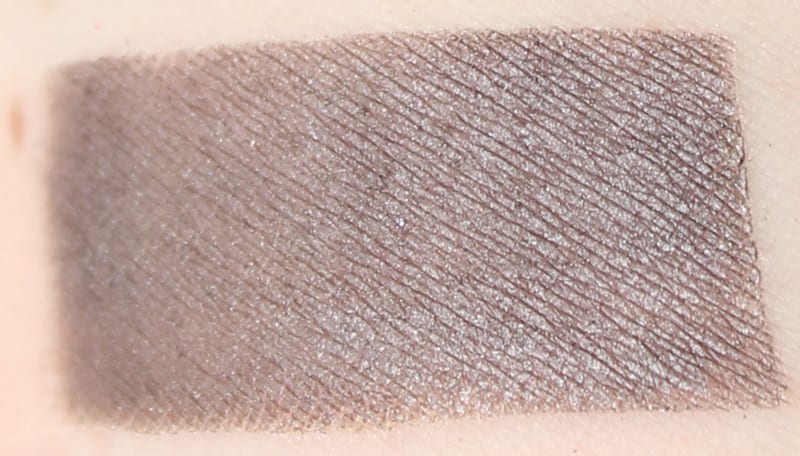 Mirror
gray-taupe satin
gorgeous deep grey taupe satin
I broke the swatches up into colors that I felt sort of went together.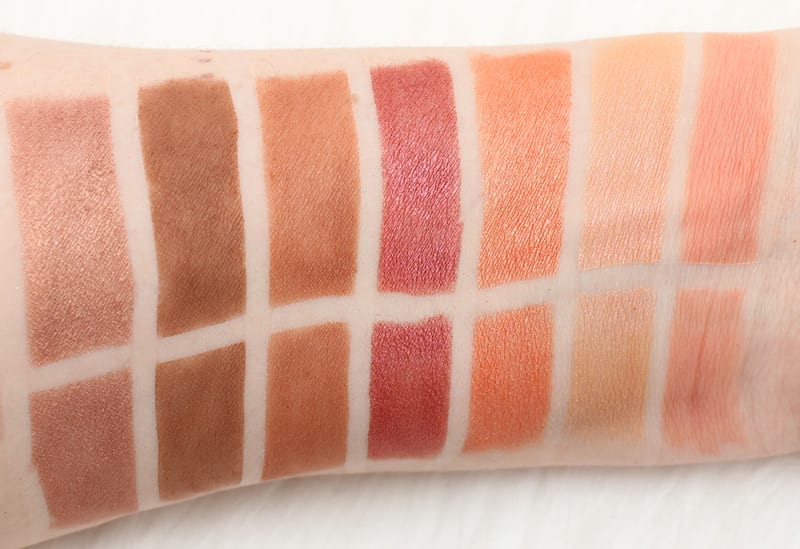 L to R – Kingdom – Chessboard – Dormouse – Salazen Grum – Paradox – Duchess – Reflection
The warm, orange and red toned shades are above. There are 8 brown, orange, or red shades, out of 20. That's almost half. That's a whole lot of super warm.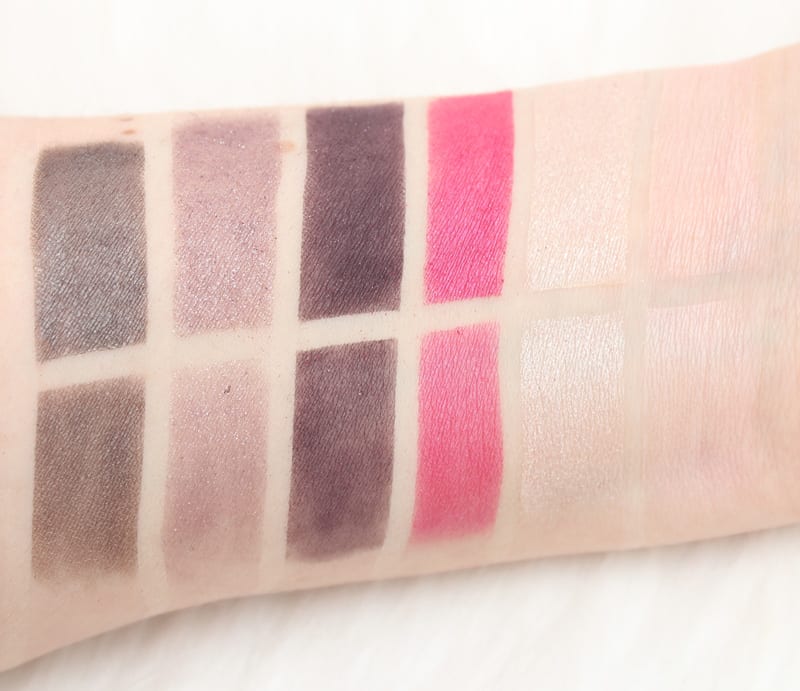 L to R – Mirror – Dream On – Gone Mad – Cake – Royal Flush – Looking Glass
The cooler toned pinks / greys / purples are above. They sort of make me think of Too Faced Chocolate Bon Bons. There are 7 pinks, purples and greys.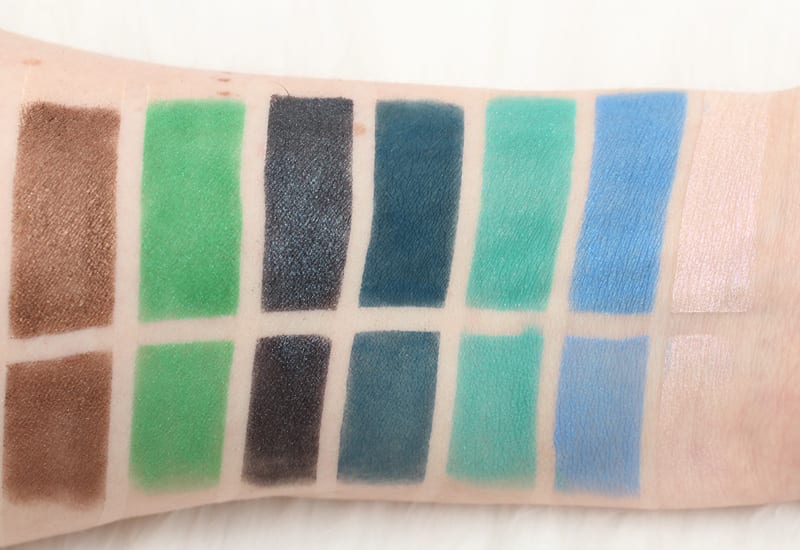 L to R – Chronosphere – Hatter – Time – Bandersnatch – Heads Will Roll – Metamorphosis – Lily
These are brighter hues of mostly blues and greens. There are 5 blues and greens.
The swatches below are on bare skin on the back of my hand.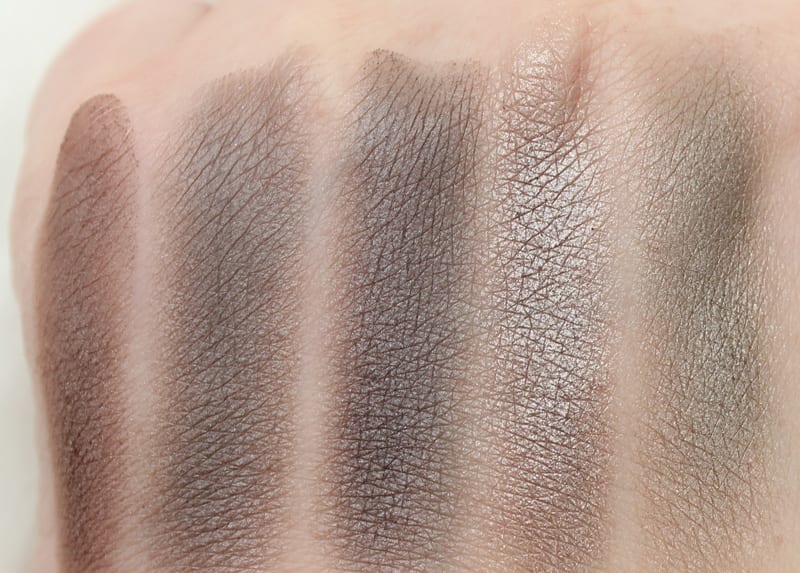 I did want to swatch similar colors with some of the shades in the palette. Mirror is deeper than Desperation, but it looked like the most similar color I had to it.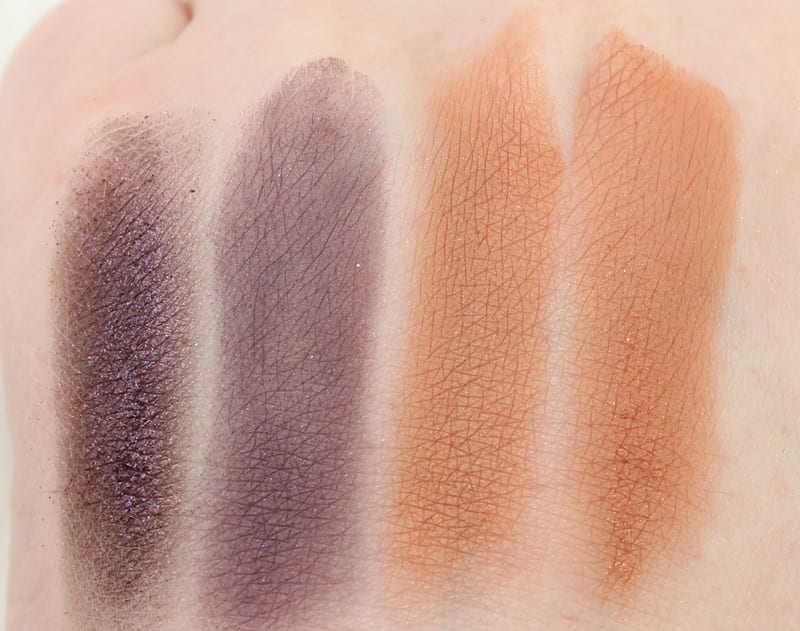 Uncut is more sparkly than Gone Mad for sure, but they're both the same color family of purple.  Riff and Dormouse look very similar to me.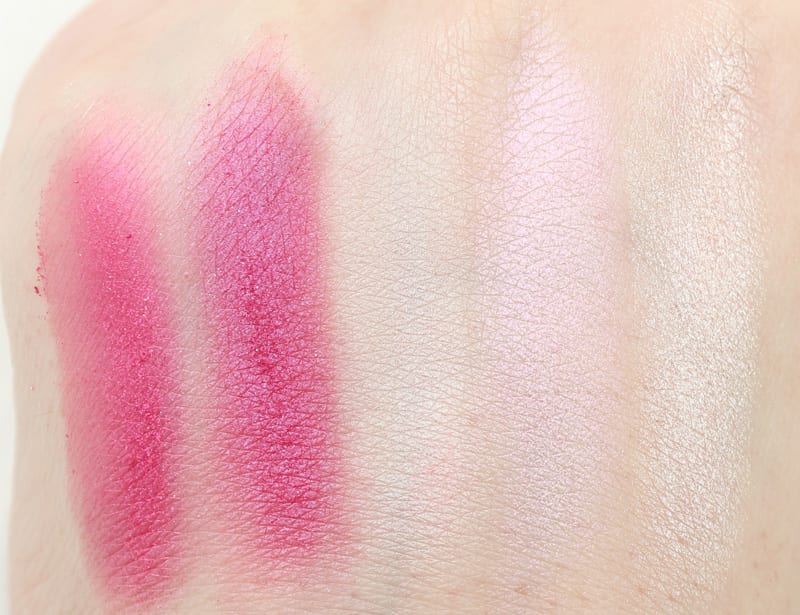 Woodstock is warmer than Cake, which is more blue-toned.  Looking Glass and Royal Flush are both whitish, though Looking Glass is more matte, while Royal Flush is super sparkly. Lily is such a pretty iridescent pink.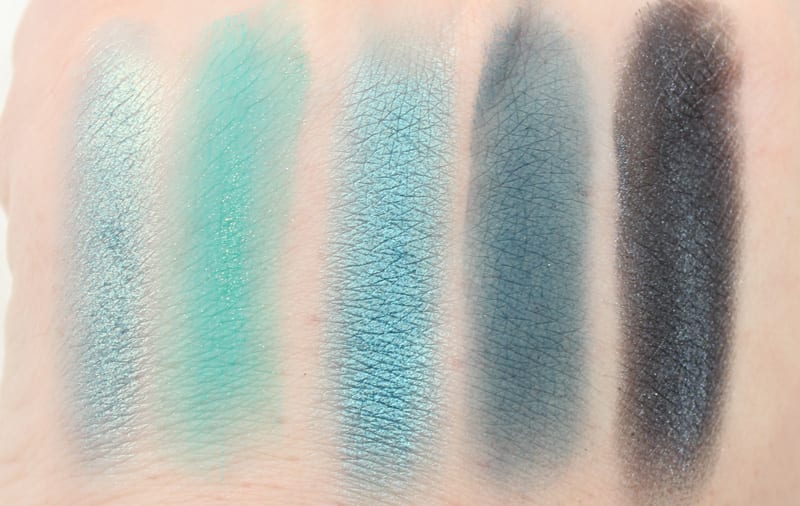 Heads Will Roll is more green-toned than Shattered or Haight.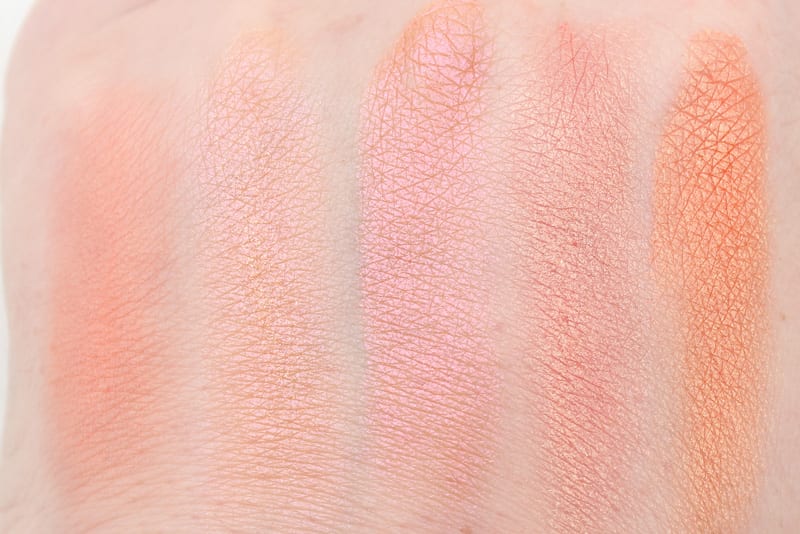 Reflection is almost like a matte version of Paradox. Duchess is Fireball's delicate little sister.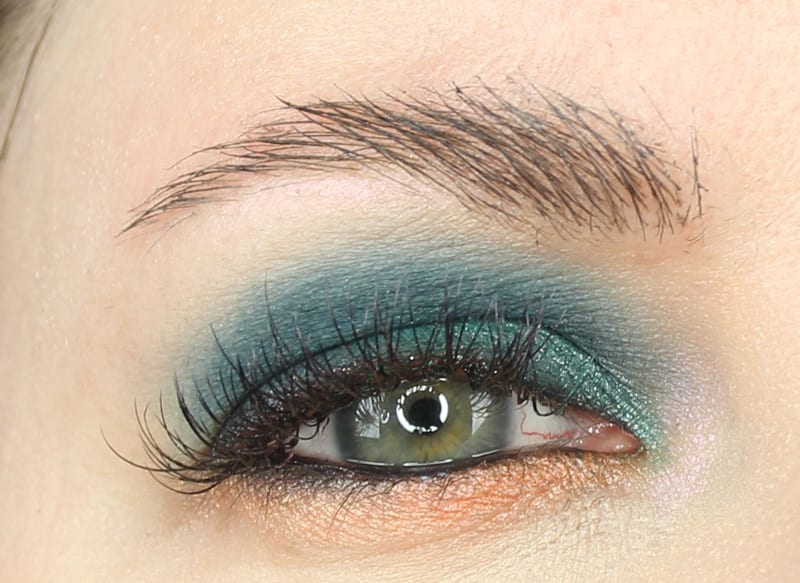 I used Walk of Shame as a base shade. Wearing Bandersnatch on the lid and hood with Heads Will Roll layered on top on the lid, with Royal Flush layered on top at the inner lid. I used Paradox on the lower lid with Duchess layered on top at the inner lower lid. I used Time on the lower waterline and at the outer upper and lower lash line. I used Lily to highlight.
What I Didn't Like About This Palette
While I do appreciate that each vertical column is influenced by a character, it's hard for me to see how some of those shades are meant to work together. I thought it was a little weird to have Looking Glass, Royal Flush and Lily in the same palette because they all look very similar on my skintone. Dream On was a huge disappointment because of its lack of pigmentation. It may work for layering, but on its own it looked very sad. There were so many warm, orangey tones, which made me think of the Too Faced Peanut Butter & Jelly Palette. I'm soooo tired of so many warm palettes!
While I definitely love Duchess and Paradox, also having Reflection, Dormouse, Salazen Grum, Chessboard and Kingdom felt like such overkill on the warm front. Gone Mad made me sad because it was an eggplant purple brown type shade rather than a true purple. Metamorphosis, Heads Will Roll, Bandersnatch, and Gone Mad were somewhat patchy and less pigmented on bare skin than I thought they should be.
What I Loved About This Palette
The packaging. The packaging is amazing. It feels special. I love Bandersnatch, Time, Heads Will Roll, Hatter, Mirror, Cake, Duchess and Paradox. I do feel they are gorgeous. Kingdom is unusual and pretty. I really want Time, Bandersnatch and Paradox as singles. I like Duchess quite a lot too.
You're getting 20 eyeshadows that are .04 oz each. A full size Urban Decay eyeshadow is .05 oz and runs you $19. For me, the standout shades are Heads Will Roll, Bandersnatch, Time, Hatter, Lily, Cake, Looking Glass, Mirror, Reflection, Duchess, Paradox and Kingdom. I also think that Dormouse, Salazen Grum, Chessboard, Royal Flush, Gone Mad, and Chronosphere are good shades if you like the colors, though some of them need primer.
What I love about Alice in Wonderland and Alice Through the Looking Glass (the movies) are that you have so many gorgeous, vivid colors and visuals to draw inspiration from. There was definitely an opportunity here to have brighter purples and other bright colors, rather than the muted shades of Gone Mad and Dream On and all the orangey shades. I really would have liked to have seen more duochrome shades in the palette, as well as brighter colors.
If you are an avid Alice in Wonderland or Urban Decay fan and collector, you need this palette. If you're not a fanatic, you may not need this palette, especially if you have some warm toned palettes in your collection.
What do you think of the Alice Through the Looking Glass Eyeshadow Palette?
More to See