As soon as it went live, I purchased the Urban Decay

15th Anniversary 24/7 Pencil Set. I'd been waiting for this set ever since I first saw it previewed. Predictably, I drooled over Perversion, Asphyxia and Binge, but also over Midnight Cowboy.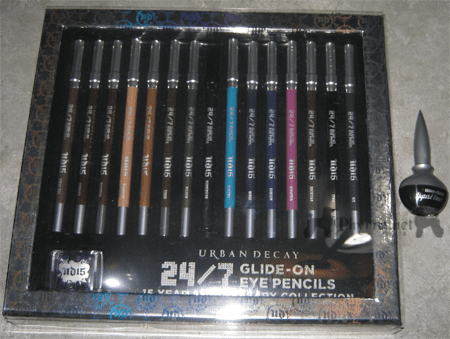 The set comes with 15 pencils, and a double barrel sharpener.
The colors are:
Perversion – blackest carbon black
Midnight Cowboy – beige with gold sparkle
Asphyxia – pinky iridescent purple
Baked – bold bronze
Binge – navy blue
Rockstar – darkest eggplant
Corrupt – dark metallic brown with silver sparkle
Stray Dog – shimmery brown taupe
Uzi – gunmetal with grey sparkle
Bourbon – brown with teeny gold glitter
Electric – bright aquamarine
Mildew – deep green
Ransom – bright iridescent purple
Stash – dark green gold
Zero – zealous black
If I were designing the kit, I'd have probably switched Mildew for Covet.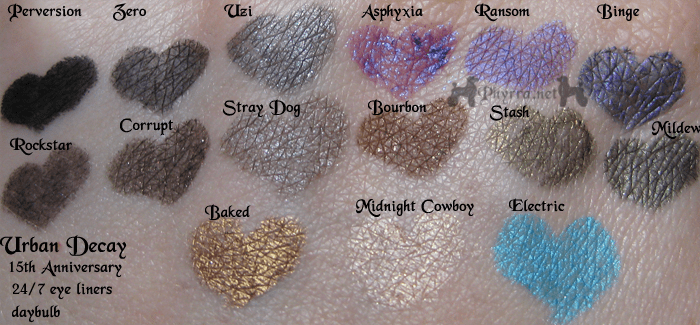 I was really unhappy when I went to swatch because  3 of the pencil tips broke on me! I'd never had that happen with Urban Decay before (but pencil tips breaking seems to keep happening to me lately). Asphyxia, Baked and Midnight Cowboy were the three that broke on me.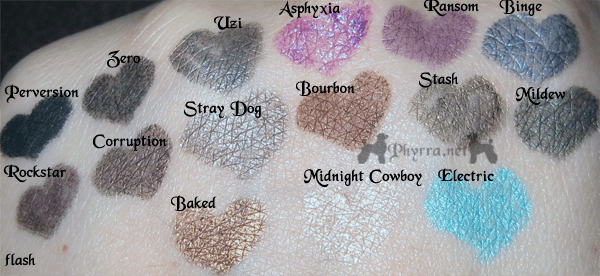 Yeyo, Flipside, Electric, Lust, Ransom and Zero have been shades I've loved for quite a while. With the new shades, I really love Perversion, Uzi and Midnight Cowboy. I'll be doing a comparison for wear and migration on me with Perversion vs. MAC Feline. Asphyxia is pretty but it's really hard to get it to show up the way I think it should. This makes it very similar to the eye shadow of the same name. Uzi is a really nice dark grey. Zero has been a staple for a long time for me. Ransom I love for its iridescence. Binge has potential. Rockstar is pretty, and it leans more plum than the brown that it shows in my swatches.
I now own more brown eyeliner than I've ever owned in my entire life. Corrupt is nice. Stray Dog is really unusual. I like the look of Bourbon, believe it or not. Stash is really pretty, but I like greenish golds. Mildew is a nice green. Baked is an amazing gold. I love Midnight Cowboy. It'll be great for the lower water line. I may end up doing a comparision between it, Vincent Longo Jay, MAC I Get No Kick and MAC NC15/NW20. Electric always makes me smile.
The set retails for $92 and ships for free from UrbanDecay.com.
I've reviewed the 24/7 liners before and I have always loved them. My experiences with them have always been positive since they stick around on my oily eyes without migrating all over the place.
I think this is a fantastic set of liners. I can only hope that Perversion, Midnight Cowboy, and Uzi will become permanent liners sold separately.
Product was purchased by me. All opinions are my own.