I was talking on twitter with Sparklecrack Central about some MAC comparisons to Indie Shadows, so I ended up swatching a bunch of stuff. Most of the indie stuff is from Silk Naturals. One is from Evil Shades and others are from Stars Makeup Haven (linked to All Cosmetics Wholesale, who has good customer service in my experience). So these swatches are for LiAnn 🙂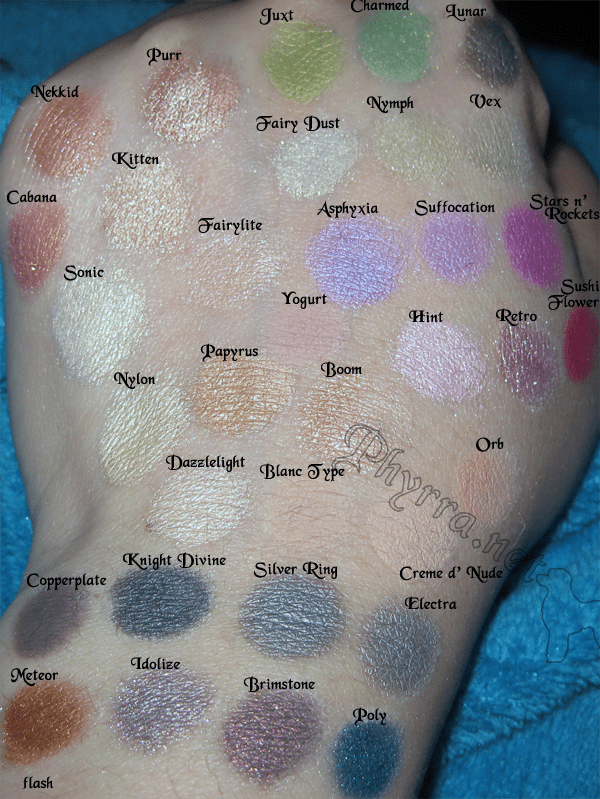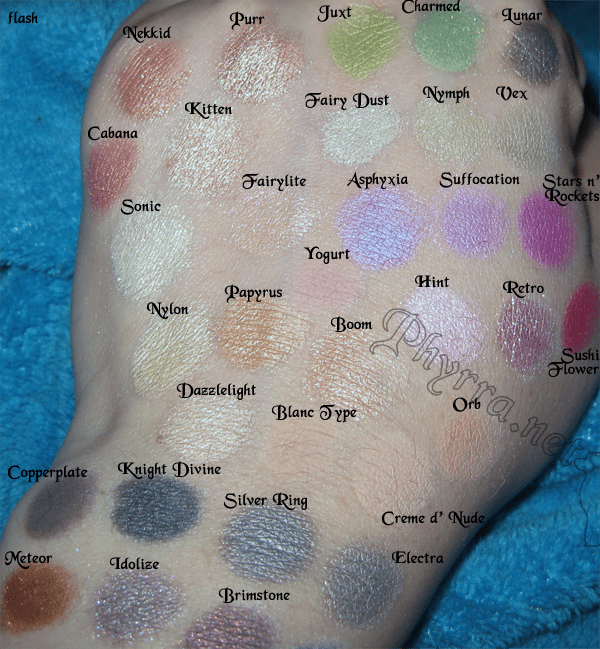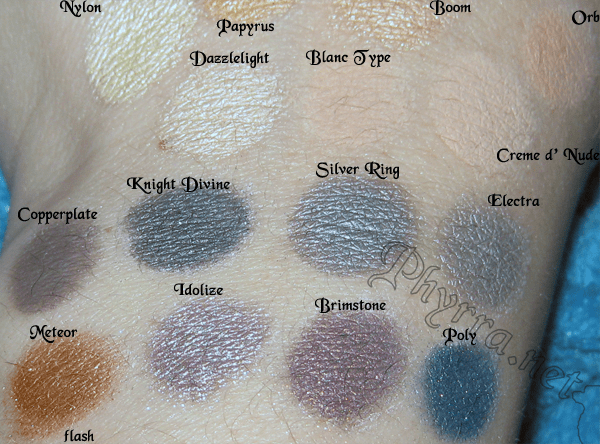 Shade Descriptions:
Silk Naturals Nekkid – MAC Naked Lunch clone, shimmery pink. (contains carmine)
Silk Naturals Purr – Stila Kitten clone, shimmering golden pink. V.
Stila Kitten – shimmering nude pink
Silk Naturals Cabana – MAC Paradisco clone, golden peach shimmer
Silk Naturals Sonic – MAC Vanilla clone, a very light, pearlescent golden tone with an intense golden slightly pinkish copper highlight. V
MAC Fairylite – very pale ivory shimmer with opalescent pearl
MAC Yogurt – soft pale pink (matte)
MAC Juxt – bright green with golden shimmer (satin)
Silk Naturals Charmed – MAC Juxt clone, golden green shimmer. V.
Silk Naturals Fairy Dust – light shimmery gold green pink. V.
Silk Naturals Lunar – NARS Habanera clone, velvety aqua. V.
Urban Decay Asphyxia – lavender with blue shift
Evil Shades Suffocation – clone of Urban Decay Asyphyxia, lavender w/ blue shift
MAC Stars n' Rockets – purple with pink pearl (veluxe pearl)
MAC Nylon – pale gold with icy metallic shimmer (frost)
Silk Naturals Papyrus – MAC Rice Paper clone, warm highlighter shade. V.
Silk Naturals Boom – MAC Shroom clone, warm cream. V.
Silk Naturals Hint – MAC Seedy Pearl clone, lightpink/lavender shimmer. (contains carmine)
Silk Naturals Retro – MAC Kitschmas clone, a very shimmery light purplish pink. V.
MAC Sushi Flower – Pinky-coral with pink shimmer (satin)
MAC Dazzlelight – neutral with shimmer (veluxe pearl)
MAC Blanc Type – creamy beige (matte2)
Stars Makeup Haven Creme d' Nude – a matte peachy-pink flesh
MAC Orb – soft peachy-beige (satin)
MAC Copperplate – muted mid-tone grey (matte2)
MAC Knight Divine – black with silver pearl (veluxe pearl)
MAC Silver Ring – grey with silver sheen (veluxe pearl)
MAC Electra – silver with icy shimmer (frost)
Silk Naturals Meteor – MAC Natural Flair clone, golden bronze. V
Silk Naturals Idolize – MAC Idol Eyes clone, golden blue plum (contains carmine)
Silk Naturals Brimstone – MAC Slate clone, smoky purple copper. (contains carmine)
Silk Naturals Poly – MAC Parrot clone, medium/deep blue shimmer. V
I've tried to mark all the shades that I know that are vegan, as well as those that I know contain carmine. I believe all of the Silk Naturals shades are gluten free. One of the things I really love about indie companies is that they tend to avoid gluten, and some work to avoid carmine so that they're vegan. I also tend to think they're more pigmented than their mainstream counterparts.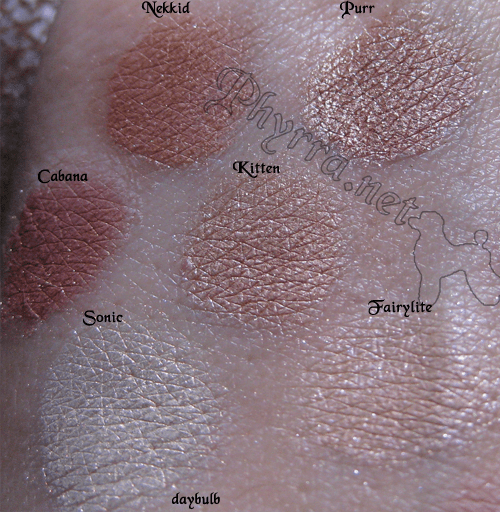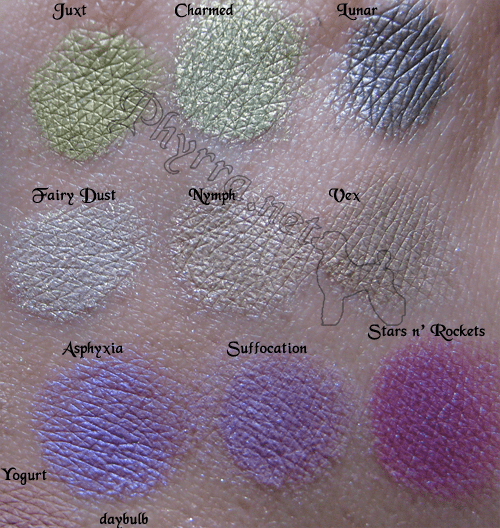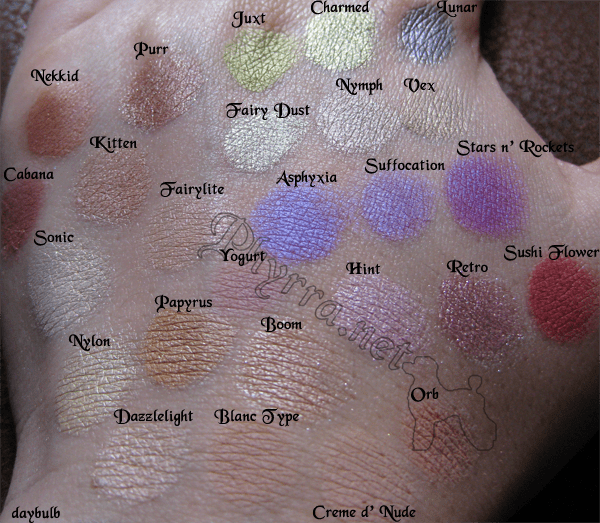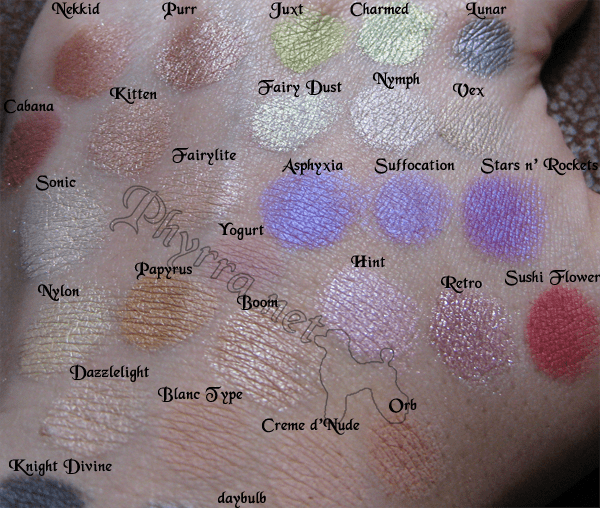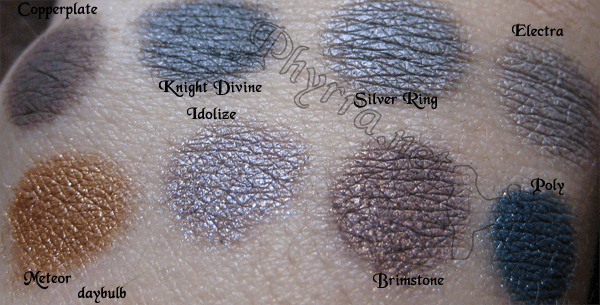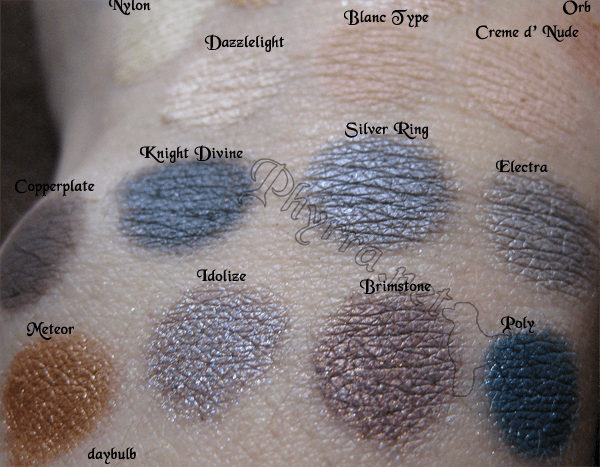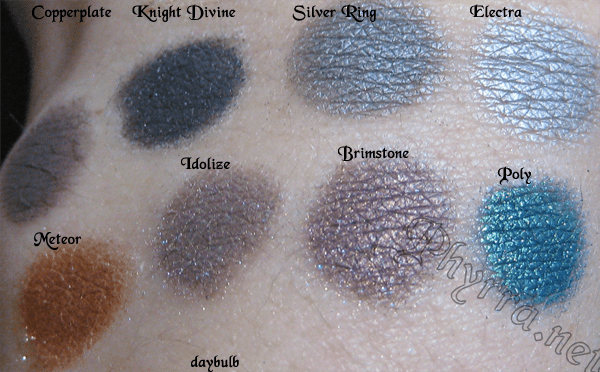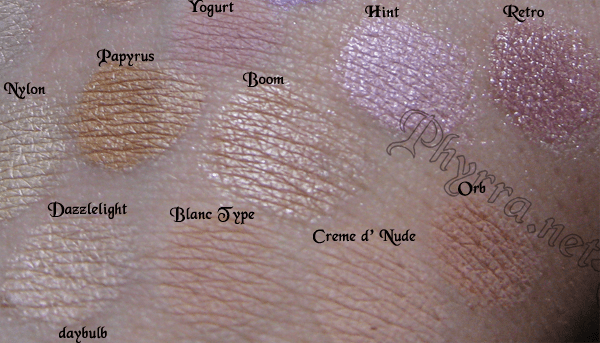 Now to talk about color clones. Kitten and Purr look very close, Purr might be slightly deeper. Nekkid is in the same color family but definitely darker than Kitten and Purr. Nekkid is basically MAC's answer to Kitten. Cabana is darker than Nekkid and more peach. Sonic is a great highlighter and Fairylite is a favorite of mine for a wash of color all over or a transitional shadow as it has slight pink interference.
Juxt is a tad deeper and has less shimmer than Charmed. They are very very close. Lunar was included because I find it pretty, same with Fairy Dust. Fairy Dust is really unique to me since it is the palest green with opalescent shimmer. Nymph and Vex are very close, though the pink shimmer appears to be slightly stronger in Vex.
Asphyxia and Suffocation are very close, Asphyxia has more of a pearl type finish where there's a bit of sparkle in Suffocation. I included Stars n' Rockets because I consider that to be MAC's answer to Asphyxia, only it's more intense and pearlescent. I love its finish. I do find the mainstream versions of these 3 harder to get good color payoff, whereas Suffocation is very easy to get good color payoff when applied.
I included Yogurt because it's an interesting matte pink shade.
Nylon, Papyrus and Boom all seem to be shades favored for highlighting, though only Nylon is light enough for me and these days I think it's probably a bit too dark for my taste. Papyrus and Boom are more transitional shades for me.
Hint and Retro are really pretty pinks, with Hint being more pearly and Retro being really sparkly. Sushi flower I absolutely love, no idea why, I don't think its formula is great, but the color always makes me happy.
Dazzlelight is a fantastic highlighter. Blanc Type & Creme d' Nude are very very close. Orb is slightly darker than both.
Copperplate is that amazing matte2 grey I always go on about.
Knight Divine and Silver Ring are both the beautiful veluxe pearl finish and you can see how great they look together. I also swatched Electra since I love that shade and it fits with Silver Ring and Knight Divine.
Meteor is lovely, but you all know I love gold/bronze shades. Idolize seems to be a bit more brown than the MAC shade, though I no longer own the MAC shade to swatch it side by side. Brimstone is really nice with Idolize. Poly is breathtaking. I can see why MAC Parrot goes for such a steep price on ebay. Poly has a deep blue base with teal-blue shimmer on top.
As you can see, you can find some great indie equivalents of popular mainstream shades. In my opinion, in general, the indie versions tend to have better color payoff and seem to be easier to blend.
I do wish that someone made an entire line of colors with the veluxe pearl finish. The way Knight Divine, Silver Ring, Stars n' Rockets and Dazzlelight look is really appealing to me. I do love Silk Naturals eye shadow formula as it's nice and easy to blend.
What do you think about these colors? Do you see any that you'd like to try?