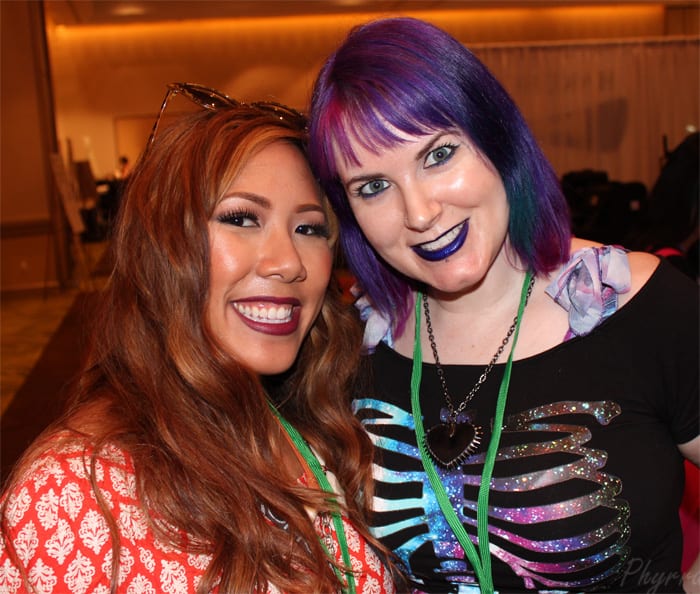 An Update on my Battle with Rosacea
I wanted to share an update on my battle with Rosacea. As you may or may not know, I was diagnosed with rosacea in August of 2012. In case you don't know, rosacea is a fairly common skin disease that causes the skin to turn red, usually on the center of the face (cheeks, chin, nose and forehead). More women than men have it and it mostly affects fair-skinned individuals. There are around 14 million Americans dealing with rosacea currently. (See my Best Ways to Survive Rosacea).
Rosacea may not sound like a big deal to you. You might think it's a minor inconvenience. It really depends on the person. Mine started out as a minor inconvenience but then escalated to where it had a greater impact on my life.
When I was first diagnosed, every time I would wash my face my skin would get angry. Water would literally steam off my face because it would become irritated. It was uncomfortable and later it started becoming painful. I hated the redness. And let's not even mention the break outs. Ug. This is pretty much why I never wanted to leave the house without foundation, because I was embarrassed at the way my skin looked. People would tell me I have gorgeous skin but I would look at them like they were crazy because I never felt like I had good skin. I always felt like my face was blotchy.
At some point if I'm brave enough, I'll take a picture of my skin when it's in a full on flare up – i.e. when it's super red all over. I just hate how I look when it's like that and feel so embarrassed by it that I never want to show my skin when it's in that condition.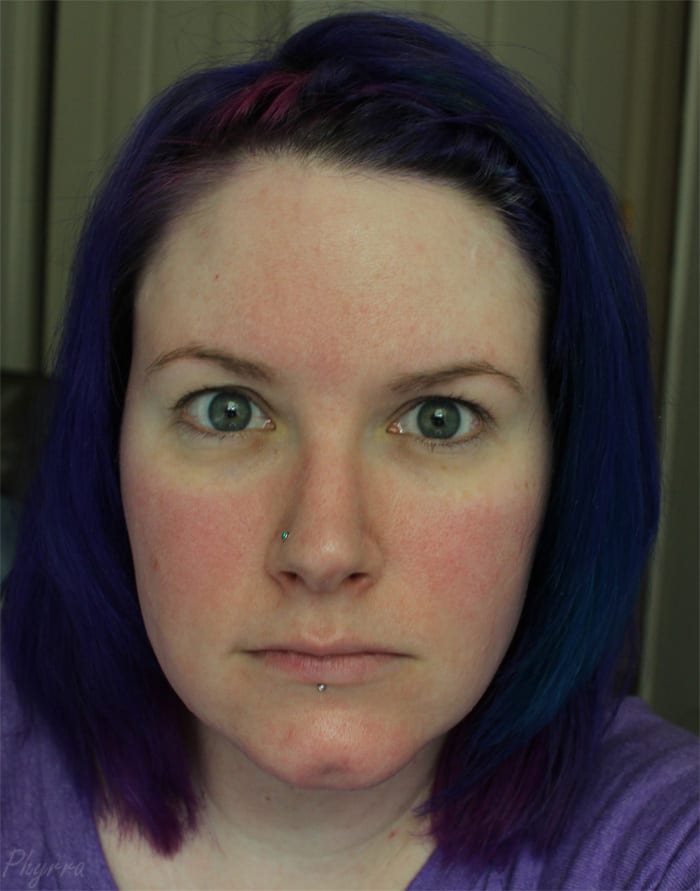 Instead, here's what my skin looks like right now in the dry, cold winter of Indiana. Basically I'm pink on my chin, nose, cheeks and forehead. This is why I won't go outside without SPF & foundation. However, this is a reduction in the redness that I used to see and I think that's due to my skincare and IPL.
This past February I started hitting the gym regularly and my rosacea became almost unbearable. Basically every time after I would work out I would experience a flare up. My face would turn bright red all over, my face would sting and hurt and nothing seemed to make it feel better. I would cleanse it and apply some anti-redness solution (which would sometimes help, but not make it fully go away), but it would take several hours for it to stop hurting. If people happened to see me with a flare up, they would ask if something was wrong because my face looked like it was sunburnt. After discussing with my dermatologist, I decided to start IPL (Intense Pulse Light) treatments. (see where I talk about IPL in this video)
The way my rosacea made me feel after working out is really what pushed me into doing IPL. I had given up taking long, hot baths, and I'd been limiting my time in the hot tub, since I knew that hot water was a trigger for my rosacea, but I am not about to limit working out. I really need to do more of it as it is! Two days a week isn't enough. (I'm still doing a 50 minute session and an 80 minute session every week).
I'm not going to lie; IPL is uncomfortable and sometimes painful. (See my update after my first IPL treatment) I've now had 4 treatments and I'll be going back for more. However, I also feel like it's making a big difference in my skin. Instead of my face turning bright red, flaring up and becoming painful for hours after I work out, it turns pink / slightly flushed. I feel like instead of looking like something is wrong with me after I work out, I look like a normal person who has worked out. So I feel like I'm making progress with the IPL treatments. I feel like I have seen a reduction in how much I flush and how often I flush. I also feel like it's slowly improving my skin's texture.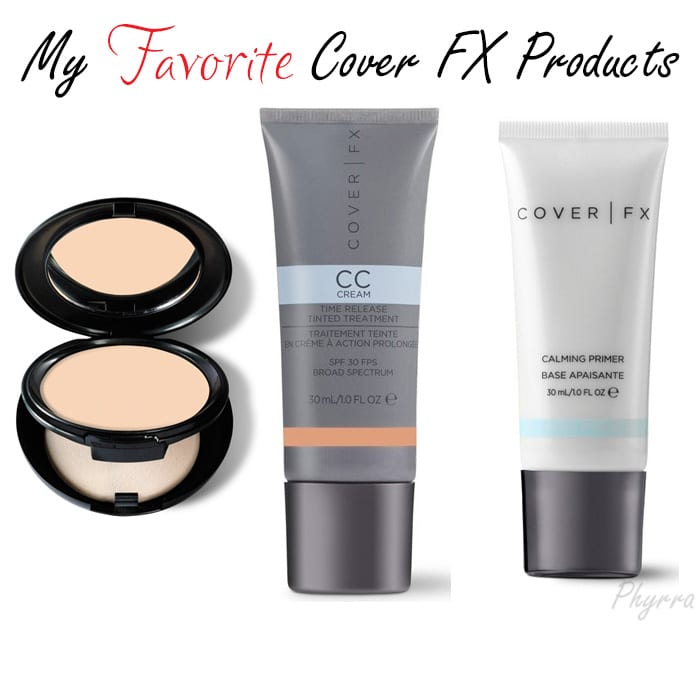 I'm grateful to three of my Cover FX products, which I feel are helping me with my battle against rosacea. After I apply my moisturizers, I always feel like my face is slightly pink from me touching it. This is usually evident in my Youtube video tutorials (see my slightly pink nose, cheek, forehead and chin in this video). When I apply the Cover FX Calming Primer it instantly soothes my face. You can see the redness fading and my skin feels less angry.
When I apply the CC Cream it instantly masks any remaining redness and the N Xtra-Light shade blends seamlessly into my skintone, so I only have to apply this to cover up the redness, though I usually choose to apply it all over because of the anti-aging ingredients. It contains licorice root extract, which is pretty awesome. It's supposed to help reduce hyperpigmentation. The CC Cream also has SPF 30, which makes it ideal to apply after my IPL treatment if I'm concerned about the redness. It's soothing to my skin. This is why the CC Cream has repeatedly made my Monthly Favorites list! It works so well for me and has so many benefits. (see my CC Cream Review)
I also love the Pressed Mineral Foundation since N10 matches me perfectly and it doesn't get cakey. If I just want to use a tiny bit of product or I have to apply my makeup in a hurry, I reach for the pressed mineral foundation.
All three Cover FX products are vegan and of course cruelty free. They're also free of the inflammatory 5  – gluten, mineral oil, fragrance, parabens or talc.
I've stopped taking Metrogel Cream and Aczone for my rosacea. I feel like the Aczone was too drying. I also felt like the Metrogel Cream was making my skin thin and killing the collagen in it. Instead I take Oracea every other day, unless I'm having a flare up. If I have a flare up I take Oracea daily. I do have a prescription for Mirvaso, but it does have its limitations. Mirvaso works, but it can sometimes cause me to flush hotly 12 hours later. Since it's no worse than how I feel after the gym lately, I can deal with it. Sometimes I don't get it on just right, so some of the pink color creeps through. Unfortunately when this happens, you can't apply a second layer of Mirvaso, as you're only supposed to apply it once in 24 hours.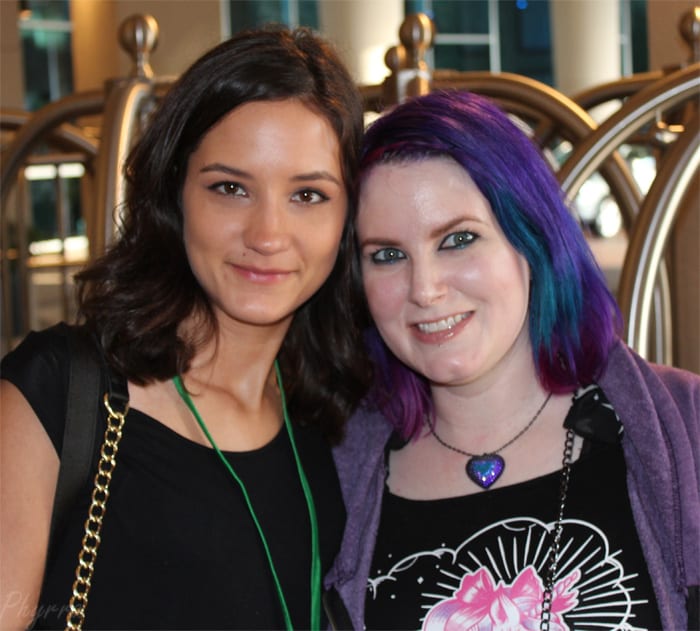 I still have to worry about my rosacea triggers. Stress is a big one for me. When I was at the Makeup Show Orlando a few weekends ago I used Mirvaso, but I was so nervous about all the people I was going to be talking to and the Mirvaso didn't remove all the redness from my face. Thankfully I had the Cover FX Pressed Mineral Foundation in N10 so that I could put it on just the red spots and feel like my skin looked great. Even after wearing it all day, I've only got a little pink peeking through my face.
What are your current skin concerns? How are you treating them?
Last Updated on