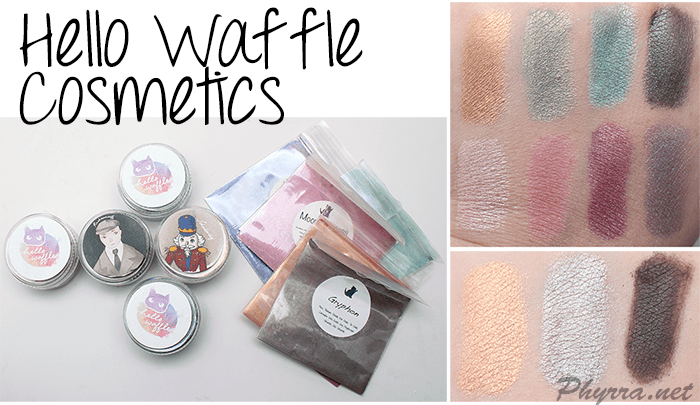 I've had a ton of swatches backlogged, mostly indie brands. Today I'm sharing the first of that backlog with you with the brand Hello Waffle. They make gorgeous eyeshadows. One of my nearest and dearest friends, Ana, is helping me go through and edit my swatch pictures and I think she makes them look better than I ever do! Clearly I need to take editing lessons from her. She says I take gorgeous swatches. Anyway, on to the pretty eyeshadows!
Hello Waffle Eyeshadows Review
Availability
Hello Waffle
Hello Waffle is cruelty free and based in Canada.
I need to rave about Hello Waffle's customer service. I placed my order during a big sale before the shop went on hiatus to move. A few of the samples I ordered ran out, so I was upgraded to full sizes. I was shocked but thought it was pretty awesome.
Swatched on Coastal Scents Step 1 Primer.
Tchaikovsky
Vibrant gold with red, silver, and blue sparks
My Take
rich metallic gold with pink sparks
Archean Earth (June's GWP)
ocean green with intense gold shift and green sparkles
My Take
soft sage green with intense gold shift and sparkle
Moonlit Grin
mysterious rich blue-ish greenwith teal undertones
My Take
light aqua with green iridescence
Galaxy Dust (july color of the month)
dark teal with subtle purple shift
My Take
grey base with teal shift and pink and violet sparkles
Animate Chess-Piece
pale dusty pink sheen with a touch of violet
My Take
ultra sparkly pale dusty pink with pink and blue violet sparkles
Moon Princess
light pink-purple with the subtlest blue glow
My Take
light pink with blue sparkles
Gerda
lively medium purple shimmer
My Take
pink-toned purple with shimmer
Chopin
romantic soft grey-purple duochrome
My Take
light soft purple with grey tones
Fey
shimmering golden apricot with rosy undertone
My Take
beautiful soft apricot with strong golden iridescence and sheen. I love this one.
Gryphon
muted bluish-grey taupe
My Take
silvery taupe
Rachmaninoff
matte espresso bean brown
My Take
dark espresso brown
Tchaikovsky, Animate Chess-Piece, Chopin, Fey and Gryphon are my favorites from these shades. I got excellent wear on Too Faced Shadow Insurance from Fey and Gryphon, with no creasing or fading.
Hello Waffle has just released a Catssic Literature Collection and will be releasing a Kitty Kingdom Collection for Black Friday / Cyber Monday. 20% of all proceedes from the Kitty Kingdom will go to the Etobicoke Huane Society. It will only be offered during Nov. 28 – Dec. 1. See swatches of Kitty Kingdom here.
Have you heard of Hello Waffle? What do you think of these shades? Let me know below!
Last Updated on