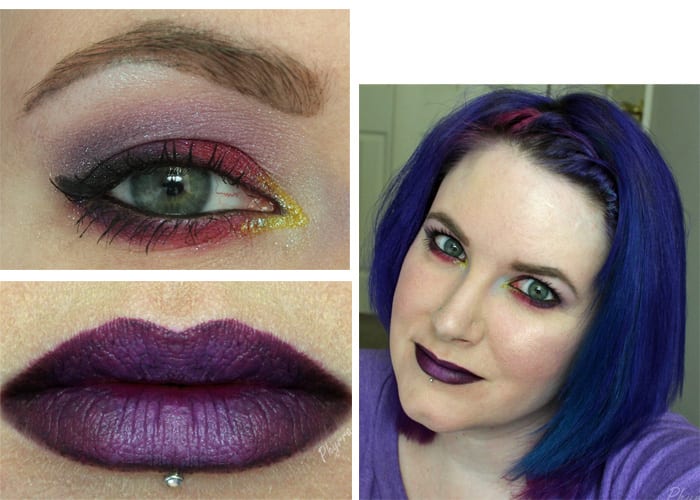 I created a pop of chartreuse tutorial featuring Scaredy Cat and Tat2u. I'm still in Indiana. I didn't bring my entire light kit, just a small light, so the lighting is not the best for these photos, but hopefully you'll enjoy the tutorial regardless.
Pop of Chartreuse Tutorial
Tutorial
1. After applying the base shade of Snow Flake, use e.l.f. Studio Mist & Set on a brush and apply Magnolia to the lid and lower lid.
2. With a damp brush, apply Sugar Daddy to the outer lid and outer lower lid.
3. Using a soft dome brush apply Poysenberry Pie to the crease. Deepen the outer crease with Rebel.
4. With a damp angled eyeshadow brush apply Everglade to the inner v.
5. Use another damp angled eyeshadow brush to apply Rebel to the outer upper lash line and wing it out. Line the waterline with Ofra Black Gel Liner.
6. Curl the lashes, add mascara.
7. Highlight under the brows and at the inner corner.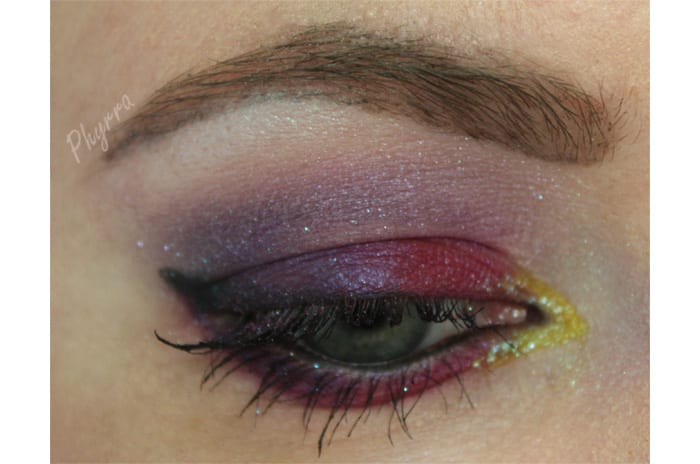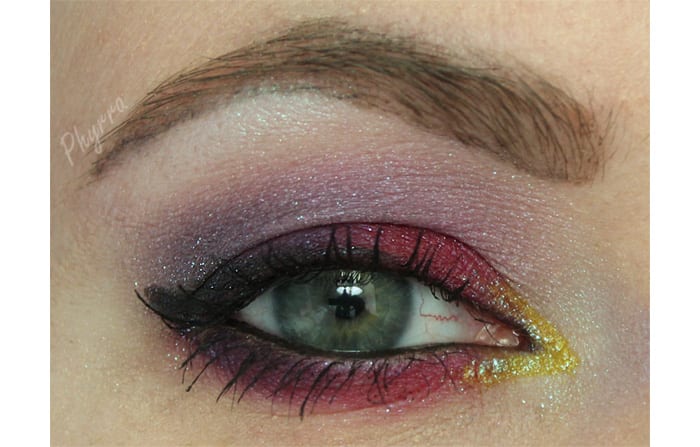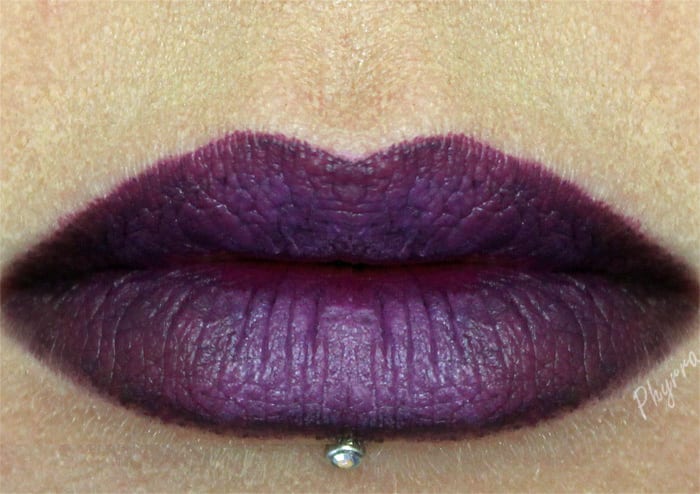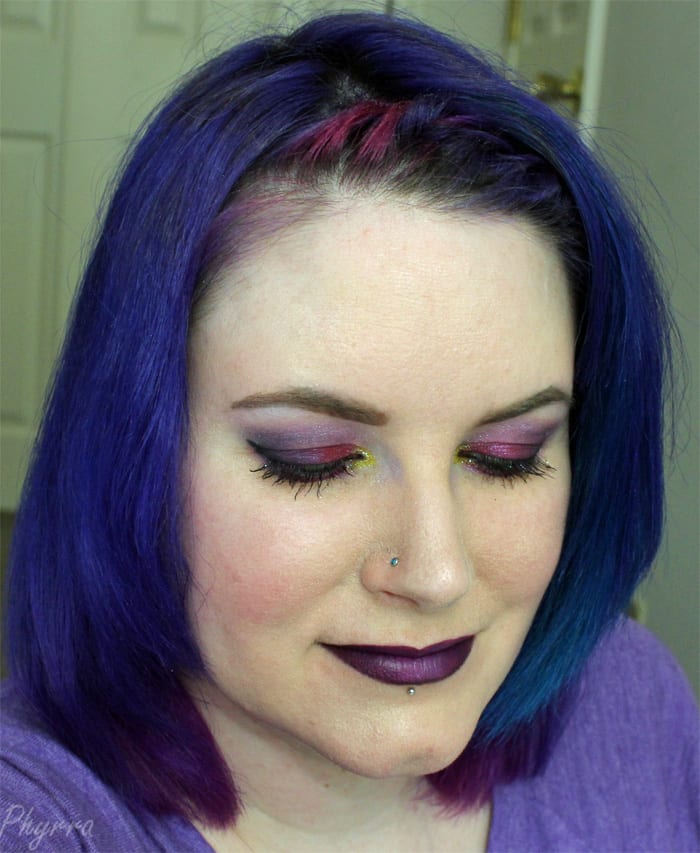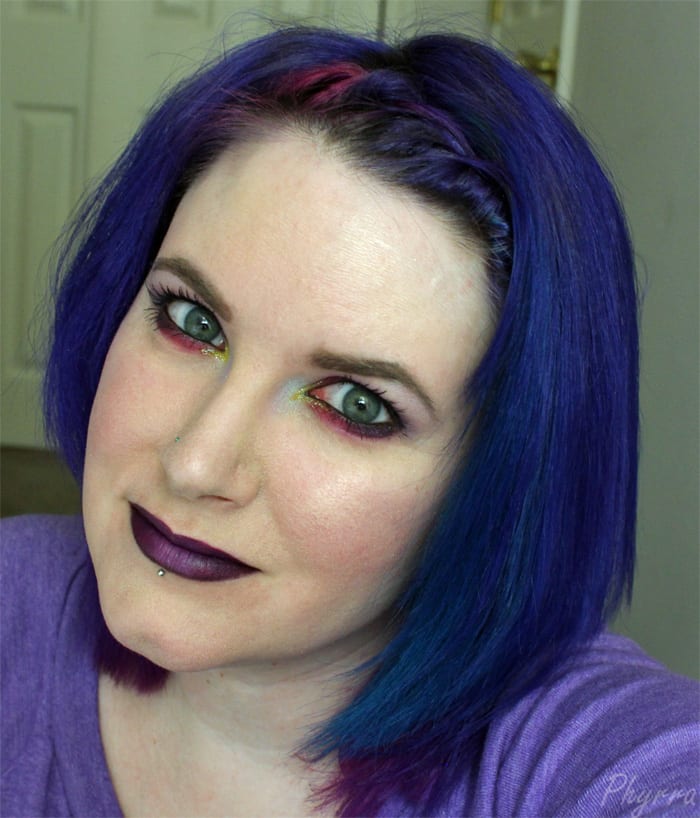 Eyes
Too Faced Shadow Insurance
Saucebox Cosmetics Snow Flake – base shade
Tat2u Magnolia (e.l.f. Studio Makeup Mist & Set) – lid and lower lid
Tat2u Sugar Daddy (e.l.f. Studio Makeup Mist & Set) – outer lid and outer lower lid
Scaredy Cat Poysenberry Pie Asrai – crease, lower lid
Tat2u Rebel – outer crease, with e.l.f. Studio Makeup Mist & Set as liner on outer upper lash line
Scaredy Cat Everglade Asrai (e.l.f. Studio Makeup Mist & Set) – inner v
Scaredy Cat Hedgerow – under brows and at inner corner
Ofra Black Gel Eyeliner – waterline
Urban Decay Perversion Mascara
Anastasia Beverly Hills Medium Brown Ash & Granite brow pencils
Face
Perfekt Skin Perfecting Gel in Luminous
Obsessive Compulsive Cosmetics Skin Conceal in Y1
Perfekt Cheek Perfecting Gel in Blushed
Too Faced Candlelight Glow Duo – highlighter
Silk Naturals Close Up Illuminating Powder
Lips
Colour Pop Lip Pencil in Feminist
Colour Pop Lippie Stix in Feminist
Colour Pop Lippie Stix in Leather
Colour Pop Lippie Stix in Brills
I decided to try applying mascara to my lower lashes for this look. I typically hate how I look with mascara on my lower lashes. I'm still not sure I like it, but it's a change.
I really love how my lips turned out. I applied the lip pencil in Feminist first, to line the lips. Then I filled in the outer lips with Feminist. I filled in the inner lips with Leather. I used a lip brush to blend the two. Then I added a bit of Brills to the center of the lips.
Magnolia is more of a pinky purple than a red shade, but it looks sort of red in these photos due to the crappy lighting. Poysenberry Pie is a pinky purple. Sugar Daddy is a purple. Just about all of the Scaredy Cat Cosmetics colors that I have I custom ordered, so the Asrai is white glitter, on application shows translucent turquoise. I love my turquoise.
Tat2u eyeshadows are nice! I like the colors of the 3 I picked up at the Makeup Show Orlando.
What makeup are you wearing today?
Follow me on Twitter, Youtube, Pinterest, Bellashoot, Instagram, Tumblr, Google Plus, BlogLovin' and Facebook.
Last Updated on