I wanted to share with you my picks for top bright MAC lipsticks. These are swatches of some of my MAC lipstick collection. I thought you might enjoy seeing these shades side by side as well as on lips.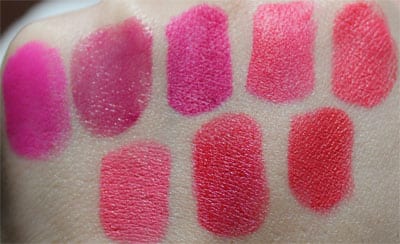 Shade Descriptions:
Candy Yum-Yum (LE) – neon pink (matte)
Zen Rose – bright mid-tone fuchsia (sheen supreme lipstick)
Quick Sizzle (LE) – blue-toned fuchsia (matte)
Force of Love (LE) – vivid honeysuckle pink (matte)
Party Parrot (LE) – bright red-pink (matte)
Viva Glam Nicki – bright yellow pink (satin)
Fusion Pink (Pro) – bright coral (amplified cream)
Toxic Tale (LE) – bright coral (satin)
Vegas Volt – full power coral (amplified cream)
Show Orchid (Pro) – vivid hot pink (amplified cream)
Rare Exotic (LE) – bright midtone blue pink (mattene)
My Thoughts on the Shades:
Candy Yum-Yum
It's the brightest neon pink lipstick that I've ever seen. It's a nod to the 80s, except it's updated since it's not frosty. I absolutely love it.
Here I've got a bit of an Inglot lipgloss on top of Candy Yum-Yum.

Quick Sizzle
Holy brights, batman! This neon fuchsia is almost retina burning, but I love it. I think it looks awesome on me. Gotta love the updated matte finish.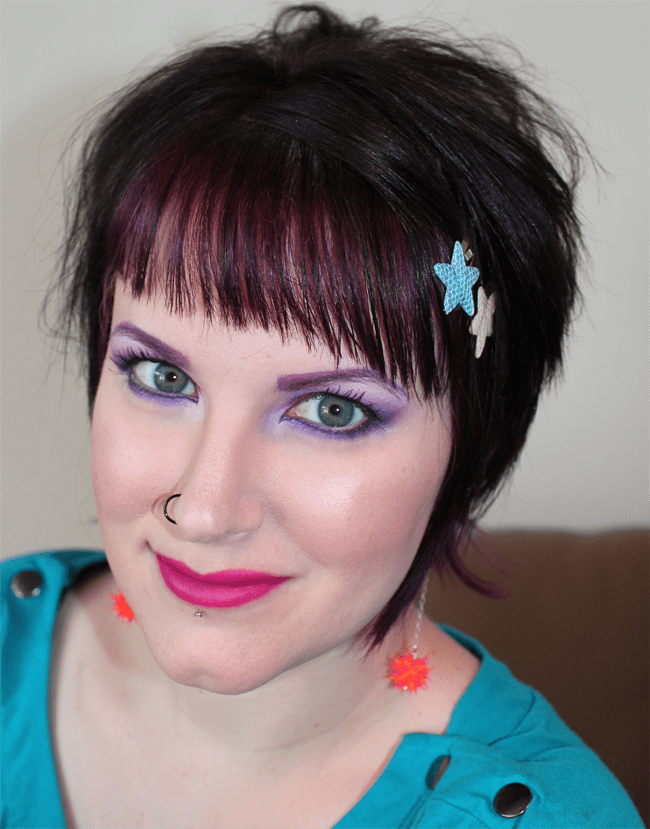 Force of Love
This is a really vivid shade, too. It's a pink that has a yellow tone and almost a hint of coral-red around the edges. It's also matte. I love it. It's definitely not boring.
Party Parrot
This is like a vivid coral-strawberry-red type shade. It actually reminds me of Revlon Strawberry Suede matte.
Viva Glam Nicki
A really pretty yellow-toned pink, I think this must be flattering on a variety of skintones. And since it's part of the Viva Glam line, all proceeds go to AIDS research. It's got a satin finish, so very close to matte, with just a slight sheen.
Fusion Pink
This is another nearly neon shade! It's a bright coral with a slight pink-violet iridescence. It's in the amplified cream formula, so a bit of a sheen, no shimmer or glitter to it. I feel it leans red.
Toxic Tale
This is a very pretty bright coral. It's got a slight sheen to it, since it's a satin finish. I think it leans orange.
Zen Rose
I'll be honest, I bought this partially for the name. I do also have a thing for all things fuchsia. It is additionally a gorgeous fuchsia lipstick with a glossy finish. No shimmer, just sexy sheen. I haven't done a look with it yet.
I did some additional swatching with the brights, as I wanted to add in a few other shades for comparison.




Vegas Volt
Vegas Volt is a very, very orange coral. It's part of the main amplified cream line. It's very creamy and pigmented.
Show Orchid
Show Orchid is a Pro color. It's a screaming fuchsia with violet-pink iridescence in the amplified cream
Rare Exotic
This is a vivid fuchsia matte. It's a very rich shade.
I'm bewitched by neons. Maybe it's because of when I grew up. Maybe it's because of my fondness for blinky lights. I absolutely love black and neon shades together.
Anyway, these are my picks for top bright MAC lipsticks. What are your favorite bright MAC lipsticks?
Most products purchased by me. Toxic Tale and Force of Love were gifts from friends. All opinions are my own.