I've got even more Makeup Geek Shadows swatched for you today. I've also got two non-Makeup Geek colors included: MAC Aquadisiac and Stars Makeup Haven Metro. Check out my initial swatches and my rave review.




The eye shadows were swatched on top of Meow Light Primer.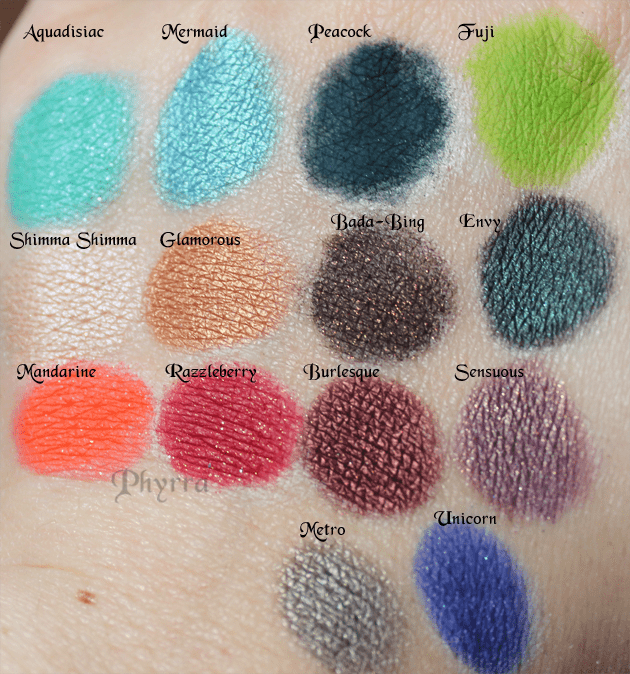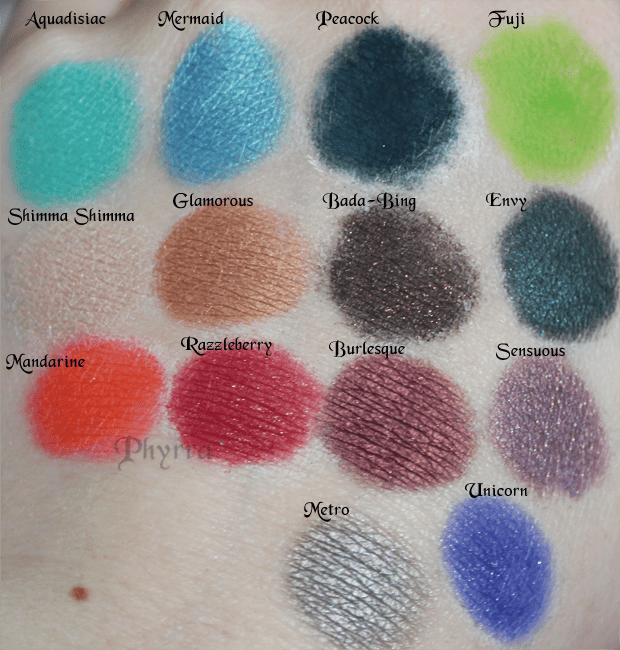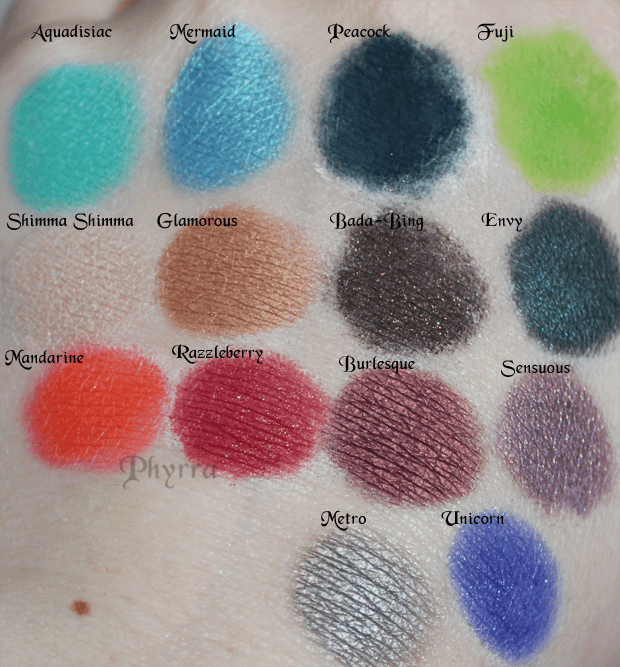 MAC Aquadisiac – deep sea turquoise (lustre)
While not a Makeup Geek shade, I have no idea why I waited YEARS to buy this color. I love it.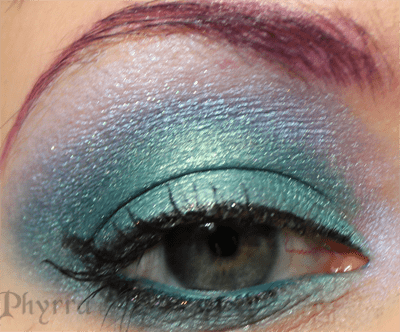 MAC Aquadisiac on the lid and Makeup Geek Mermaid in the crease and lower lash line.
Makeup Geek Mermaid – metallic teal with reflects gold
I fell in love with this color the moment I swatched it. I think I literally gasped. It reminds me of an amped up MAC Steamy.
Makeup Geek Peacock – matte deep teal blue
This is a very pretty deep blue-based teal shade, almost blackened. It's got good pigmentation.
Makeup Geek Fuji – matte apple green
I like this green! It's another matte with a good texture. I find you're better off patting mattes on, rather than brushing them on.
Makeup Geek Shimma Shimma – metallic champagne
I was hoping this would work as a lighter lid shade or more neutral highlight, and I'm happy to say that this color looks like it will work perfectly for that.
Makeup Geek Glamorous – shimmery bronze gold
I love gold. This bronzey gold is definitely a pretty shade.
Makeup Geek Bada-Bing – deep brown with flecks of gold
This reminds me a bit of Urban Decay Twice Baked. I need to play around with it. I do like the visible gold sparks.
Makeup Geek Envy – deep metallic green
This is a fun shade! It's a blackened metallic green.
Makeup Geek Mandarine – bright orange with flecks of gold
I think this is the shade that I must play with next. It's so bright and pretty. It's an orange with a bit of gold bling.
Makeup Geek Razzleberry – raspberry pink with gold glitter
To me this is a berry red-pink shade and the gold glitter is very visible.
Makeup Geek Burlesque – deep metallic burgundy
This burgundy shade pulls brown, making it more of a neutral to my eyes.
Makeup Geek Sensuous – shimmery purple with flecks of silver
This is a red-based purple with silver shimmer, and it sort of makes me think taupe.
Makeup Geek Unicorn – shimmery blue purple
I like Unicorn! It's a fun shade.
Stars Makeup Haven Metro – dark smoky dirty grey
I think dirty greys like this are nice as they tend to be warmer shades.
Like with the previous Makeup Geek shadows that I've played with, these are nicely pigmented. They apply easily and blend well.
Additionally, I contacted Makeup Geek to confirm that these are not private label shadows. Marlena works with a lab to create her eye shadows, much in the same way that Amy from Sugarpill works with a lab to create hers.
The eye shadows are cruelty free, but not all colors are vegan.
The eye shadows are $5.99 each, which is a great price.
I'm happy with my latest acquisitions, so you can expect me to continue to do looks with them.
What do you think of these eye shadows? Have you given Makeup Geek a try? See any must-have shades?
This set of Makeup Geek shadows were sent for consideration. MAC Aquadisiac and SMH Metro were purchased by me. All opinions are my own.