My newest Independent Spotlight is with the lovely Maria of Cult Nails. I just got to see Maria again this past weekend at the Central Florida Beauty Bloggers Meetup in Orlando. She attended the event as a blogger and a sponsor!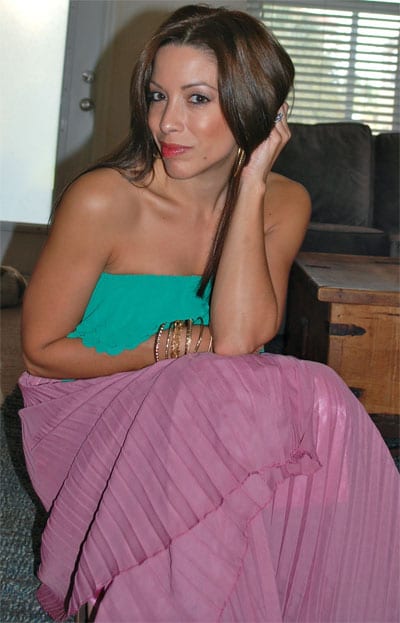 How long have you loved nail polish?
I've loved nail polish since I was a kid. I remember my mom had the longest nails and most beautiful hands. She left them natural a lot, but I used to love when she would paint them and couldn't wait until I had nails like hers. I remember thinking mine would always be painted, not just for special occasions.
What led you to start creating your own?
It actually started as my desire to start my own business when my husband retired from the military. I would dream of owning a salon one day. I would actually dream of this salon and how it would look and what things I would be able to do with the salon. Eventually I found nail blogs and started my own and then I started dreaming that I started my own nail polish line. It might have been from too many fumes from swatching and frankening polish! But the dreams became persistent. I could feel it. It felt so real and so right. I couldn't get it out of my mind. From there a physic told me I was going to have a major career change and it showed me playing with a lot of paints. She thought I was an artist! LOL!

How did you come up with the name Cult Nails?
We were trying to come up with names that could translate into a salon or makeup line later on and a good friend who is as obsessed with make up the way I am with nail polish was trying to help me. She mentioned that I should play on our addiction. We thought of all these different words that related to being addicted or obsessed with something. I got off the phone with her and "Juan" and I kept talking and I mentioned a few times, I want my brand to be a cult brand and it just went from there. As soon as we said Cult Nails, I knew that was it. It isn't something that can necessarily carry to other products, but it was the right name for our product! I can't remember if it was me or Juan who put the name together, but either way I knew that was the name of our brand.
What inspired your art? I absolutely love my Unicorn Puke Shirt, by the way.
Juan always said he wanted to get an old style pin up tattoo of me. I am not into tattoos that have someones name or image on them. I think it's a jinx. I don't mind inspired by tattoos, but there was no way I was OK with him getting something with my likeness. A few years ago Juan was stationed away from us for a year and for his birthday I took some old style pin up pictures of myself for him. Then from there I took one of the pictures to a local tattoo artist and asked if he could turn that into a cartoon for me. Juan got it tattoo'd on his leg. I don't know why, but I knew that pin up was going to be the logo for Cult Nails before we even had a name. She was our brand. I then hired someone to redraw her and change her up a little for our logo. The Unicorn Puke shirt design was made by a Cultie that we hired from posting the request on our Facebook page. That was a fun project, I can't wait to do more things like that!
How do you decide on names for your colors?
We sometimes think of the themes first, sometimes we have a name or two and then base the rest around that name. Our upcoming May collection for example, we are doing a Princess theme because one of the colors was made by a friend of ours and she's obsessed with all things Disney and especially Alice in Wonderland. She has a dark sense of humor that rivals Juan's and we all call her Princess Mandy, so we are trying to create a dark Princess theme and name the polishes in that style.
What's your favorite part about starting your own company?
I am finally to the point where I quit my job and work for me. It is a little scary to think about sometimes, but now I answer to all my customers and no one else. That is a freeing feeling. I love interacting with everyone and for me that is the best part aside from making the polishes. When the FB and Twitter pages are quiet, I try to think of ways to get everyone talking again. I love making people happy and sharing in all the wonderful things in everyone's lives not just polish related.
What's the hardest part of running your own company?
The accounting side of it. I hate it with a passion. It is just not what I want to spend my time doing. It is a necessary evil, but we just hired someone to take that headache over. I despise it that much! LOL! Other than that I love everything else about running Cult Nails!
What unexpected challenges have you faced?
There have been so many unexpected challenges. Everything from fun challenges like figuring out ways to manage the growth, to the not so fun challenges like finding more time in a day or how the heck to work Quickbooks! Neither Juan or I are webmasters either, so the next thing is to find someone who can make over our website and helping us manage it. I am hoping we can find a Cultie who is looking for the job! Is anyone out there a web designer? LOL
How do you work with the lab to create your colors?
We work in several different ways and we are changing it up all the time. At first I would mix the polishes at home and then send them the polish to match it up. Now we have a schedule where I'll be going to the lab a few times each year and creating my colors with them. That doesn't stop me from mixing at home and sending them colors though! We are working more and more on the research and development side to try to bring some new things and some of the great options we see overseas to the states.
What do you do with the mistakes the lab makes?
Oh I have so many mistakes! They also send me ideas sometimes. If I send them a color they may send me up to 8 options for that color. I keep them all. I have hundreds of colors that are mistakes. Some of those mistakes end up as part of the line like Toxic Seaweed. It didn't come out right, but I loved it, so we ended up going with that version instead.

How do you handle it when a pigment or ingredient is no longer available?
Um do you really want to know? I freak out, I cry, I scream at no one in particular, I freak out some more, then I calm down and try to think rationally. That has probably been the hardest concept for me to understand. Why would a company stop making an ingredient. If I get told one more time that no one was buying that stuff until I came around, I might lose it! OK I probably won't, but I sure do want to! LOL!
I feel like sometimes I have to do the leg work for the lab and find the ingredients and companies and track stuff down and it is sooo time consuming and hard because I don't have the contacts they have and these companies don't want to talk to someone without a lab. It is unbelievably hard to figure this stuff out sometimes. But I refuse to give up. I have been trying to get holographic ingredients that are FDA approved for almost 2 years now and I have yet to give up! I refuse to give up that we will make a holo happen!
What inspires you when you're in the mood to create something new?
Everything. I look at things so differently now. fabric in clothes, paint on the walls, the environment around me, Culties, friends, you name it, and it probably serves as inspiration.
Can you tell us about any upcoming collections?
We have so many coming up it'd be hard to pick one to talk about. We planned on a collection every other month for 2012 and I think we added 2 or 3 more collections to that roster and now have collections releasing at the end of March, April & May and the beginning of July from there we have Sept & Nov slated for collections and are working on one for August. When I went to the lab, I was like a kid in a candy store and I just couldn't stop myself. We are also trying to introduce more mainstream colors along with our expected Cult colors this year. We want to reach a broader audience, while still staying true to our brand.

How many hours a day do you work? Days a week?
I feel like I am always working. I just can't shut it off. Even when I am not working, I am thinking of Cult Nails. But Juan and I probably work about 50 – 60 hours a week each if we added it all up. But I have the luxury of referring to talking to culties on FB and Twitter as work now! How cool is that?! I'm embarrassed to admit it, but my tub has become my office sometimes. I will sit there with a glass of wine getting ready to relax and Juan will come in with questions or an idea and before I know it, the water is cold, but we just finalized a collection or the Twitter whistle goes off on my phone, and I start responding to tweets and forget all about my relaxation time. It happens more than I care to admit!
Do you work by yourself or do you have help?
It's just me and Juan. But the kids help out, well when they want something from us, they help. LOL! We have had friends help us out too, but so far we haven't had to hire someone to help with the day to day stuff. We have the accountant now but she's not an employee of ours. But so far that is it.
I know you have adorable kids! How do you balance your family and your company?
I don't know that I do the best job balancing everything. I feel like I get a little better every day. It is a constant struggle. I have to schedule everything or the time will just slip away. My kids are very social too, so we always have their friends in our house too, it is rarely quiet in our house!
Do you have any pets? Tell us about them!
I have two dogs. One is an old wire-fox terrier we adopted. She is getting really old and we aren't sure how much longer she is going to make it. We thought we were going to have to put her down recently and like small miracle, she seems to be doing better. We have had to make some changes with her, but so far so good. But she's a constant worry. The other dog is a mix we adopted. She just turned 3 and she is still a bundle of energy. She is so good though and my middle child's baby. She follows her everywhere, it is the funniest thing. They are BFF's for sure! They are lost without each other.
What are your favorite colors to wear – for clothing, makeup, nail polish?
Hmm tough question. I think pinks and purples have to be my favorites, since I am always drawn to them. You would never guess it, but I am not a fan of wearing greens and blues on my nails! I love the colors in the bottles, but I always feel weird. I find the colors on other people so fun and appealing and they seem to look so much better on everyone else, so I'm not sure why I feel like I can't pull them off. It doesn't stop me from trying and I sometimes will wear them for a week straight just because I love the polish so much, but the whole time I can't get over how it just does not mesh with my personality. Strange coming from someone who can't stop creating blues and greens!
What are your favorite colors that you've created? I love Unicorn Puke! I also adore Baker, Swanbourne, Mind Control and Let Me Fly 🙂
My favorites change all the time. But right now Devious Nature and Crusin' Nude are probably the two I wear the most, as a matter of fact those are probably the main colors I wear as pedicures.
What is your absolute favorite nail polish color ever?
Favorite ever? I don't think I have one. I am way to fickle of a person and am constantly changing what my favorite anything is. That would be like picking a favorite child, I just can't do it!
How often do you paint your nails?
It varies. I change my polish once a week unless I am creating colors or testing colors. If I had the time I would change it every few days, but I just don't have that kind of time anymore.
Do your tips and toes match? Or do you coordinate?
They hardly ever match. I try to coordinate, but I change my pedicure color once every 3 or 4 weeks, so they don't always coordinate either. Right now I am wearing three colors from our upcoming Divas & Drama collection on my hands and Devious Nature on my toes.
What is your favorite beauty trend?
I'm loving the Stiletto nail! I hope it stays around a bit longer!
Do you have a signature scent?
Not one that I have worn for years, but I used to love Angel until everyone else started to wear it, now I wear BBW Dark Kiss. I know, I know, even more people wear that one! But I just love how it smells. But I would love to find someone to make a custom scent just for me. The idea of that is so appealing.
Do you have a trademark look or trademark colors?
No, I love playing with different looks and reinventing myself based on how I am feeling each day.
On a typical day, what do you wear makeup wise?
This is probably where I get boring. I love makeup and all the colors. But I definitely have a go to look that I don't change during the day. Right now I am using Stila's Tinted Moisturizer topped with Cara's loose powder. I then use Nars Laguna bronzer mixed with Orgasm blush. I use three shades from the Urban Decay Naked palette, and their 24/7 black eyeliner. I top with Dior Blackout on my lashes and then spray my entire face with Urban Decay's All Nighter and add some Fresh Sugar on my lips and walk out the door. At night I'll play with eyeshadow colors and be a bit more heavy with my application, especially since I know my friends love taking pictures as much as I do!
What's your skincare routine?
I use Yes To Blueberries Brightening Facial Wipes to remove all my makeup, then I wash my face using DHC Deep Cleansing Oil and then whatever moisturizer I have on hand. I am still looking for THE ONE moisturizer that I love. I recently started getting facials regularly again. I forgot how good it makes your skin look!
Do you have a favorite 'super' ingredient or food? I'm still hooked on blueberries.
Pizza. That qualifies as a super food right? LOL! I am addicted to pizza. I am actually eating pizza as I type this.
Have you ever dyed your hair? If so, what colors do you prefer?
I always dye my hair, but nothing super exciting or fun like pink. I wish I could, but I always had jobs that wouldn't let you and now I'm past that stage in my life. I've pretty much done anything from blonde, auburn to brown and black. Right now I am going back to brown hair.
What's your favorite way to accessorize? I've been wearing a lot of stars lately.
I am an accessory junkie! I wear anything from fun shoes to bracelets, necklaces, earrings, you name it. I always have bracelets on. I love Alex and Ani bracelets, they go with everything, so I almost always have those on. Hmm that could be my trademark look right? I mean I wear those bracelets obsessively!
Do you have a blog you'd like to share with us?
My blog is www.r3daily.com
What's your favorite chocolate?
Dark and unsweet. Yum! Or white and totally sweet! I love opposites!
Do you play any video games?
Not really. We have a Wii, Xbox and Play Station and the kids play, but I don't too much. When I do it's either the Wii or Kinect. I'm not a gamer.
What are your favorite authors or books to read?
I love reading. If you put something in front of me I will read it. I tend to read multiple books at the same time. Right now I am reading Marilyn: a biography by Norman Mailer and Midnight in the Garden of Good and Evil by John Berendt on the recommendation from a friend. But I am taking a break from both of those books to read Brad Goreski Born to Be Brad. I'm a huge fan of his!
What are your favorite tv shows?
Modern Family, Revenge and It's a Brad Brad World – If someone deletes one of those from my DVR they better hide!
What is your office like currently?
I don't have one. We have a warehouse for Cult Nails polishes and then we do everything else from home. I have a nail desk where I do all my creations and that's in my bedroom. Then I have my laptop and Ipad so I can work from anywhere. We are actually going to start looking for office space soon. YAY!
What color is your bedroom?
White, white, white and more white. I recently redid my bedroom and showcased it on my blog. I bought a white tufted bed, and a white leather chair and the rest of the furniture is dark chocolate brown. All the bedding and curtains are white with accents of gray and purple thrown in here and there. I love it!

What colors do you like to decorate with in your home?
That changes a few times each year. I am actually in the process of redoing the living room accents. It's going to be coral, yellow and blue. But each room is different. I change my mind too much so I have to have a few things to choose from all the time.
What do you do to relax?
Go to the beach, take a hot bath with a good book & a glass of wine or go to the gym. Those all put me back in the right frame of mind.
How do you pamper yourself?
I started going for monthly facials again. I used to do that all the time, and then stopped. I really missed it. Juan and I just got our first body massage recently and I think that may be a new addiction! It was amazing, but besides that my hot baths are definitely a nice way to relax and feel pampered.
What's on your iPod or Pandora Station? Or have you turned to Spotify or the Google Music?
My iPod has a little of everything. I like music that makes me feel happy. The only music I'm not a huge fan of is heavy metal or rock. Juan loves that music, and it's just not my cup of tea. I want to hear something that is going to make me get up and dance.
Can you tell us something about yourself that might surprise your fans?
I am such an open book, I don't think anything would surprise people. What you read is pretty much who I am. I don't really have any surprises. I am probably a little too open.
Thank you so much for letting me interview your Maria!