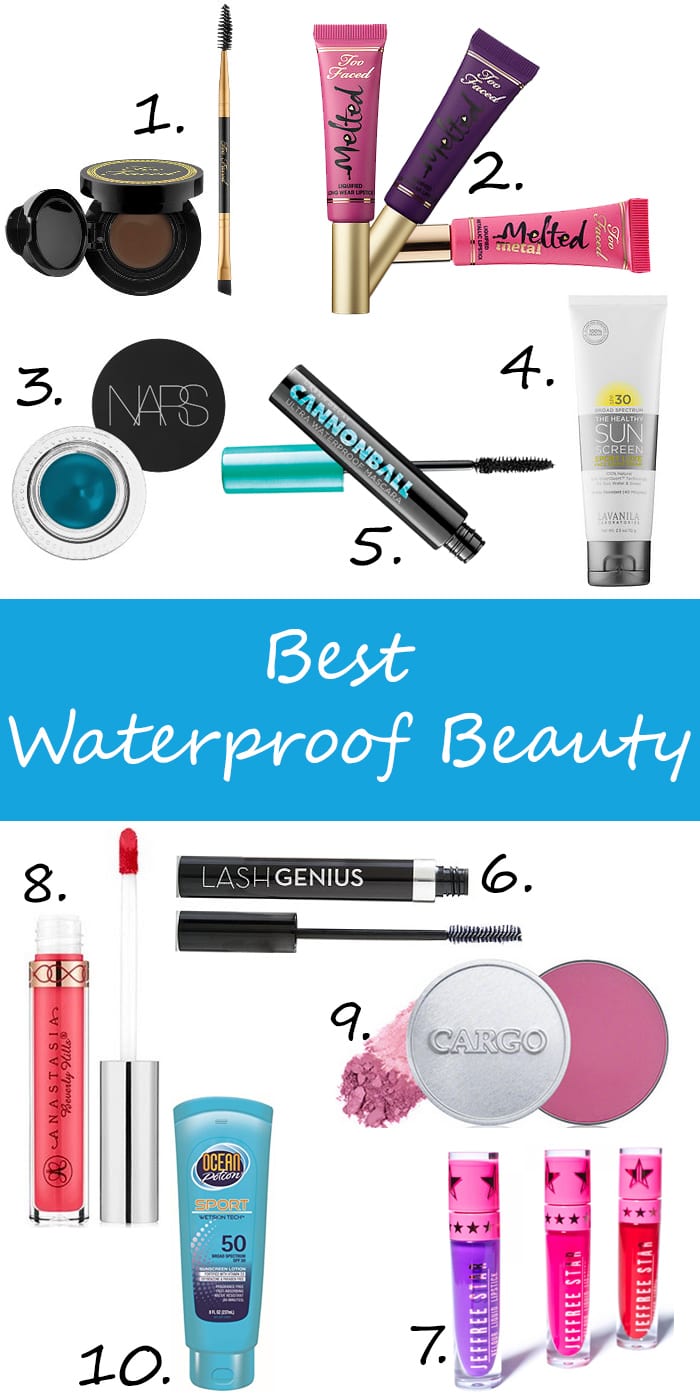 With oily hooded eyes, waterproof beauty is essential for me! It's also important if you're going to be around the pool or at the beach. I'm sharing my top 10 waterproof beauty products with you today.
Top 10 Waterproof Beauty
This post contains a mix of press samples and products purchased by me.
If I'm going to be at the beach or poolside, I stick to lots of SPF on my body and bright lips. I feel like bright lips look awesome with big sunglasses (you can see my favorite sunglasses here). Sometimes I also like to have defined brows and a little bit of mascara, too.
1.  Too Faced Bulletproof Brows
Your brows will last through the pool, the beach and the hot tub when you use Bulletproof Brows. Available in 2 universal shades, Universal Taupe and Universal Brunette. This will last 12 hours on me easily. See my review.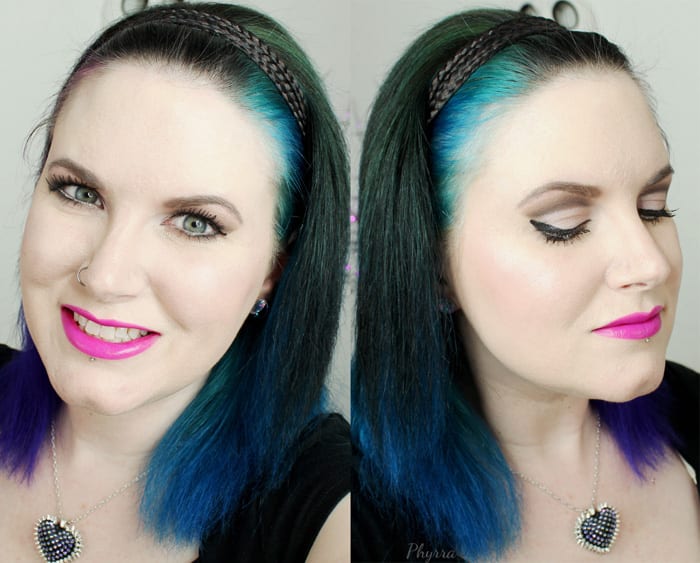 2. Too Faced Melted Lipsticks & Melted Metal Lipsticks (vegan)
You get the best of a lipstick, a lip stain and a gloss in these lip colors. I'm in love with Melted Rainbow right now and wearing it non-stop. They're perfect for a pop of color poolside. See my Melted Rainbow, Melted Metals review and Melted Lipsticks review.
3. NARS Eye Paints
Whether you want to line your waterline or get that perfect cat eye, I swear by the NARS eye paints. See swatches here and here.
4. LAVANILA Sport Luxe Face & Body Cream SPF 30 (vegan)
You can't forget sunscreen if you're going to be outside! This is a new waterproof SPF from LAVANILA. Protecting your skin from the sun is one of the best things you can do to prevent the signs of aging.
5. Urban Decay Cannonball Ultra Waterproof Mascara
This is the best straight up waterproof mascara formula that I've tried.
6. Anastasia Beverly Hills Lash Genius Waterproof Topcoat
Of course, you can make your favorite mascara waterproof with this product, which I really do think is genius!
7. Jeffree Star Velour Liquid Lipsticks (vegan)
Since I own every shade except for (714), I'm pretty smitten with this matte liquid lipstick formula. Celebrity Skin is my favorite. See swatches.
8. Anastasia Beverly Hills Matte Liquid Lipsticks
So far I own Potion, Party Pink, Pure Hollywood, Unicorn and Vintage and I really love them. They're another great option. If you want blindingly bright, Party Pink is the way to go.
9. Cargo Swimmables Water Resistant Blush
If you want to add a pop of color to your cheeks, these blushes claim to be sweat proof, heat proof and tear proof. They're super gorgeous! Ibiza is my type of color.
10. Ocean Potion H20 Sport Sunblock SPF 50
Can't forget about the rest of your body at the beach! I love the Ocean Potion line for the body. It's water and sweat resistant, provides broad spectrum UVA/UV2 & UVB protection, and it even has Vitamin D3 in it.
What are your picks for waterproof beauty? Do you skip foundation and slather on the sunscreen like I do?
Loading InLinkz ...
Last Updated on