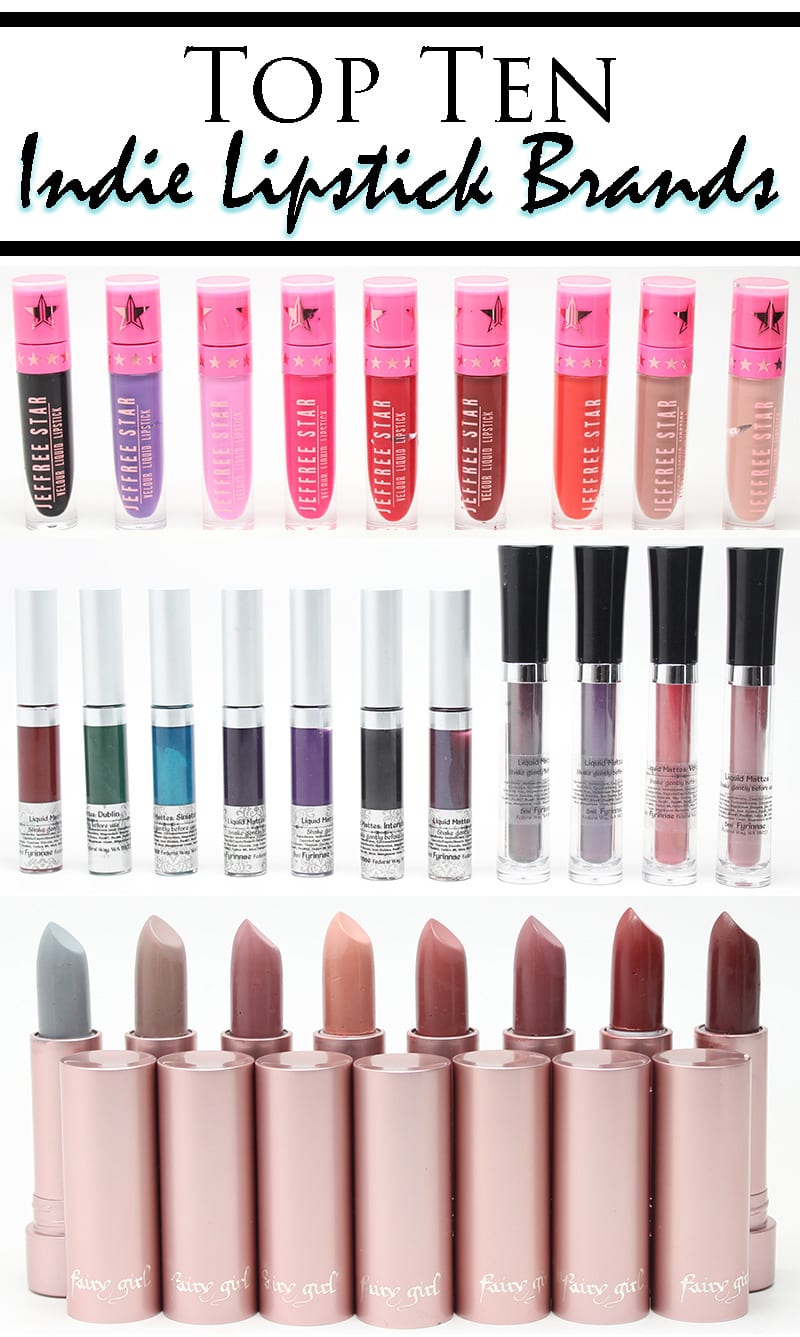 Today I'm sharing my picks for the Top 10 Indie Lipstick Brands. Yes, I love lipstick. Before I started blogging, I had a 'huge' lipstick collection of 50 lipsticks, much larger than my eyeshadow collection. I still consider myself a lipstick devotee, so I've tried a ton of different brands. I always have trouble narrowing it down to just 10, but here's who made my list. Most of my picks are 100% vegan. All are cruelty free, of course!
Top 10 Indie Lipstick Brands
PR + purchased by me.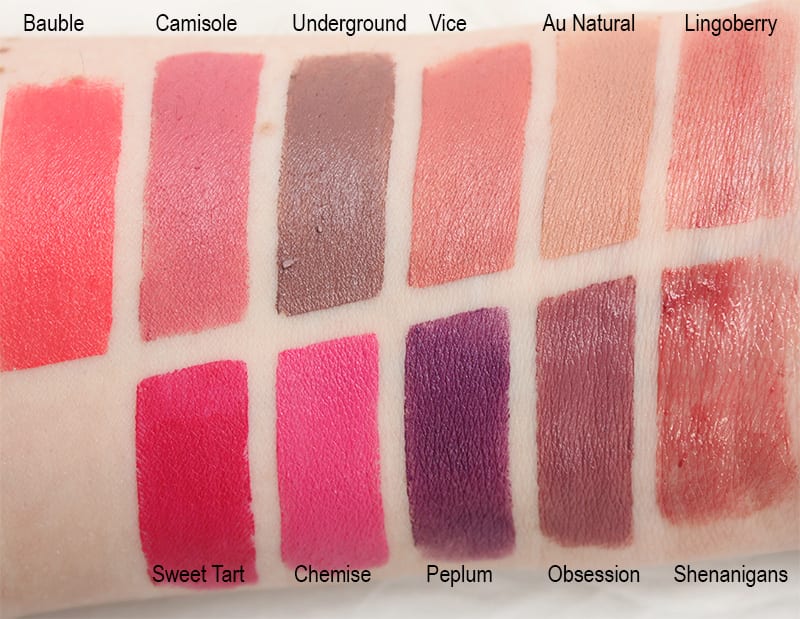 1. Silk Naturals
Silk Naturals is the ultimate unsung hero of indie makeup. They make just about EVERYTHING that you could possibly want. Their products are normally made with over 80% organic ingredients. They're gluten free and they're almost all vegan (there might be 2 or 3 legacy non-vegan shades left on their site). They have your everyday shades like Eternal, Lois, Negligee, Strut, or Garter. They have your bright shades like Bauble, Chemise, Inferno Pow or Wham. They have your gothic shades like Bam (black), Peplum (purple), Obsession (plum) or Cherry Black (blackened burgundy). (vegan)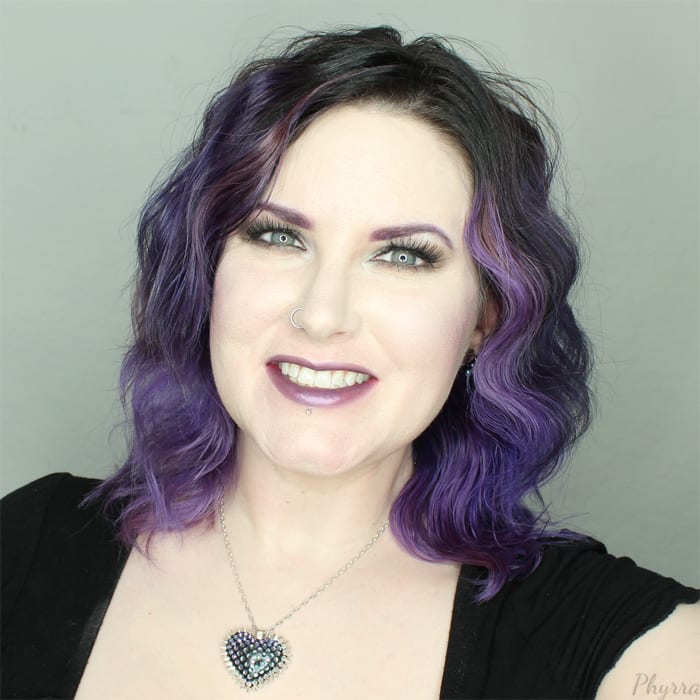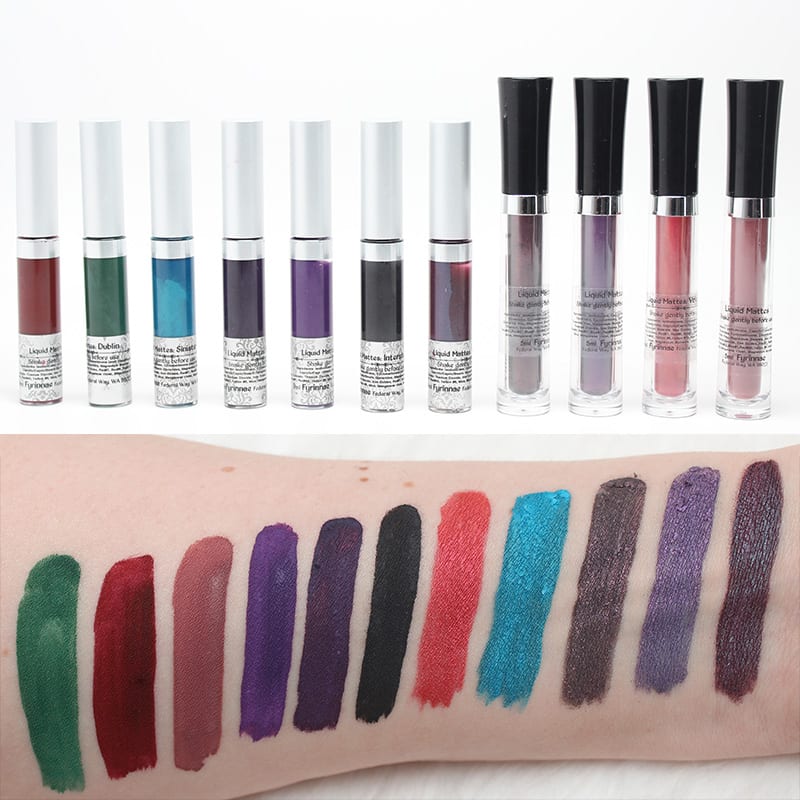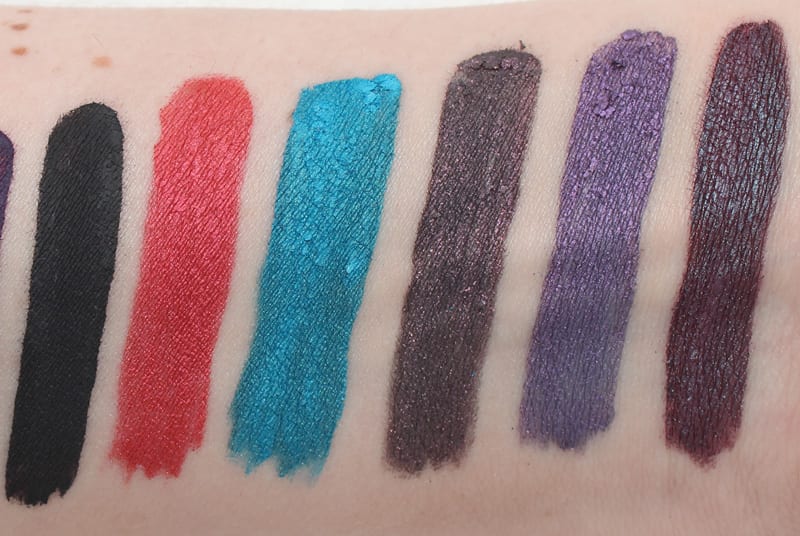 2. Fyrinnae
Fyrinnae is an all vegan company that makes lip products in a unique way. The Lip Lustres are like a liquid lipstick butter. They're not drying, they come in unusual shades like Nemesis or Narwhal Nuzzles, and they have brights like Lollipop-Pop and Visual Kei. Their Liquid Matte Lipsticks are an extremely comfortable liquid lipstick formula that dry to a matte or matte-metallic finish. Shades like Wizardry (burgundy with teal shift), Volcanic (red to orange to gold), Cauldron Smoke and Phantasma are stunning. They do offer some traditional bullet style lipsticks too. Misfit is a favorite of mine. If you only try one, look at Wizardry. It looks amazing on top of OCC Black Dahlia pencil. (vegan)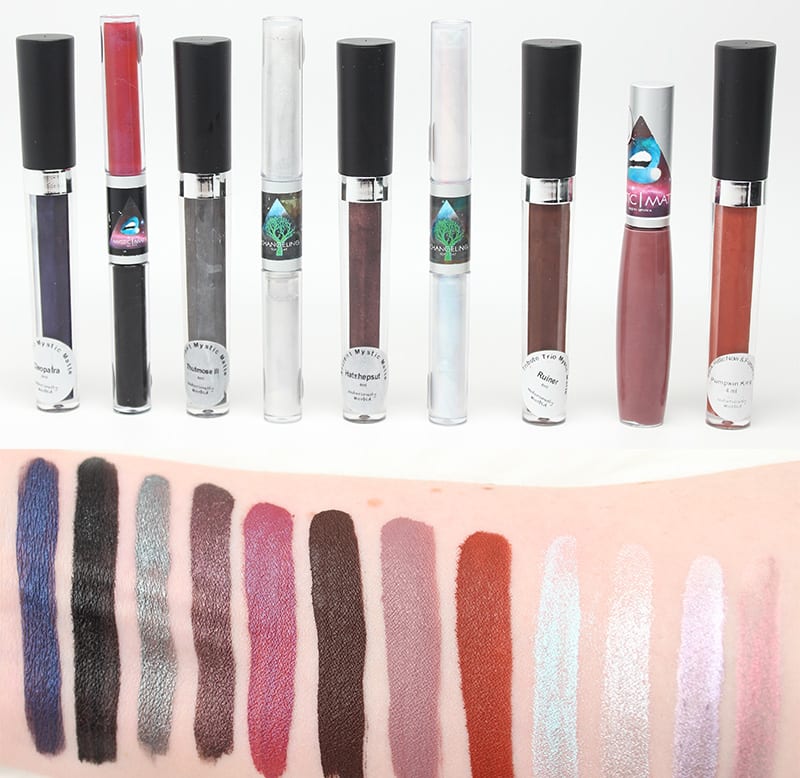 3. Notoriously Morbid
Notoriously Morbid has Ancient Mystic Matte Liquid Lipsticks that are matte metallic. Cleopatra is a blurple, Hatshepsut is a burgundy, and Akhenaten is a gold. Their matte liquid lipsticks are pretty too, and have names like Sorceress, Tarot, Doppelganger, Lilith, and Rune. They also sell Changeling topcoats for lipsticks that work on top of matte or non matte lipsticks. Finally, they do offer a few traditional lipsticks like Legion (pinky coral) and Wicked Heart (warm red).  (some vegan options)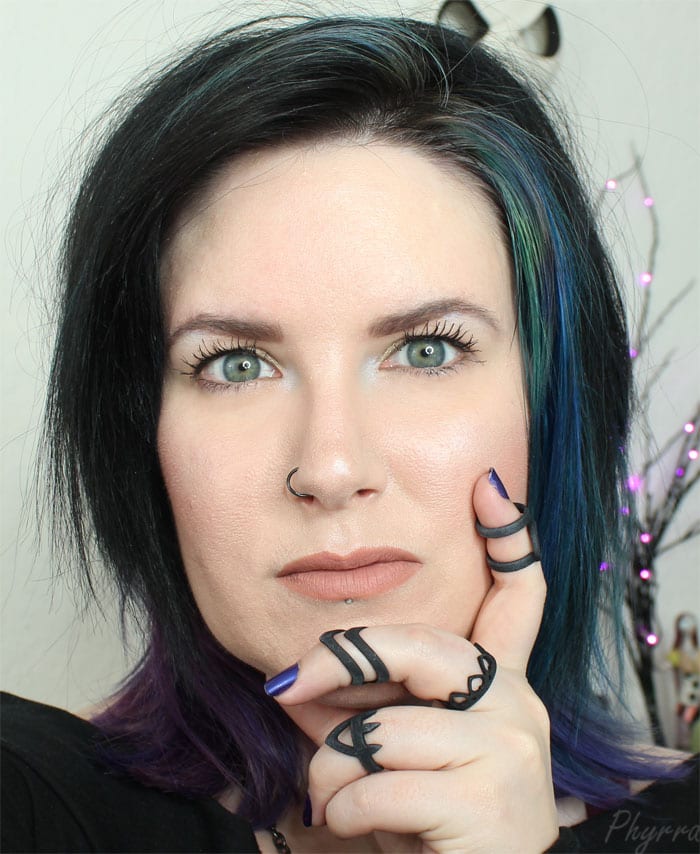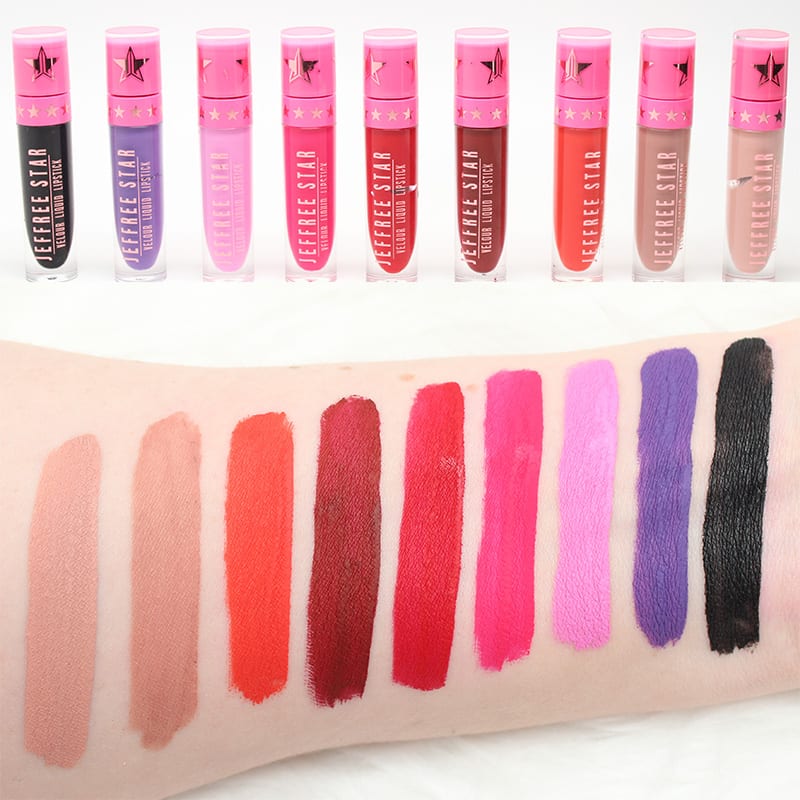 4. Jeffree Star
Jeffree Star has a wide range of Velour Liquid Lipstick shades. I especially like this formula. The colors can be mixed together on a makeup tray and then applied with a lip brush to create your own custom long wearing shade. The shades range from nudes to blues and black. (vegan)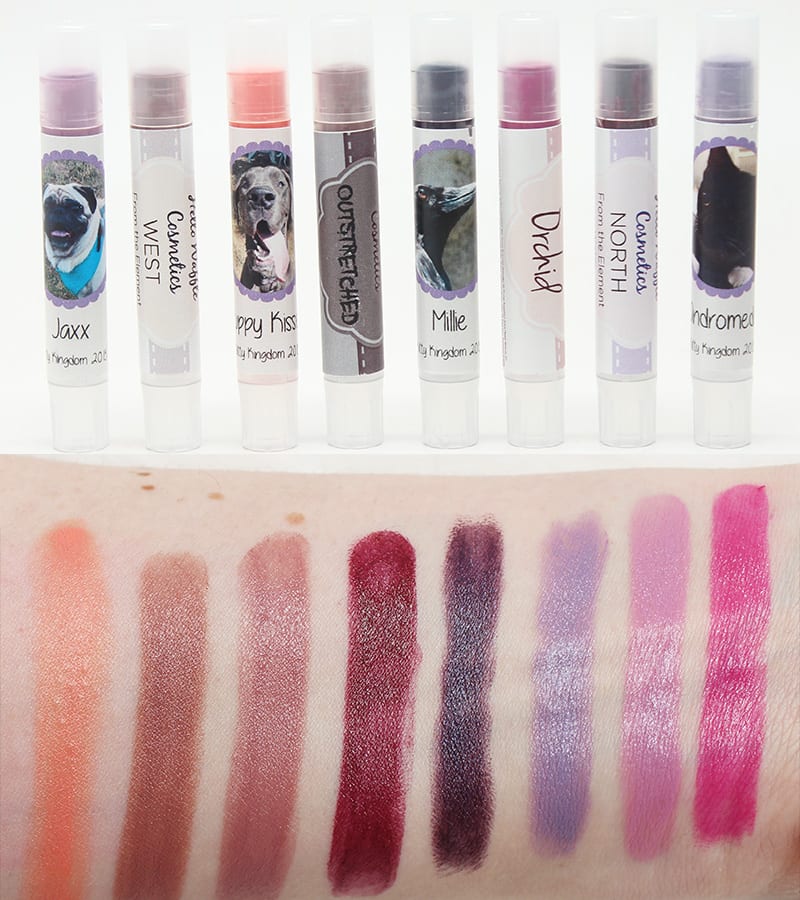 5. Hello Waffle
Located in Canada, Hello Waffle has some nice, slimline lipsticks in colors like West (mauve-toned greige), North (deep wine), Orchid (deep pinky purple), My Lips But Berrier (magenta), and East (nude brown).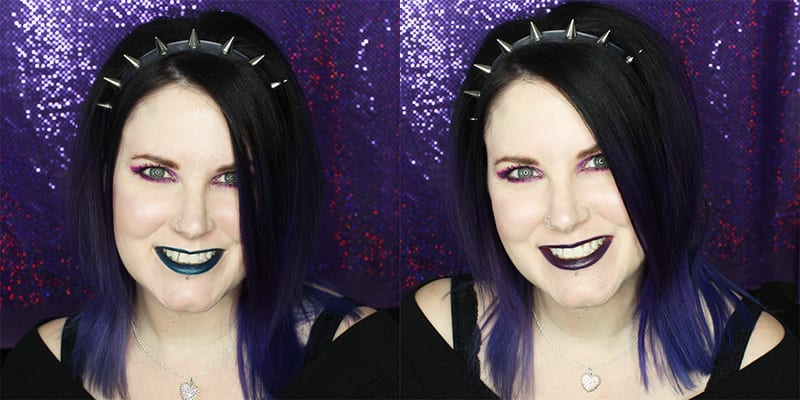 6. Necromancy Cosmetica
Located in Puerto Rico, Necromancy Cosmetica is a 100% vegan lipstick company. They make my perfect deep teal blue, Necromantia. (vegan)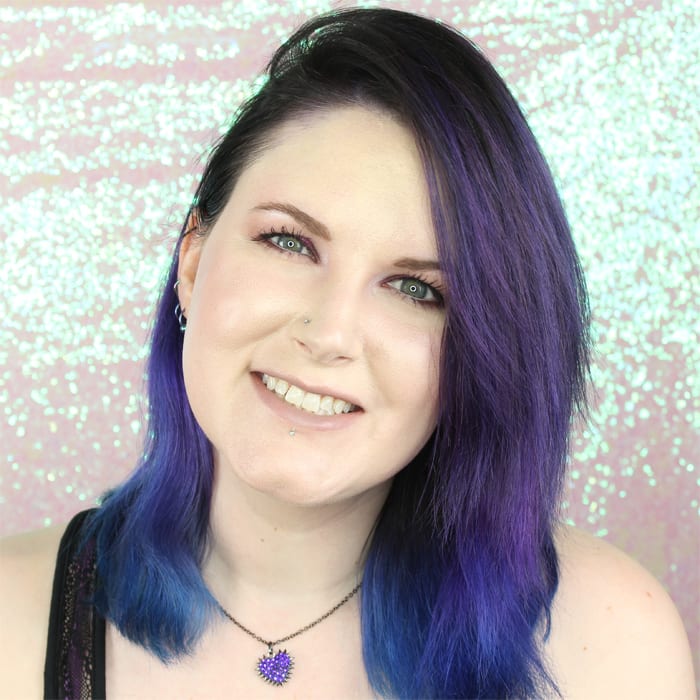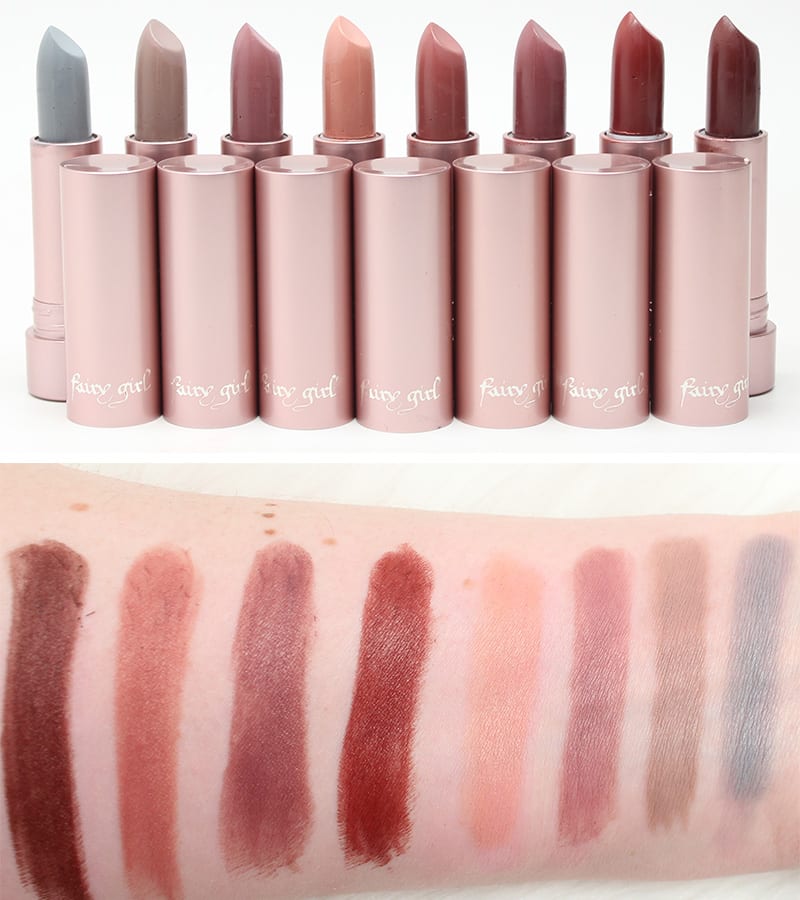 7. Fairy Girl Lipsticks
Fairy Girl is a luxury mineral lipstick company from California. They have mostly office safe shades, but a few really fun ones like Luna (grey), LAX (greige) and Angel (pinky taupe). (vegan)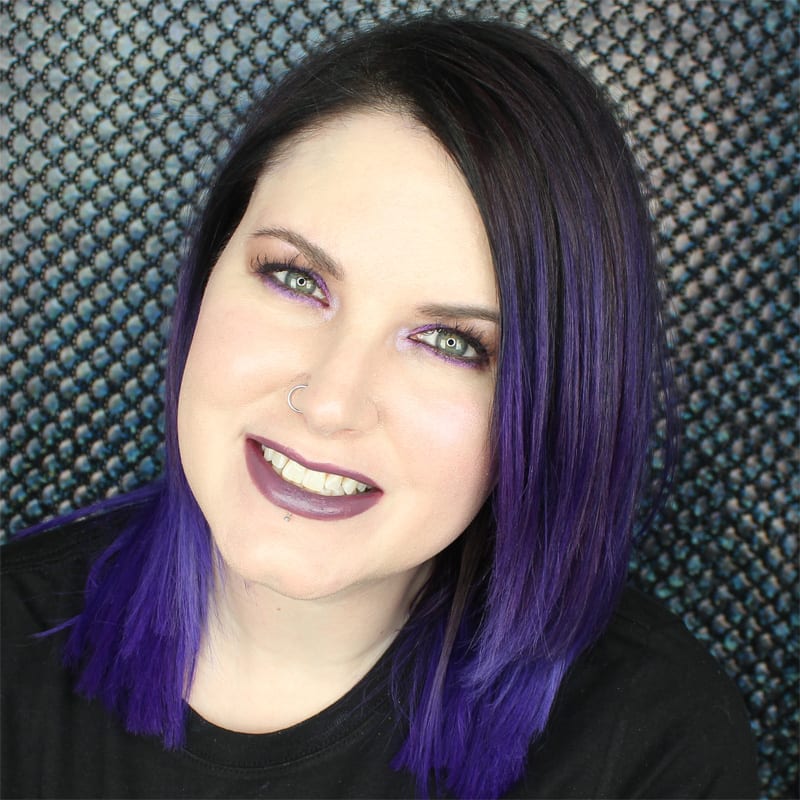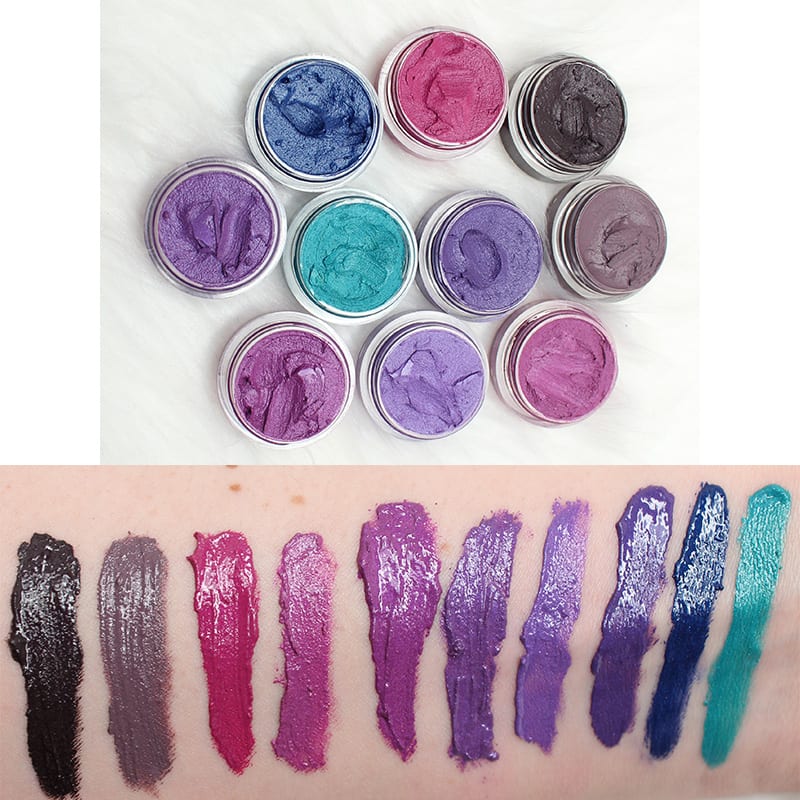 8. MBA Cosmetics
I'm in love with the MBA HD Lip Paints in the creamy formula. They're gorgeous. Shades like Burlesque (magenta pink), Indigo (blurple), Grape Crush (purple with pink undertone), and Frozen Plum (muted greyed plum) are beautiful and comfortable to wear.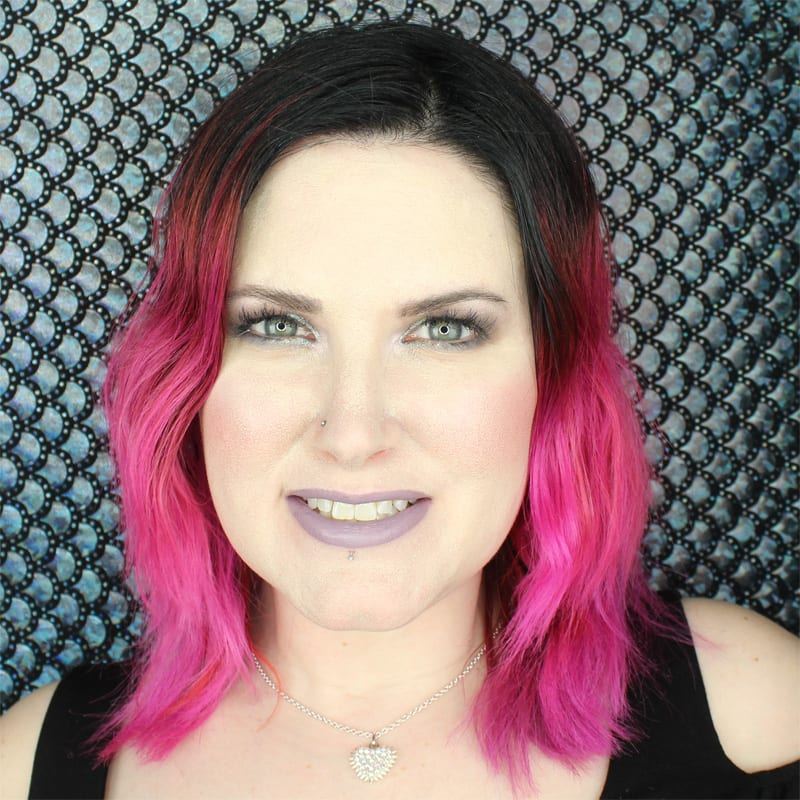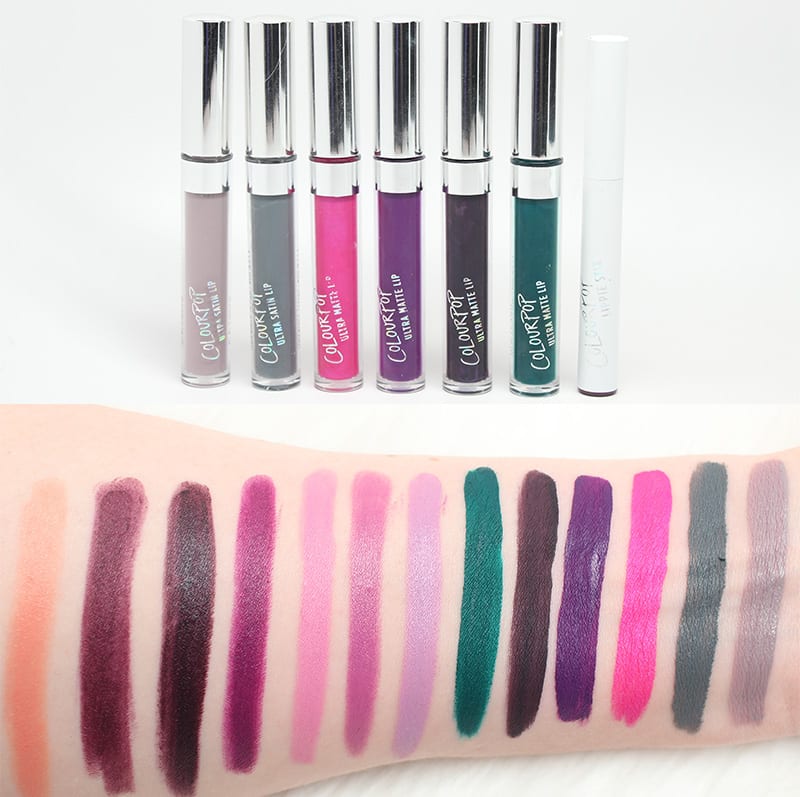 9. Colour Pop
Colour Pop has a huge range of lip products. They've got traditional lipsticks, matte liquid lipsticks, and liquid lipsticks that don't really dry down. I'm in love with Marshmallow currently, but they've had some great purples like Brills, Leather, Nevermind and Grind. (vegan)
EDIT: I was informed that Colour Pop isn't actually indie, since they have a parent company and they're not free from outside control. So while I think they make good products, they don't belong on this list.
10. Sugarpill
Sugarpill has been taunting us forever (it feels like!) with their upcoming lipsticks and liquid lip color. They've been released at beauty conventions but not online yet. The traditional lipsticks come in a super cute white and pink pill shaped tube. Girl Crush is the ultimate vibrant fuchsia, while Nurse is an intense red. (vegan)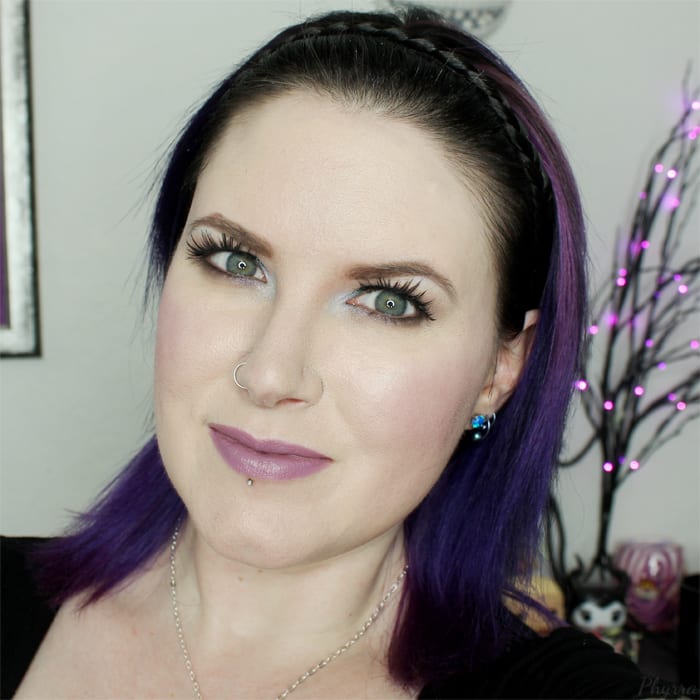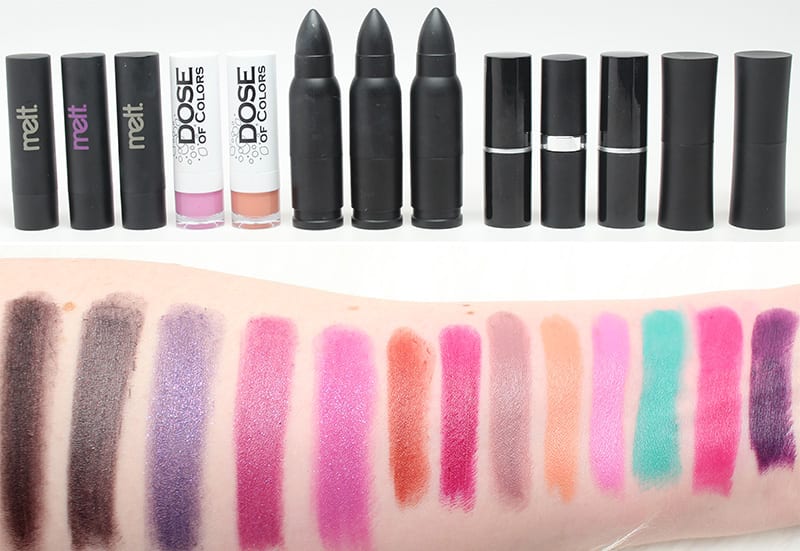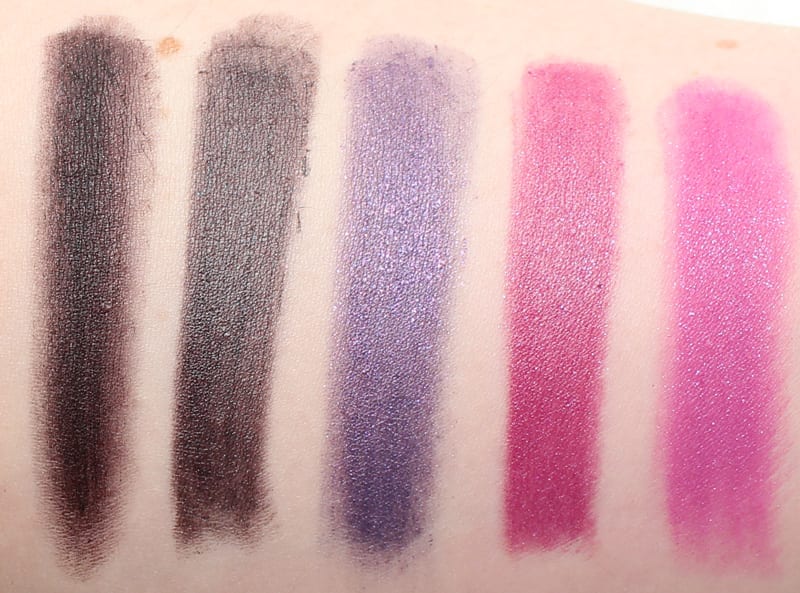 There are a few brands that deserve honorable mentions – like Dose of Colors and Melt Cosmetics. Dose of Colors makes nice traditional lipsticks. I am not a fan of their liquid lipstick formula, though it's been a few years at this point since I've tried it, and maybe it's better now. Melt Cosmetics has some nice lipsticks too. The newer formulas on the tubes that I've purchased have been  much creamier and smoother than my original set from Melt. Morgana Cryptoria makes some awesome lipsticks, but they're open infrequently. I still have to mention them because I love my colors from them so much! Lunatick Cosmetic Labs also has a few great lipsticks but they only come in a few shades. Still, Bruja is my favorite color from them.
If you want a great indie brand but need instant gratification, you can always pick up Obsessive Compulsive Cosmetics RTWs. They're at Nordstrom and Beautylish. I LOVE their Colour pencils, too.
For all lipsticks, I recommend using a lip pencil to help get clean lines.
To prep for matte liquid lipsticks
Exfoliate your lips.
Apply a moisturizing lip mask or lip balm and let that absorbs into your lips while you put on the rest of your makeup.
Blot off any excess moisture or balm.
Line your lips with a lip pencil so that you have a guide for your application.
Apply your matte liquid lipstick. If you find this hard, grab a lip brush to help with application.
Apply a second coat if necessary, or dab it on if there is only a place or two that needs to be more opaque.
Let the matte liquid lipstick fully dry.
If you want to add extra dimension, layer a fun eyeshadow like Sugarpill Lumi or a fun lipstick like Too Faced Unicorn Tears at the center.
Have you tried any of these brands? See any new shades you like?
More to See