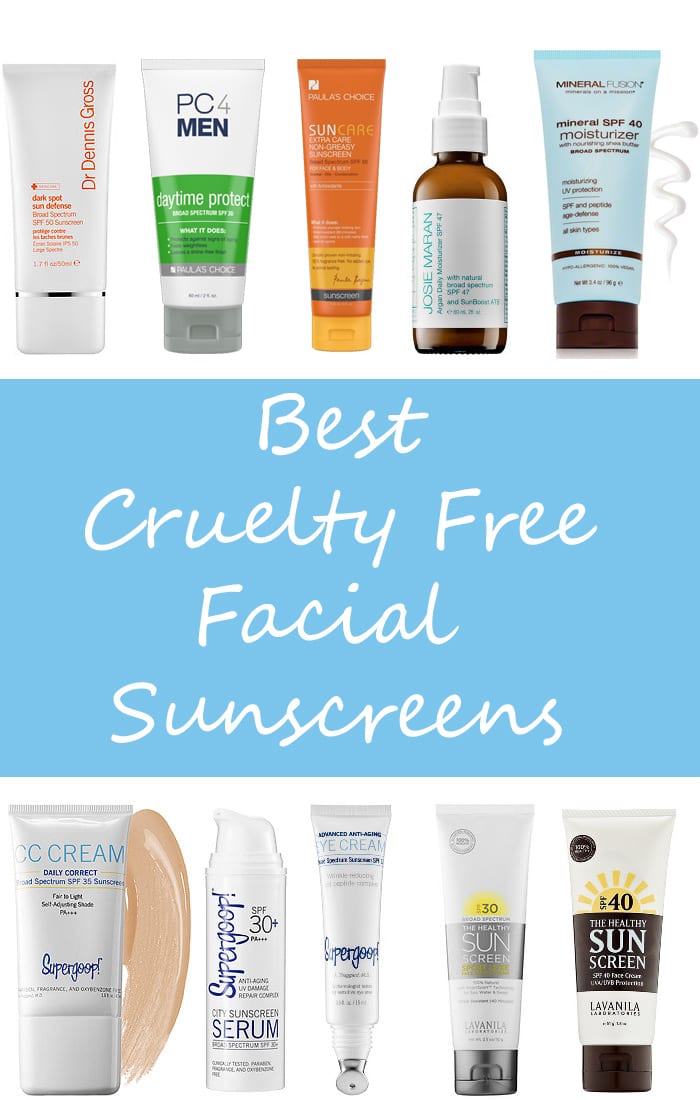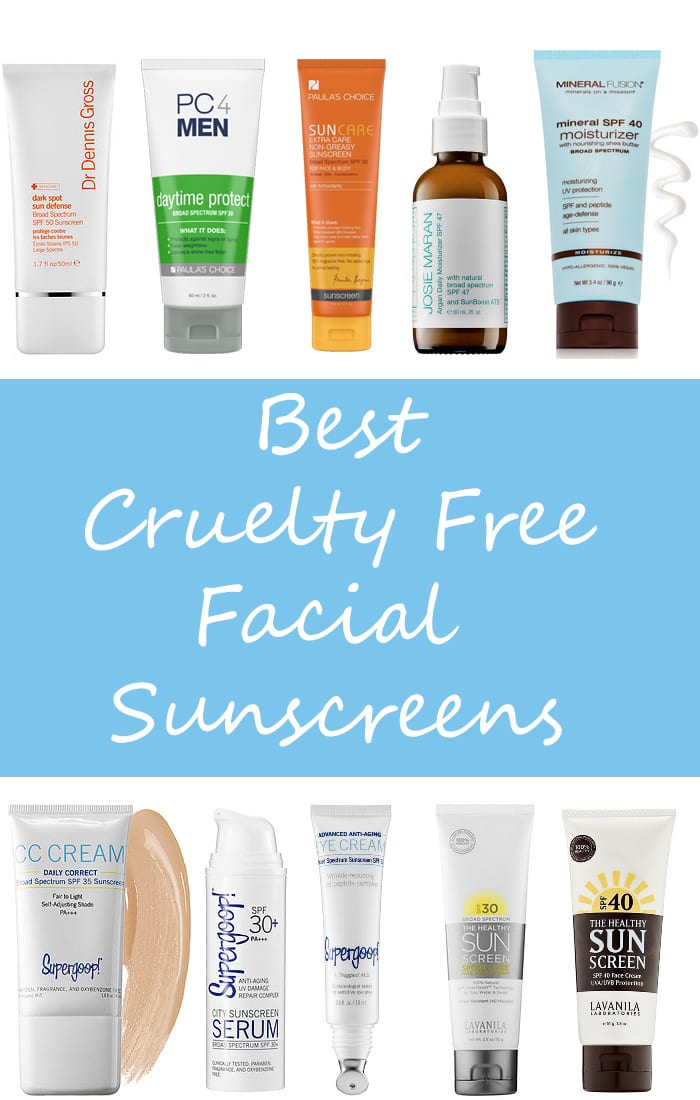 Happy Top Ten Tuesday! Today I'm sharing my picks for the top 10 cruelty free facial sunscreens! These are the ones I like to wear because they don't irritate my eyes and they provide me with good sun protection. All are cruelty free and some are vegan.
Pr + purchased by me.
Top 10 Cruelty Free Facial Sunscreens
1. Dr. Dennis Gross Skincare Dark Spot Sun Defense Broad Spectrum SPF 50 – $42 for 1.7 oz
This is my current go-to facial sunscreen because I can use it on my face and eyes without irritation. I picked up a sample of it at Sephora, fell in love, and then bought the full size bottle. It's supposed to be hydrating, anti-aging, reduce the appearance of dark spots and uneven skintone. It's broad-spectrum protection. So far I love it. It doesn't leave me feeling greasy and it has the high SPF that I want.
2. Paula's Choice PC4MEN DAYTIME PROTECT SPF 30 – $24 for 2 oz
This dries to the perfect matte but not drying finish for me. It's anti-aging and comfortable to wear. It's also safe for use around my eyes. I just wish it was SPF 50! Also, I believe it's vegan.
3. Supergoop! Advanced Anti-Aging Eye Cream Broad Spectrum Sunscreen SPF 37 – $45 for .5 oz
This is one that I've repurchased a few times. It's specifically meant for use around the eyes. I don't like the gimmicky packaging but the product inside is fabulous. It's also supposed to help make your eyes look brighter and more well rested.
4. Supergoop! City Sunscreen Serum SPF 30 – $42 for 1.7 oz
This is a lightweight serum that protects the skin and works well under other moisturizers or foundations. It doesn't give you a white cast. It's also full of antioxidants. I've gone through 3 of these and I really like it, I just wish it was SPF 50.
5. Supergoop! CC Cream Daily Correct Broad Spectrum SPF 35 Sunscreen – $32 for 1.7 oz
This is an awesome CC cream if one of the 3 available shades matches you. It provides good coverage and is comfortable to wear.
6. Paula's Choice Extra Care Non-Greasy Sunscreen SPF 50 – $17 for 5 oz
This is on my to-try list because it's SPF 50 and supposed to have a matte finish! It's also water resistant, making it ideal for the pool or the beach. I believe this is vegan, too.
7. Lavanila the Healthy Sunscreen Face Cream SPF 40 – $28 for 1.8 oz
This is a 100% natural sunscreen with broad spectrum UVA / UVB protection. I've bought this on and off for years and I love it. It's also gluten free and vegan.
8. Lavanila Sport Luxe Face & Body Cream SPF 30 – $30 for 2.5 oz
This is 100% natural and water resistant. It's also gluten free and vegan.
9. Mineral Fusion Mineral SPF 40 – $24.99 for 3.4 oz
This is another favorite moisturizer of mine. It's got a ton of anti-aging ingredients. It's also vegan.
10. Josie Maran Argan Daily Moisturizer SPF 47 – $32 for 2 oz
This is a fast absorbing, non-greasy moisturizer with anti-aging benefits. It doesn't irritate my skin.
What are your favorite cruelty free sunscreens? Any SPF 50s to recommend?
Loading InLinkz ...
Last Updated on