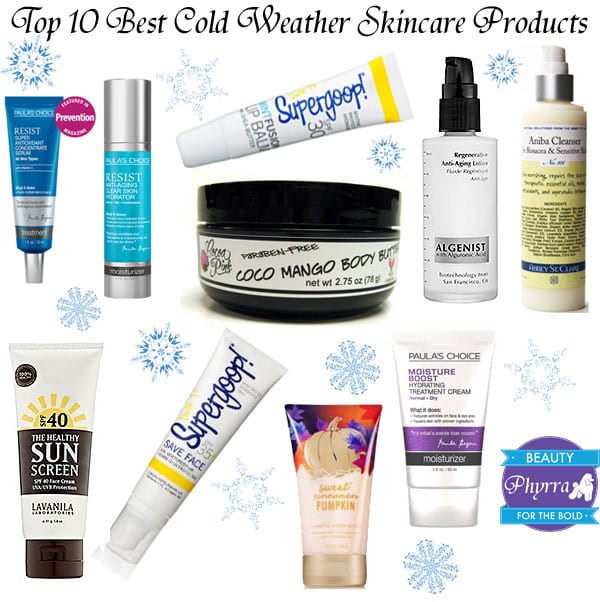 Happy Tuesday! Today I'm sharing my top 10 Best Cold Weather Skincare Products. When your skin gets cold, it gets dried out, which is a very bad thing. You can get chapped lips, cracked hands… you get the picture. It's not pretty. These products will help add moisture back to your skin!
1. Paula's Choice RESIST Super Antioxidant Concentrate Serum – $30 for 1 oz
This is my favorite serum hands down. In the winter time, I can get dry under my eyes and on  my cheeks, so after I cleanse but before I apply moisturizer I use this to add moisture and antioxidants to my skin. I've repurchased this several times and I love it to bits. It works well under any moisturizer, so it's especially good in the wintertime if you already have a moisturizer you love that you need to boost. This is truly rave worthy! You can see my review here.
2. Paula's Choice RESIST Anti-Aging Clear Skin Hydrator – $27 for 1.7 oz.
I love this and prefer it out of the Resist line of moisturizers. The formula is perfect for my skin type. It doesn't cause break outs or irritate my sensitive skin. It's great for use around the eyes. It has anti-aging properties. There's no fragrance. This is another product I've repurchased a ton. You can see my review here.
3. Algenist Regenerative Anti-Aging Lotion – $75 for 2 oz
I was able to get a sample of this from Sephora to try out and it's a pretty amazing, if pricey, lotion. It's paraben free, sulfate free, synthetic dye free, petrochemical free, phthalate free and triclosan free. It's a nice, lightweight lotion, so if you have oily skin, this might be the option for you.
4. Abbey St. Clare Aniba Cleanser – $30 for 6.7 oz.
Ok, I'm recommending this cleanser because it's a great alternative to Cetaphil cleanser. They're both moisturizing cleansers and they're great for sensitive, dry skin. So if your skin is freaking out from the cold weather, you'll want to try a moisturizing cleanser like this. It's ideal to soothe dryness, inflammation and repair the skin. See my review here.
5. Supergoop! SPF 30+ UVA | UVB Mintfusion Lip Balm – $8.50 for .5 oz
Do not forget your lips! Chapped lips are painful! You can use this lipbalm 24/7. The shea butter in it provides deep, long lasting hydration, which lips need during the winter months, plus the SPF protects you when you're outside. I carry one in my purse and have one on my vanity and one on my nightstand.
6. Supergoop! Save Face SPF 35+ A.m. Moisturizer – $17.90 for 3 oz.
You know that I love this and have been wearing it nonstop all summer. It's a great moisturizer with SPF. I'm not sure that it will have enough extra moisturize in the Winter, but for oily skintypes it might be good. See my review.
7. LaVanila The Healthy Sun Screen sPF 40 Face Cream – $28 for 1.8 oz
This is another great moisturizer with SPF and I tend to reach for it more during Winter months when I'm drier because it has shea butter, aloe barbadensis leaf juice, coconut oil and jojoba oil. It's 100% natural and chemical free. See my review here.
8. Cocoa Pink Coco Mango Body Butter – $13.99 for 4.75 oz
This 100% vegan body butter is chock full of goodies such as refined cocoa butter and unscented mango butter, avocado oil, rice bran oil, meadowfoam oil, babassuoil, calendula oil, aloe extract and Vitamin E. It's perfect for your hands and body.
9. Bath & Body Works Sweet Cinnamon Pumpkin Body Scrub – $19 for 8 oz
While I prefer the creamy body scrub version of this, any body scrub that you like is good. You need to use a body scrub to get rid of dry skin and reveal soft, smooth skin.
10. Paula's Choice Moisture Boost Hydrating Treatment Cream – $24 for 2 oz.
This is a moisturizer meant for very dry skin. It's good if you have eczema or extra sensitive skin, too. It's 100% fragrance free. It's got an extremely rich, buttery texture that makes it ideal for use around the eyes.
What are your must have skincare products to combat the cold weather?
[inlinkz_linkup id=318167]