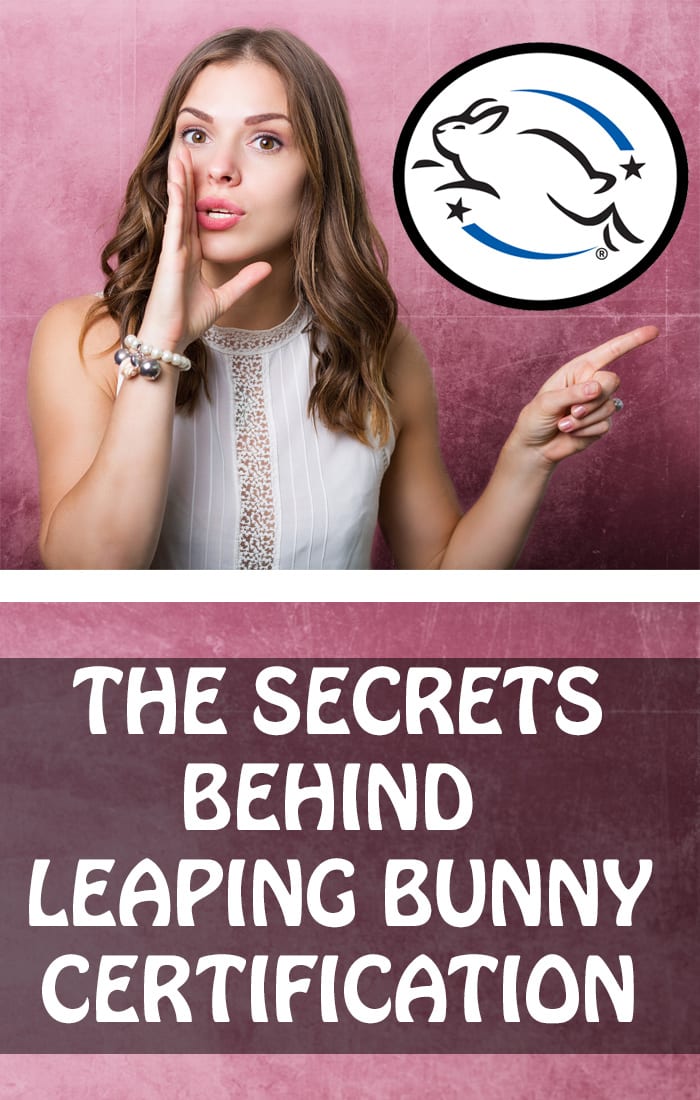 Today I'm sharing the secrets behind Leaping Bunny Certification. Now I know it's no secret that I love Leaping Bunny and I often ask brands to become Leaping Bunny Certified. Many brands try to claim that it's expensive and a very long process. I've done the research and today I'm going to demystify the certification process for you.
The Secrets Behind Leaping Bunny Certification
Myth – It's expensive to become Leaping Bunny Certified.
Busted! – It's FREE to become Leaping Bunny Certified.
The Leaping Bunny Program, developed by the Coalition for Consumer Information on Cosmetics (CCIC), is a voluntary pledge that companies make to not test on animals during any stage of the product development. Companies also must have their ingredient suppliers make the same pledge. This gives us, the consumers, a product guaranteed to be free of animal testing as of the fixed cut-off date.
This means that a company doesn't conduct testing, doesn't contract testing out to a third party, doesn't purchase ingredients that were tested and doesn't sell in a country that requires animal testing. A company that receives Leaping Bunny Certification is required to recommit annually.
Myth – It's expensive to use the Leaping Bunny Logo.
Busted! – The Logo fee is an optional ONE-TIME FEE based on a company's gross annual sales that ranges from $500 to $4,500. The licensing of the logo allows companies to use the Leaping Bunny logo on a company's packaging, their marketing materials, website etc.
If a company chooses to not license the logo, they are still Leaping Bunny Certified and are listed in all versions of their Compassionate Shopping Guide (print, web, and smartphone app). Plus, they can still take advantage of a whole list of FREE promotional opportunities.
Myth – It takes a long time to become Leaping Bunny Certified!
Busted! – The process can take as little as a week to as long as indefinite! The delay usually is due to the fact that suppliers and manufacturers can sometimes take awhile to sign their declarations. The average is usually 2 weeks to 2 months. The more on top of their application a company is, the faster it goes (i.e. following up with suppliers/manufacturers to get them to turn in their declarations). So the delay is not from the Leaping Bunny organization, who processes paperwork quickly on their end, but from the ingredients suppliers.
Myth – The USA Law requires animal testing for X product.
Busted! – No, neither the FDA (Food & Drug Administration) nor the US Consumer Product Safety Commission requires animal testing for cosmetics or household products. The responsibility is on the company to demonstrate the safety and efficacy of the products they put to market however which way they choose.
Yes, virtually every ingredient, including water, was tested on animals at some point in the past. However, we can prevent future animal testing for cosmetics.
Myth – There's no benefit to acquiring Leaping Bunny Certification.
Busted! – In addition to a company showing that they're compassionate to animals, a company that receives Leaping Bunny Certification is listed in all versions of the Leaping Bunny's Compassionate Shopping Guide. Leaping Bunny reaches over 10 million people, as well as supporters of the animal groups that form the CCIC.
Myth – The Leaping Bunny program is only recognized in the USA.
Busted! – Leaping Bunny is recognized in the USA, Canada and the European Union. It's an international logo!
So to recap the important points
It's free to become Leaping Bunny Certified.
Any company that is certified must recommit annually.
There is an optional one-time sliding scale fee to use the Leaping Bunny logo.
It doesn't take a long time to get certified, provided the company communicates effectively with their suppliers.
Your company will be promoted to over 10 million people online, in the app and in the Compassionate Shopping Guide.
Leaping Bunny has a cool app that you can download for Android and iPhone. You can also visit Leaping Bunny online.
Now, if you're a cruelty free company, why wouldn't you want to get Leaping Bunny Certification? It really does have a lot of benefits!
Let brands know how easy it is to become cruelty free!
Share this Post on Facebook!
Tweet it!
Pin it!
What do you think of Leaping Bunny? Have you used their list?
More to See