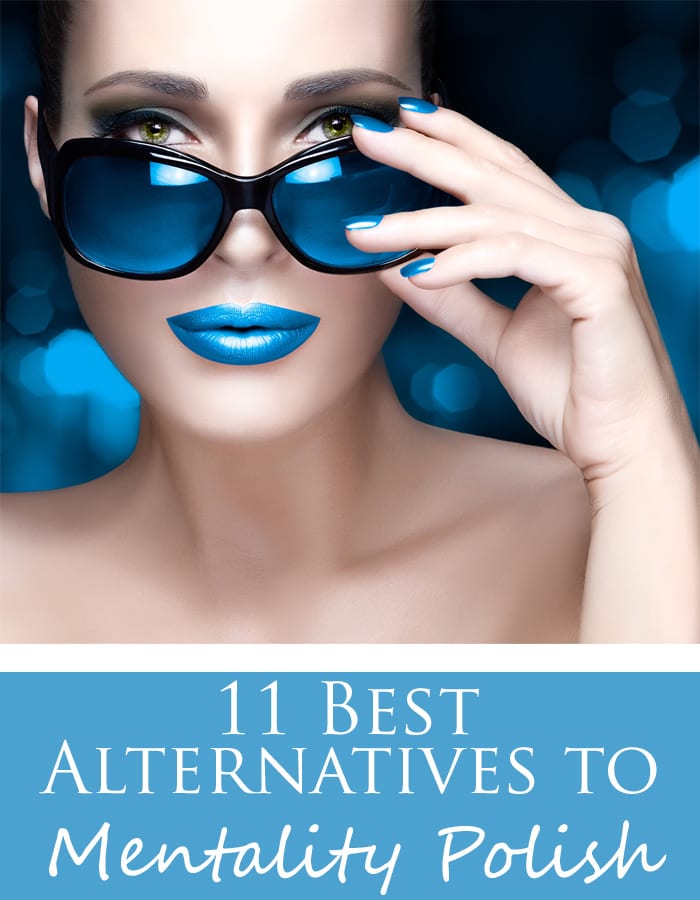 I wanted to put together a quick 11 best indie nail polish alternatives to Mentality Polish. With all the drama unfolding around this brand, I'm very glad that I never bought them. However, I also don't want to see anyone turned off of indie nail polish because of this brand. It makes me think of the Glittersniffer drama all over again! I promise you, there are many awesome and upstanding brands out there! Read about the drama here, here, and here.
11 Best Indie Nail Polish Alternatives to Mentality Polish
This post contains a mix of press samples and products purchased by me.
1. KB Shimmer
KB Shimmer is an awesome indie nail polish brand. I've reviewed them many times over. You'll love them. See my KB Shimmer features.
2. Literary Lacquers
Literary Lacquers is the queen of holos. So many beautiful polishes, all safely handmade. I collaborated to help create Camille with LL. See my features.
3. GlitterDaze
I adore the Mythical collection from this brand. It's pretty on it own or layered. See my articles.
4. CrowsToes
I love CrowsToes! Everyone needs Nidavellir. This brand has stunning, complex polishes. See my posts.
5. Girly Bits
Proudly made in Canada, Girly Bits has some amazing colors. I collaborated with Girly Bits to create Defying Gravity. See my features.
6. ILNP
Based in the city of sin, Las Vegas, you'll feel like you're indulging with some of the beauties from ILNP. See my features.
7. Pretty Serious Cosmetics
I just recently placed another order with PS to pick up Bloody Bride and The Crimson Pearl. CANNOT WAIT for them to get here! See my posts.
8. Sugarpill Cosmetics
While certainly better known for their eyeshadows, Sugarpill recently entered the nail polish game. I've purchased some but have yet to review them. See my Sugarpill posts.
9. Superifically Colorful Lacquers
SC Lacquers is a lovely tiny company based in Israel. I love their brights! See my features.
10. Cirque Colors
Cirque has a ton of gorgeous colors and only recently been available at Nordstrom. See my posts featuring Cirque.
11. Rainbow Honey
If you love glitter bombs and jellies, you'll adore Rainbow Honey. See my posts.
If you've been injured with Mentallity Nail Polish, report it here.
You may also like my beginner's guide to indie nail polish.