First I brought you Saturday's Blogger Preview and Sunday from the Makeup Show Orlando. Now I'm bringing you Monday.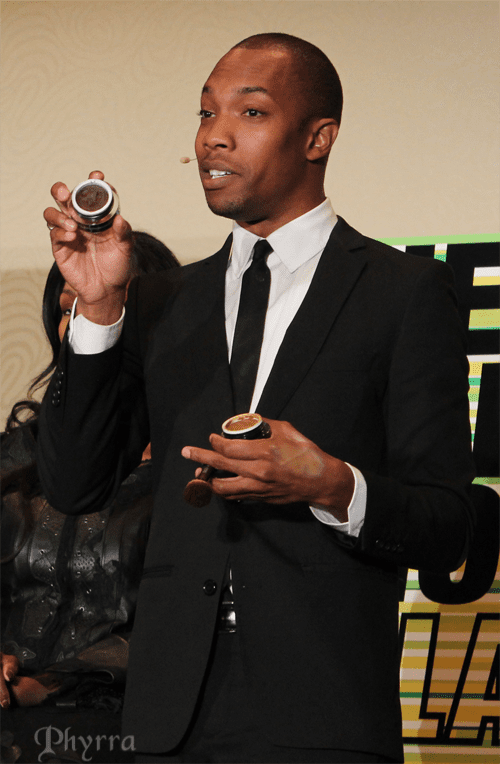 To begin, Crystal, Ray and I went to see AJ Crimson speak. He is an amazing speaker. He's quite motivational! I have some of it recorded and I need to produce the video.
Again, a ton of pictures behind the cut!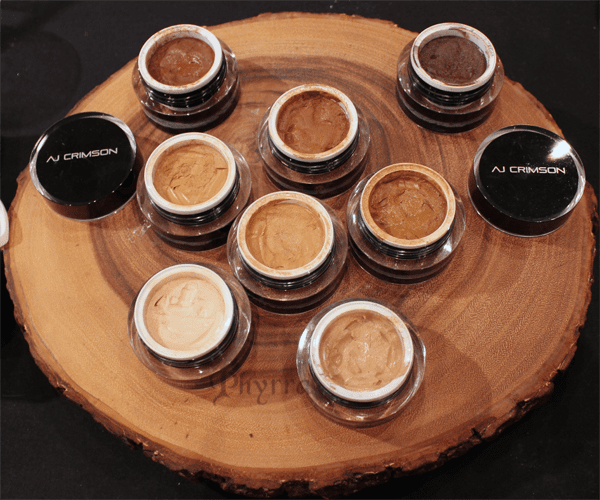 A close up of the testers of AJ's creme foundation. Shade 2 was completely sold out, as were a few others.
AJ makes all of the foundations himself and hand pours them. This really impressed me!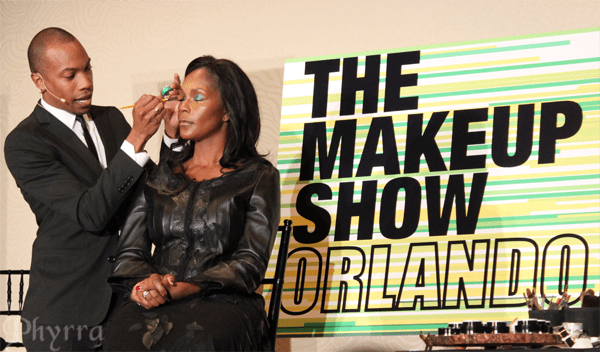 AJ demonstrating his technique when applying foundation. He thinks of makeup as a stain, you build it up or leave it sheer.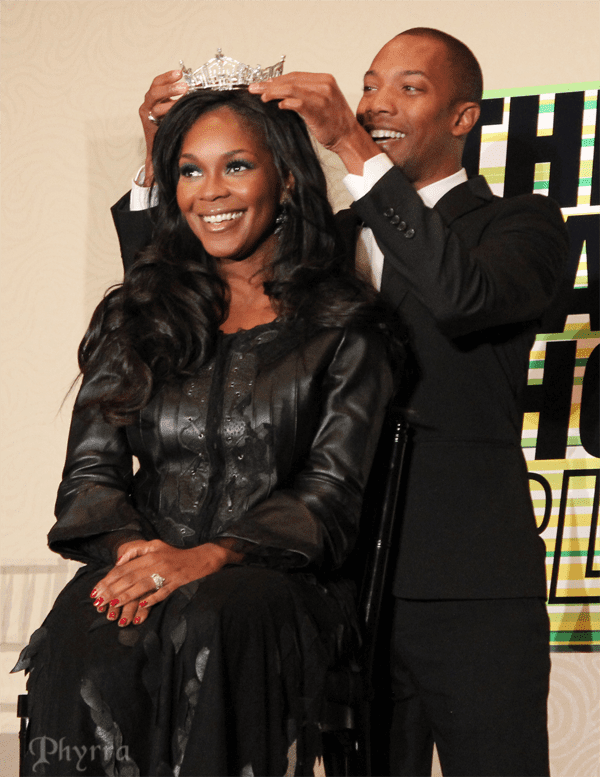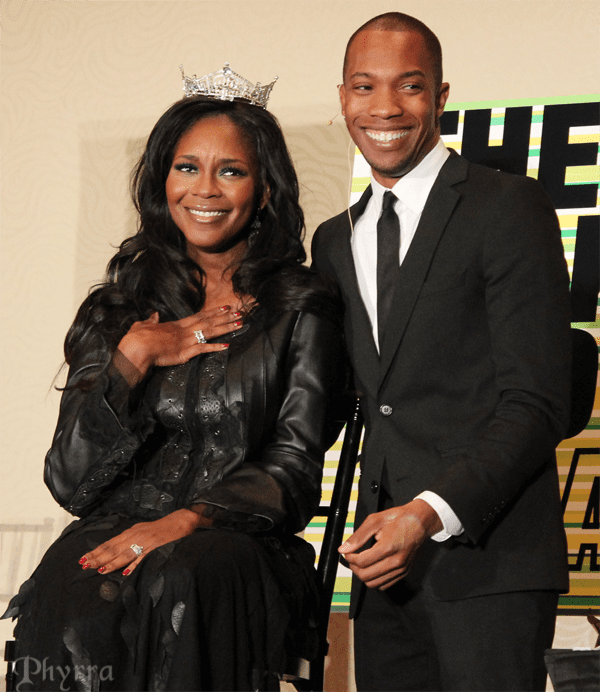 Another shot of AJ speaking.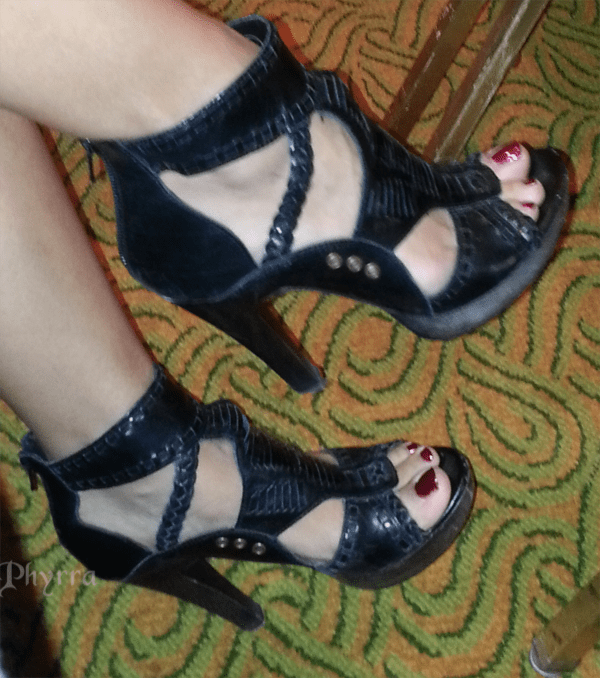 Maria, as always, has on amazing shoes. Love her shoes!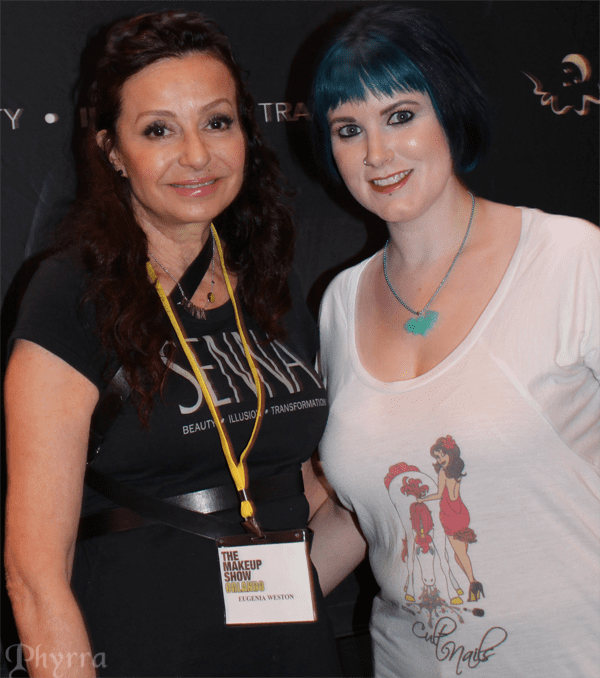 I went to see Eugenia from Senna Cosmetics again. She complimented me on how I filled in my brows 🙂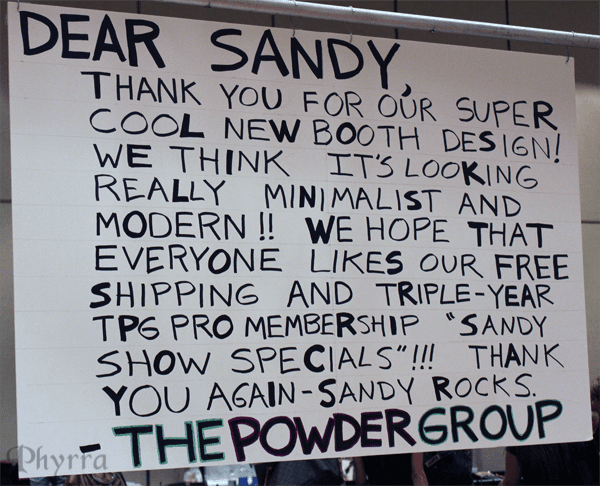 This was the Powder Group's sign to Hurricane Sandy for stealing their booth. I am now a member of the Powder Group! How cool 🙂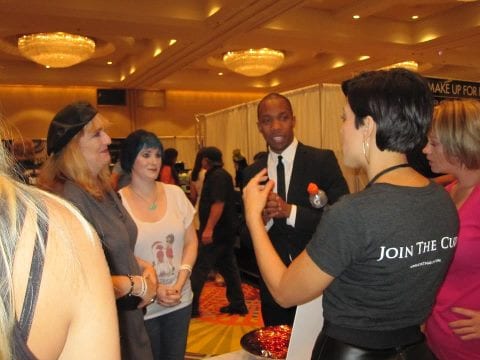 L to R – Kimberly, me, AJ, Maria and Crystal. I thought I'd gotten pictures with AJ but I can't find any, so this is the only one with us in it. Thanks to Nidia, Lit from Within for this picture!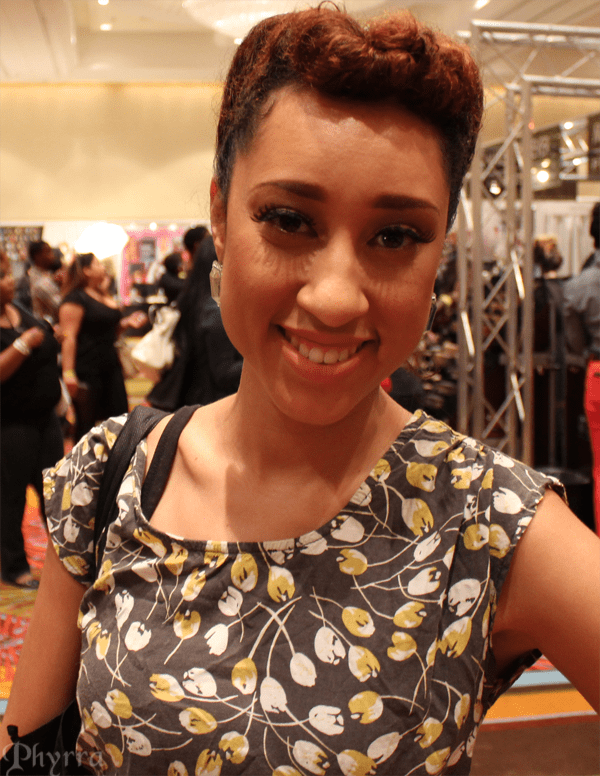 I LOVED Toni's hair! Toni from Toniiz Beauty.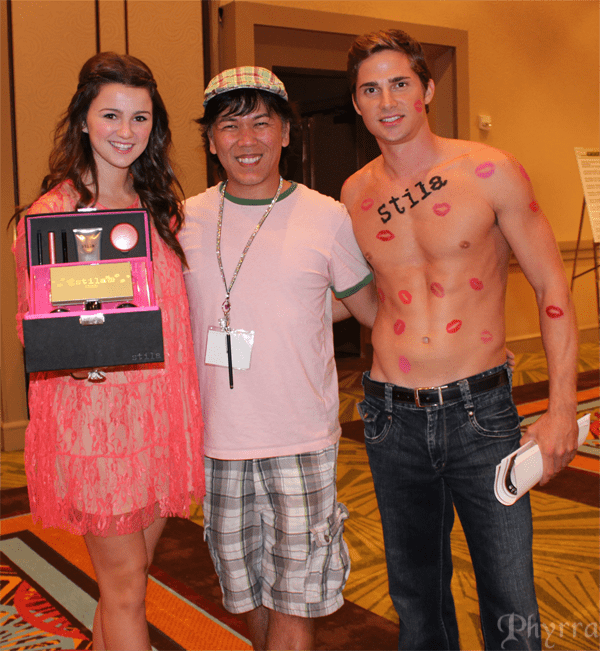 Stila had a wonderful beauty box set that they were selling at the event. They also had an adorable guy covered in the kisses of multiple women. Koren posed with them 🙂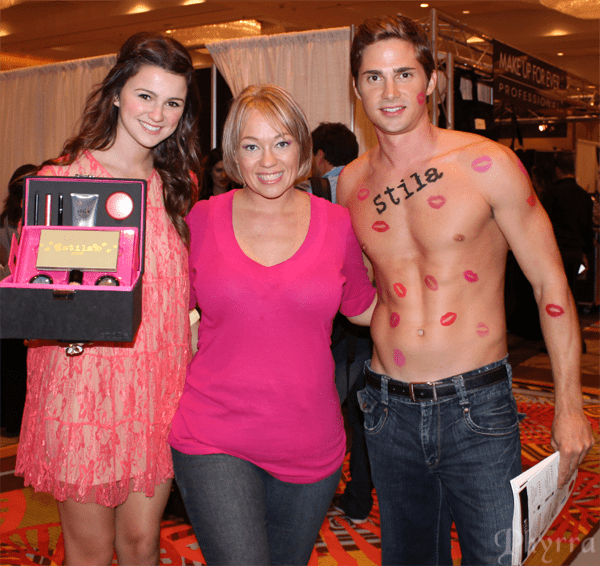 Crystal with the Stila Crew!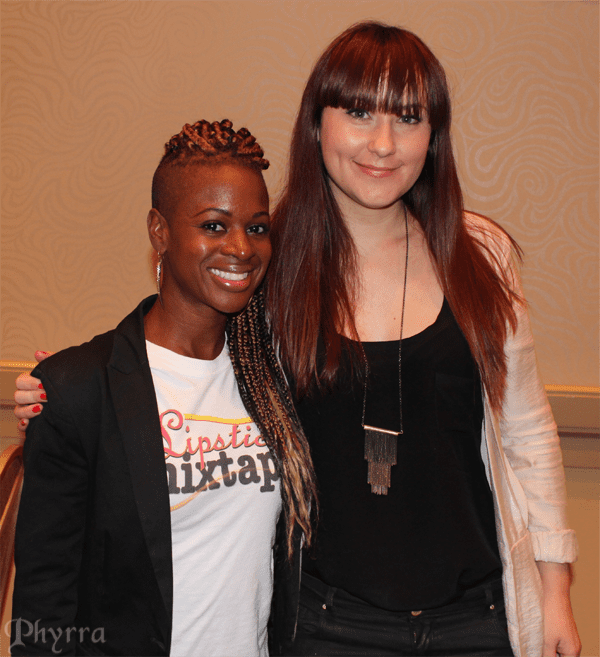 Safia with Melody from the Makeup Show!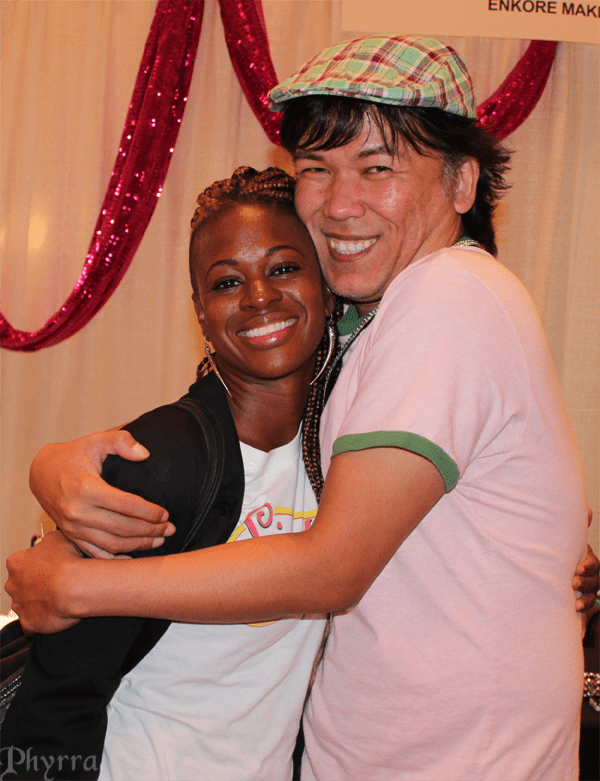 Safia getting squishy hugs from Koren.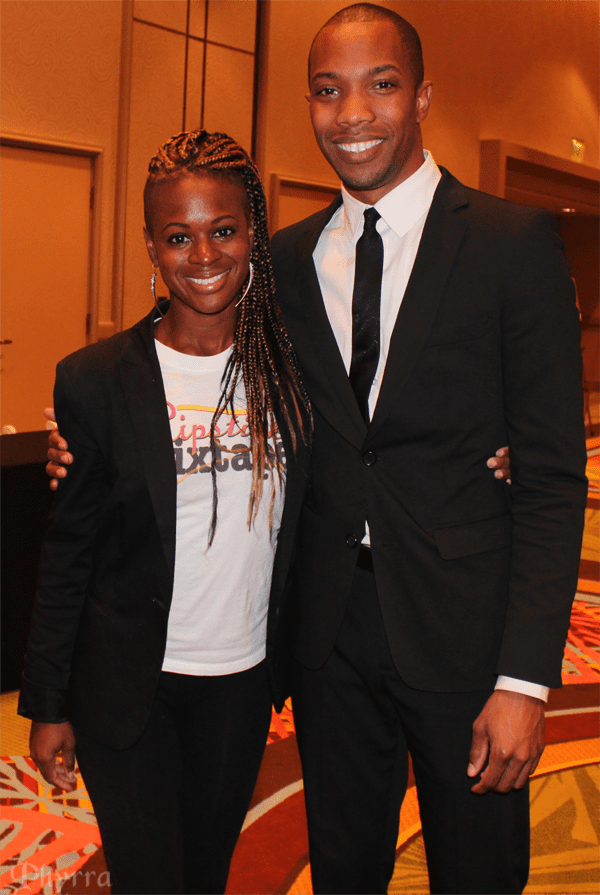 Safia with AJ Crimson!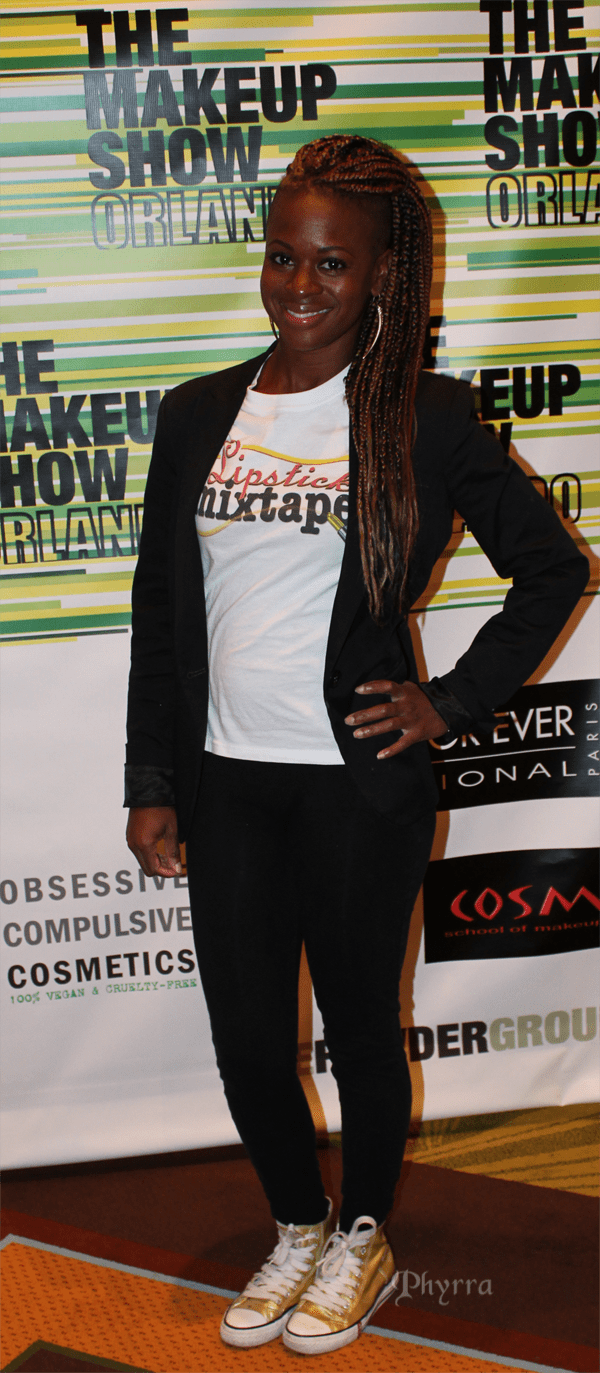 Safia of Lipstick Mixtapes looking fabulous! I love her jacket.

More FX makeup!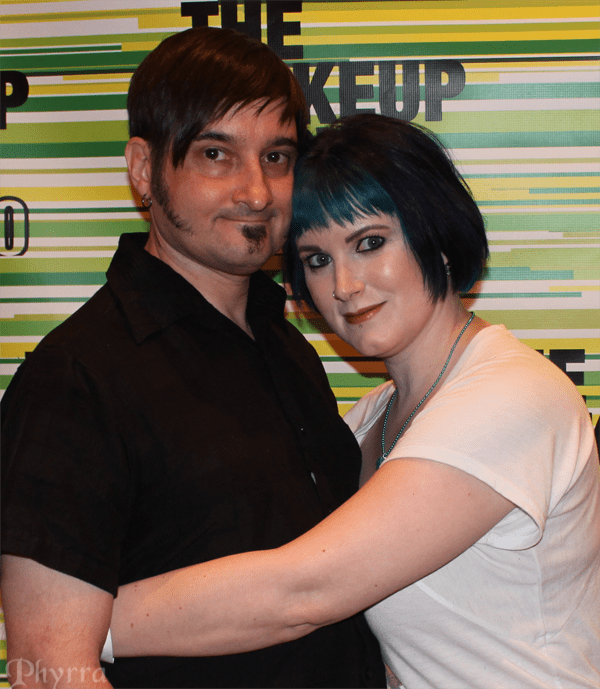 Ray and me. He went to every event and took pictures and socialized and pointed out cool things.

Some of the talented RAW Orlando artists! I loved her shoes!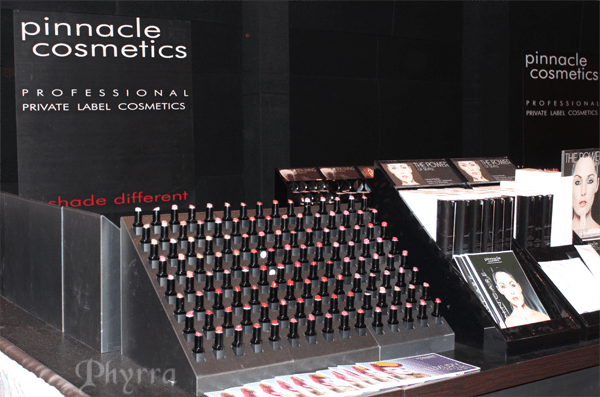 More Pinnacle Cosmetics products.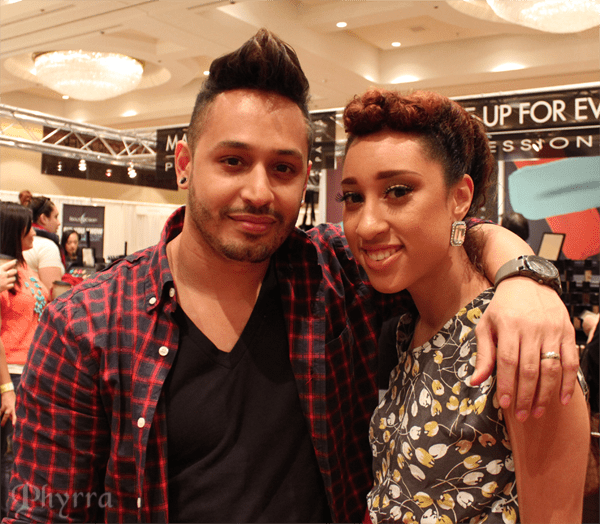 Orlando Santiago hangin' with Toni.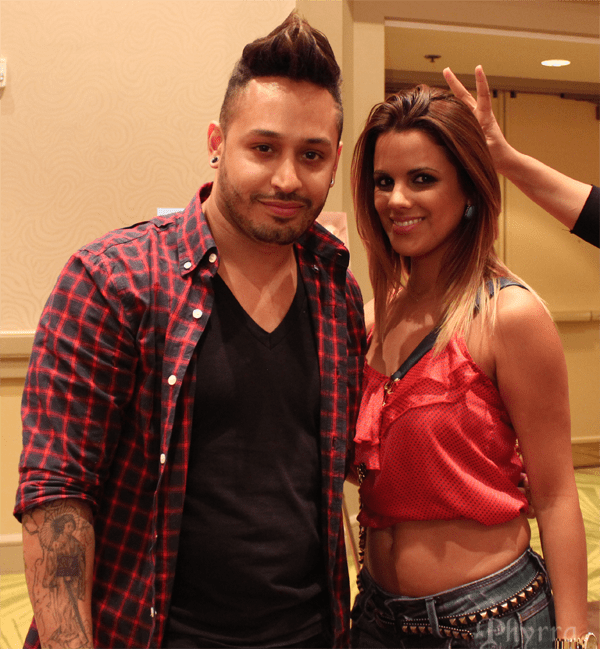 Orlando with Christie. Christie is a talented Orlando Makeup Artist.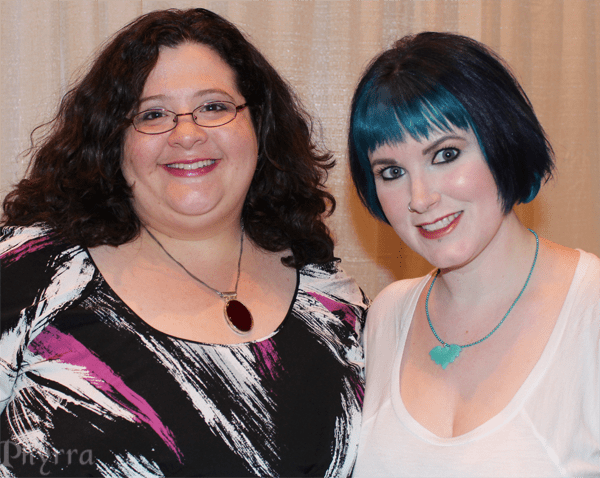 Me and Nidia! Love her dress!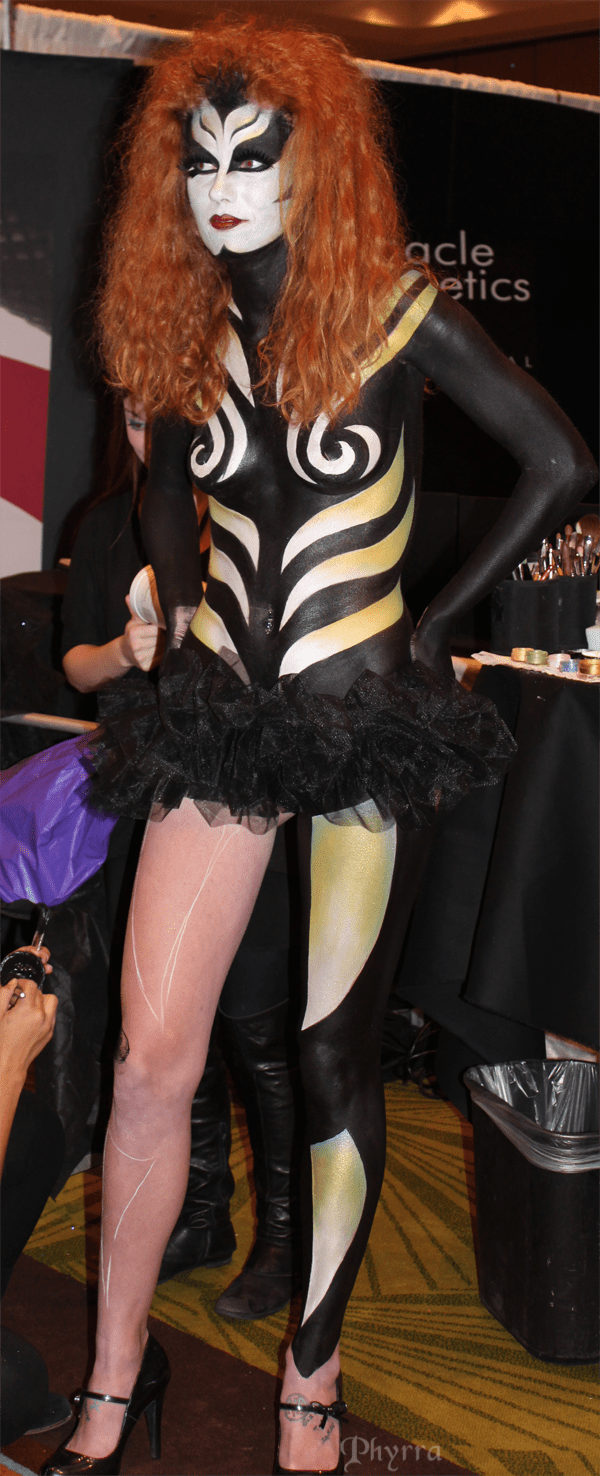 One of the gorgeous Make Up For Ever Models.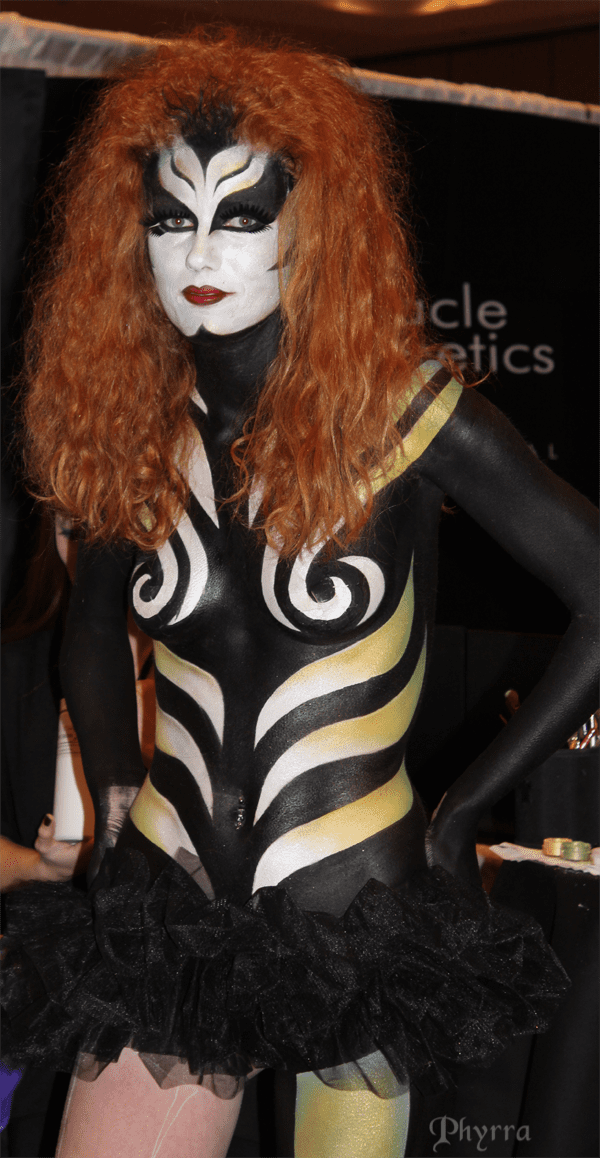 Make Up For Ever Model


Make Up For Ever Model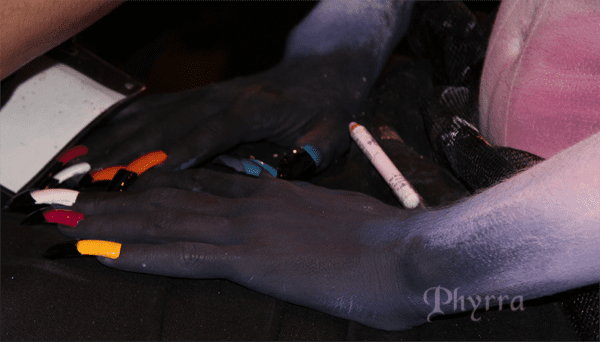 Make Up For Ever Model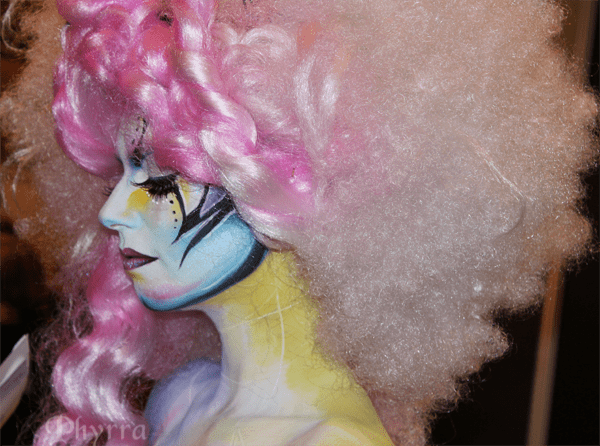 Make Up For Ever Model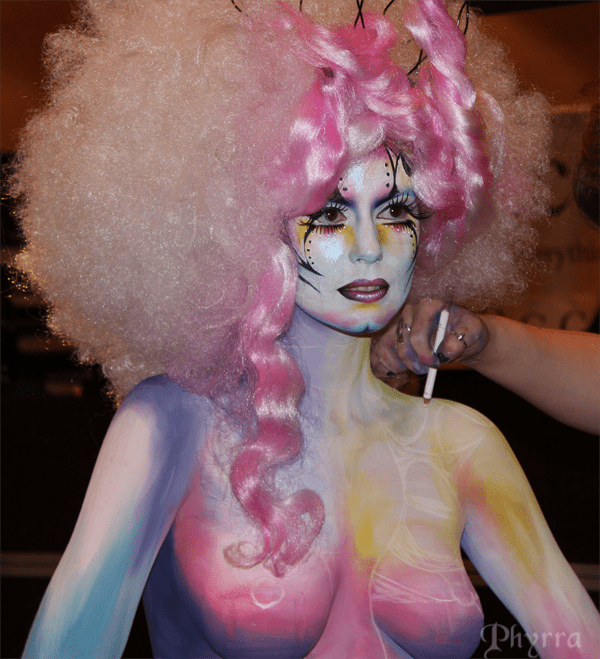 Make Up For Ever Model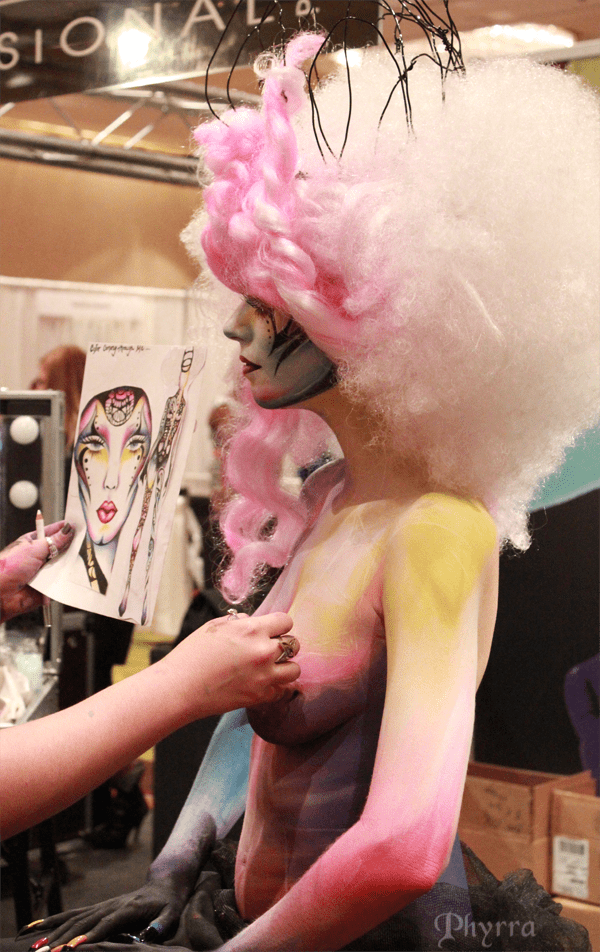 Make Up For Ever Model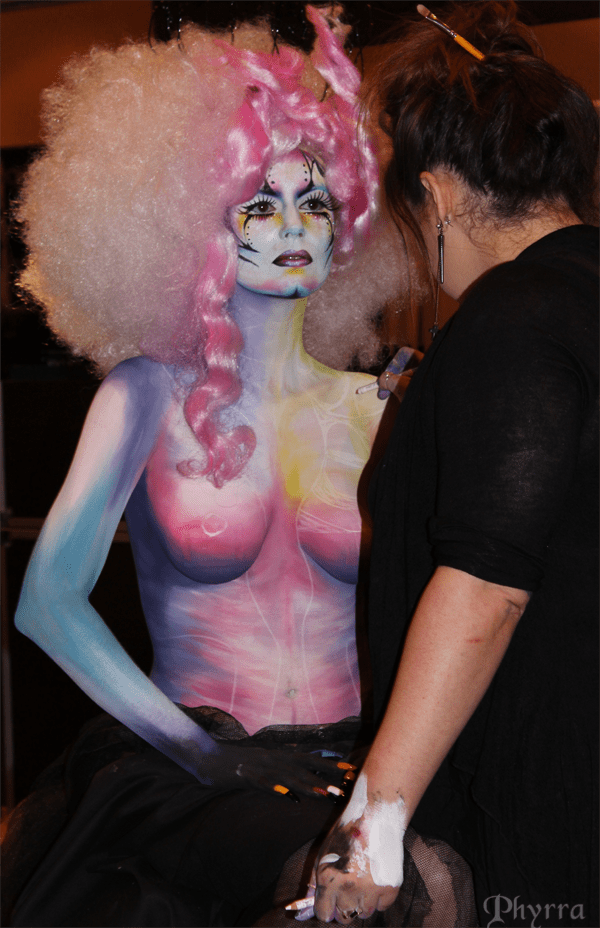 Make Up For Ever Model
Yes, I took a ton of pictures of the Make Up For Ever Models. Yes, they looked that amazing! The Makeup Artists were incredibly talented!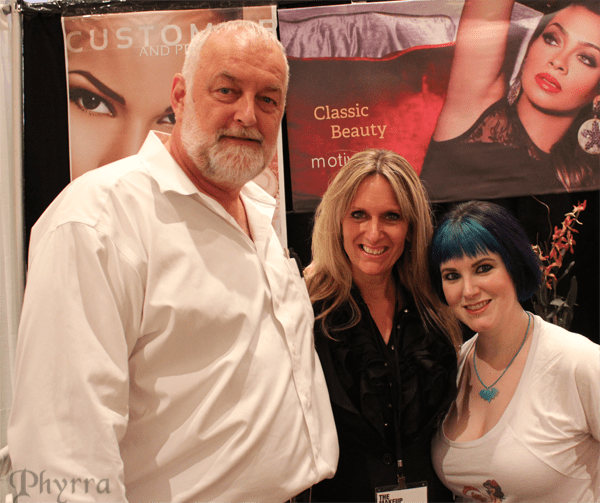 Motives by Lala. I had a really interesting talk with this couple about health suppliments and makeup.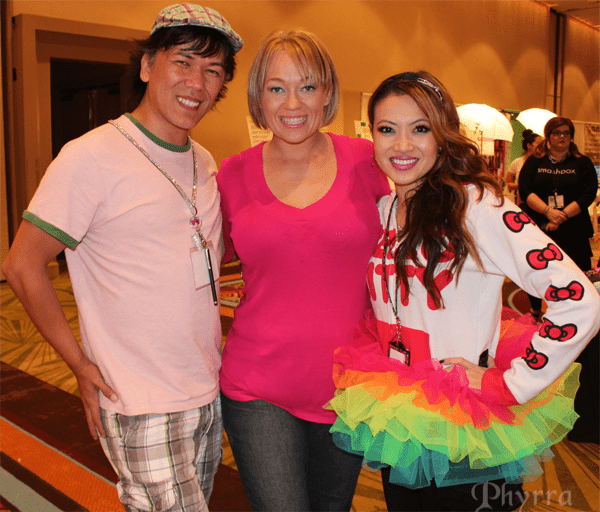 Crystal with Koren and Elessa. Elessa was so cold! It was chilly in there.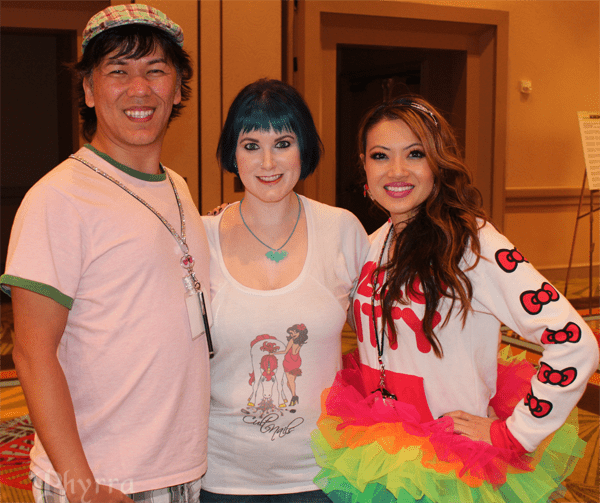 Me with Koren and Elessa!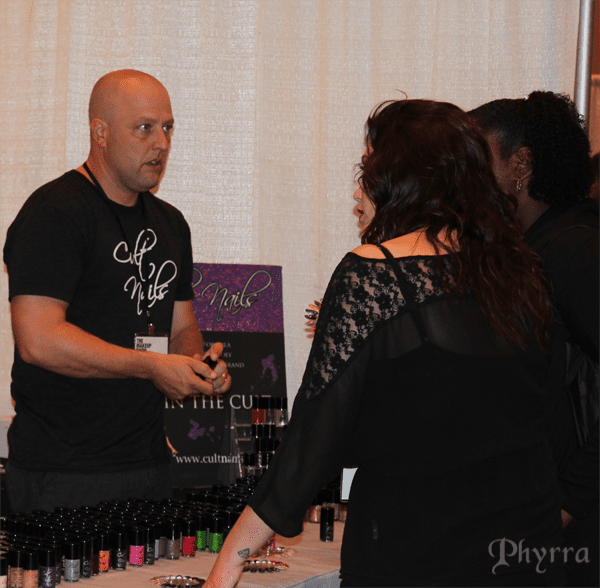 J selling polish at the Cult Nails Booth! We hung out there and had a great time.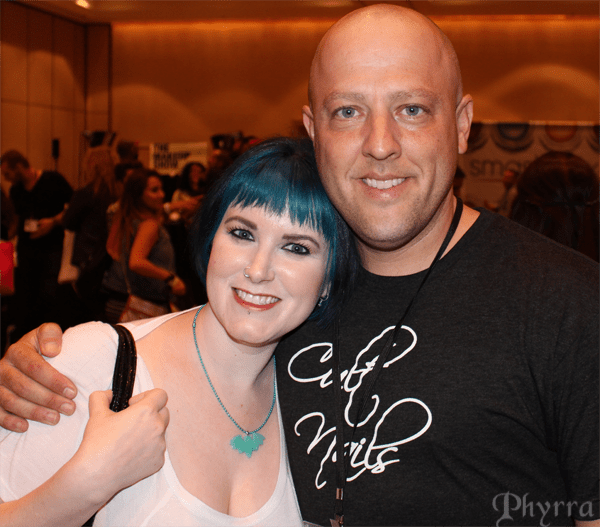 Me and J. We're both in our Cult Nails shirts!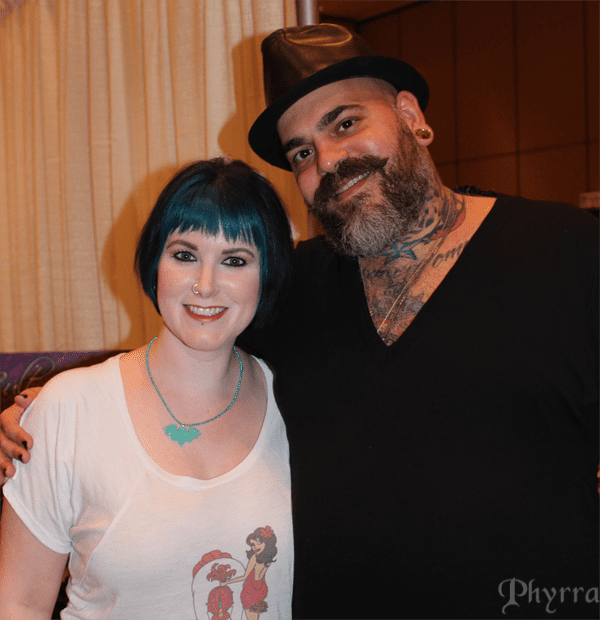 Me with James. He looks great in Nevermore, my favorite Cult Nails polish!

Safia with Eugenia from Senna Cosmetics.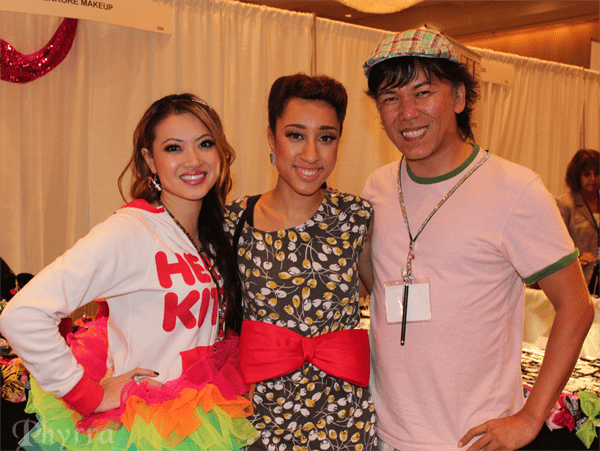 Toni with Elessa and Koren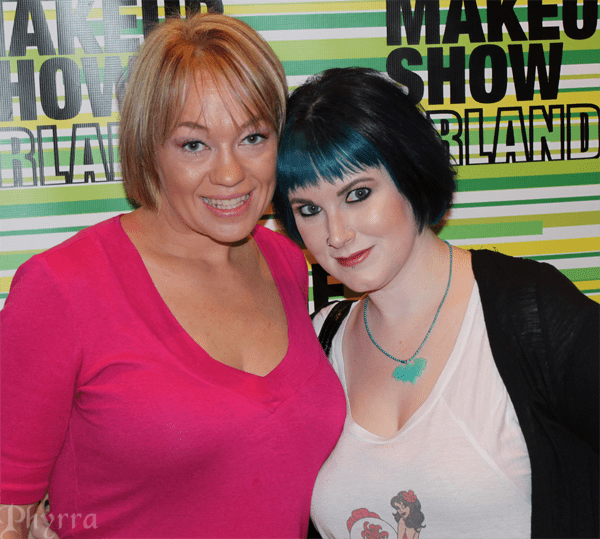 Me and Crystal. I love her hot pink shirt!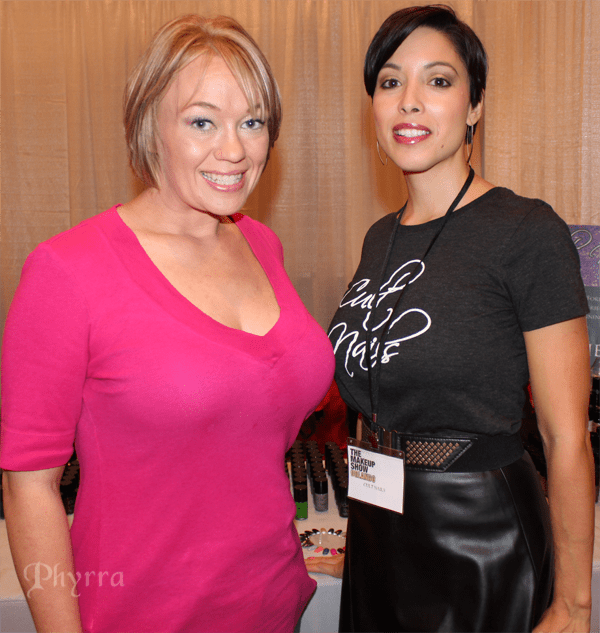 Crystal and Maria. Maria has an awesome belt!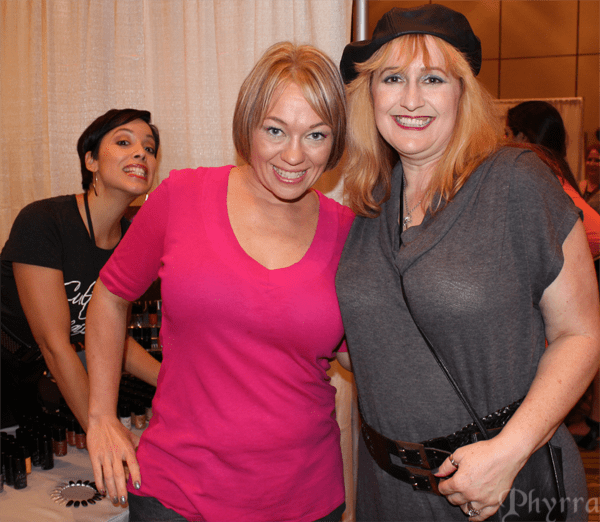 Crystal and Kim, with Maria Photobombing.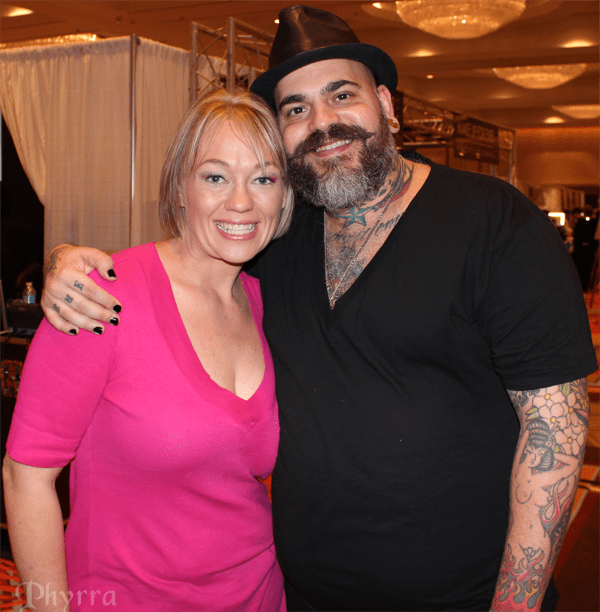 Crystal with James Vincent. So much awesome!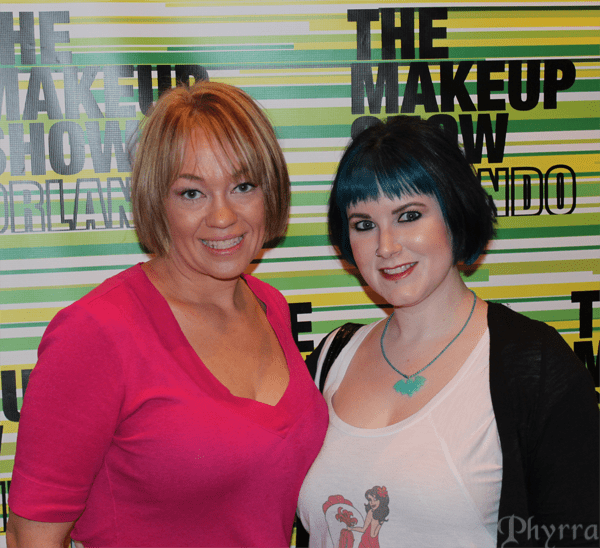 Another pic of me and Crystal. You can see Maria holding the unicorn's mane on my shirt.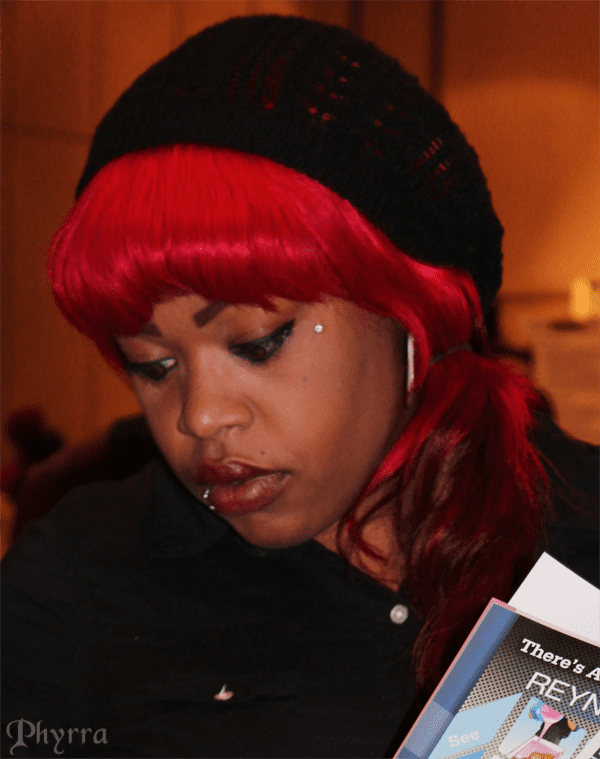 This lady had beautiful red hair that faded to burgundy. Loved it!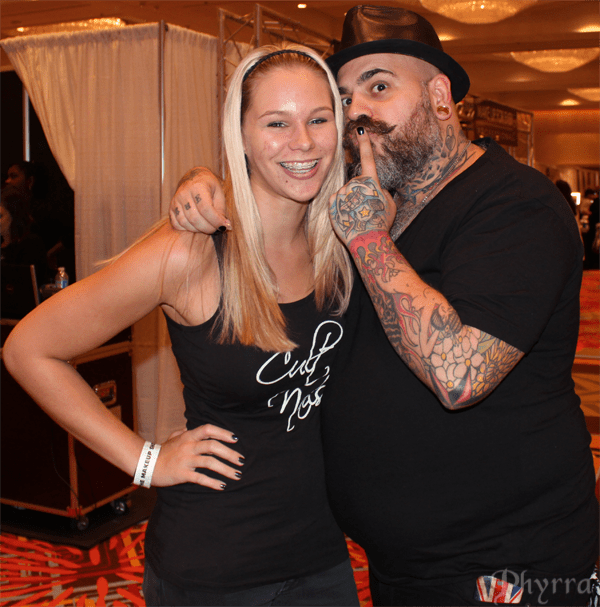 Alyssa and James. LOL!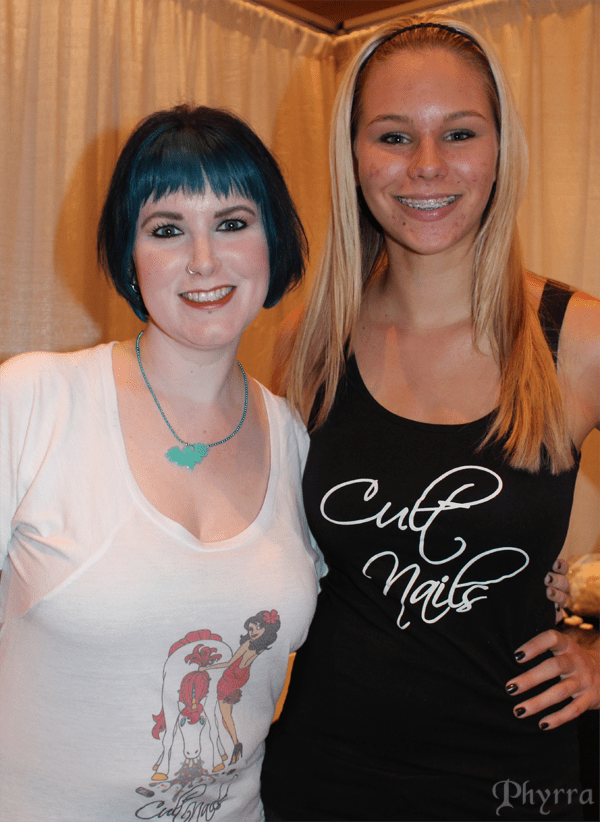 Me and Alyssa 🙂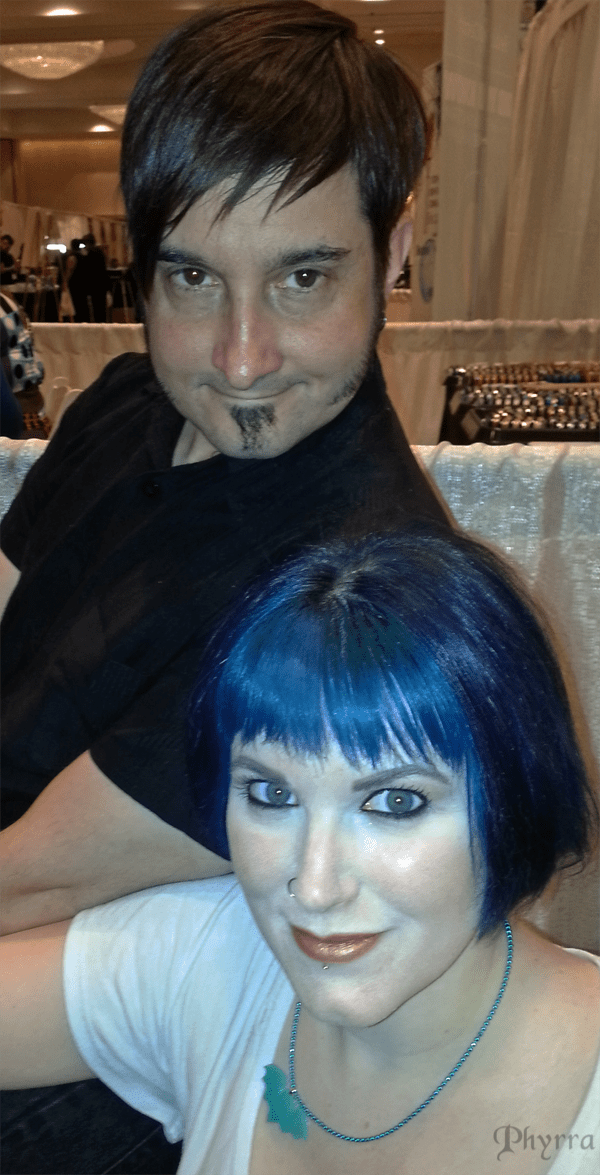 Me and Ray at the Cult Nails booth.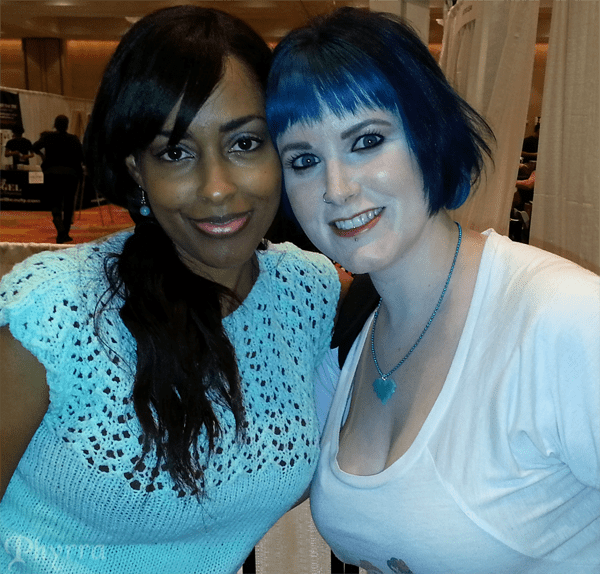 Me and Mina. Love her top!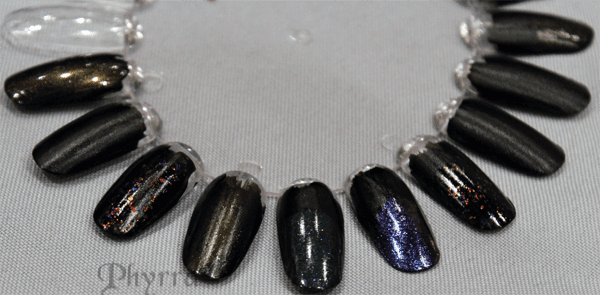 Some gorgeous Cult Nails Swatches.
I really had a great day, though I was wiped out from the weekend.
The highlights from Monday were listening to AJ Crimson talk, talking with Eugenia from Senna Cosmetics, spending time with the Beauty Bloggers of Central Florida, and seeing the amazing artists at work. I think I spent most of Monday talking to people!
I hope you enjoyed seeing some images from the event.