This post has taken me forever to write! I had such a wonderful time at the Makeup Show Orlando and I met so many amazing people. But before the Makeup Show Orlando, we started with a Baby Shower with Brittany on Saturday! Ray and Crystal (owner of BftE) came with me. In fact, Crystal stayed with us for several days to hang out and attend the Makeup Show with us!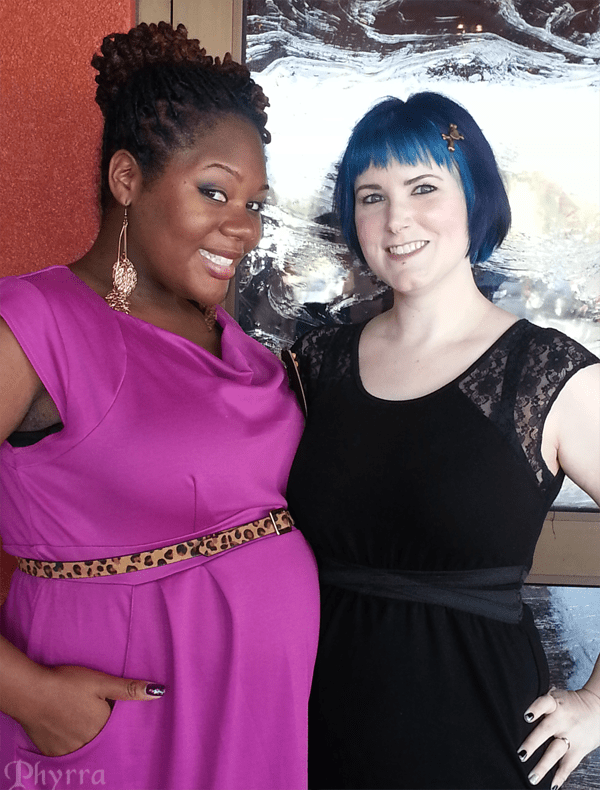 Me & Brittany. She always looks fab!
Be warned, there are a TON of pictures behind the cut. I had to break this into two posts because of the number of photos.

Tiny Yummy Butterfly cupcake!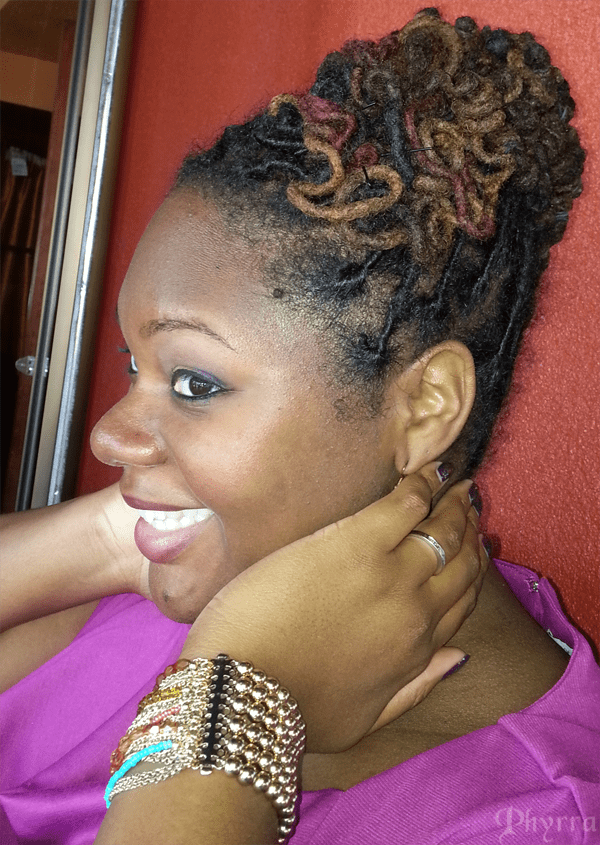 Brittany always has fabulous hair. This updo takes the cake!
After the wonderful brunch, we hung out with Maria, Alyssa, and J, and helped get the Cult Nails Booth set up for the convention.
Later that evening, we attended the blogger preview.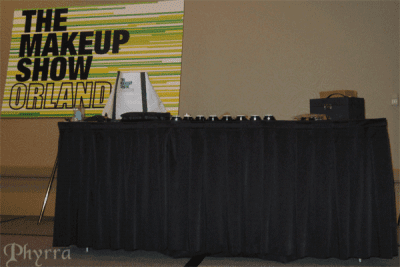 The display table.

AJ Crimson came in and chatted with us, then set up his foundations so you could see all 8 shades clearly. This is his new foundation line. It's a creme foundation. Mine blends nicely with my skintone.

These were the items on the table that James would end up discussing with us during the preview.

James talked to us about the different products from the different companies. He also spoke to us about the companies at the event. Ofra Cosmetics and Cinema Secrets were two of his favorites that he said to be sure to check out. He said that Cinema Secrets had come up with some innovative techniques. He also discussed Make Up For Ever and their products. It was really cool get some back story on the different companies and their products. I also loved the backstory on the Makeup Show and its community atmosphere.

James Vincent was wonderful to listen to and he introduced everyone speaking to us. Koren from EnKore braved a hurricane to join us in Orlando. He talked to us about some new things that he'd come up with. The thing I'm most excited about is his new sonic brush cleaner, which I will be buying once they're on sale! He also had his artist cuff'lette and ring, great for Makeup Artists mixing products and applying them on clients. I've told EVERY makeup artist that I know that they need these, and they do! If you're a professional makeup artist, you NEED the Cuff'lette! Additionally, he even has a version for hair stylists. So cool. He also just came out with Lip Yogurt, gloss filled with goodness, for $12. It's available in 7 flavors and plain. He's also coming out with Lipisticks soon (no that's not a typo!).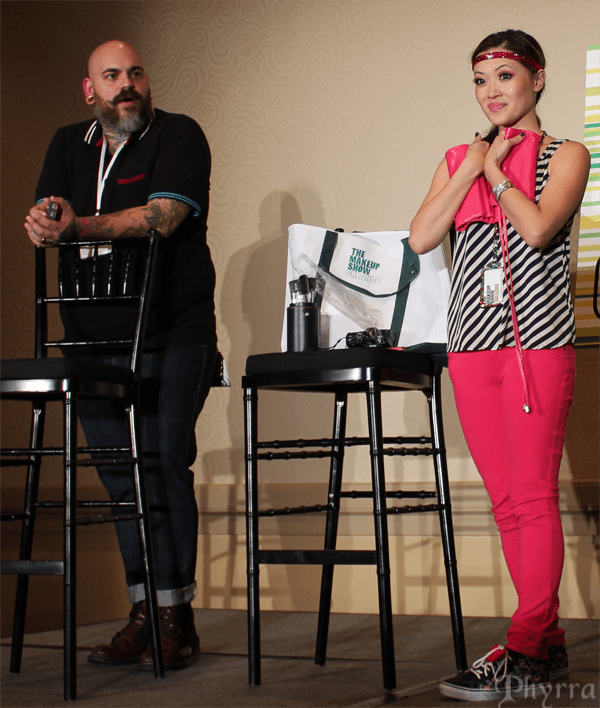 Next James introduced Elessa from Pursebuzz! She was so bubbley and sweet. She debuted two new brush sets! One is a hot pink and black set, and the other is an awesome set with its own case, which I'll be reviewing.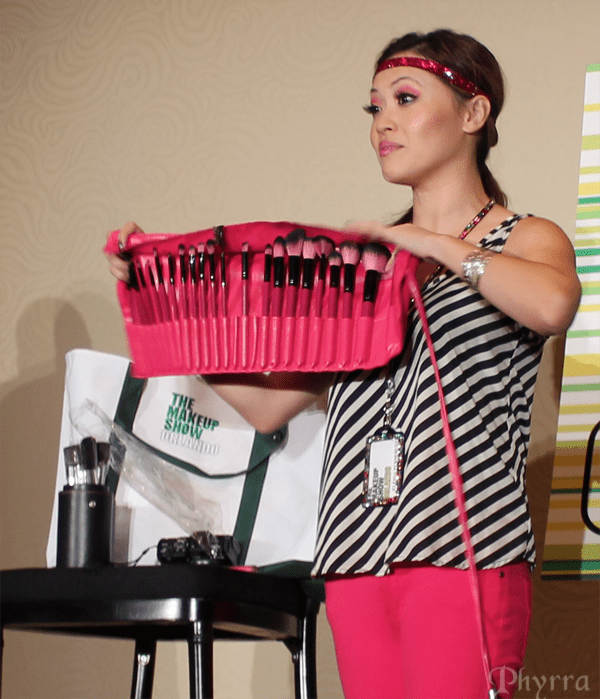 She was so bright and cheery! It was great to listen to her speak, too.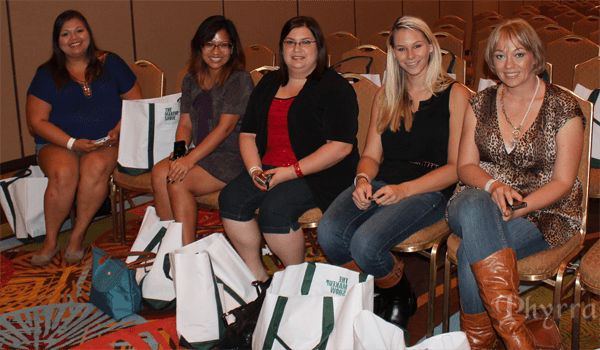 L to R: Judi of Judixio, Allie of NiftyBa, Steph from Imperfectly Painted, Alyssa from Pretty Little Bottles & Crystal 🙂
After the blogger preview, we all went to Chili's to have dinner and hang out. Crystal gave my fellow Beauty Bloggers of Central Florida members some BftE products of their very own!

Here's Safia from Lipstick Mixtapes with her shadows!
Sunday was our panel.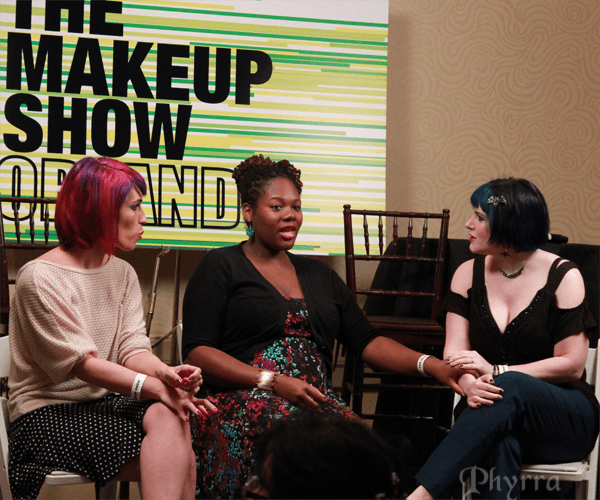 Here's my awesome friends Cristina from Let Them Have Polish and Brittany from Clumps of Mascara with me while we wait for our panel to start.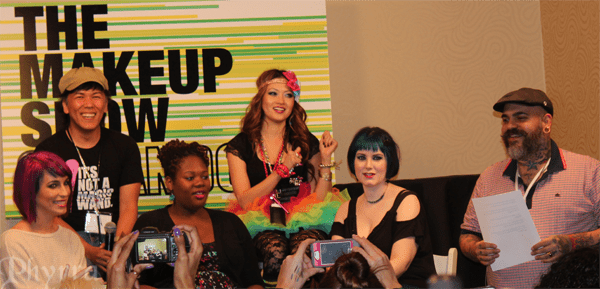 James Vincent was an amazing moderator for the panel. He kept us focused so we didn't get sidetracked while talking about blogging. Koren and Elessa were so great, too!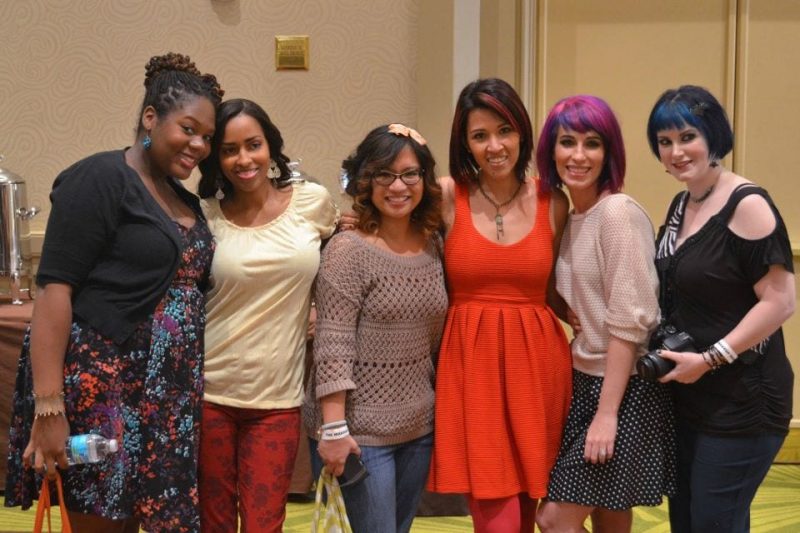 After the panel the Beauty Bloggers of Central Florida snapped a shot! (Image courtesy of Mina)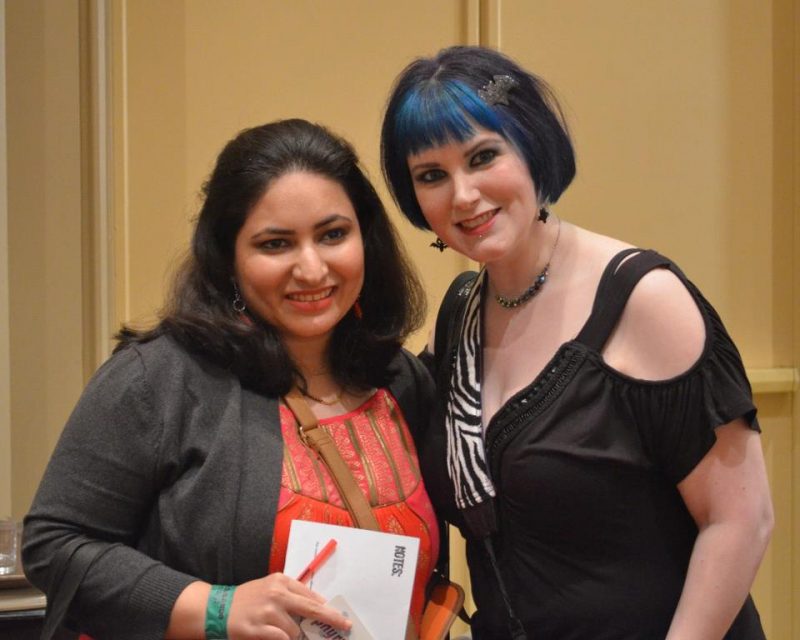 We also got to meet fans! (Image courtesy of Mina)

Bleeding Heart's booth. I liked the frosted glass packaging.

This was Crystal and Ray and I taking a break. I LOVE this picture of me and Crystal!

Me and Ray! Ray was such a trooper. He was my photographer this entire weekend and helped with everything. He is awesome!

AJ Crimson is hard at work in this photo. He's an amazing makeup artist. James Vincent says he's the future of makeup. The future is bright!

Another picture of AJ and his booth.

AJ's Booth up close. He has two makeup lines, Kissable Couture and AJ Crimson. Kissable Couture has great glosses. I received a sample of Chris gloss (peachy shimmer), and it's pretty awesome. I need to pick it up in full size. His Tyler gloss is really gorgeous, too. AJ Crimson is his new line and that's what the creme foundation is under.

Allie looks so cute with her curled hair and bow!

We checked out Pinnal Cosmetics, a private label company.

Everyone was drooling over the Zuca makeup kit bags. I gotta say they are gorgeous. They're also sturdy enough to use as a seat.

Me with Cristina and Brittany. I love their hair!

Seeing the special effects makeup was awesome.

Roy Wooley was really nice. Ray was most interested in his special effects stuff.

The creepy kid was a nice touch. (not real!)

I also got to meet up with Ivory and Olive, the newest members of the Beauty Bloggers of Central Florida.

Ofra Cosmetics! James had a ton of nice things to say about them. I picked up some samples. They had a cool promo of 'Like' us on Facebook and we'll give you 2 free eyeshadows (their choice).

This lady was so cool! The Naked Cosmetis people were really nice. Their  Naked Skin Cream felt really good on my hands.

Cristina workin' her nail veil!  Su just released her nail veils, the newest nail trend!

She is fabulous! Love her hair, her outfit, her nails, everything!

This is Melody, the master mind! She organized things and kept them flowing smoothly.

The Lash MD booth!

I got to speak with Koren and he showed us his cool ipad app for Makeup Artists. I wish there was an Android version (he says soon, soon!). It lets you take a face shape and color it it in, then mirror it, for when you're doing composites and test makeup for a client.

The app is really great! It's called Face Chart Pro and it really is another thing that I think Makeup Artists will want. It's only $9.99.

Me with Koren. He is so sweet!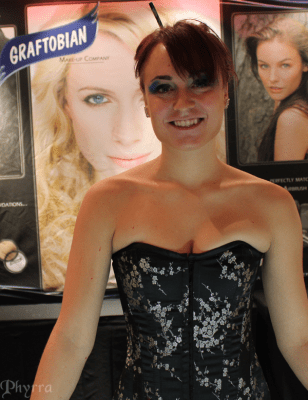 Graftobian was one of the first booths that I visited on Sunday. I was really impressed with their staff. I asked to get matched in their creme foundation and they matched me to the shade Lady Fair (a neutral, of course). I picked up the Ultra light palette that has 5 shades and while I can probably wear all 5 shades, I can use the ones I'm not using as foundation to conceal. And boy, does this work well for concealing!

The Eye Kandy booth. Personally, I was too nervous to allow this to be applied to my eyes.

One of the BftE Cosmetics fans made this gorgeous painting.

The talented artist here with Crystal!

I got to meet the amazing Eugenia, CEO of Senna Cosmetics and she did my brows!

I got to meet up with Sarah, who is adorable! I met her several years ago at the MAC counter at Nordstrom's. In fact, she's the one who sold me the Heatherette Trio.

I also got to see Brenda (remember her from the Nordstrom  TrendShow event?) and Brian from Too Faced! Brian is such a sweetheart.

The Peabody hotel had some random ducks. They were strange but cute.

I got to talk with Elessa and buy a few of her bows! So cute! She's super sweet.

The Cinema Secrets booth. I was surprised that the lady at the booth didn't know a lot about the products, but she was very nice.

I have several pictures of the Make Up For Ever Models. They were AMAZING. All of the staff that I spoke to from Make Up For Ever were kind and knowledgeable. I asked if they were still cruelty-free and they said of course.
That's one thing that I found disappointing at the Makeup Show. Not very many people knew what the term cruelty-free meant. Some of the people that I spoke to assumed (wrongly, like I had in the past) that no one tested anymore. When I said that Estee Lauder, Maybelline, Cover Girl, L'Oreal etc still tested, they asked me 'are you sure?' And I said yes, it still goes on. Then they got uncomfortable and changed the subject. While I don't enjoy making people uncomfortable, I really think if more people knew about testing, more people would speak up.

Make Up For Ever Model

Make Up For Ever Model

Make Up For Ever Model
I really, truly loved  the Make Up For Ever models! They were beautifully made up, especially butterfly girl. I couldn't get over how detailed and amazing they looked. And they were so tall. I felt sooo short around them! Their artists were truly gifted.

Maria at the Cult Booth! Yay! Join the Cult!
And here is the end of Part 1 of the recap. I'll have Part 2 for you soon.