What's the Best Makeup Wipes for Sensitive Skin?
What's the Best Makeup Wipes for Sensitive Skin? Today I'm sharing the best makeup wipes for sensitive skin: Bliss Makeup Melt Wipes. I had given up on ever being able to reliably use makeup wipes on my sensitive skin because most of them break me out or irritate my rosacea and serborrheic dermatitis. Not Bliss!
Where to Buy
Bliss, Amazon, Ulta, Target, CVS
Ingredients
Water (Aqua) (Eau), Cyclopentasiloxane, Cetearyl Isononanoate, Polysorbate 20, Tocopheryl Acetate, Chamomilla Recutita (Matricaria) Flower Extract, Cucumis Sativus (Cucumber) Fruit Extract, Avena Sativa (Oat) Kernel Extract, Aloe Barbadensis Leaf Extract, Althaea Officinalis Root Extract, Glycerin, Glyceryl Stearate, Lauryl Glucoside, Cetearyl Alcohol, Cetyl Palmitate, Ceteareth-12, Ceteareth-20, Sodium Lauryl Glucose Carboxylate, Caprylyl Glycol, Phenoxyethanol, Sorbic Acid, Potassium Sorbate, Benzoic Acid, Sodium Citrate, Sodium Benzoate, Fragrance (Parfum)
About the Bliss Makeup Melt Wipes
Bliss says that the Makeup Melt Wipes are an oil-free makeup remover. They've got chamomile, marshmallow root, and aloe extract to soothe skin, able to get off waterproof mascara and no rinsing required.
German Chamomile: Gentle flower is known to calm and soothe skin
Marshmallow Root: Intensive hydrating and softening properties help balance skin and quiet irritation
Cucumber Fruit Extract: Extremely gentle hydrator for skin and eyes.
Aloe: Helps reduce skin redness and irritation
Paraben Free
Pthalates Free
SLS Free
SLES Free
Light Cucumber & Aloe scent
In  my opinion, the chamomile helps to make these some of the best makeup wipes for sensitive skin.
Bliss Makeup Melt Wipes Review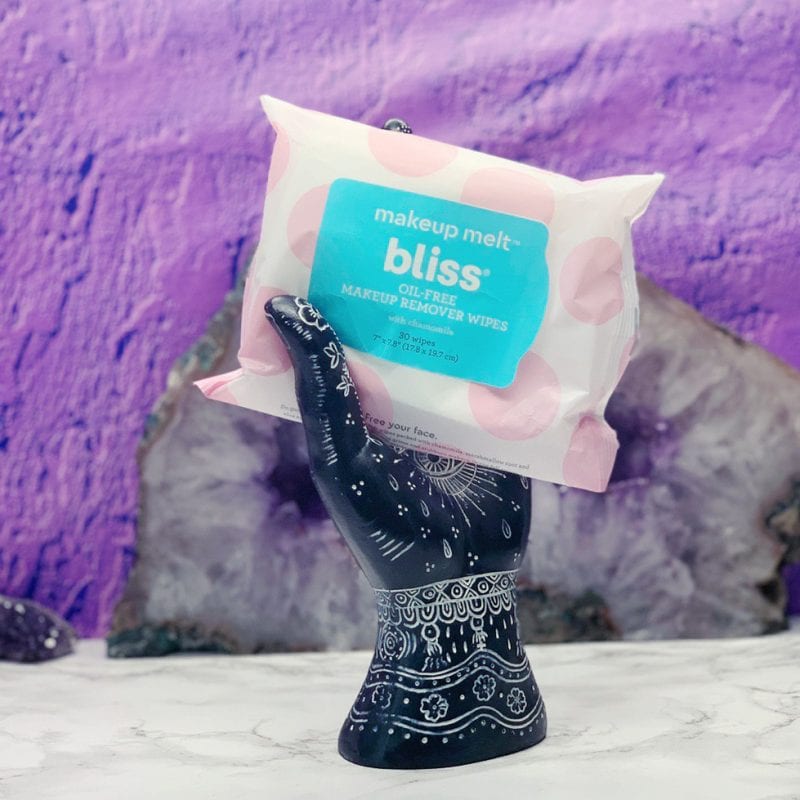 I had honestly given up on being able to use makeup wipes on my face with any regularity and mostly used them for wiping off swatches on my arm until I saw these makeup wipes from Bliss. I picked these up, along with several other Bliss products from CVS when I was in refilling one of my prescriptions. I am so glad I impulse bought them!
I was a bit skeptical at first when I noticed the light fragrance. Fragrance is the #1 thing that will cause me to break out or have a rosacea flare, so I try to avoid it. It's the absolute last ingredient in these wipes, which might account for why they don't trigger my sensitive skin.
The Bliss Makeup Melt Wipes are the best makeup wipes for sensitive skin, in my sensitive skin's opinion! They do an excellent job at removing my makeup. While they claim to be able to remove waterproof mascara and eyeliner easily, I do feel like the mascara and liner take a bit more effort than other facial makeup products, so I use a separate makeup remover to make sure I get all of that off. And yes, it says you don't have to rinse after using these makeup wipes, but I still prefer to.
I LOVE how affordable the Bliss Makeup Melt Wipes are! They're typically around $5.99 and you get 30 wipes for the price. I've got Bliss Makeup Melt Wipes in every bathroom in my home, plus my office and in one of my nightstand drawers. No excuses for not taking my makeup off at night when I've got makeup remover everywhere.
The Bliss Makeup Melt Wipes leave my skin feeling soft and smooth, not stripped and tight. I even use them on my lips when I'm doing lip swatch videos to help remove the makeup. They don't irritate my lips either. I love that these wipes do not leave an oily residue or anything gross behind.
If you're looking for my opinion on what's the best makeup wipes for sensitive skin, look no further than the Bliss Makeup Melt Wipes. They're Phyrra approved!