Espionage Cosmetics Nail Wraps
I just had to share Espionage Cosmetics Crystal Power Nail Wraps Give You Perfect Pastel Goth Nails with you! Espionage Cosmetics sent me these nail wraps quite some time ago and I finally had the chance to give them a try when I last went to see Diamond. After I got my hard gel nail refill, we played with these wraps.
Where to Buy
Espionage Cosmetics
Espionage Cosmetics Crystal Power Nail Wraps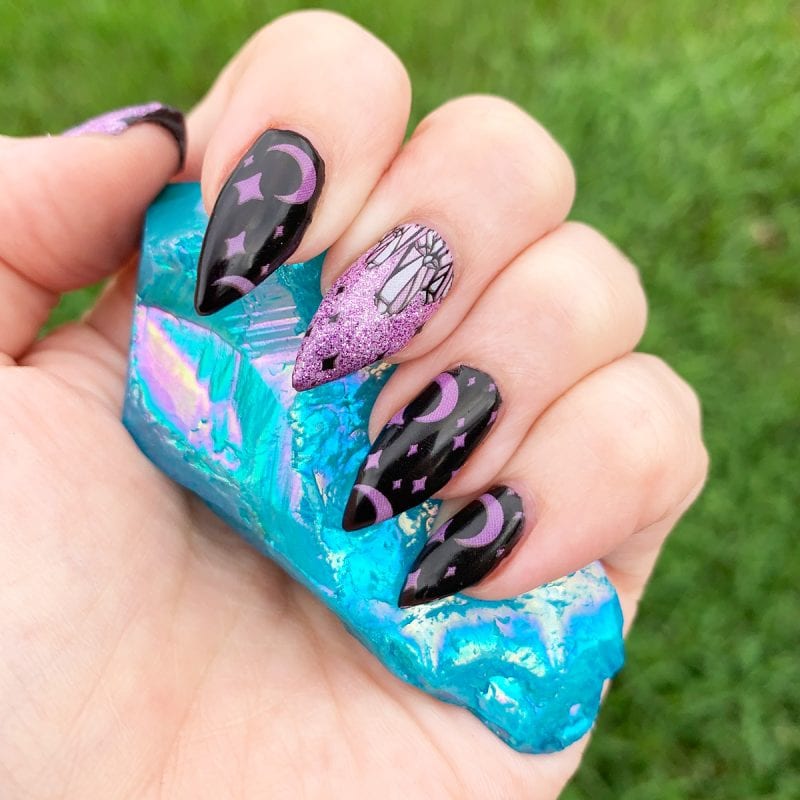 The Espionage Cosmetics Nail Wraps retail for around $10. Unfortunately, the Crystal Power design is out of stock, but if Espionage Cosmetics gets enough interest they might make them again. I emailed them to let them know that I would love to buy this design. It's the sort of design I'd wear all the time if it was more sparkly because I need shimmer or multichromes or I get bored.
These are, to me, super gorgeous pastel goth nails. The black base really makes the soft purple moon and stars gradient pop. I also really like the crystal nails. What I would love to see would be a more sparkly version of this print where the moon and stars all sparkle, but I tend to prefer holographic or sparkly shades.
The Espionage Cosmetics Crystal Power Nail Wraps were very easy to apply. Diamond matched up the nail strips that most closely matched my cuticle line, applied the wraps on top of my last hard gel fill, and then sealed them in with a hard gel top coat. They've lasted with minimal wear showing at the edges.
Espionage Cosmetics has TONS of gorgeous nail wrap designs to choose from. I love how The Abyss Becomes Me, Faerie Lace, and Batty Glow look! I ordered a few of the Batty Glow to play with.
If you're in the Tampa area, I highly recommend visiting Diamond for nails and more! She does an amazing job with my nails.
What do you think of the Espionage Cosmetics Crystal Power Nail Wraps? Are you into wearing nail wraps? Let me know!