I wanted to do a quick outfit of the day post. This is a cute and comfortable, casual outfit that was perfect for having lunch out with a friend. I wore my awesome Beat Electric
shirt, which I recently modfied it to make it more comfortable and cute for the Florida Heat. It was very, very hot yesterday! Bella (akita-chow mix) insisted on sitting by me while Ray took my picture. She's so cute!
Shirt – tokidoki Beat Electric
Capris – teal capris from Kohls
Shoes – crocs A-leigh Mini Wedge
sandals in Surf
Sunglasses – Glitter & Holo ALL THE THINGS Black Holographic Sunglasses
Toes – KB Shimmer Don't Pink Twice
Tips – LeChat Dare to Wear Ready for my Close Up
(main) JINSoon Blue Iris with a coat of Cult Nails Dance All Night on top (accent)
Earrings – Bones & Lillies Purple Cross Earrings
I have gotten SO MANY COMPLIMENTS on Don't Pink Twice. I painted my nails with this polish 2 weeks ago and they still haven't chipped, which is amazing for a matte polish. I have a video review and swatches coming up on KB Shimmer polishes, which are amazing.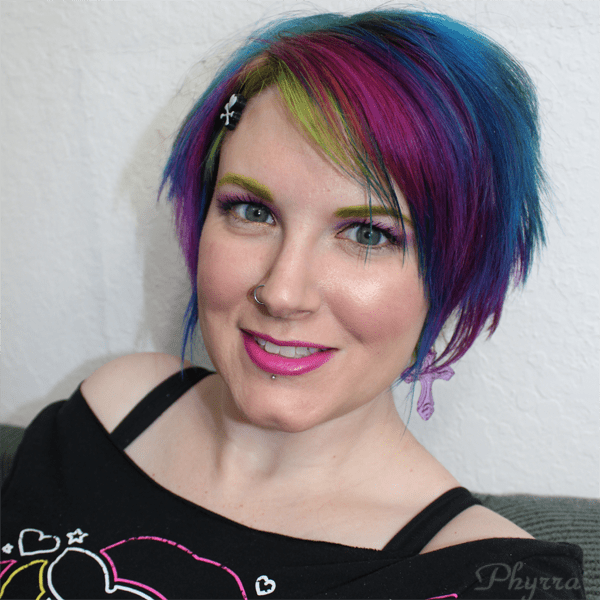 I truly don't have enough tokidoki in my life. I need to find a cute tokidoki hoodie, maybe in black, with the Beat Electric design. That would be awesome.
The crocs A-leigh Mini Wedges are super cute and comfortable! They come in other colors, too! Black, stucco (putty), cocoa (rich brown), surft (teal, my shade!), and flamingo (coral red).