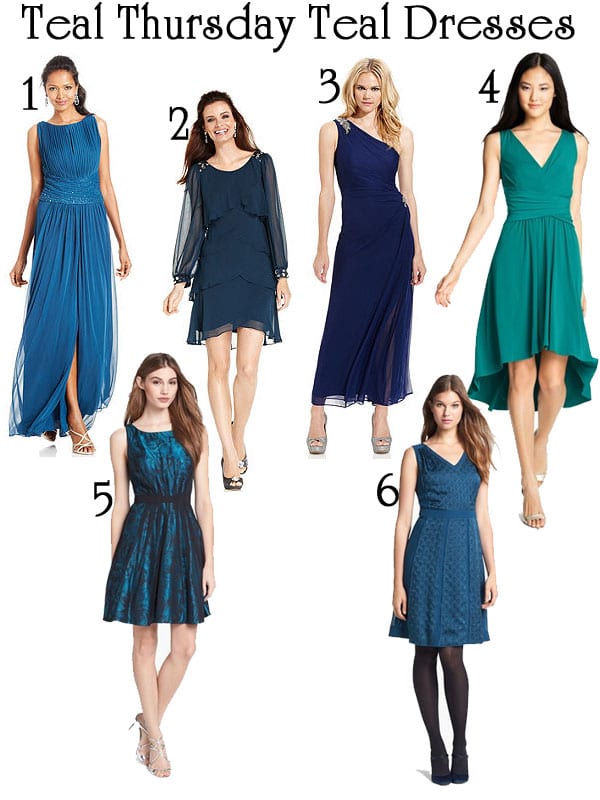 This Teal Thursday is about Teal Dresses.  I may need a nice teal dress for an upcoming event. I'm always plagued with finding something to fit my curvy, yet petite frame, since I'm under 5'4. I'm really happy that there are more petite options available today than there were 10 years ago. However, it's still frustrating to me that I'll see a really cute style and it's not available in a petite length and the regular length is too long for my frame.
1. JS Boutique Dress, Sleeveless Pleated Bead Gown
This is a gorgeous ankle length teal blue gown.
2. SL Fashions Petite Dress, Long-Sleeve Jewel Tiered Gown
I'm not sure that this would look good on me, but I love the dark teal hue.
3. Alex Evenings Petite Dress, Sleeveless One-Shoulder Draped Gown
Though not teal blue, I know this electric blue would suit my skintone perfectly.
4. Ivy & Blu for Maggy Boutique Pleated Front V-Neck Dress
This one is really lovely and I think would really work with my shape.
5. Jessica Simpson Floral & Mesh Fit & Flare Dress
This is my favorite of the bunch.
6. Tory Burch 'Hadley' Silk A-Line Dress
This one is lovely, too.
I usually find A line or fit and flare dresses look best on my frame. I like above the knee, because sometimes I feel like I look like a mushroom when it's ankle length. But sometimes I ignore that feeling because I love the look of the dress and the fabric too much to not wear it. I really love wearing deep blues, teal blues, silvers and charcoal greys. I like how they work with my skintone. And of course, I always love black! I think I have more black dresses than any other color in my wardrobe.
What is your favorite style of dress to wear? Do you have a favorite color?
Last Updated on