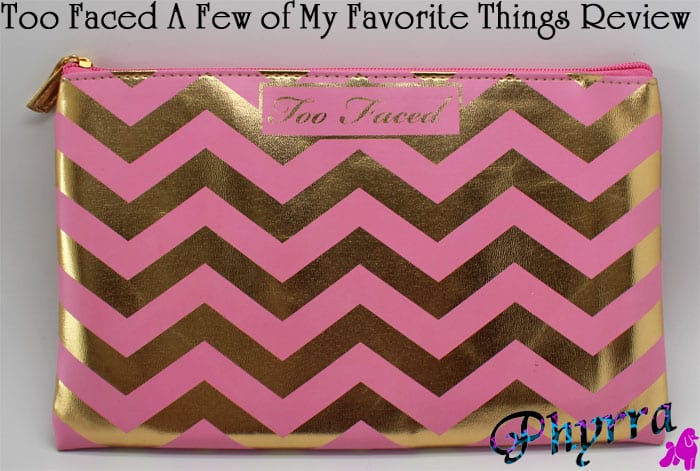 Hi there! Today I'm going to show you the Too Faced A Few of My Favorite Things. A  Few of My Favorite Things is a huge 28 piece set that Too Faced Co-Founder Jerrod Blandino put together for the holidays. It's got an exclusive lip shade, Bee Sting, my favorite mascara Better than Sex, 20 eyeshadows and more. It's loaded! Let's take a look.

If you like this video don't forget to subscribe to my channel.
About Too Faced A Few of My Favorite Things
This Sephora exclusive features Jerrod's iconic favorites for the eyes, face, cheeks, and lips and will make your holidays gorgeous. This collection is infused with classic colors that have a playful edge—shades that fit right in for a super swanky blowout or an intimate Christmas day brunch with the family. After hours, zip up your essentials in Too Faced's signature chevron-print clutch, designed by celebrity decorator and TV personality Mary McDonald.
1.2 oz x 20 Eye Shadow in Snowflakes, Whiskers on Kittens, Chocolate Milk, Moon on their Wings, Dark Chocolate, Cream Colored Ponies, Honey Honey, Busch de Noel, Evergreen, Blue Satin Sashes, Coquet, Taffy, Crisp Apple Strudel, Woolen Mittens, Soirée, Tinsel, Bluff, Ooh La Orchid, Party Time, Pure Glam
0.28 oz x 2 Blush in Raindrops on Roses, Melt into Spring
0.28 oz x 2 Bronzer in Sun Bunny, Chocolalte Soleil
0.1 oz Lip Injection Color Bomb! in Bee Sting
0.17 oz Better Than Sex Mascara in Carbon Black
Chevron clutch
How-To Glamour Guide
Price
$56 at Sephora's website.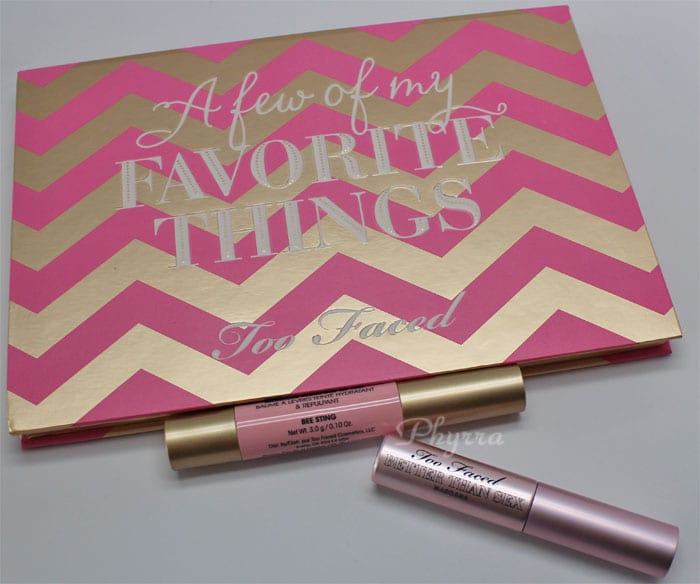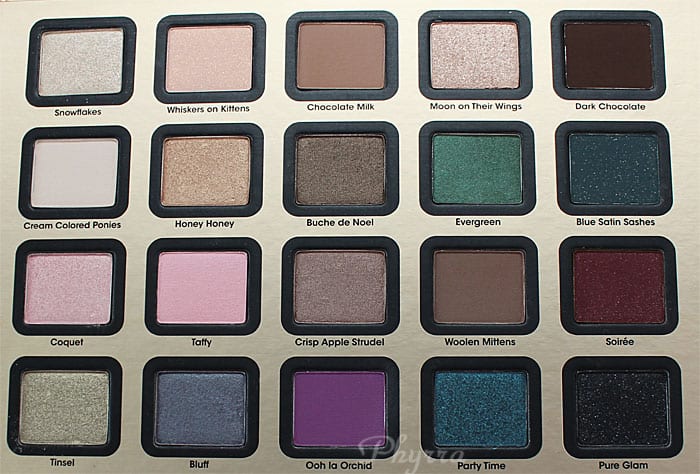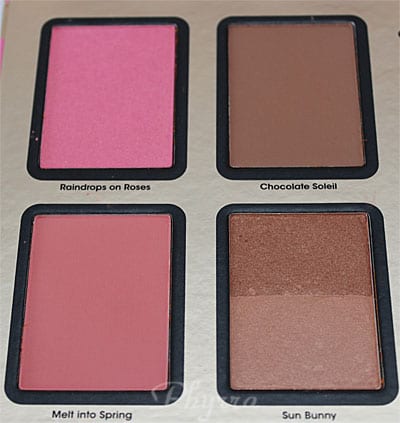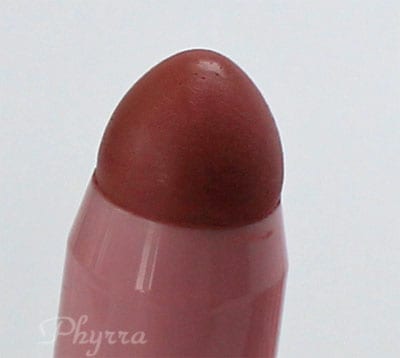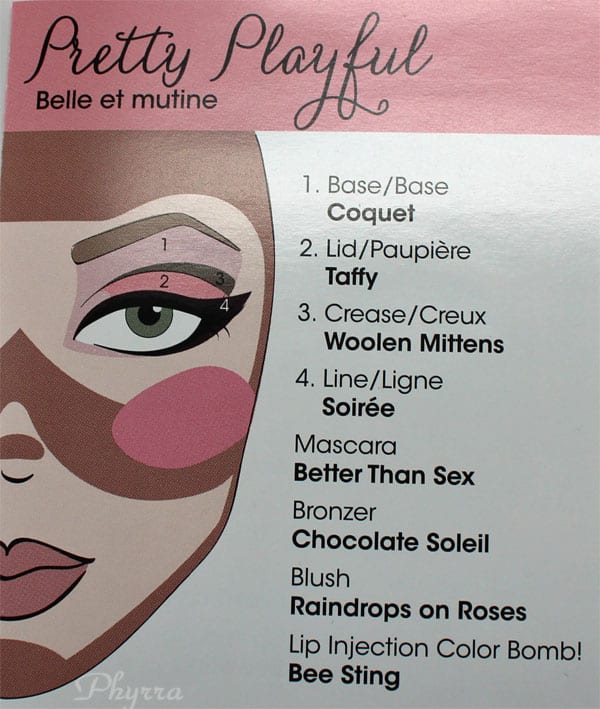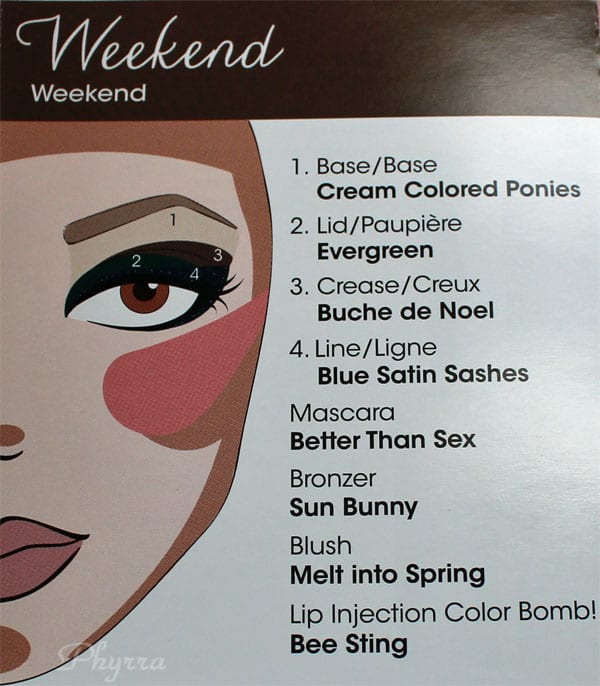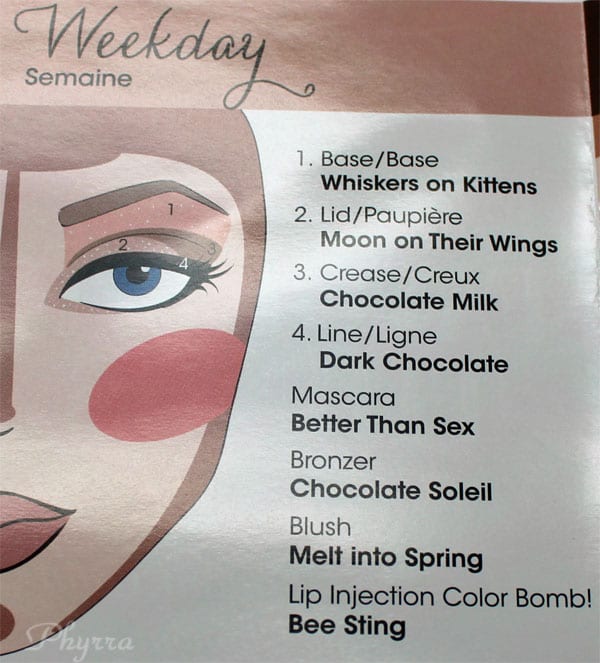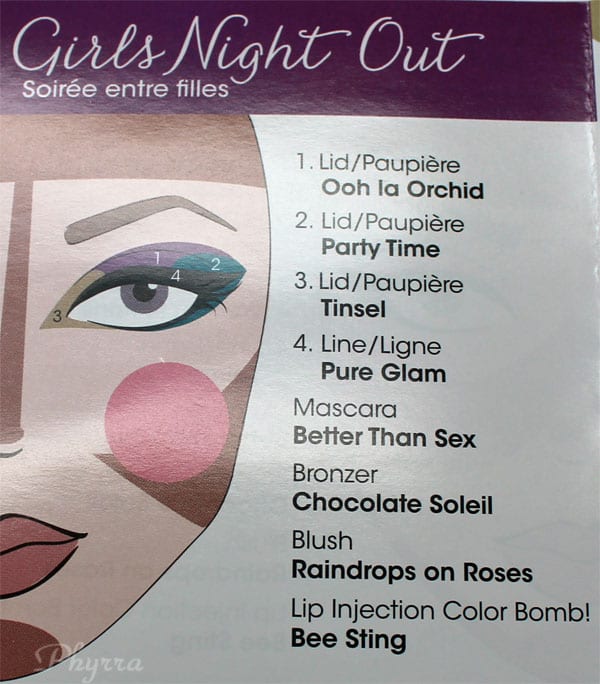 Packaging
I LOVE the slim design of this palette (and all the palettes from Too Faced's christmas collection). It's not heavy, it's easy to open and close, and the names are printed beneath each item so you always know what you're using.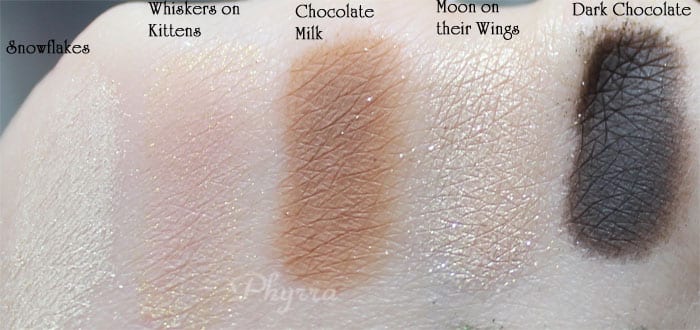 Snowflakes
pale white gold shimmer
Whiskers on Kittens
pale beige peach with golden iridescence
Chocolate Milk
silky light brown matte
Moon on their Wings
light glittery beige with silver sparkles, had some fallout
Dark Chocolate
silky dark chocolate matte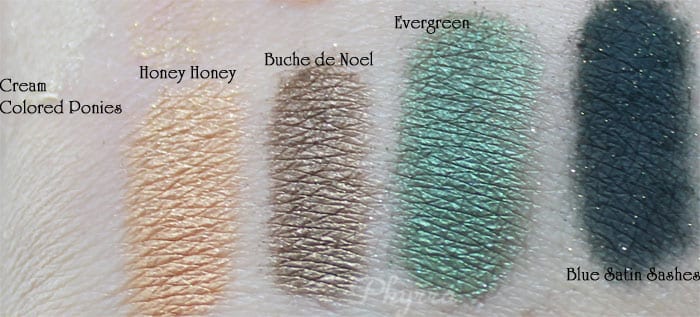 Cream Colored Ponies
creamy white matte
Honey Honey
golden bronzey metallic
Buche de Noel
midtone brown with gold shimmer
Evergreen
classic christmas green shimmer
Blue Satin Sashes
Deep blackened navy matte with gold sparkles and iridescence


Coquet
golden pink shimmer
Taffy
light baby pink shimmer
Crisp Apple Strudel
mid-tone milk chocolate brown shimmer
Woolen Mittens
midtone brown matte
Soiree
burgundy brown, not great color payoff. I prefer burgundy to be more red than brown.


Tinsel
pale dirty gold with a very slight greenish tinge
Bluff
silver with lavender undertones
Ohh La Orchid
bright violet matte
Party Time
beautiful smoky blue on a blackened base, semi-sheer. This is great for layering.
Pure Glam
black matte with silver sparkles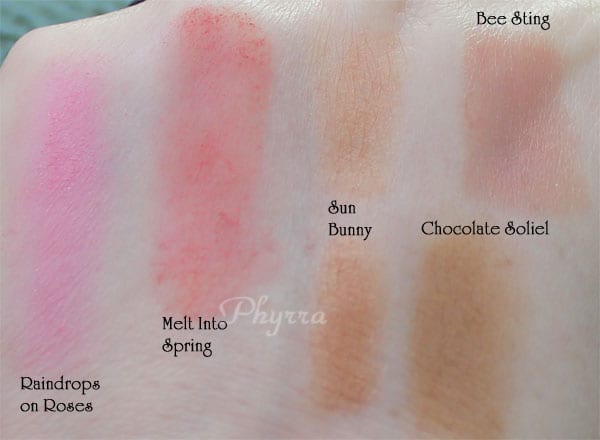 Raindrops on Roses (blush)
light pink with slight shimmer
Melt Into Spring (blush)
peachy coral
Sun Bunny (bronzer)
light and medium bronzers
Chocolate Soliel (bronzer)
deep bronzer matte
Value
With 20 eyeshadows at .06 oz each (MAC eyeshadows are .05 oz each), 2 blushes that are each .28 oz, 2 bronzers at .28 oz each, travel size of my favorite mascara .17 oz (instead of .27 oz), exclusive Lip Injection and makeup bag. If you value the eyeshadows at the Exotic Eye color of $18 for .06 each, the eyeshadows alone are worth $360. The 2 blushes and 2 bronzers are worth about $96. The full size exclusive Lip Injection is worth $21. The mascara is about $14.50. I'm giving the makeup bag a $5 value. Overall that totals up to $496.50, which is pretty much a steal for the sticker price of $56.
This palette has a ton of neutrals with a few punches of color. It does have a few shades that were less than perfect, namely Moon on their Wings and Soiree. Despite that, I think A Few of My Favorite Things is an amazing value. If you're a fan of more than 5 colors in it, I think it's worth buying. It would make a nice gift for someone, too.
What do you think of Too Faced A Few of My Favorite Things? Love it? Gifting it? Let me know!