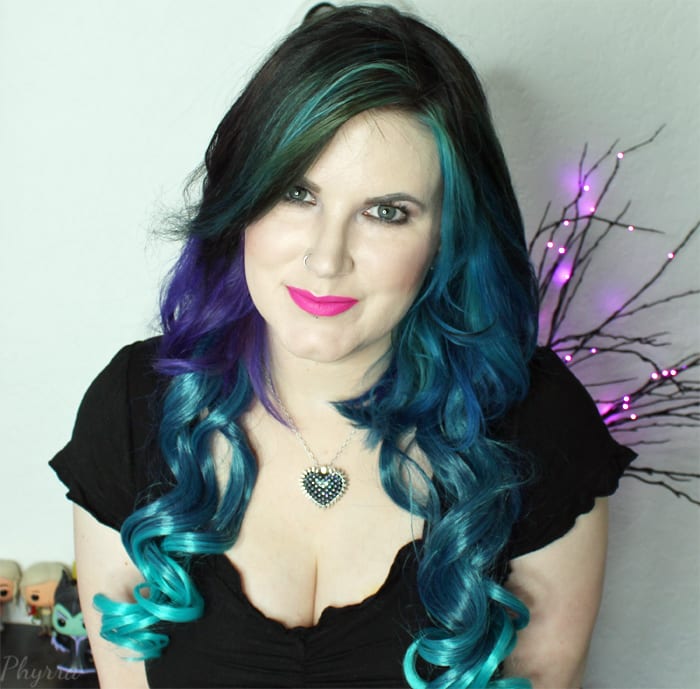 Happy Teal Thursday! Today I'm featuring some Teal Ombré Hair Extensions that I purchased on Amazon a few months ago. They're really pretty and they're a fun way to add length or color to your hair without the commitment.
Teal Ombré Hair Extensions
These are super inexpensive, like $6 and they're made from Japanese Kanekalon hair (synthetic). You can't style these with heat. But for fun (not for daily use) they're great.
I bought 'Dark Green to Light Green' which is really dark turquoise to light turquoise, aka teal. To me it looks like teal to aqua. The width is 10 inches and it fits around my head comfortably. It attaches with wig clips that were sewn in. It's 21 inches long. For my taste, it's really long, but I love the colors. I also purchased their 'Dark Purple to Light Purple'. I have to say that I absolutely love the 10 inches width, but I think I'd be happier if it was only around 16 inches long.  I love that I didn't have to dye these myself to get colors that work with my hair.
So if you want to add color to your hair but your work won't let you, I think clip ins are a good way to go. The link above takes you directly to where I bought them on Amazon and they have over 20 choices available. However, if you don't like their premade choices, I highly recommend I Kick Shins for custom orders. I've ordered from her many times (you can see a set of my hairfalls here). Or you can always check on Etsy, as I'm sure there are sellers there who will do custom clip ins.
See more Teal Thursdays!
What do you think of clip in extensions? Any new teal lusts?
Last Updated on