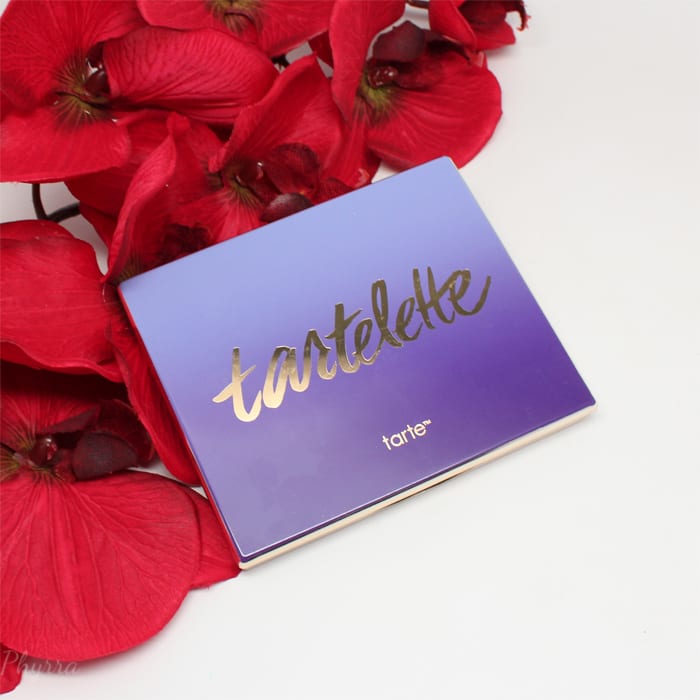 Today I've got the tarte Tartelette Amazonian Clay Matte Eyeshadow Palette to share with you. This is a healthy, eco chic palette with 12 exclusive all matte eyeshadow shades. I recently featured this palette in my Taylor Swift Bad Blood makeup tutorial. I've been blown away by the silky soft eyeshadows in this warm neutral palette, so much that I desperately wish it had a cool-toned cousin. I wouldn't say no to peachy or true purple tones either.
tarte Tartelette Amazonian Clay Matte Eyeshadow Palette
About the tarte Tartelette Amazonian Clay Matte Eyeshadow Palette 
By popular demand, tarte is introducing an all-matte shadow palette featuring 12 never-before-seen shades to inspire, celebrate, and empower real women. As beautifully diverse as the brand's loyal fans, this sleek, statement palette features tarte's signature Amazonian clay-infused, long-wear eye shadows in a mix of liner, lid, and crease shadow shades.
Amazonian Clay – Nature's most perfect ingredient for better, longer, truer wear.
Vitamin E – Acts as a natural preservative and soothing emollient and antioxidant.
Mineral Pigments – Soothe and soften skin.
Cruelty free
Parabens, Phthalates, Mineral Oil & Sodium free
Gluten free
Price
$44 (12 eyeshadows at .053 oz each)
Availability
Tarte, Ulta, Sephora
These eyeshadows are swatched on my bare skin (no primer) using a bdellium 777 brush. Swatching on bare skin drives me crazy.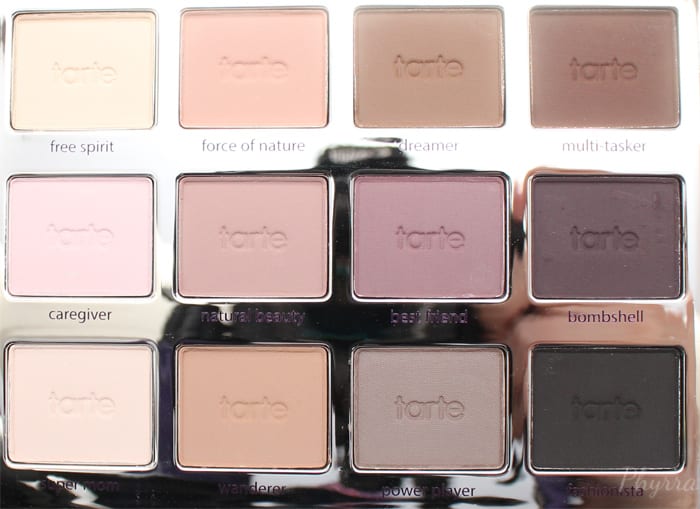 free spirit
cream
Sheer yellow-toned cream matte.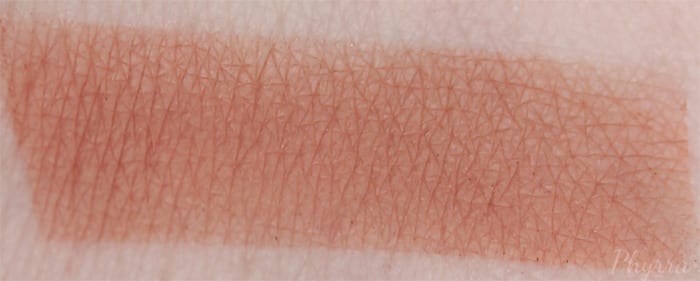 force of nature
nude
Light peachy beige tan matte.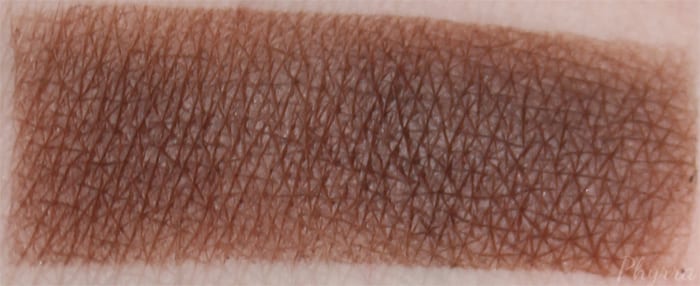 dreamer
warm brown
Deeper than midtone warm brown matte.

multi-tasker
chocolate
Dark brown matte.

caregiver
pale pink
Light pink matte.

natural beauty
mauve
Light nude brown with a hint mauve matte.

best friend
mulberry
A brown with subtle burgundy tones matte.

bombshell
dark plum
Dark brown with a hint of eggplant matte.

super mom
ivory
Sheer ivory matte. I read this as Super Moon when I first saw it. Much cooler name.

wanderer
light brown
Light brown matte. I can't see the name Wanderer without thinking of the old anime El Hazard, which I adored.

power player
taupe
Midtone grey taupe matte.

fashionista
black
Soft black matte, perfect for lining or shading.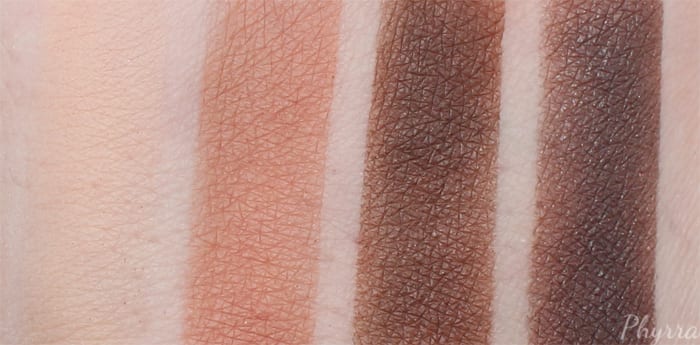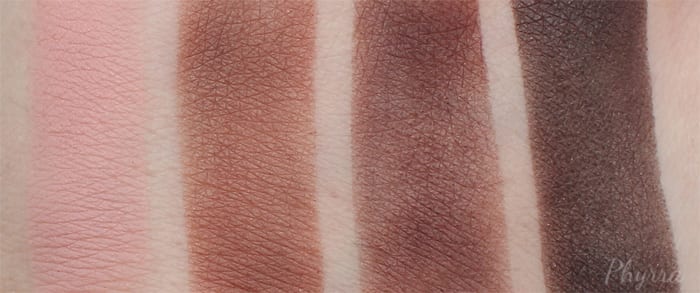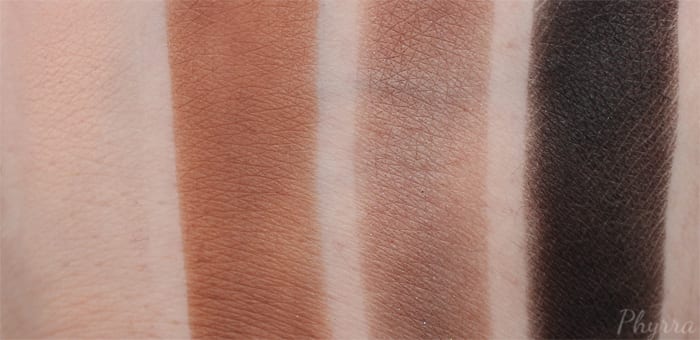 Watch my Taylor Swift Bad Blood tutorial featuring the Tartelette Palette!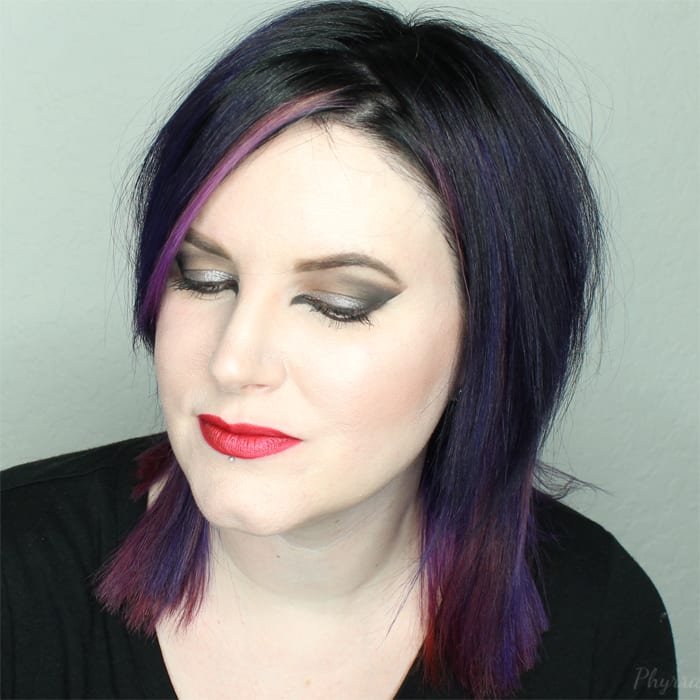 The packaging is awesome. It's very compact and purple with gold trim. The names are printed under each shade, which I absolutely love. It's surprisingly lightweight, making it ideal for travel. It's pretty sturdy too.
The value is great. You're getting 12 full size eyeshadows for the price of $44. For a comparable rate, 12 full size Urban Decay Eyeshadows (each .05 oz) would cost you $216 while 12 full size MAC refill pans (each .04 oz) would be $120. So no matter how you slice it, the Tartelette palette is a good deal.
As you know, I love mattes for my hooded eyes, specifically to help me fake a crease. So I love seeing an entire palette of mattes, even if there are a ton of brown tones I can't personally use. I think the quality is really nice.
All of the eyeshadows swatched beautifully. Free Spirit and Super Mom are good for base shades, matte highlighters, or to blend out other colors. Force of Nature and Caregiver would make good lid shades. Power Player is a great transition or crease color. Dreamer, Caregiver, Best Friend and Wanderer would make great crease colors. Fashionista, Bombshell and Multi-Tasker make great liner and accent colors.
I think the second row is supposed to be pinks, mauves and purples, but aside from Caregiver being an obvious pink, the other colors don't look like that to me. I wish that Natural Beauty did have mauve tones, that Best Friend was more of a blackberry type of color, and that Bombshell was a blackened violet. But, despite the lack of purple tones, they're nice colors.
If you are a fan of mattes and natural shades, you should definitely check out the Tartelette palette. As you can see from my Bad Blood tutorial, it plays well with shimmery shades and you can pair it with brights, too.
What do you think of the tarte Tartelette palette?