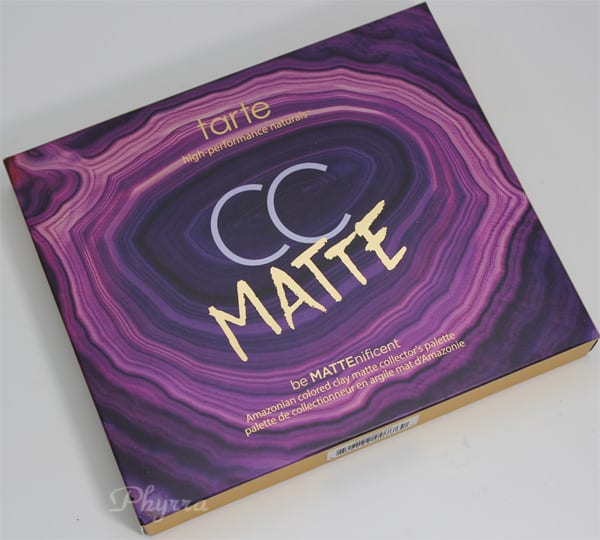 Recently I had the opportunity to try out the new Tarte be MATTEnificent Eye & Cheek Palette. I was excited because this is an all matte palette. I love to use matte shades with my brighter, shimmery shades. Typically I'll put a shimmery or glittery shade on my lid and then use mattes on the browbone and crease to contour my eyes. It works really well with hooded eyes. Let's see how the Tarte be MATTEnificent Palette stacks up!
PR sample.
Tarte be MATTEnificent Eye & Cheek Palette Review

If you like this video, please give it a thumbs up and subscribe to my channel!
About the Tarte be MATTEnificent Eye & Cheek Palette
Our first ever all matte palette features 8 new limited-edition eyeshadows and 1 blush in universally-flattering shades for an endless variety of everyday looks. Amazonian colored clay mattifies as it helps control oil for better application, longer wear and truer color that won't fade, crease or budge. Color-correcting Amazonian colored clay brightens, evens and soothes skin on the cheeks and eyelids while the velvety formula glides on smoothly without settling into fine lines.
colored clay: specifically addresses individual skin & complexion concerns
rose clay: soothes sensitive skin around the eye area
vanilla clay: helps control oil to keep pigment in place all day
mineral pigments: soothe & soften skin
Palette includes
eyeshadow/liner in dream in chocolate (black brown)
eyeshadow in view from the taupe (taupe)
eyeshadow in peach for the stars (peach)
eyeshadow in sand out from the crowd (warm beige)
eyeshadow in pink outside the box (soft pink)
eyeshadow in rose to the occasion (rosy pink)
eyeshadow/liner in don't stand black (black)
eyeshadow in two plums up (deep plum brown)
blush in Elevated (nude rose)
double ended shadow brush
Price
$36 for 2 x 0.1185 oz Eye shadow in Dream in Chocolate, Don't Stand Black, 6 x 0.0758 oz Eye Shadow in Sand Out From the Crowd, Peach for the Stars, Two Plums Up, Pink Outside the Box, Rose to the Occasion, View From the Taupe, 0.1544 oz Amazonian Clay 12-hour Blush in Elevated
Availability
Tarte, Sephora, Amazon, Ulta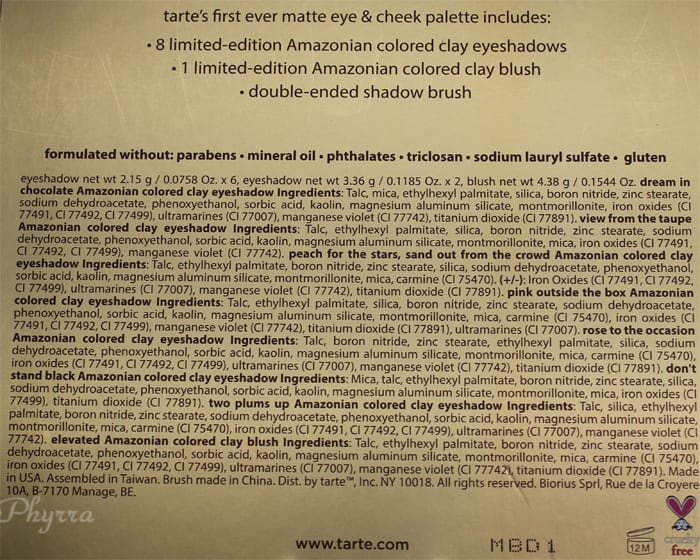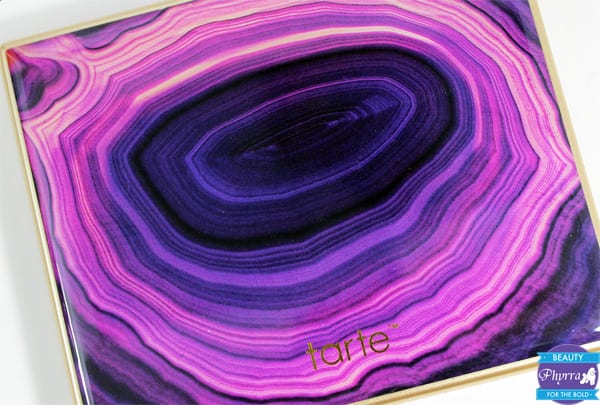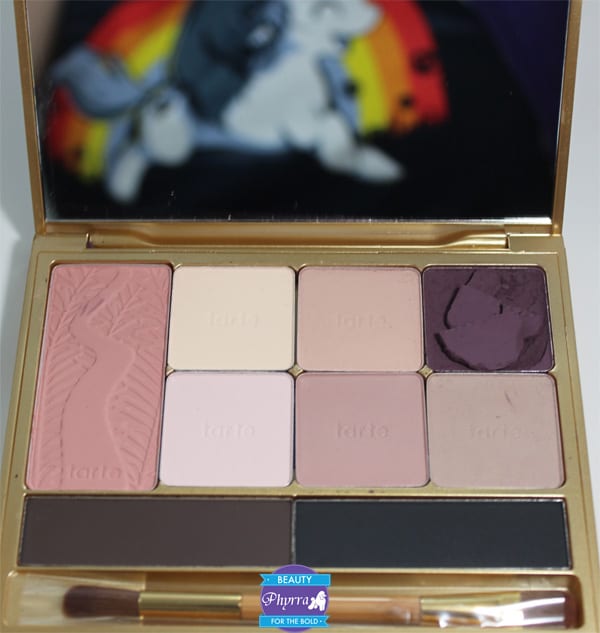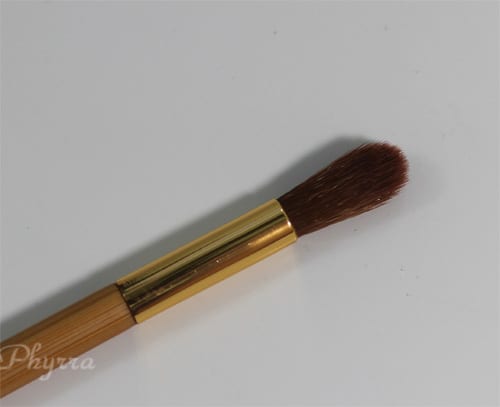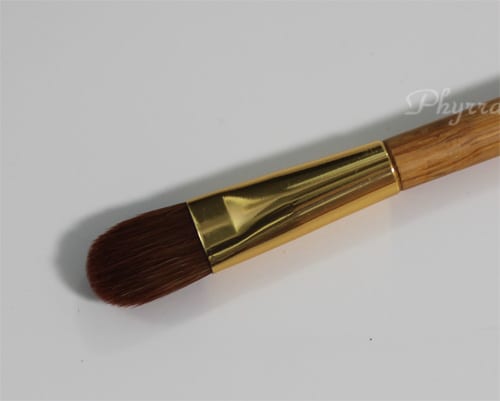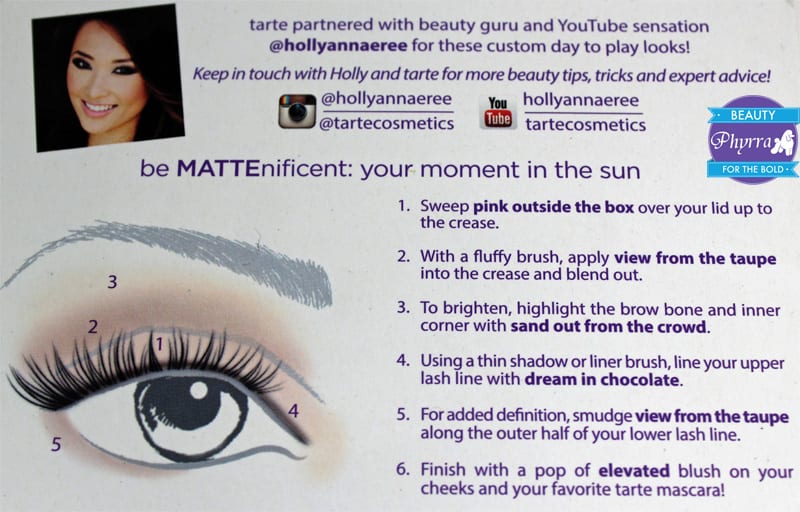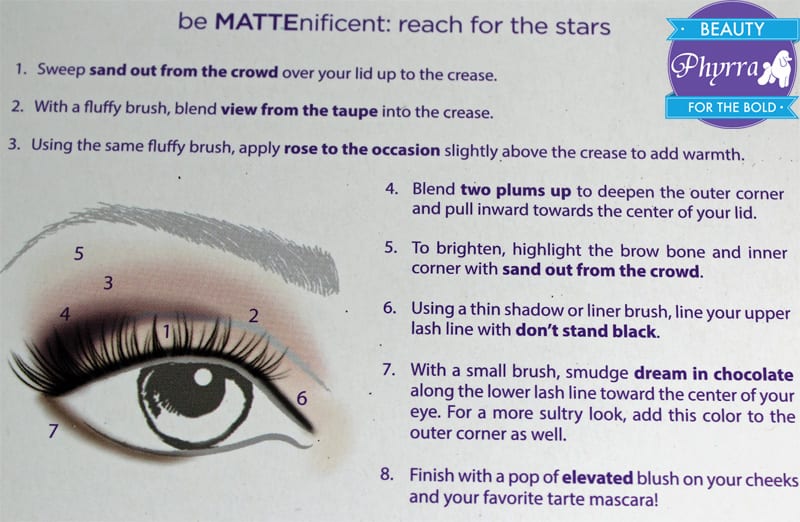 All swatches on Coastal Scents Shadow Worx Primer.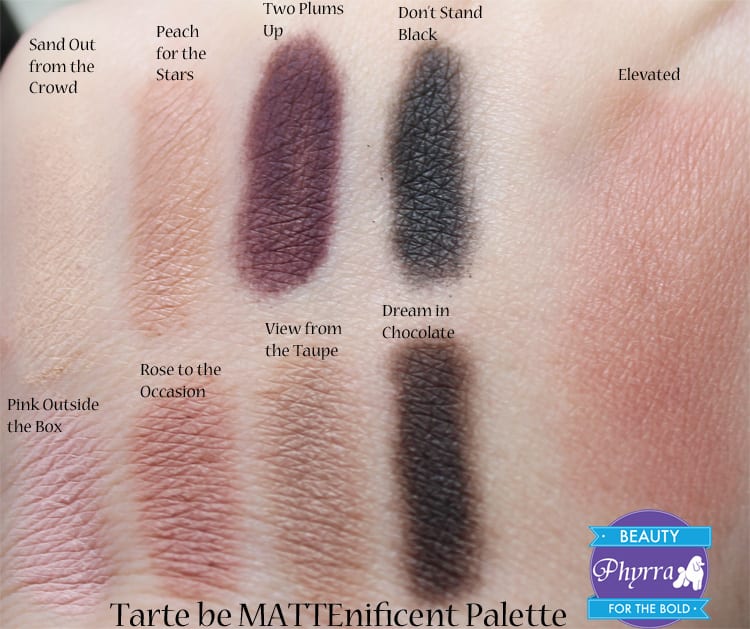 Sand Out from the Crowd
warm beige
My Take
light peachy beige
Peach for the Stars
peach
My Take
light peachy brown
Two Plums Up
dark plum
My Take
dark plum brown
Pink Outside the Box
soft pink
My Take
baby pink
Rose to the Occasion
rosy pink
My Take
rosy pink with hints of brown
View from the Taupe
taupe
My Take
brown taupe
Dream In Chocolate (liner shade)
black brown
My Take
blackened brown
Don't Stand Black (liner shade)
black
My Takesoft black
Elevated (blush)
rose
My Take
nude rose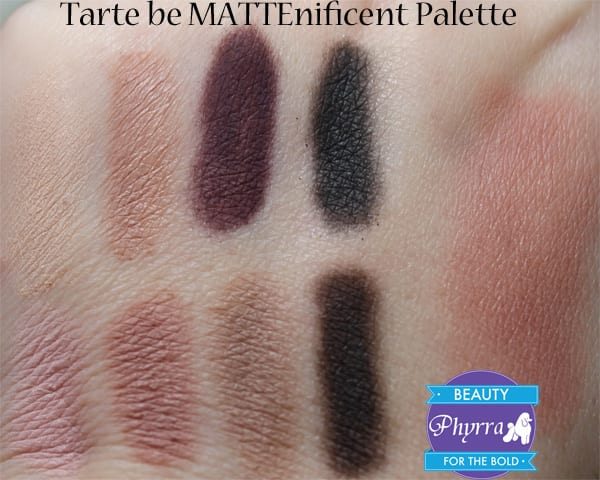 My Thoughts
I love love love the purple packaging! The only critique I have on the packaging is that the names of the colors aren't printed on the inside or on the back of the packaging. I prefer to have the names available for easy reference. The double ended brush that's included is ok. It's good for applying the lid color and blending in the crease. I really like that they included two looks with the palette to give people suggestions on how to use the shades together.
Initially I thought this would be a good palette for travel because of its compact size, but I'm concerned that the softer texture of the eyeshadows might mean more would shatter the way my Two Plums Up shattered.
I think this palette is a very good value for the price. You're getting 6 eyeshadows, 2 liners, and 2 blush for roughly $4 each. The liners are .11 oz each, the eyeshadows are .075 oz each and the blush is .15 oz, so that's quite a bit of product.
When testing the mattes out, I used eyeshadow primer. I got 10 hours of wear without any creasing or fading. I love the texture of the mattes. They're really soft and easy to work with. Most of these shades are light to midtone, so you only have dark from Two Plums Up and the two liner shades. The blush is a soft, flattering neutral shade. If you're a fan of matte eyeshadows or nude eyeshadows, you will love this palette. If you're a fan of brights, this palette may not be for you.
Pros
Cruelty free
Gluten free
Phthalates free, paraben free, mineral oil free
soft, easy to work with neutral matte eyeshadows
pretty blush
great value for the price
Cons
My Two Plums Up shade shattered easily, may not be ideal for travel
No brights, so if you're a fan of brights, this may not be a palette you enjoy
 What do you think of the Tarte be MATTEnificent Eye & Cheek Palette?
Last Updated on