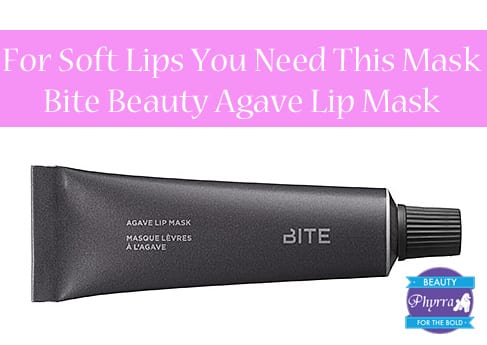 A while back, in an act of desperation, I bought the Bite Beauty Agave Lip Mask. I wanted to find the perfect lip drink to heal my ravaged lips. Between the biting and the dryness of winter, they needed extra TLC.
Bite Beauty Agave Lip Mask Review
About Bite Beauty Agave Lip Mask
A soothing, leave-on lip mask that replenishes moisture in lips. This innovative, natural formula smooths, nourishes, and moisturizes lips with a bio-active blend of organic agave nectar, jojoba oil, vanilla CO2 extract, and triple the amount of antioxidant trans-resveratrol found in red wine.
Cruelty Free
Gluten Free
Petroleum Free
Apply at bedtime or wear throughout the day for an instant boost of hydration with long-lasting shine.
Resveratrol: Provides antioxidant benefits equivalent to 15 glasses of red wine.
Medical-grade Lanolin (not vegan)
Jojoba Oil: Heals.
Ingredients
Lanolin* (medical grade), Organic Ricinus Communis (Castor) Seed Oil**, Organic Agave Tequilana (blue agave) nectar**, Olea Europaea (Olive) Oil Unsaponifiables*, Organic Cera Alba (Beeswax)**, Flavor, Vanillin, Siraitia Grosvenori (Monk Fruit)*, Vanilla Tahitensis (Vanilla) Fruit Extract*, Organic Copernicia Cerifera (Carnauba) Wax*, Trans-Resveratrol*, Vitis Vinefera (Grape) oil*, Tocopherol acetate*, Lonicera Caprifolium (Honeysuckle) Flower Extract (And) Lonicera Japonica (Honeysuckle) Flower Extract (and) Simmondsia Chinensis (Jojoba) Seed Oil*.
Price
$26 for .52 oz
Availability
Sephora
My Thoughts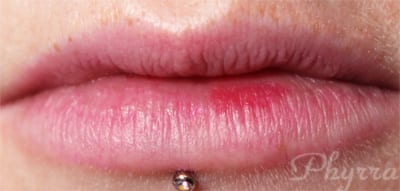 These are my lips and as you can see, they were in rough shape. I bite them, though I'm working hard at quitting that bad beauty habit. Hey, I quit biting my nails, I can do my lips, too!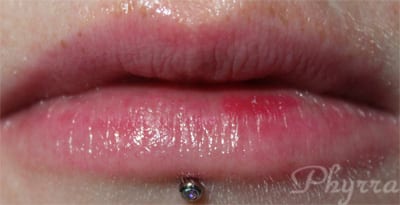 This is after immediately applying the lip mask. You can see it adds moisture and shine, pluming them a bit.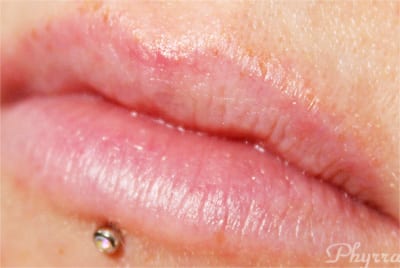 This is after using the  mask for a week.  My lips are looking healed, plumper and healthier.
I've been using this mask since the beginning of January and I think it's absolutely fantastic. It deeply moisturizes and conditions my lips. It seems to fill out my fill lines (from dryness and biting) and heal them. I think my lips have never looked better. It does seem like this mask will last me a very long time. I feel like I've barely made a dent in it after several weeks.
The ingredients are interesting. I'm really impressed with the fact that it has the antioxidant benefits of 15 glasses of red wine. I was surprised they chose to use lanolin (derived from sheep grease, as far as I'm aware). The the agave nectar, grape, olive and jojoba oils are all great for the lips. I'm surprised you don't see mango or shea butter in the list. It would be nice to see a version of this made without lanolin.
I will say that for once, I do not like the packaging. I'm afraid the metal-feeling tube is going to rip. I try to gently squeeze the mask out, but sometimes it sticks. Don't attempt to roll it like a toothbrush tube, or you'll break it. I do appreciate that it is in this packaging to try and keep it fresh, I just wish it was easier to get out. (Edit: the tube has ripped and there is a tiny hole in it. I find this incredibly disappointing).
Other than that, I think it's an awesome mask.
Edit: Because the packaging sucks, I had to throw the tube away before I'd gone through half of it. It ripped. While I do like the produt, I definitely will NOT repurchase because of the bad packaging. I'm now on the hunt for the perfect lip mask.
Pros
Cruelty Free
Extremely Moisturizing
Has lots of Antioxidant benefits
Cons
I dislike the packaging
the packaging has ripped and there is now a hole in it
What do you think of the Bite Beauty Agave Lip Mask? What's your favorite lip mask?
Last Updated on