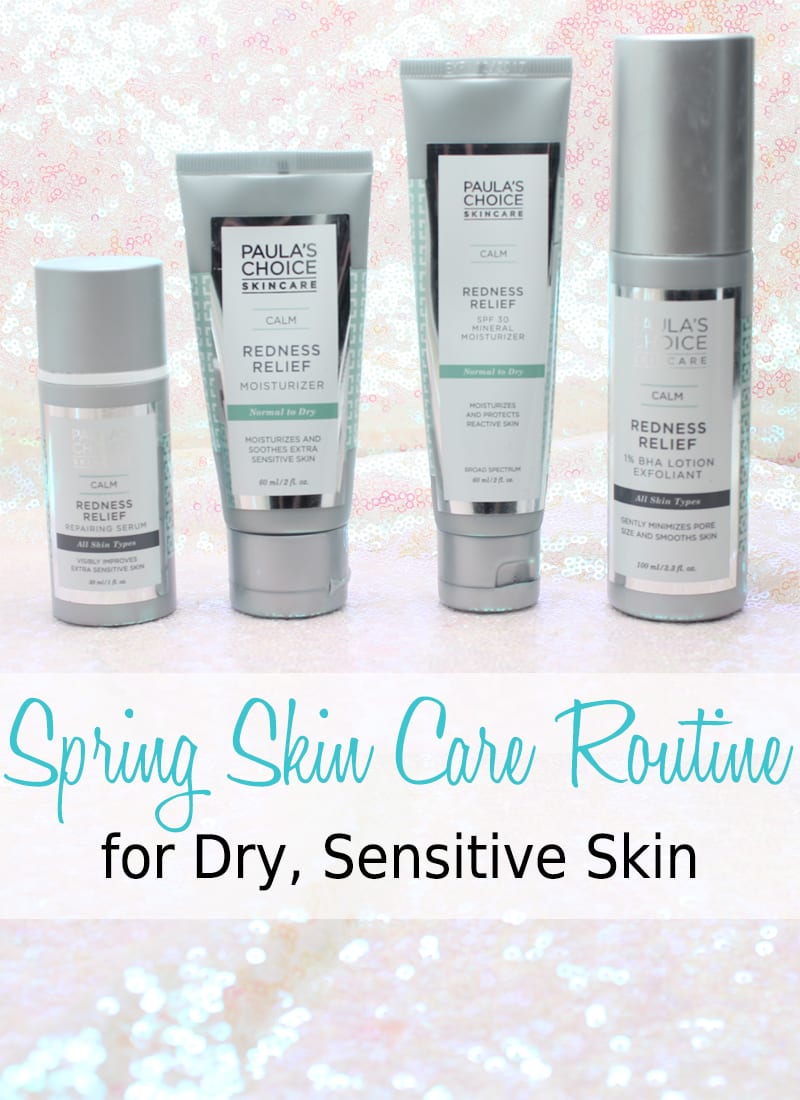 Happy Makeup Wars Monday! I'm sharing my Spring Skin Care Routine for Sensitive Skin. Since I'm transitioning from Winter to Spring skin care, I thought you might have that on your mind too. Rather than being so caught up with fighting against ultra dry skin (though I'm still dry, make no mistake), I'm now more concerned with brightening my complexion and reducing redness related to my rosacea.
Spring Skin Care Routine for Sensitive Skin
This post contains a mix of press samples and products purchased by me. This is not a sponsored post. However, I really, really love Paula's Choice products and they work very well for me which is why I keep repurchasing them over and over for years. You can see the list of non-vegan products by Paula's Choice here.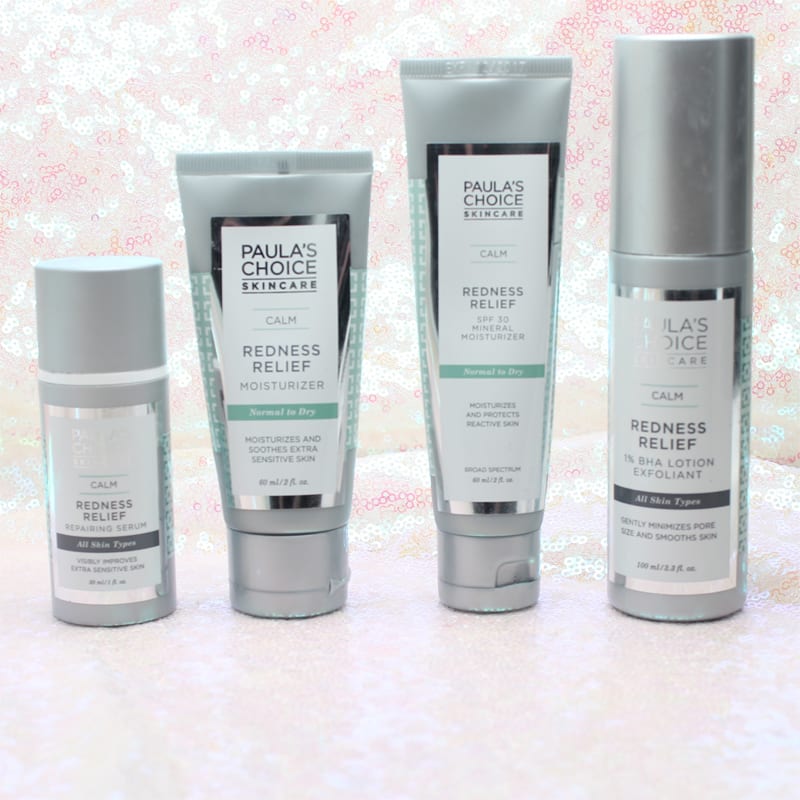 For a typical morning right now, I use the Paula's Choice Calm Cleanser. It's moisturizing and creamy. Some mornings, I don't need to cleanse, so I just rinse with water. It really depends on how my face is feeling when I wake up.
Then it's serum time! I mix together my serums to make a perfect Spring Serum. I use the Paula's Choice Calm serum mixed with Paula's Choice Resist C15 Super Booster.  Vitamin C is great for brighening you complexion, improving the texture of your skin, and helping to fade brown spots. The Calm Redness serum is packed full of antioxidants and calming ingredients to soothe my sensitive skin.
Don't forget the rest of your body! I love to use Fake Bake Mistifier Oil-free Moisturizer right after I get out of the shower for quick moisture.
Next is SPF! You should be wearing SPF year round. I'm using and loving the Paula's Choice Calm SPF 30 moisturizer. I put it on my face, neck, hands, chest etc. It smooths into my skin nicely and doesn't leave a weird residue. This is a mineral-based SPF that provides broad spectrum protection from UVA and UVB rays. It's 100% fragrance and colorant free. Make sure you reapply SPF during the day if you're going to be outside for more than 2 hours or if you're going to be sweating a lot or getting wet. If you're going to be outside for less than 2 hours you are good to go. For the rest of my body, if I'm going to be outside for any amount of time I use No-Ad Sunscreen Lotion SPF 60.
Finally, gotta protect your lips! If I'm indoors I'm using Skinfix Lip Repair Balm, which I've fallen in love with. If I'm going to be outside I put on Supergoop Mintfusion SPF 30 Lip Balm. I've been pleasantly surprised by how well Skinfix Lip Repair Balm works on my lips. I can actually use it at night and wake up with hydrated lips, which I've previously had to rely on Bite Beauty Agave Lip Mask for that much hydration.
Sensitive Skin Morning Routine
After the gym (which I'm at 3 to 4 days a week, depending on my schedule), I definitely use my Calm Cleanser and a wash cloth on my face. I put on the Calm Serum. Then, I either apply the Calm SPF 30 if it's still light outside or the Calm Moisturizer for dry skin if it's dark outside. If I need it I also use the Fake Bake Mistifier Oil-free Moisturizer on my body.
Sensitive Skin Post-Workout Routine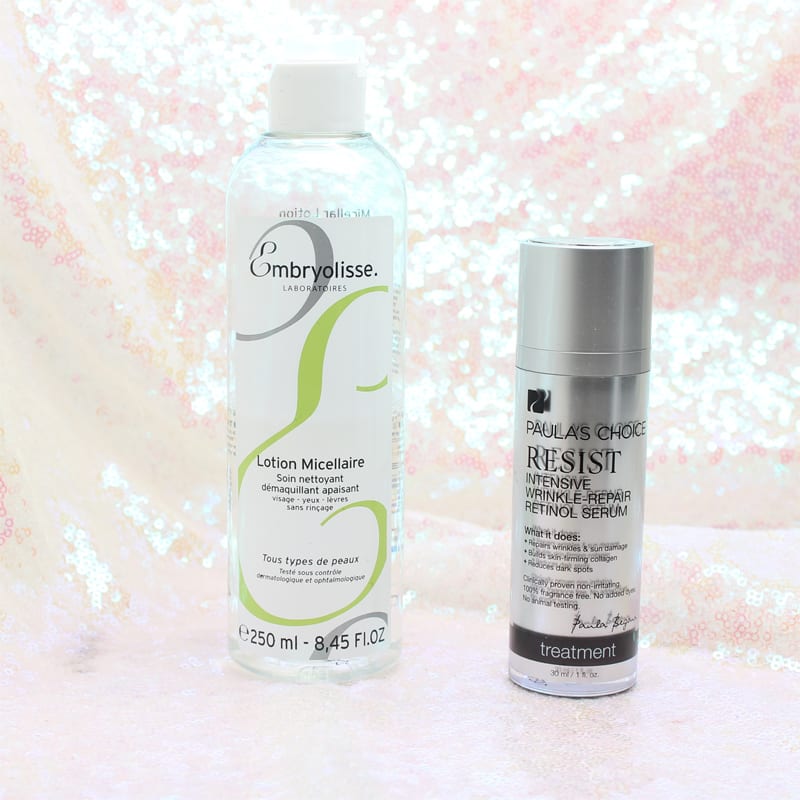 Nighttime is where I make things more complicated. I use Embryolisse Micellaire Lotion to remove my face makeup. I love this micellaire lotion because it has chamomile in it so it's soothing and gentle on my skin and it does a good job of removing my face makeup. I've repurchased it many times. I have a special makeup remover that's formulated for my lash extensions from my salon to remove my eye makeup (can't use coconut oil or anything with oil on my eyes). I rinse my face with warm water.

I apply the Paula's Choice Calm Redness Relief 1% BHA Lotion Exfoliant. This is a chemical exfoliant that contains salicylic acid (beta hydroxy acid) and it is great for removing dead skin, unclogging pores, and improves the texture of the skin. It's also very soothing.

Next, it's serum time! I'm trying to use retinol, carefully, to see if my skin can handle it again. I'm mixing the Calm serum with the Paula's Choice Resist Retinol serum. It contains Vitamin C, Retinol, and antioxidants to help brighten the skin, evenout skintone, and reduce the appearance of wrinkles.

Then I go for the Paula's Choice Calm Moisturizer for Dry Skin. This is so soothing and absorbs well into my skin. It contains a ton of calming ingredients that I really need, which helps me to wake up with minimal redness.

After my nighttime moisturizer it's time for spot treatment! I use the Paula's Choice Resist Skin Firming Line Minimizer under the eyes, which is supposed to help visibly improve fine lines and stimulate collagen production. I use the Paula's Choice Resist 25% Vitamin C Spot Treatment on a few spots around my face. A little goes a long way with that stuff.

I finish up with Bite Beauty Agave Lip Mask on my lips, though as I mentioned above, I've been able to  use the Skinfix Lip Repair Balm and wake up with moisturized lips too. For the rest of my body I've been using the Cocoa Pink Body Butter.

Sensitive Skin Evening Routine

If you're thinking about buying some Paula's Choice, I recommend using the code PRIMPSPRING to get 20% off and free shipping.

What are you doing to shake up your skin care routine for Spring?

[inlinkz_linkup id=571530 mode=1]
Last Updated on