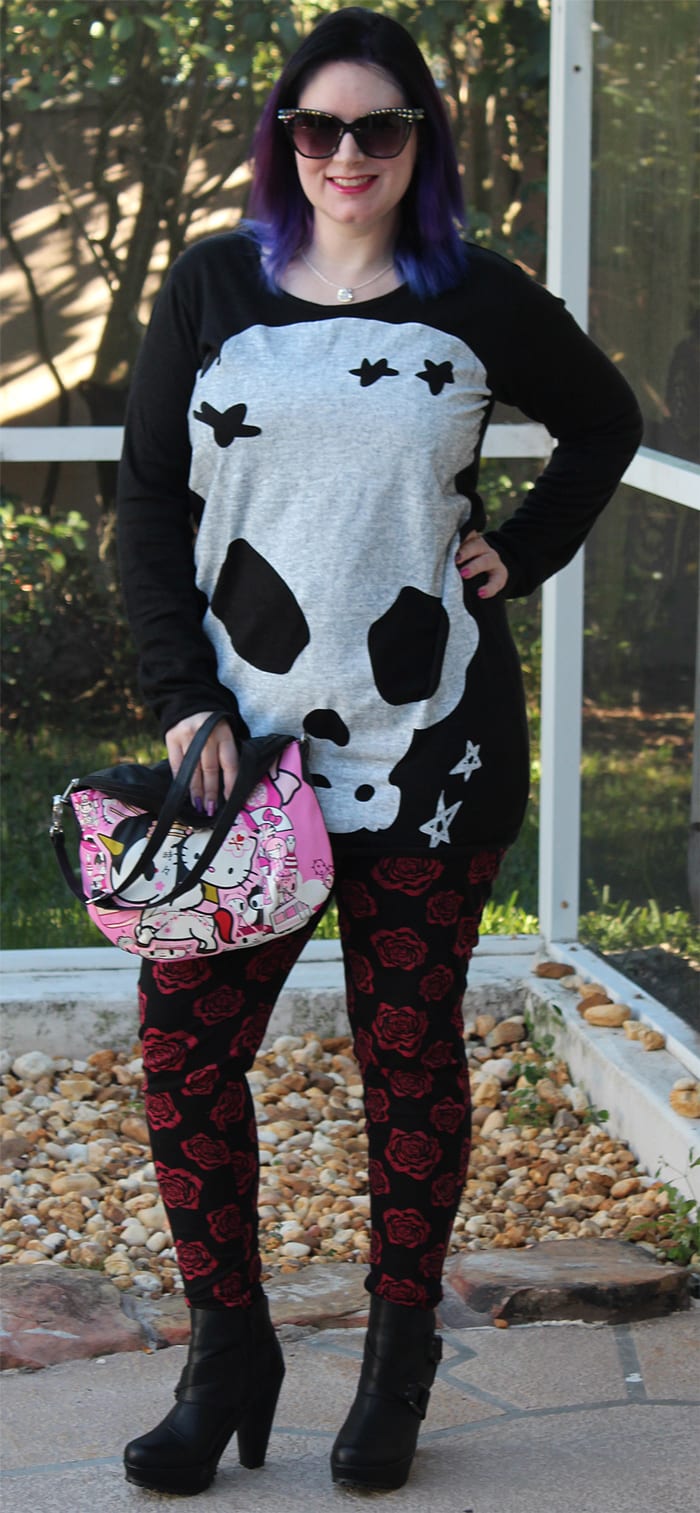 Skull and Roses Outfit
I wanted to share a few recent outfits with you. It's rare that I actually get Ray or Dave to help me with outfit shots, but I have 3 from this month to share. Above is one of my favorite combos that Ray calls my skulls and roses outfit. It's a lightweight (making it perfect for Florida) skull sweater and Sourpuss Rose leggings. My Blowfish Verena platform boots are perfect with it. My handbag is one of my tokidoki purses (tokidoki x Hello Kitty Kimono Crossbody). My necklace is my Bunny Paige micro spiked heart in Aurora. I wore this hanging out with friends this weekend. It's a nice casual alternative fashion outfit.
Winter has really not happened yet here in Tampa. (really this year it feels like we're skipping Autumn) Saturday was the first day that I could pretend it was cold enough for a sweater. This outfit was comfortable enough to wear to sit outside at night and not get cold.
My minimal makeup look to go with it.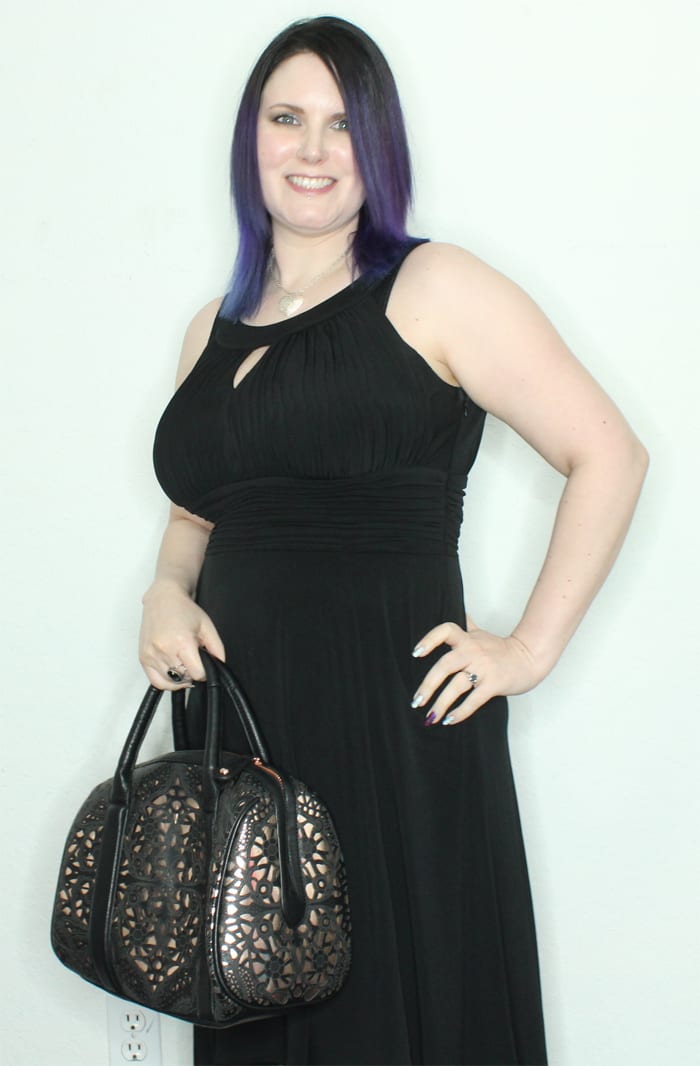 I wore one of  my favorite black dresses to a holiday party in Orlando at the Orlando Santiago Makeup Academy. The purse is an Aldi bag (I think) that I've had for years with a rose gold metallic print beneath the black cutout. The necklace is a Bunny Paige mini pavèd heart necklace in Silk Ombré. (snapped this photo after I got back from the event). I wore my Alex Marie Lilah Platform Wedges (black heels). I really love this outfit and always feel so elegant and put together when I wear it.
Me at the event with my friend Mina.
After this party, Ray and I had to rush home, change clothes and then go to a friend's launch party for a band she manages. I wore the same makeup to the band because I didn't have time to redo my full face.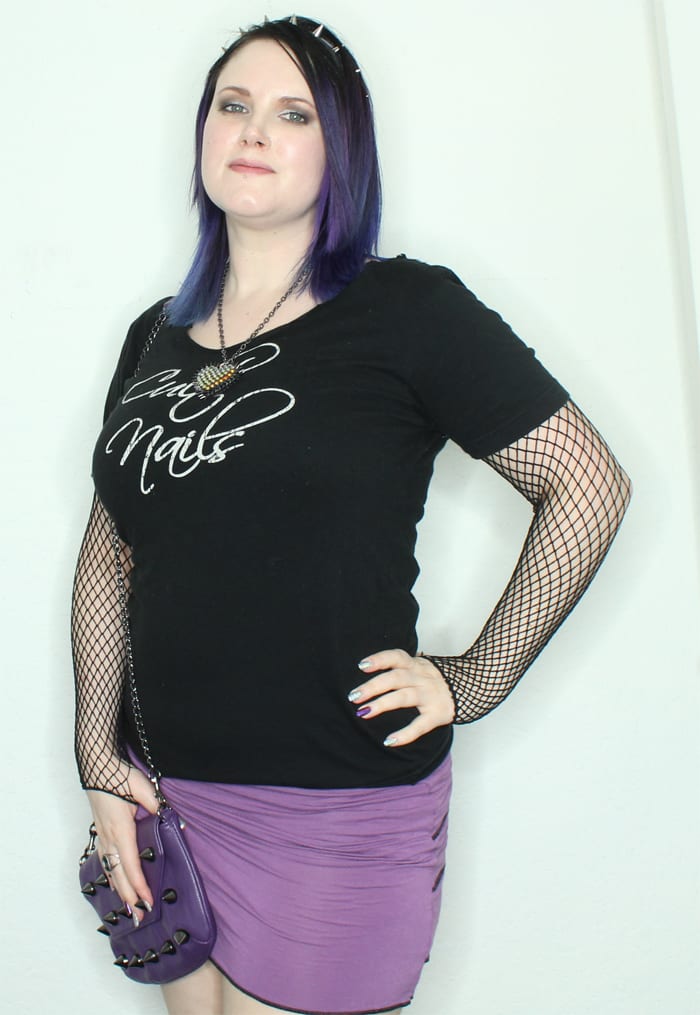 I wore my ShopKadabra spiked transparent headband, black fishnets, Cult Nails shirt, HerbanDevi No Worries skirt, Bunny Paige Big Spiked Heart in Volcano and Silver Night cocktail ring, my Steve Madden We Can Still Rock Studs crossbody (here's a similar spiked purse), and my Blowfish Verena platform boots. This is a casual club or concert outfit. The boots I wore are great because they're comfortable enough to wear all night while dancing.
I moved around things in my office, so I hope to be able to manage full outfit shots without help soon.
Are you enjoying Winter yet?