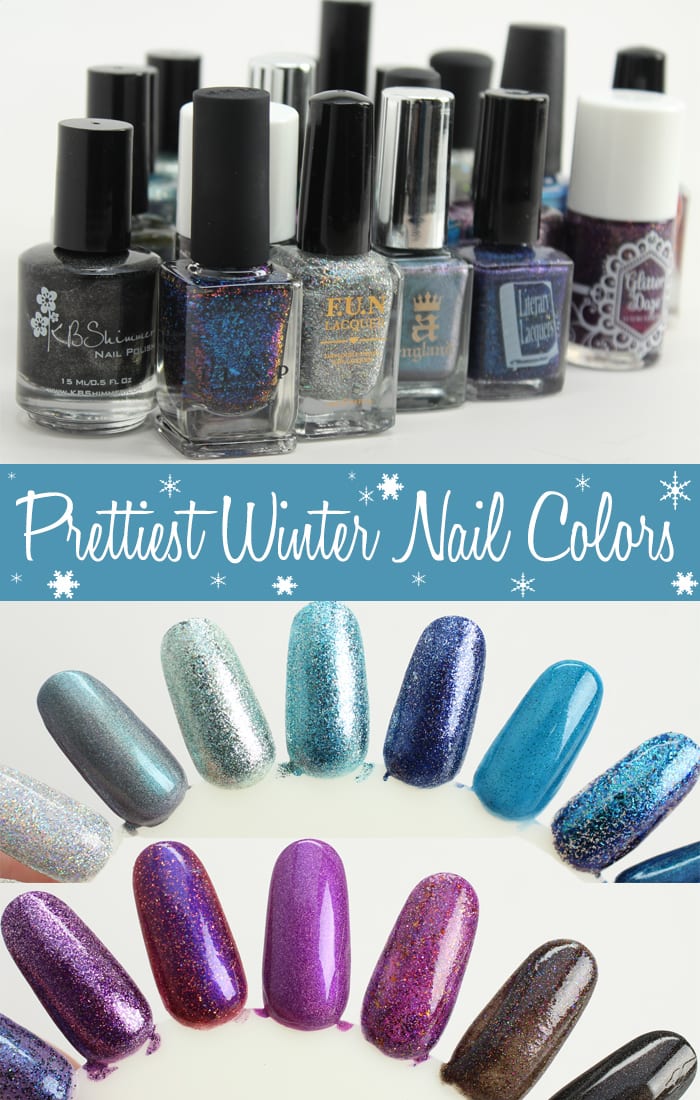 I'm sharing my picks for the prettiest Winter nail colors. I've been feeling icy shades, as well as blacks and purples. Let's be real, I'm always all about the purple. I've got some complex and unusual holographic colors to share too. Multichromes and holographic sparkle are getting all my love lately. This is a very picture heavy post as I tried to capture all the multichromatic and holographic nature of these polishes.
Prettiest Winter Nail Colors
This post contains a mix of press samples and products purchased by me.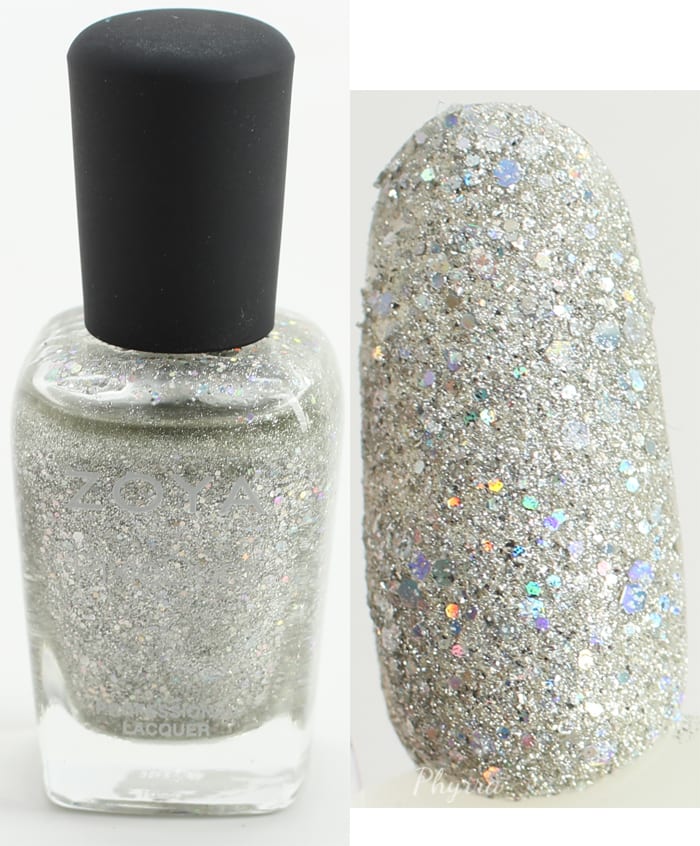 Zoya Cosmo
A silver crystal sparkle, textured PixieDust with mega hex iridescent particles. Holographic glitter.
This dries matte but I tend to prefer it with a top coat. (see my review)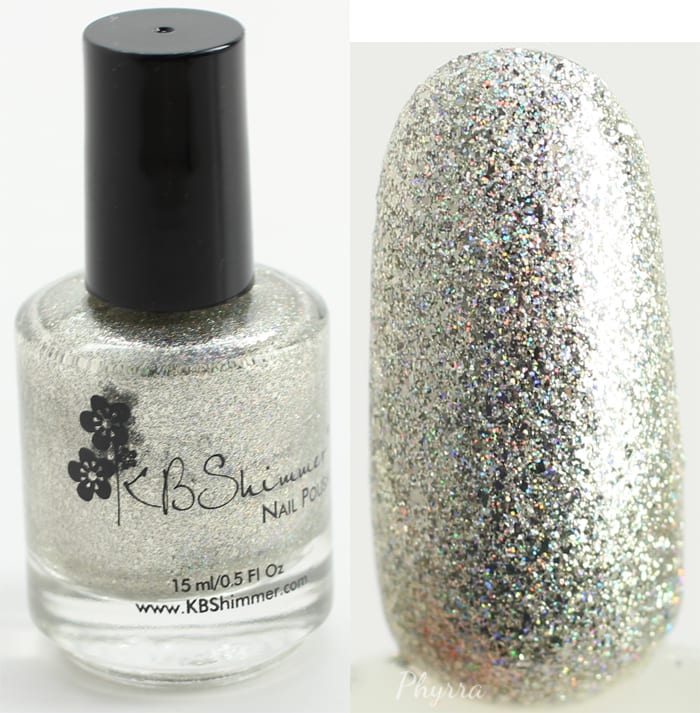 KBShimmer Diamond
A pale silver polish loaded with metallic flakes. We amped up the holographic dust to max out this polishes sparkle and shine. This is a brand new polish from the Birthstone Collection that launches January 1, 2016. Review coming soon.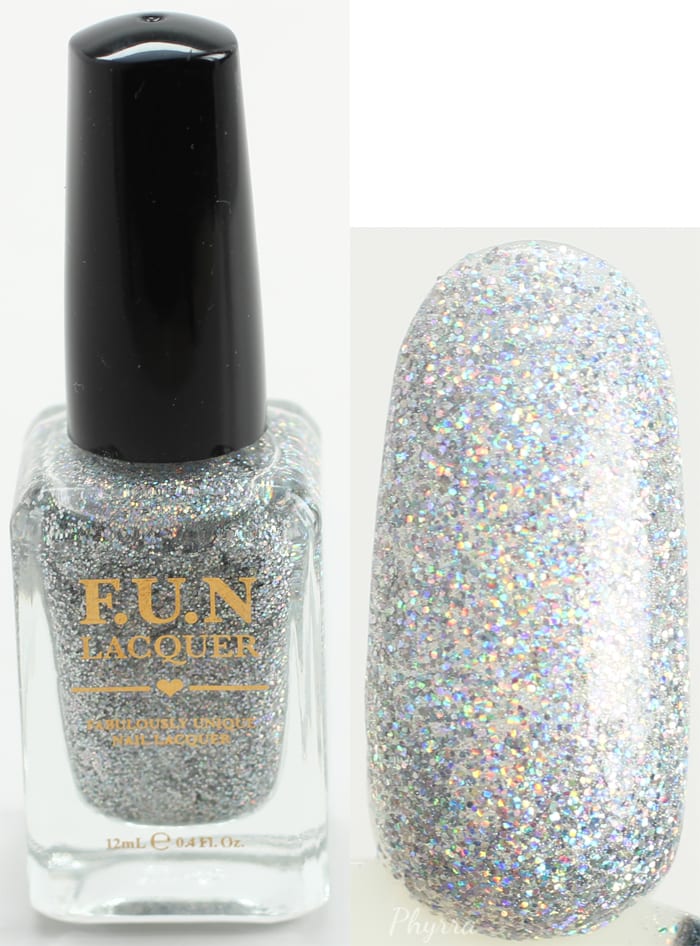 Fun Lacquer 24 Karat Diamond H
An absolutely stunning silver holo glitter.
I wore this to one of my holiday parties. It's so blingy and bright people can't help but stare. (see more of my easy holiday party beauty ideas)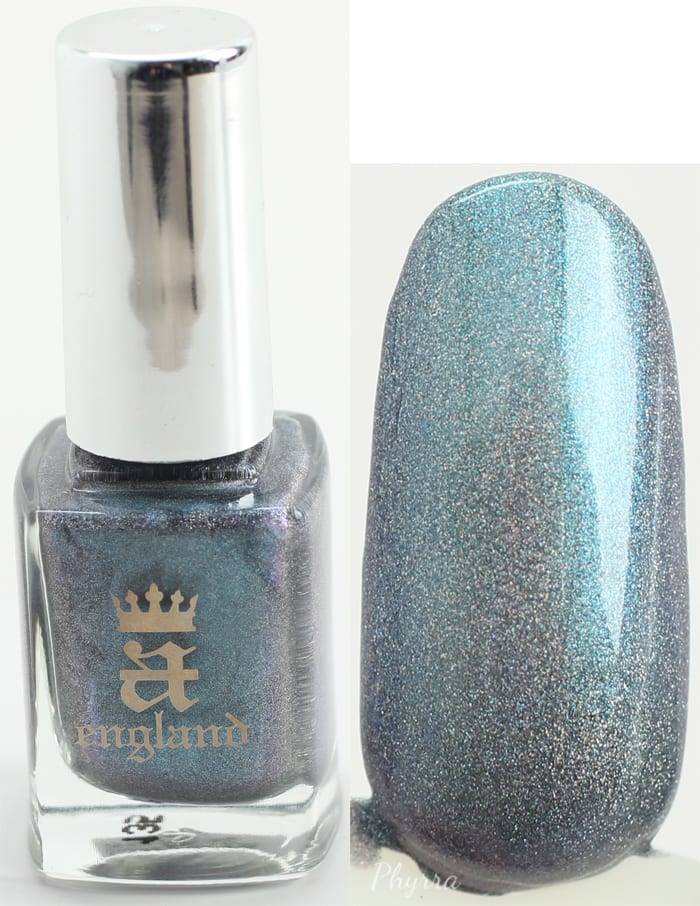 A England Captive Goddess
A complex holographic blend of cerulean blue, aquamarine green and muted purple veiled by a silver grey shadow.
It's such a soft and beautiful complex shade. I love how it shifts from violet to turquoise green to light blue with the grey base.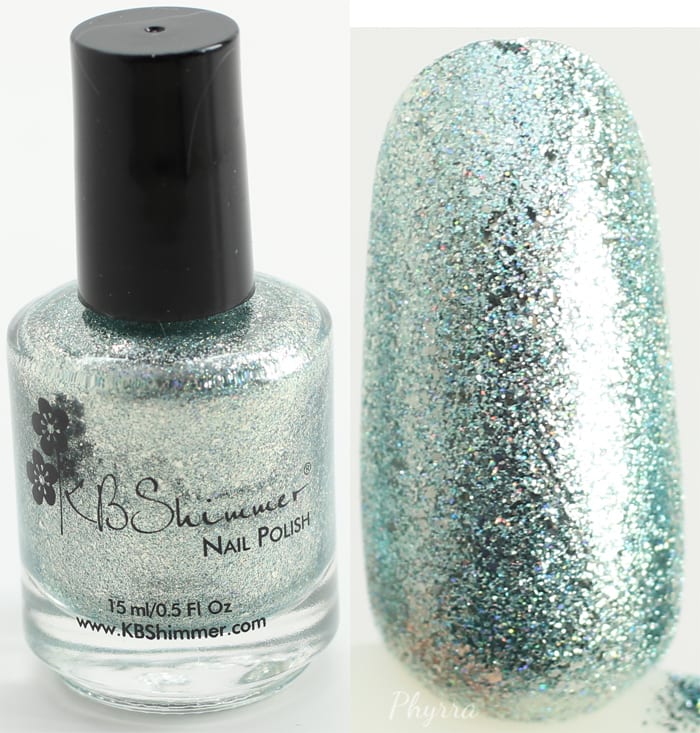 KBShimmer Aquamarine
A pale blue polish loaded with metallic flakes. A hint of holographic dust adds sparkle and shine to this polish.
This is another one of the Birthstone collection.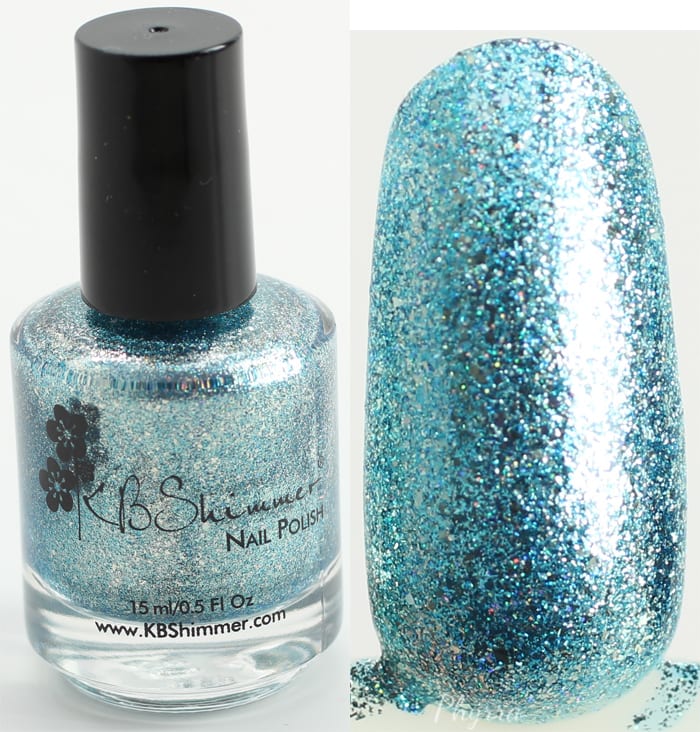 KBShimmer Blue Topaz
An icy blue polish with metallic flakes. A hint of holographic dust adds sparkle and shine to this polish.
Also a Birthstone.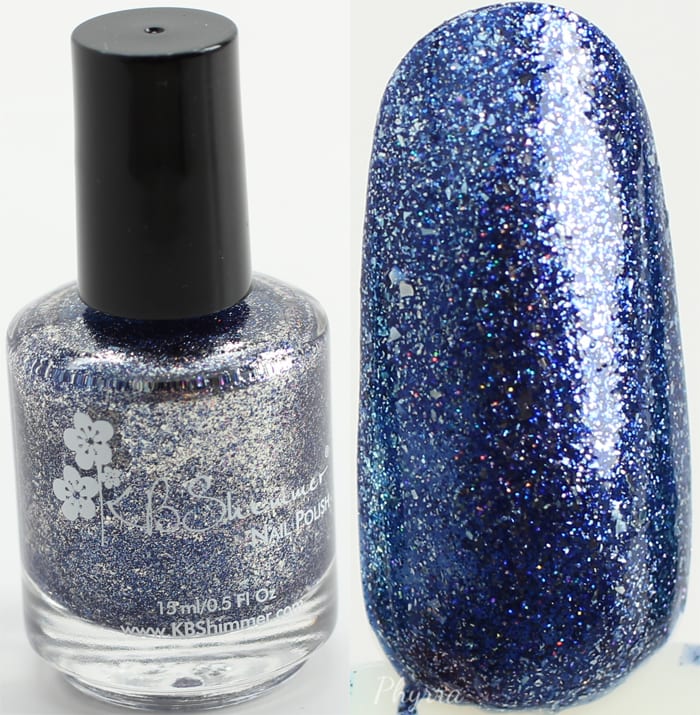 KBShimmer Sapphire
A rich navy leaning blue loaded with metallic flakes. A hint of holographic dust adds sparkle and shine to this polish.
And another birthstone.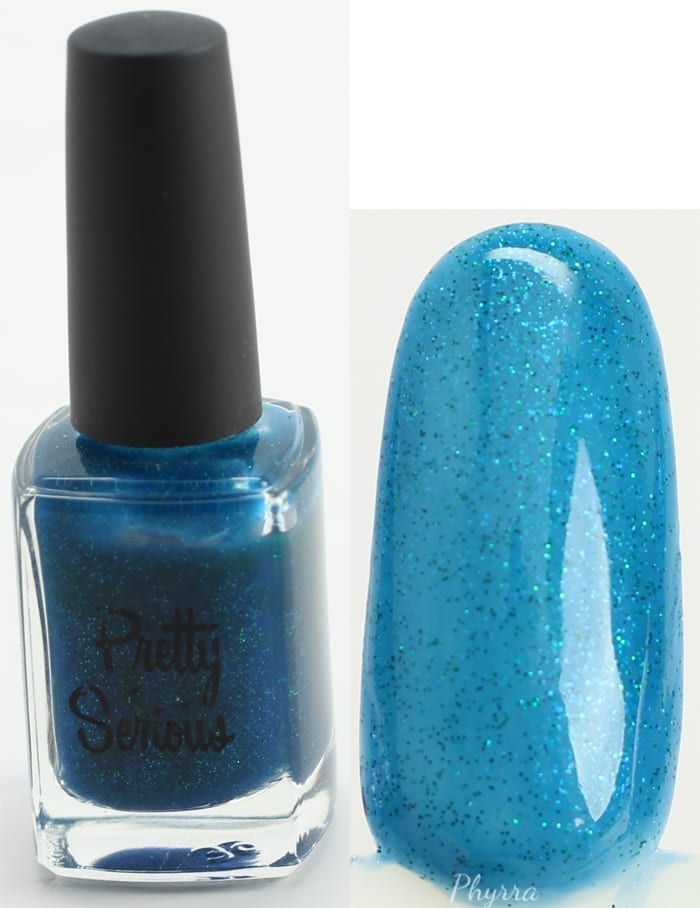 Pretty Serious Party by the Pool
Peacock jelly with tiny blue and green glitter flecks.
This one is so pretty and you can layer it over a teal cream for more dimension.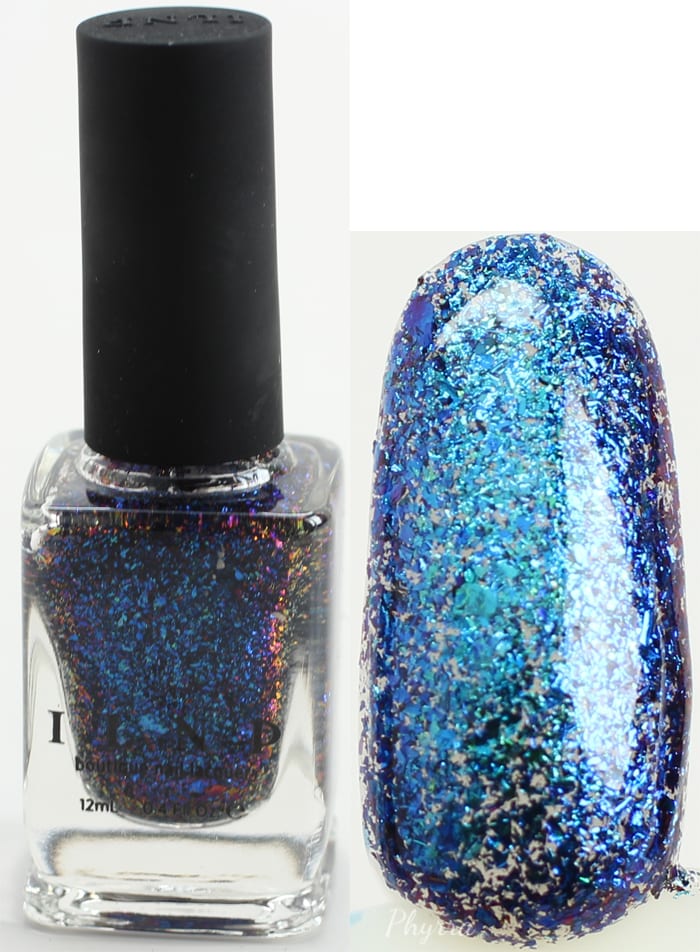 ILNP Ice House
It changes through hues of dark blue, light blue, teal, and a vivid (practically glowing) purple.
I LOVE this one! You can wear it on its own in 3 coats or layer it on top of a black or any other color you love.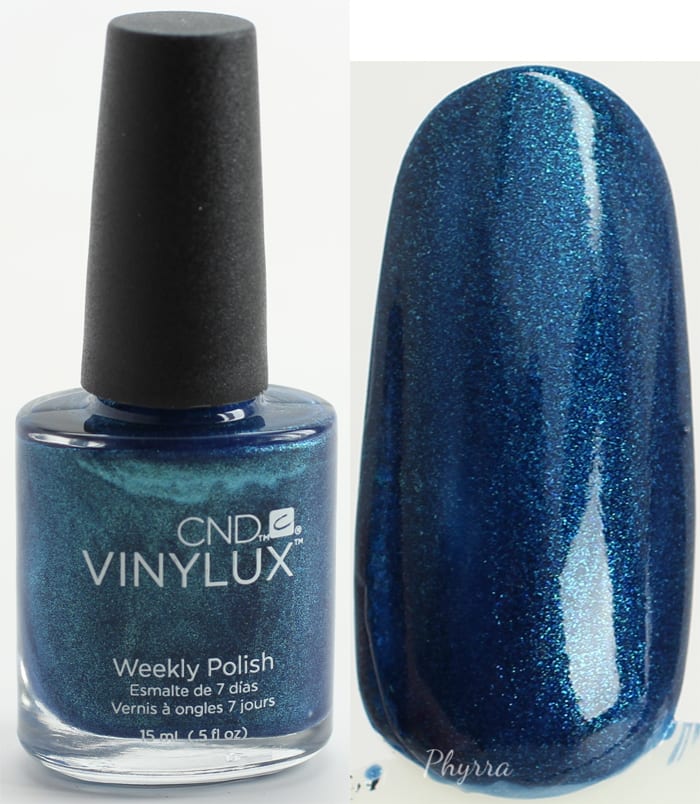 CND Peacock Plume
Deep ocean blue base with teal blue shimmer.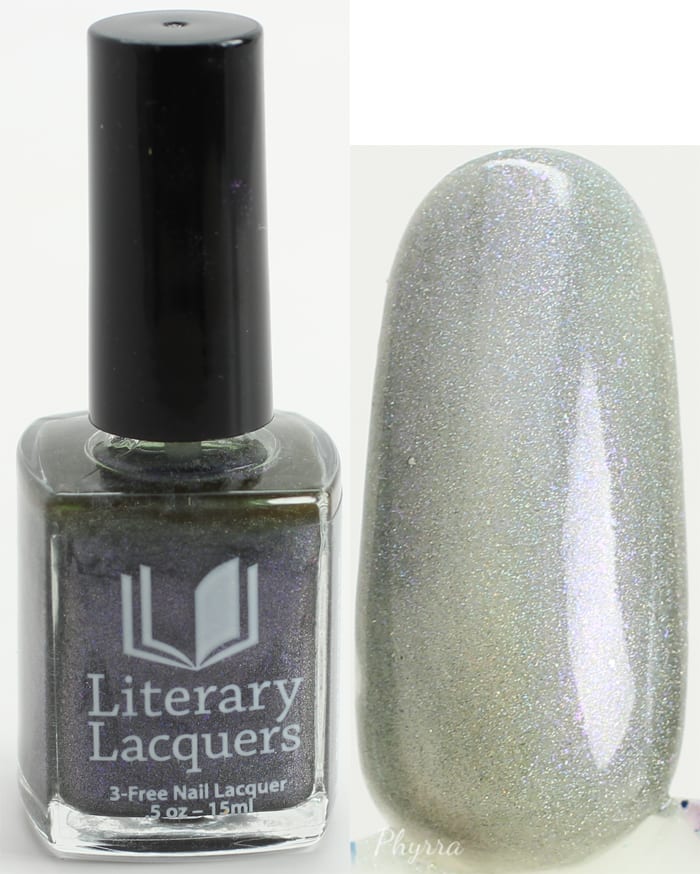 Literary Lacquers Lurid Fog
A slate grey linear holo with a strong purple shimmer from two different sized pigments.
This is gorgeous and the violet and purple in  it are delicate. The purple + grey + holo is really unique. (see my review)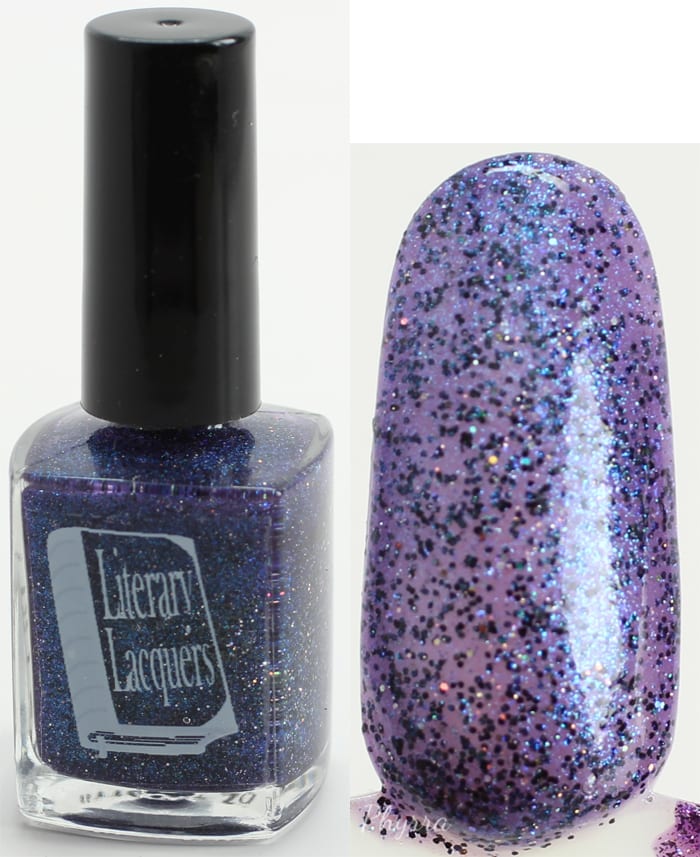 Literary Lacquers Camille Sepharial D'Artigo
A blurple jelly base and is loaded with silver and black holographic sparkle and black microglitter, with a teal-blue flash for extra magic.
I prefer this layered over a deep purple. (see my review)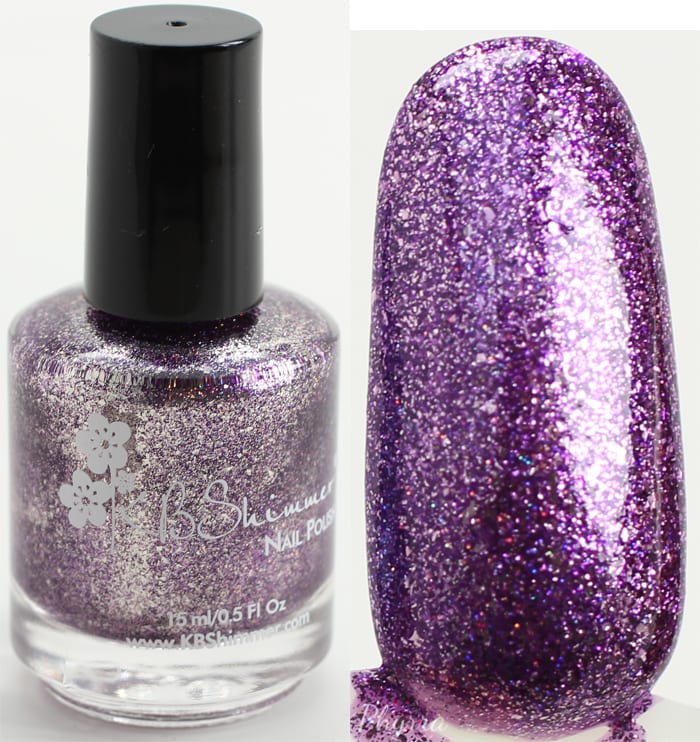 KBShimmer Amethyst
A rich red toned purple loaded with metallic flakes. A hint of holographic dust adds sparkle and shine to this polish.
This another of the Birthstone collection and it's my favorite from it. It's a jaw dropping purple to me.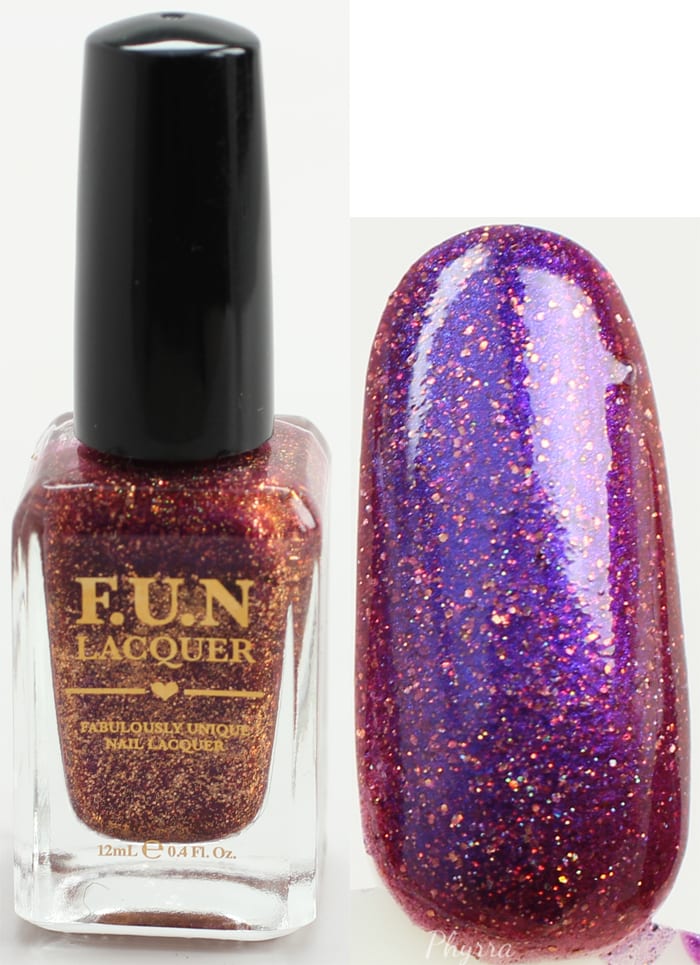 Fun Lacquer Cheers to the Holidays H
An absolutely stunning multi-chrome nail polish that shifts through an array of incredible red, blues, purples, and orange. Holographic sparkle.
This is gorgeous because of how it shifts between burgundy and purple, along with the holographic sparkle. (see my review)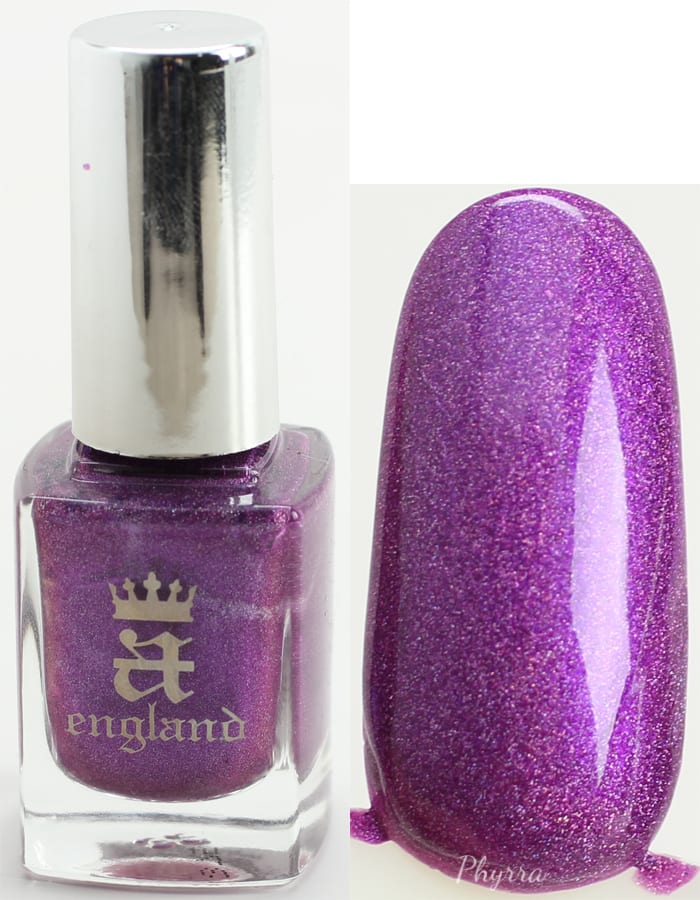 A England Crown of Thistles
An amethyst hue with a clearly visible and a hybrid defined/ scattered prismatic effect.
This is my favorite of all the A England polishes that I've tried, though Captive Goddess is a close second. They're currently on my nails.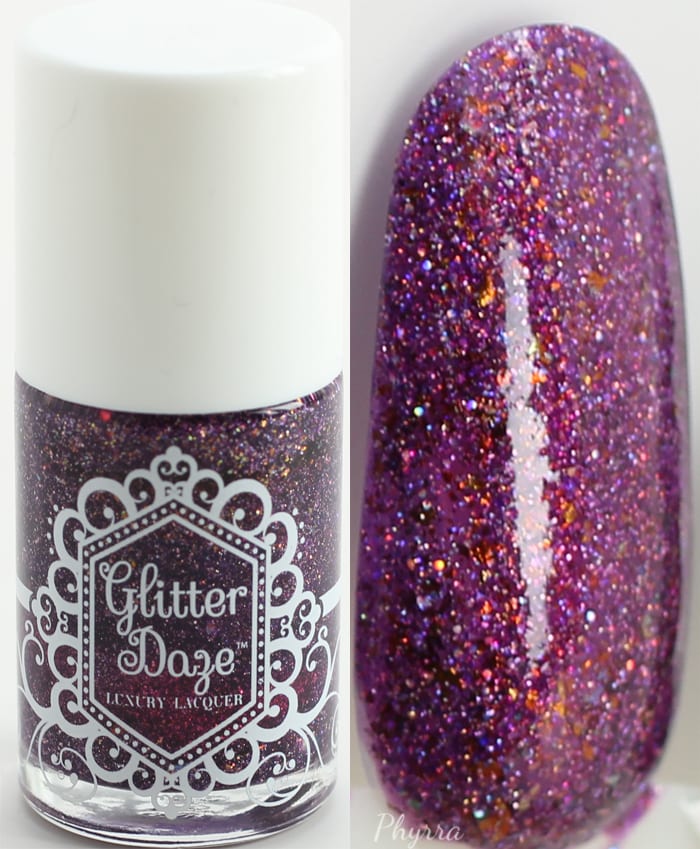 Glitterdaze the Sanderson Sisters
Warm toned medium purple full of holographic shimmer, magenta micro glitter, and bronze color-shifting flakies!
You know I love this one and I've been wearing it repeatedly for months. (see my review)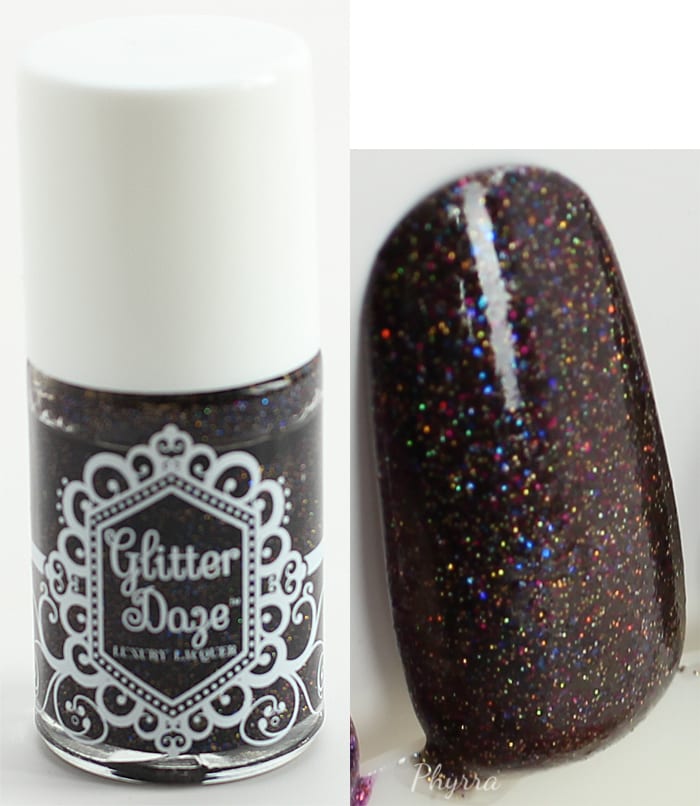 Glitterdaze Bellatrix
A black based polish full of holographic gold shimmer as well as magenta micro glitter and glowing iridescent shimmer!
This one is more of a jelly base, so I usually like to layer it over a black. Currently I have it layered over Stark Raven Mad on my toes. (see my review)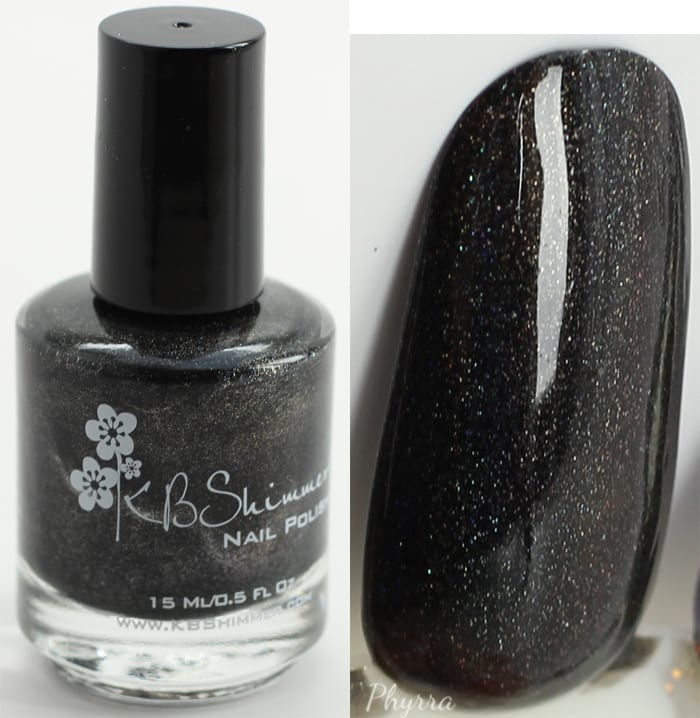 KBShimmer Stark Raven Mad
A dark charcoal, with hits of silver sparkle in the shade. In the light, the linear holo goodness comes through adding a pop of rainbow sparkle.
I love this one because it's such a chic black with the holo effect. (see my review)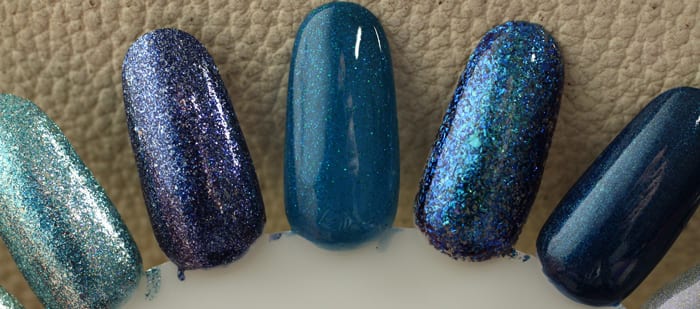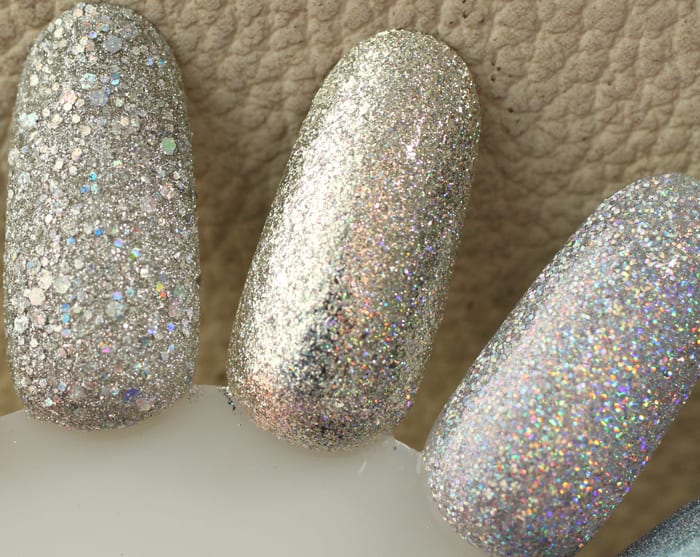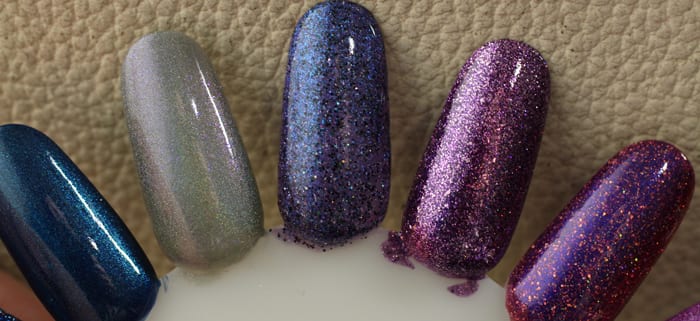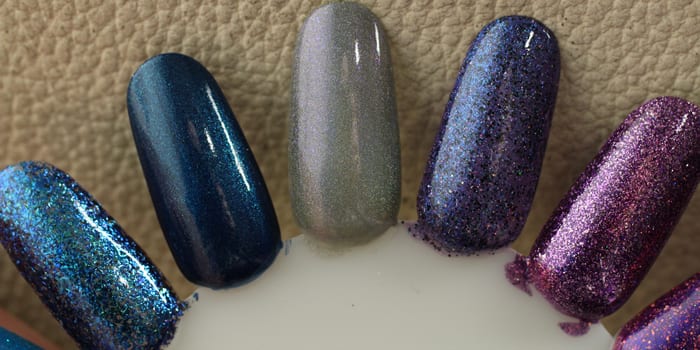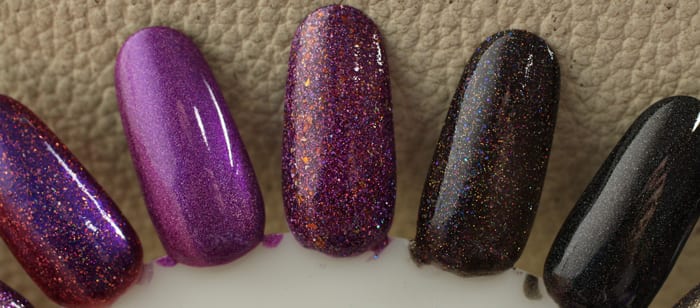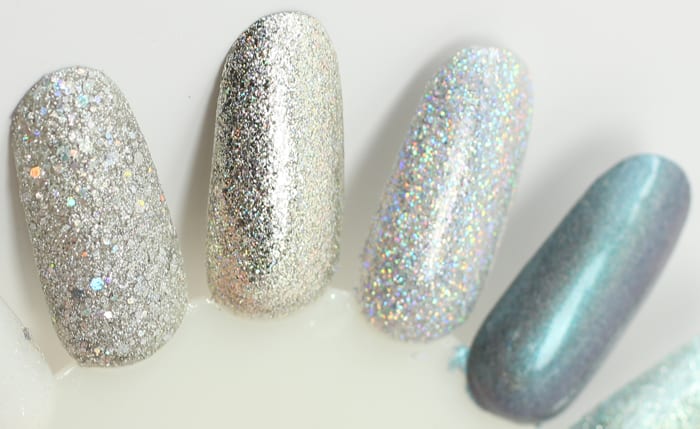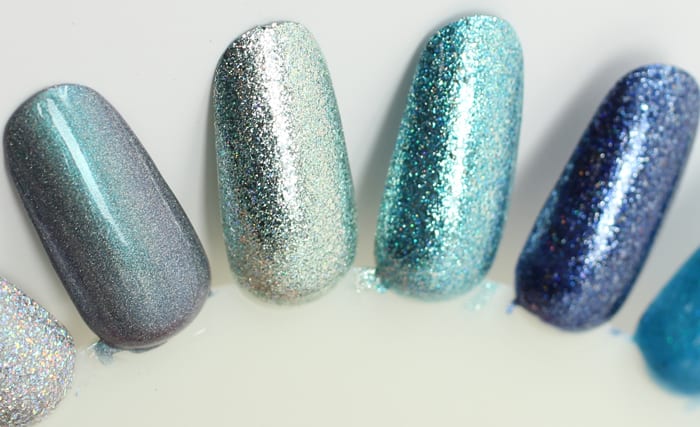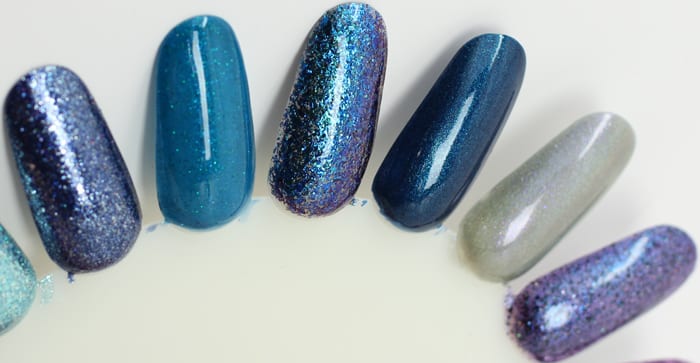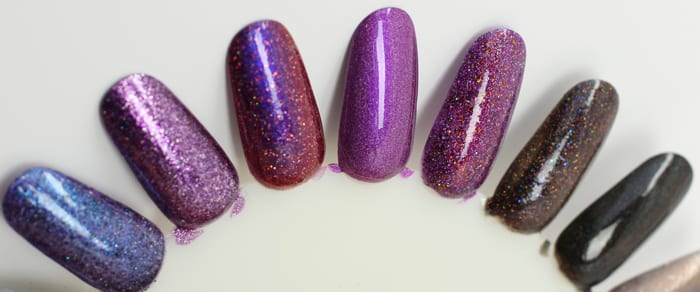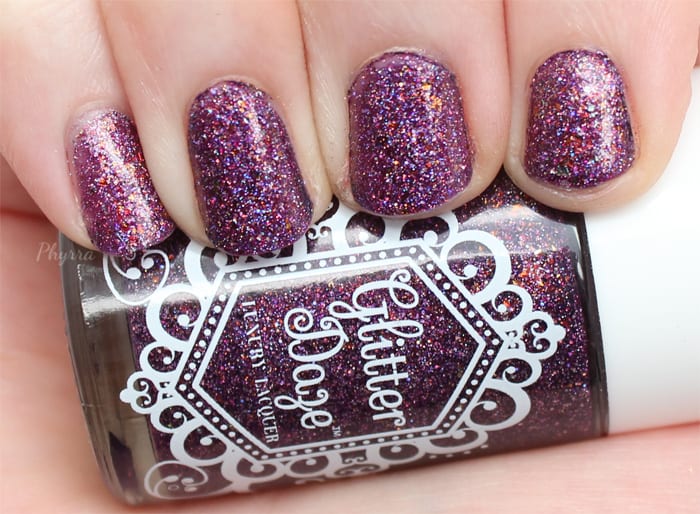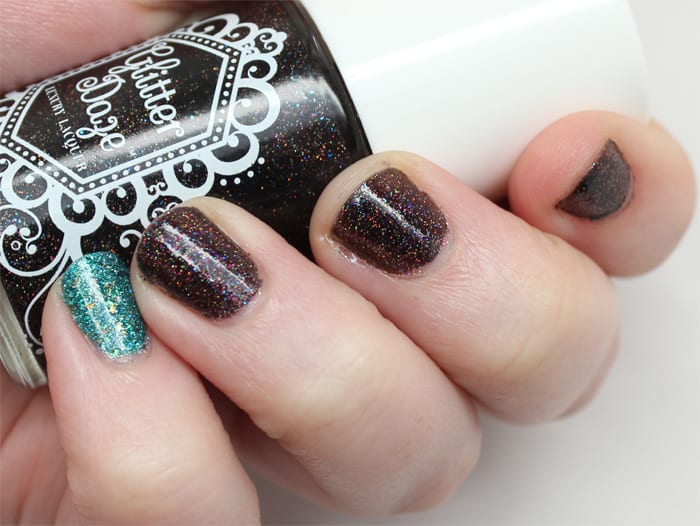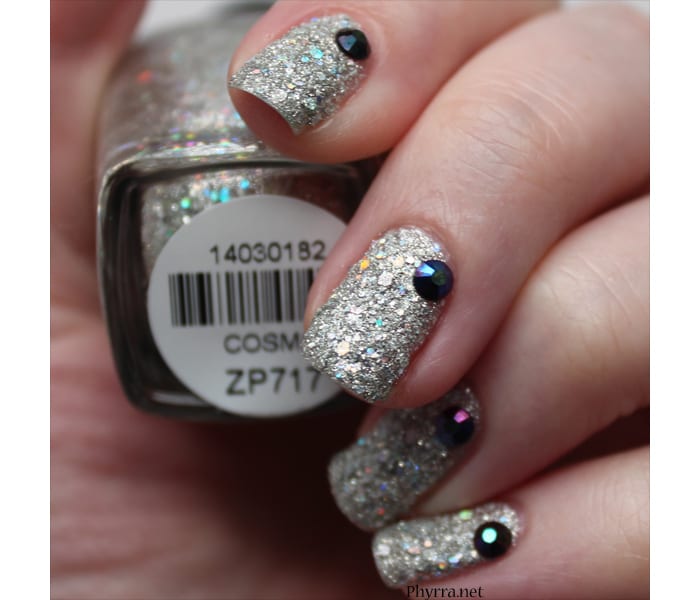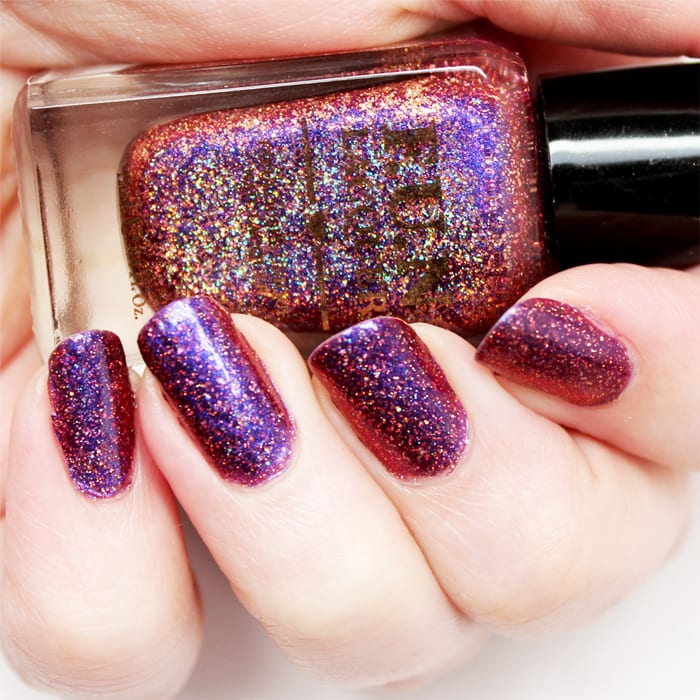 These are my favorites for the prettiest Winter nail colors. I'm really obsessed with multichromes and holographic polishes. They are never boring to wear!
What are your favorites?
Loading InLinkz ...
Last Updated on