Recently I stumbled upon Scaredy Cat Cosmetics on etsy. I was drawn in by the adorable label and what appeared to be cute packaging. I purchased two colors, Peacock Blood and Keltoi.

They arrived nicely packed in a box.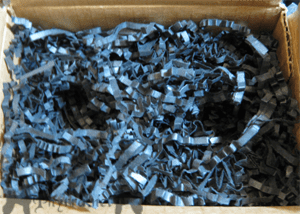 They also came with a lovely thank you card.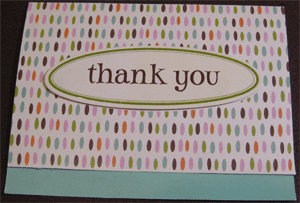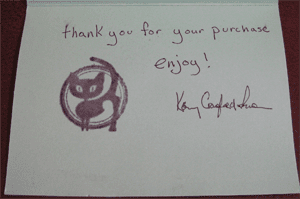 The shadows were $5 each and shipping was only $2.50, which I felt was a good price. The shadows come in an odd triangular shaped jar that the listing on Etsy says is a 3 gram jar that can hold 1.5 to 2 grams of product.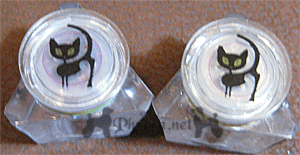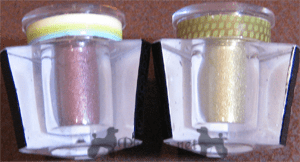 Each eye shadow color has its own custom design on the jar. I found both designs to be beautiful for the colors I chose.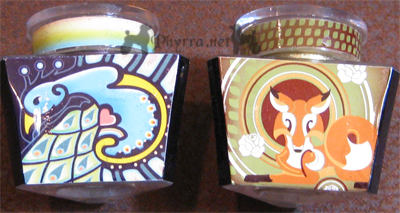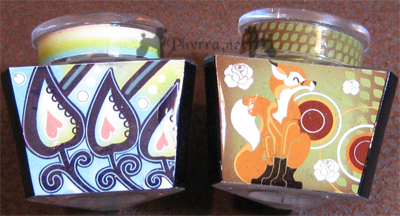 Each color has the ingredients listed individually, as some shadows are vegan and other colors are not. They are all cruelty free.
The color descriptions are as follows:
Peacock Blood – A sultry burgundy wine with a smooth luxurious jewel-like quality. Sure to satisfy even the vainest of hearts.
Keltoi – A metallic green-gold pigment with bold smooth coverage. Reminiscent of the beautiful patina found on antique bronze treasures . (Vegan)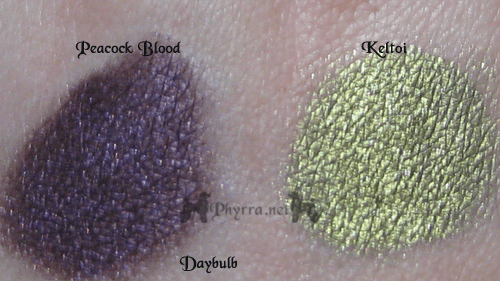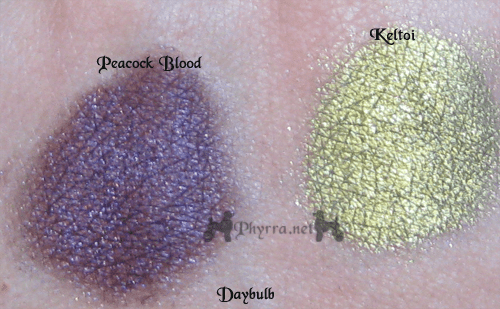 Keltoi is pretty and has a very smooth texture. Peacock Blood is really gorgeous, and again has a beautiful, smooth texture. I really like Peacock Blood.
Love Stinks – A soft velvety coral pink that will sweep you off your feet. Love Stinks is a VEGAN pink with no carmine.
It has a skunk for the image. (Vegan)
Chakra – Shocking and bold, this violet will send you to seventh heaven. Deep violet-blue with lots of blue sparks.
This has more of an abstract design. (Vegan)
Muertos – Dark and smokey and full of soul, Muertos is a sultry gun-metal grey that is simply to die for. (Vegan)
The packaging on this one is gorgeous! It's got sugar skulls and crossbones.
Teal Deer – A mild gentle greenish blue, shifted more to the blue with subtle sparks. Soft, but like its namesake, goes a long way. (Vegan)
This one has a really cute little retro deer design.
Hirundo – What is the air-speed velocity of an unladen swallow? A deep coral red with a light golden sheen.
This one has a cool bird design.
Caged Canary – Why does the Caged Canary sing? You would too if you looked this damn sexy. A pure vibrant yellow with a pale golden sheen. (Vegan)
This is another one with an abstract design.
Nevermore – A deep blue-black with flecks of blue sparkle and light. It's like wearing the star filled midnight sky. (Vegan)
This one is, of course, adorned with a gorgeous raven.
Smooze – A vibrant vicious violet that will ride you hard and put you away wet. A must have for every little pony.
This one has a violet abstract design.
Cirrina – Bright copper kettles? Hardly (though it may become one of your favorite things). A warm chunky copper with subtle pink undertones. (Vegan)
I love the adorable cephalopod on this package.
Unicorn Breath – Etherial, silvery and soft, Unicorn Breath is a sheer pigment perfect for highlighting. (Vegan)
This one has a very cute unicorn on the package.
Don't Be Koi – A warm autumnal metallic infused with lots of sparkles. All that glitters may not be gold, but this pigment is rich enough for the bluest blood. (Vegan)
This one has a gorgeous koi fish on it.
Caledonia – A rich mossy forest green with subtle shimmer. Enchanting, mysterious, and alluring; like being deep in a magical glade. (Vegan)
This is another with an abstract design.
Would I buy from again?
Yes. I love the adorable, unique packaging. The colors I tried seemed well made and reasonably priced. Shipping was definitely reasonable. I'd be interested in trying Muertos and Nevermore, and I want Unicorn Breath and Teal Deer for the packaging.
What do you think of Scaredy Cat Cosmetics? Have you given them a try?
Products were purchased by me. All opinions are my own.