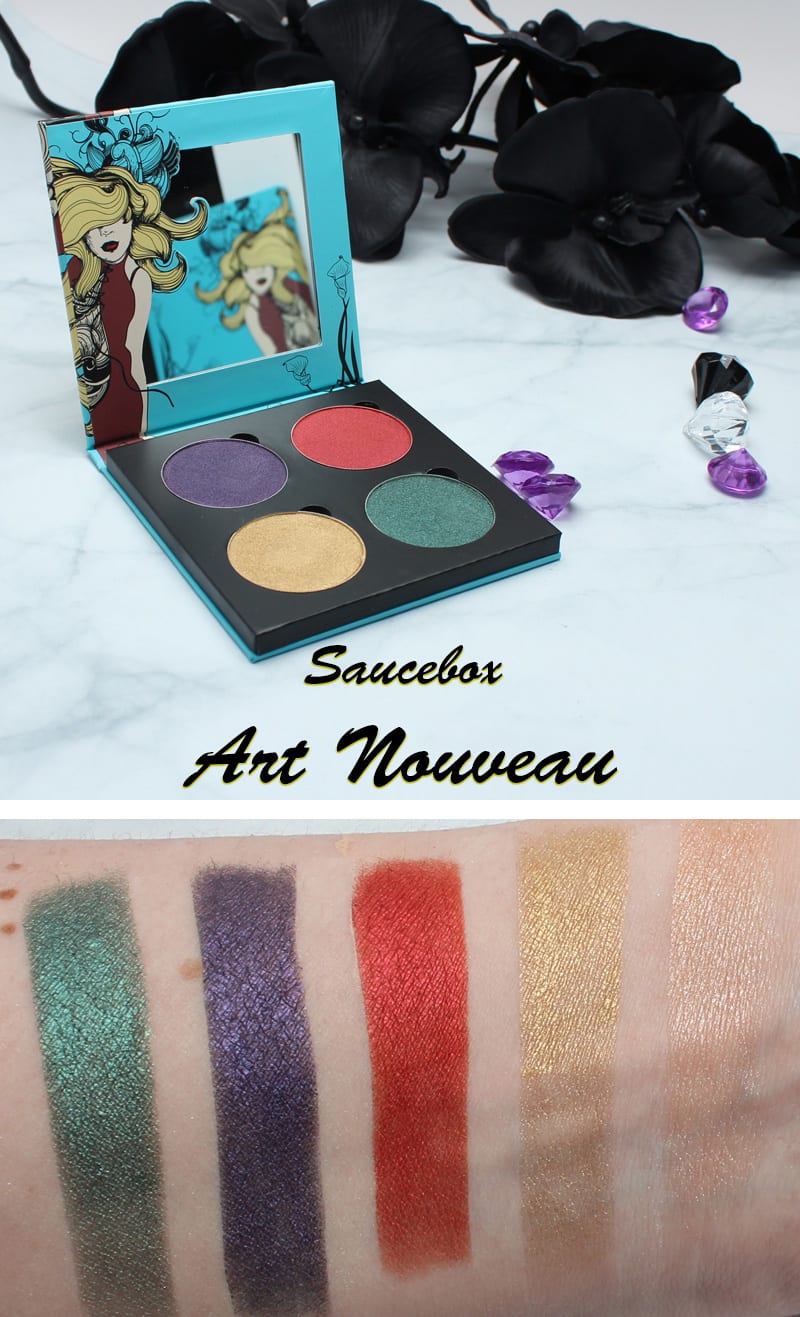 I wanted to give you a sneak peek of the Saucebox Art Nouveau Palette.
Saucebox Art Nouveau Palette
PR sample.
I haven't had a chance to review this yet but I thought you'd enjoy seeing swatches, especially since Saucebox is currently having a sale this weekend. I also swatched Nikki Beach with the palette. I think the palette is gorgeous. It's 100% vegan and I believe it's limited edition. Nikki Beach is also vegan too! Use the code REMEMBER for 10% off to save at Saucebox. You should check out their gorgeous eyeshadow singles and the Etude palette too. Saucebox is proudly made in the USA. I looove the packaging too, as it's a bright turquoise blue. The top of my swatches are on primer and the bottom is on bare skin. My skintone is Cover FX N0.
Where to Buy
Saucebox
Price
$37 for the palette
$9 currently for Nikki Beach
Nikki Beach
a golden glow highlight
light champagne gold shimmer, this looks very similar to the tarte x Grav3yardGirl Swamp Queen Gator Wings highlighter.
Wealth
a banging gold, will make you feel like a goddess
metallic yellow gold
Inferno
a delicious rasberry red with gold undertone
metallic warm red, super glowy, absolutely stunning
Fortuna
a lovely purple with black base, can be sheer or packed on for maximum impact
rich metallic blue-toned purple. Why can't all purples be this amazing?
Jade
envious emerald green
metallic emerald green
Don't forget to check out the rest of my Memorial Day sales!
I also did a ton of swatching this weekend so you can also see the new
Let me know what you think of these colors in the comments below!
More to See