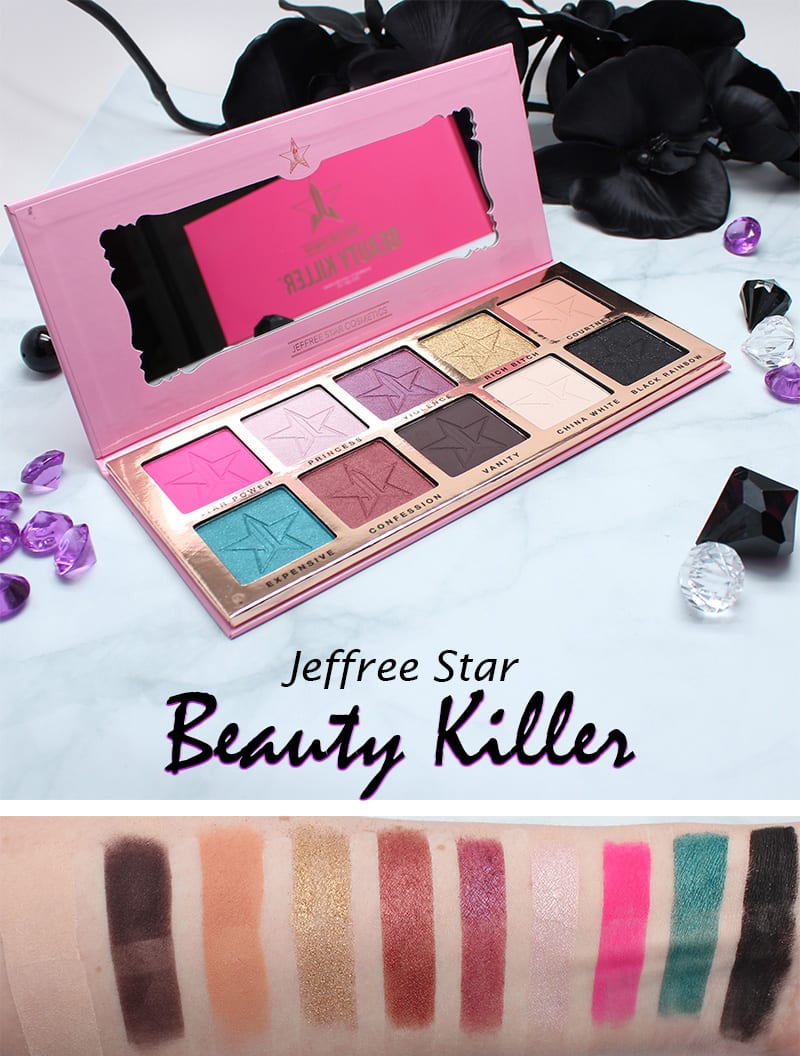 Jeffree Star Beauty Killer Palette Swatches
I wanted to share a sneak peek of my Jeffree Star Beauty Killer Palette swatches. This isn't a review. This palette arrived in the mail yesterday, so these are quick swatches. This palette is 100% vegan. I believe this is limited edition. The upper part of the swatches are on primer, the bottom is on bare skin. My skintone is Cover FX N0.
From left to right we have China White – Vanity – Courtney – Rich Bitch – Confession – Violence – Princess – Star Power – Expensive – Black Rainbow.
China White is a pale creamy matte. Vanity is a deep brown matte. Courtney is a peachy nude matte. Rich Bitch is a metallic gold with gold glitter and it has some fallout. Confession is a cranberry brown metallic. Violence is a plum purple shimmer. Princess is a frosty pale pink. Star Power is a bad ass hot pink matte. Expensive is a balanced metallic teal. Black Rainbow is an ultra pigmented black with rainbow glitter matte.
This palette is very hooded eyes friendly because of all the mattes. Also, I love that there's a shadow named Courtney.
The Jeffree Star Beauty Killer Palette is still available at the JSC website. It's $45.
To see more Jeffree Star, check out my liquid lipstick swatches here.
I also did a ton of swatching this weekend so you can also see the new
What do you think of the Jeffree Star Beauty Killer Palette?
More to See