I wanted to share my Saucebox Almond look with you. I used the Saucebox Etude palette to quickly put together this look. Yes I think I've finally nailed the most flattering eyeshadow color placement for my hooded eye shape. It only took me 6 years!
Saucebox Almond Look
Nyx Eyebrow Gel in Black is pretty amazing. I think I'm in love with it. I hate that I can't get my brows waxed and I'm having to pluck individual hairs (and there's a bunch I need to pluck) right now.
I'm in love with the UD Perversion Mascara. Right now you can get it as a bundle from Sephora with Subversion primer.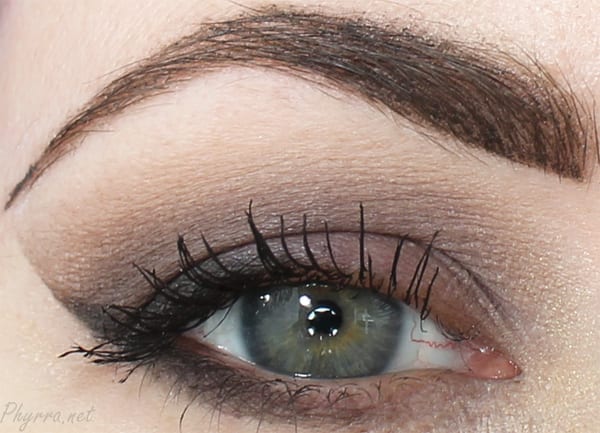 Eyes
Too Faced Shadow Insurance
Saucebox Snowflake (Etude) – base shade
Saucebox Almond (Etude) – lid and crease
Saucebox Cream Dream (Etude) – upper crease
Saucebox Toffee (Etude) – outer upper and outer lower lashline, cat eye shape, softened
Madd Style Unicorns and Glitter – inner corner to highlight
e.l.f. Mascara Primer
Urban Decay Perversion Mascara
Nyx Eyebrow Gel in Black
Face
Gerard Illuminating BB Cream – dotted on face to highlight
OCC Skin Conceal in Y0 – to conceal under eyes
Purely Cosmetics Diamond Perfect – all over
Hard Candy Moon Glow – all over
Too Faced Candy Heart – blush
Lips
Bite Beauty Satsuma (discontinued, sub for NARS Schiap)
Every time I feel like my hair is taking forever to grow out I remind myself that I had a very short pixie cut in September 2013. In December I had grown it out a bit, but my hair is still full of layers. So the fact that I'm almost brushing my shoulders / the back of my neck isn't bad. I keep taking biotin. Grow faster, please! I love my color, regardless. I can't believe how amazing the Pravana still looks.
Last Updated on