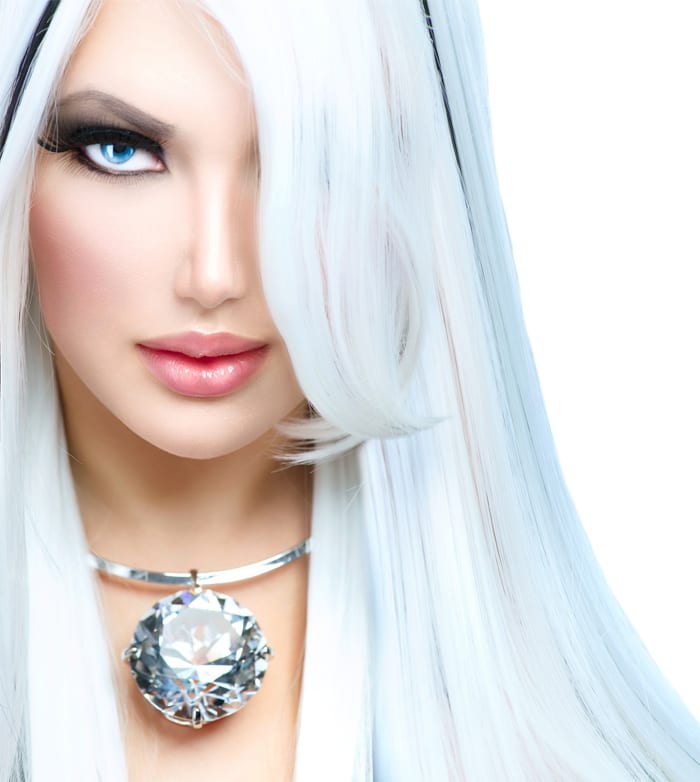 Roux Fanci-Full Temporary Hair Color Rinse
This is a sponsored conversation written by me on behalf of Roux. The opinions and text are all mine. As you know, I love coloring my hair. Today I wanted to tell you about Roux Fanci-Full Temporary Hair Color Rinse. Roux's Hair Color Rinse offers 13 natural looking shades of white, silver, blonde, brown and black. I'm surprised there are no reds. It contains no peroxide, so it's non-damaging to the hair. If you want to experiment with hair color, like the grey hair trend, but don't want the commitment, this is the product to try out!
Roux is cruelty free and available at Sally Beauty. Get 20% off your purchase at Sally Beauty with the coupon code 555198. Save $5 off orders of $25 or more online only with coupon code 555273.
Price
$6.79 for a 15 oz bottle.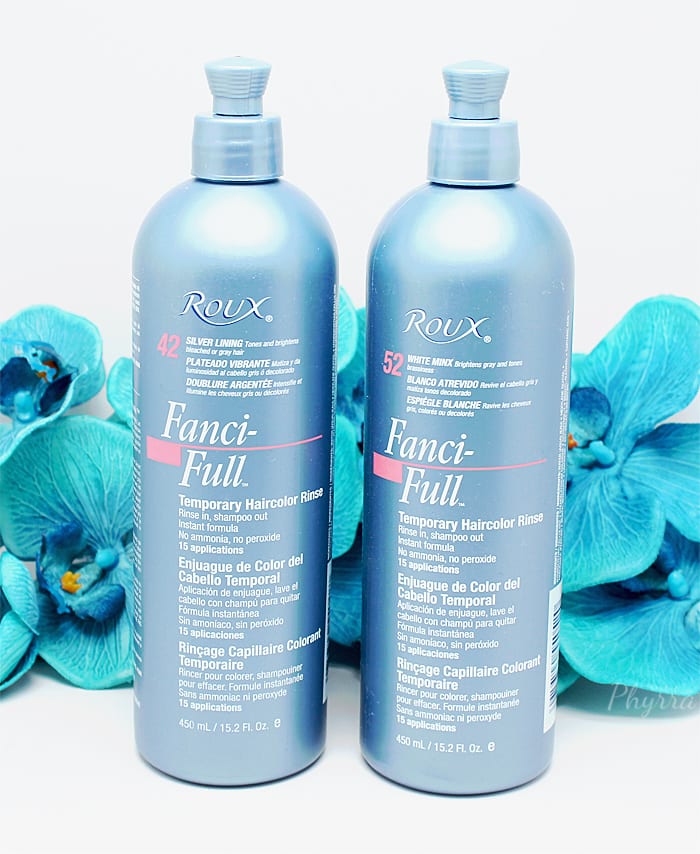 Colors Available
White Minx & Ultra White Minx – for white hair
Silver Lining & True Steel – for grey hair
Bashful Blonde, Sweet Cream, Golden Spell – for blonde hair
Hidden Honey, Spun Sand – for light brown hair
Frivolous Fawn, Plush Brown, Chocolate Kiss – for brown hair
Black Rage – for black hair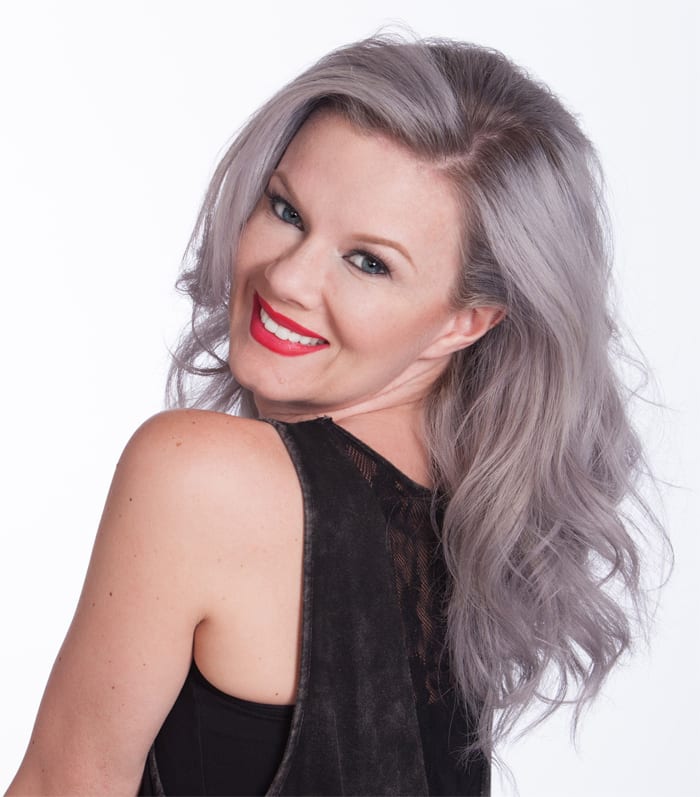 Roux Fanci-Full Temporary Hair Color Rinse is also supposed to blend gray hair away, condition your hair, and add shine.
How to Use Roux
The way you use Roux Fanci-Full Temporary Hair Color Rinse is by first shampooing your hair. Don't condition your hair like normal. Next, work the Hair Color Rinse of your choice through your hair. I highly recommend using a wide tooth comb so that you can evenly distribute the Hair Color Rinse. Saturate your hair fully. Once your hair is saturated, blow-dry and style as usual.
Join the Roux I'm So Fanci Hair Color Contest for the chance to win a $3,000 Louis Vuitton handbag!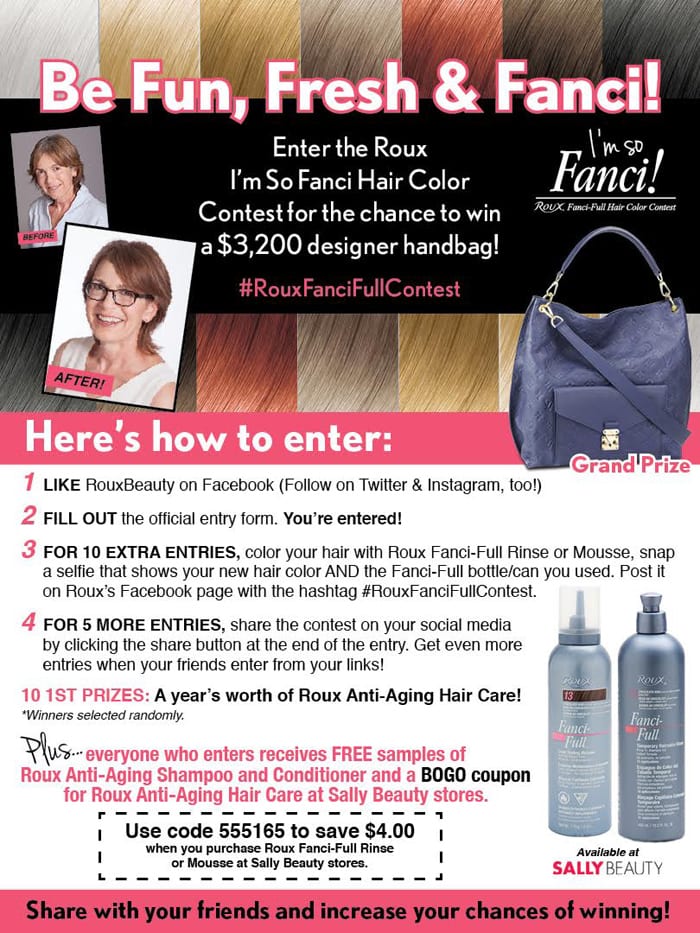 10 1st prizes—A year's worth of Roux Anti-Aging Hair Care! Plus everyone who enters receives FREE samples of Roux Anti-Aging Shampoo and Conditioner PLUS a BOGO Coupon for Roux Anti-Aging Hair Care at Sally Beauty Stores.
1. Like RouxBeauty on Facebook. (Follow them on Twitter & Instagram, too!)
 2. FILL OUT the official entry form. You're entered! http://woobox.com/zfwrvx
 3. For 10 EXTRA ENTRIES, color your hair with Roux Fanci-Full Rinse or Mousse, snap a selfie that shows your new hair color AND the Fanci-Full bottle/can you used. Post it on Roux's Facebook page  with the hashtag #RouxFanciFullContest.
4. For 5 more entries, share the contest on your social media by clicking the share button at the end of the entry. Get even more entries when your friends enter from your links!
Have you tried Roux? What sort of colors would you like to see from them in the future?
Last Updated on