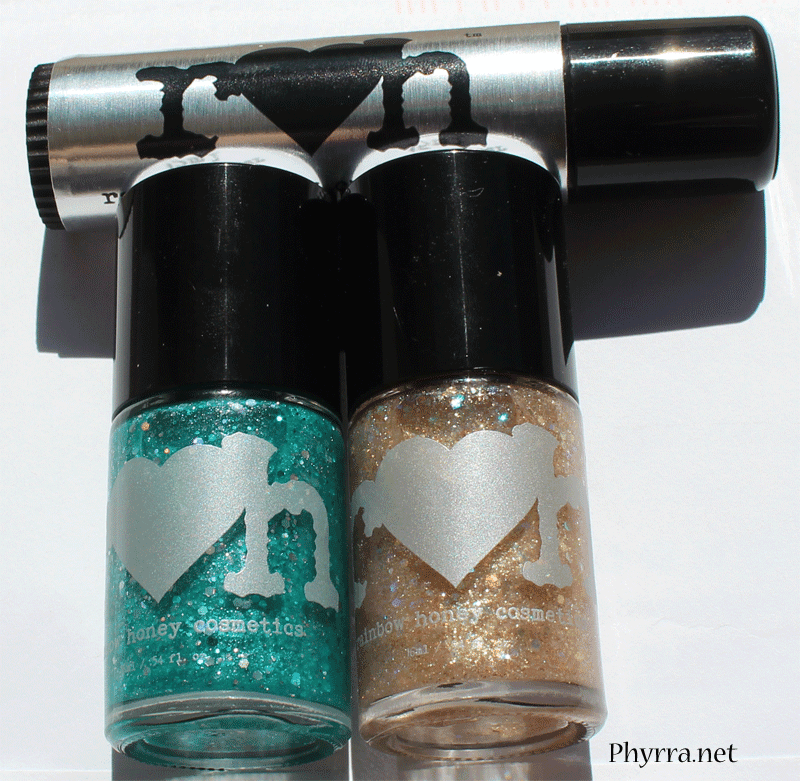 Recently I placed a small order at Rainbow Honey and it just arrived. I picked up the LE Candy Mountain Cuticle Balm in the GIANT size. Seriously, that is .5 oz and it's HUGE! It smells delicious and it's ultra moisturizing on my fingers without being greasy. I also picked up The Bubbly and Tidal Wave.
Rainbow Honey The Bubbly Candy Mountain
Candy Mountain Scented Cuticle Balm
Candy Mountain –  a scent that's reminiscent of sweetness and indulgence, with a touch of caramel at its base.
Cuticle Balm Ingredients
Cold Pressed Avocado Oil. Tropical Cupuacu Butter. Babassu Oil. Organic Coconut Oil. And my secret weapon, Maracuja Oil. And topped it off with some Vitamin E.
I did 2 coats of each polish on the nail wheel.

The Bubbly
The Bubbly glitter topper: full of iridescent glitters and micronized opalescent flakes, sure to make any manicure a little more…bubbly.
I believe the bubbly is supposed to be scented too, but I couldn't tell.
Tidal Wave
This murky aqua base is filled with holographic glitters and the effervescent shimmer of the great Leviathan's scales.
Price
$10 for .5 oz of cuticle balm
$10 for nail polish
Availability
RainbowHoney.com
I took some quick swatches out in the sun for you. I realized I've never reviewed my Rainbow Honey collection, so you can expect that to happen in the near future.
What are your favorite Rainbow Honey shades? Have you ever tried Candy Mountain cuticle balm?
Last Updated on