I love liquid lipsticks. I fell in love with the Kat Von D Everlasting Love Liquid Lipsticks last year. So when KVD added new shades to the lineup, I picked up several. You can see above the difference in the old and new packaging. The new packaging has larger lids. It's still a doe foot applicator design. So even though the new packaging looks larger, it's the same amount of product for the same price.
Kat Von D Everlasting Love Liquid Lipsticks Review

Please rate, comment and subscribe!
About the Kat Von D Everlasting Love Liquid Lipsticks
This innovative Everlasting Liquid Lipstick is infused with vitamins A, C, and E for added hydration. The next-generation formula gives lips long-lasting wear and high-pigment color with a smooth matte finish.
Draw lip outline with applicator tip then fill in color in one easy swipe of rich color.
Tip: Try a fun two-toned lip look (Kat loves to apply Outlaw on top lip over Backstage Bambi on the bottom lip).
Paraben free
Tips for Using the Kat Von D Everlasting Love Liquid Lipsticks
Shake the bottle well before application.
Apply a single layer of Everlasting Liquid Love Lipstick to inside lip line in a smooth even motion.
Remember: A small amount goes a long way.
Wait one to two minutes for lips to dry and you'll be set for the rest of the day.
Best when used alone.
Price
$19 each for 0.18 oz
Availability
Sephora
Sephora is the exclusive retailer for this brand and I believe it is a USA exclusive.
My Shades
L.U.V. – rich violet
Mau5 – deep raspberry
Vampira – deep reddish burgundy
Outlaw – brick red
Jeffree – hot coral pink
Backstage Bambi – vivid hot pink
Lolita – dusty rose
Other Shades
A-Go-Go – bright orange-red
Armageddon – carnation pink
Bachelorette – dark reddish fuchsia
Berlin – warm rose
Underage red – bright crimson
Left to Right – L.U.V. – Mau5 – Vampira – Outlaw – Lolita – Jeffree – Backstage Bambi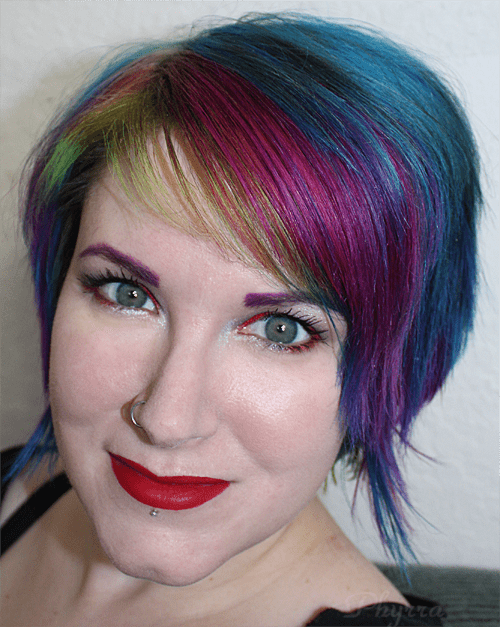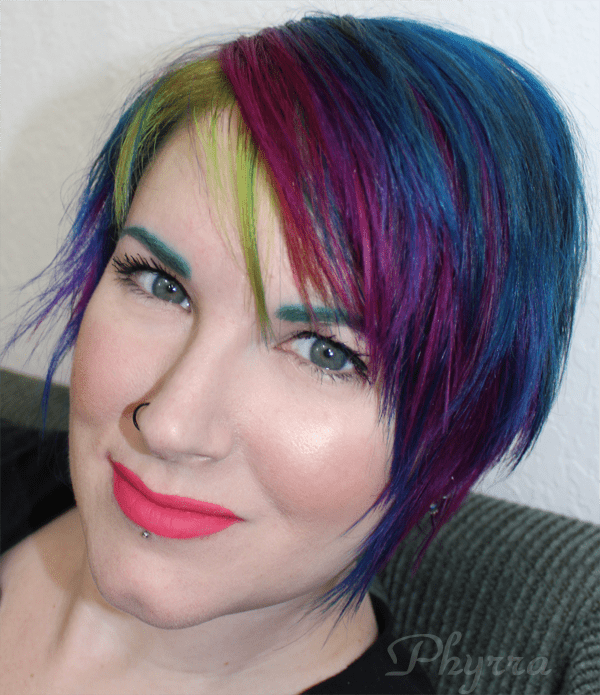 Jeffree
Backstage Bambi
My Thoughts
Much like when I originally reviewed these, I love these liquid lipsticks! I've gotten up to 12 hours of wear with them. While they say that they are long wearing, they don't say how long they wear. I'm happy that they can last through me eating and drinking. I have to use makeup remover to get them off of my lips and even then, sometimes there is still a slight stain left!
Because these have a matte finish and they're long wearing, you need to prep your lips before you wear them. Start by exfoliating your lips. Moisturize them, let it sink in, and then blot off the excess. Then you can apply the liquid lipstick. While a clear lipliner is not necessary, if you prefer  you can use one. While these are drying try not to press your lips together. Once they're set, they're good for hours.
While these are long wearing they don't cause my lips to peel off in strips after wearing them. My old school long wearing lip products used to do that, which was gross!
I obviously love these because I've purchased so many different shades. I highly recommend them. Still wishing for a teal blue!
What do you think of the Kat Von D Everlasting Love Liquid Lipsticks? See any must have shades?
Pros
Long wearing formula
Matte finish
Good amount of product for the price
Cruelty free
Paraben free
Cons
Hard to remove (because they're long wearing)
May leave a stain (some people dislike having a stain)