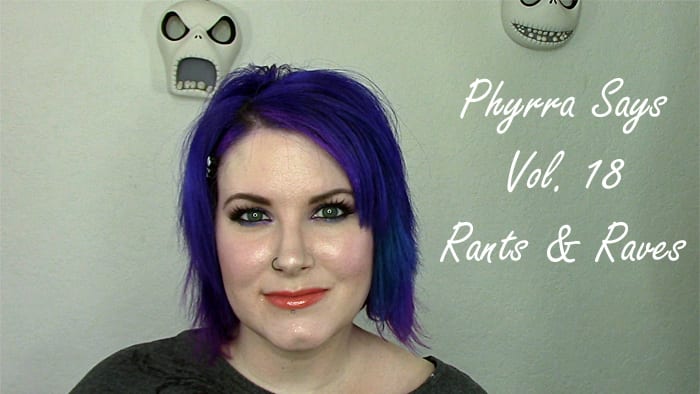 Happy Saturday! Today I'm sharing Phyrra Says Vol. 18 Rants and Raves. I share my feelings on things.
Phyrra Says Vol. 18 Rants and Raves

If you like this video please comment and subscribe!
Upcoming Videos (already filmed)
Lip Product Addict Tag
Colour Pop Fall Eyeshadows
The Face Chart
Fall Haul
Lunatick Cosmetics Review
Saucebox Cosmetics Etude Palette Review
Easy Brow Tutorial
Planned Videos
Top Matte Crease Colors
Too Faced Bulletproof 24 Hour Eyeliners
Ofra Eyeshadow Palettes
Makeup Brush Collection Updated
Makeup Room Tour
Coastal Scents Revealed 1 and Revealed 2
Coastal Scents Cheek Palettes
If you haven't checked out Seanan McGuire, you can see her author page on Amazon. She has 4 series:
Amazing Nail Polish
Cirque Colors NYFW
Zoya Remy
Zoya Muse
You can also follow Seanan on Tumblr, Twitter, and her site. As always, I love my kindle fire and think they're fabulous.