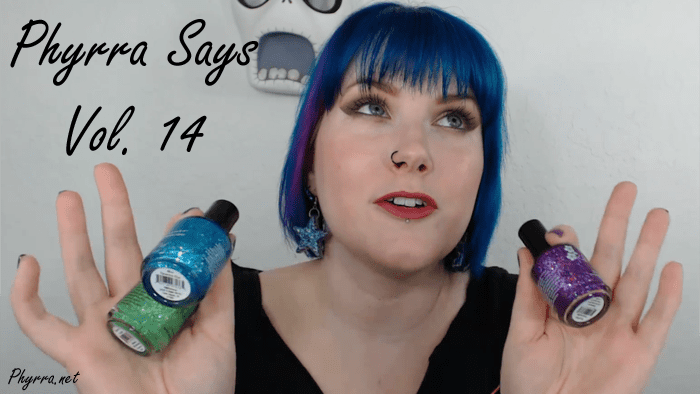 Happy Tuesday! It's time for another Phyrra Says! This is Vol. 14. I update you on my life, share swatches, rave about beauty products and talk about the gym, too.
Pr + purchased by me.
Phyrra Says Vol. 14

If you like this video please subscribe and give it a thumbs up!
Fyrinnae Burlesque Collection (vegan)
Gaiety – Gleaming, glittering, cheerful aqua! A light but vibrant shimmering blue-green is further enhanced with plenty of coordinating sparkle. Named in tribute to the now defunct "Gaiety Male Burlesque" in NY.
Cabaret Noir – Vibrant lime green shimmers on a soft black base, but changes to deep turquoise blue at an angle or closer to light. Similar to Dark Fantasy initially, but more charteuse and contrasting.
Brazen Burlesque – Smoky emerald shimmer mingles with a dash of copper sparkle on a black base. At an angle or closer to light it becomes a deep cobalt to blue-violet with golden sparkle on black. (if you like our Velveteen Werewolf, try this one!)
Bawdy Librarian – This is no basic brown! This, my good guys and dolls, is a lush, shimmery, golden brown rich with gold sparkle. Cameras cannot capture its true beauty; you must get to know the shade in person. Warm-toned, but would work well on many skintones. Darker than it appears here, but gleams in light.
Devilish Debutante – Magenta shimmer is entwined in soft black, making this an excellent liner, or a dramatic dark lid shade. Closer to light or at an angle, it becomes a coppery to golden-green hue. Slightly darker than it appears above. Similar in hues to Alchemist's Curse, but more vibrant and without sparkle.
Giveaways
6 Year Blog Anniversary ends 5/24
Tarina Tarantino ends 5/29
Paula's Choice 12 Winners ends 5/29, USA / Canada (vegan)
Cover FX 5 Winners ends 5/30 USA/Canada (vegan)
Zenmed 3 Winners ends 5/31 Worldwide
Speck Products
Samsung Galaxy Note II Cases
Hybrid Bling Crystal Hard Case in Purple
Guardian Evil Case in Purple
Hybrid Luminous Purple Case
Yes, I purchased all of these cases but only the bling case has arrived.