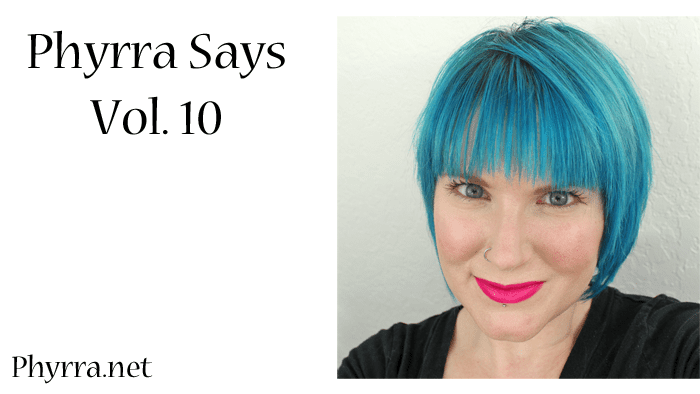 This video talks about my adventures in makeup this week, the Cover FX event next week and my current Too Faced Giveaway.

If you like my videos please subscribe and share 🙂
Cover FX
I'm hosting an event with Cover FX Event at Sephora in Orlando at Mall at Millenia on April 24, 2014 from 5pm to 7pm. For more information see this post.
My Current Hair Color
Manic Panic Voodoo Blue. Vegan.
Too Faced Giveaway
Enter to win 3 Too Faced Melted Liquid Lipsticks. See my post here.
Too Faced Availability
TooFaced.com, Sephora, Ulta
Cruelty Free Brand List
My Cruelty Free Brand List tells you which companies are cruelty free, which companies have a parent company that is not cruelty free, which companies are Leaping Bunny Certified, which companies are vegan friendly and which companies are vegan. It also gives you a starting point for brands that are NOT cruelty free.
Phyrra's Pretty Little Elixir Vegan Hair Masque
FutureDerm should have my vegan hair masque on sale 50% off. It's normally $39.99 so that's quite a deal. When I saw my stylist for my hair cut I told her that all I'd been using lately was the Pureology Strength Cure Shampoo (cruelty free and vegan but parent company is not cruelty free), and my Pretty Little Elixir. She said my hair was in fantastic condition and that I'm doing the right things. Vegan.
Leaping Bunny Certification
If you love a brand, email them to ask them to consider getting Leaping Bunny Certified. It's an extra step that makes everyone feel more secure about purchasing from them.
Favorite Leaping Bunny Certified Brands
Two of my favorite Leaping Bunny Certified Brands are Urban Decay and Paula's Choice. Paula's Choice is the skincare line that I go back to when I'm not testing other products for review purposes. They make so many great skincare products that work well for my skin.
Purely Cosmetics Diamond Perfect Finish Powder
I've been experimenting with this powder and it reminds me of the NARS Light Reflecting Loose Setting Powder. I really like it!
Nyx Angel Veil Perfecting Primer
I bought the Nyx Angel Veil Perfecting Primer a while back and I love it! It's a brightening primer and I think it does a great job of blurring imperfections on my face. It does have a white cast, so if you have a deeper skintone it may make you a bit ashy.
Cover FX Matte Setting Powder
This Light Setting powder is one of the powders that I've been experimenting with. Vegan.
Urban Decay Naked Skin Loose Finishing Powder in Naked Light
I love Naked Light as it's a tinted finishing powder and it works well to help cover the redness in my skin. Vegan.
tarte Colored Clay SPF 15 Liquid Foundation in Fair
I love the finish on this liquid foundation! It's a touch too dark for me on its own but if I mix in some Face Atelier Zero Minus it looks perfect. I'm wearing this in the video. Vegan.
Face Atelier Zero Minus
The Face Atelier Pro Foundation is vegan and Zero Minus lets me adjust any liquid or cream up to match my skintone if it's already a good match but just too dark. Vegan.
Josie Maran Argan Infinity Lip And Cheek Creamy Oil
I have Endless Guava (and several other shades) and they're awesome. I've worn them for up to 14 hours without showing any wear. In the video above I had it on for 8 hours and it still looked like the perfect natural flush on my cheeks.
Cover FX CC Cream Time Release Tinted Treatment SPF 30
I love this! N Light is a pretty good match most of the time, especially if applied with a damp makeup sponge. The finish looks amazing when you apply it like that. It's such a great product and it's my favorite by Cover FX. Vegan.
Last Updated on