During the Sephora VIB Sale I hauled the Kat Von D Chrysalis Eyeshadow Palette. Kat Von D released this palette and the Monarch Palette (currently sold out online at Sephora), at the same time.
Kat Von D Chrysalis Eyeshadow Palette Review

If you like this video please comment and subscribe!
About the Kat Von D Chrysalis Eyeshadow Palette
From subtle to sultry, experience a rebirth of color and explore endless eye looks with the Chrysalis Eyeshadow Palette. Featuring cool-toned shades in an ingenious arrangement that gives you the biggest basics and the most accent hues, now you'll have the freedom to create your heart out without running out of the go-to colors. Relish in the luxurious texture of triple-milled powder, which picks up instantly and lays down with a one-sweep, full-coverage application. The patented Power Last™, long-wearing formula gives you buildable, from dawn-to-dusk drama, while an infusion of antioxidants including rose extract and vitamins A, C, and E all work to keep your eyelids hydrated and protected.
Antioxidant Complex: Protects the delicate eye area from free radicals.
Rose Extract: Softens and moisturizes the skin.
Vitamins A, C, and E: Nourish and hydrate the eyelid.
Inspired by the metamorphosis of the butterfly, Kat created this palette to give you endless ways to transform your eyes every day. The palette is decorated with original artwork derived from her love of butterflies—a symbol of rebirth and renewal.
Price
$46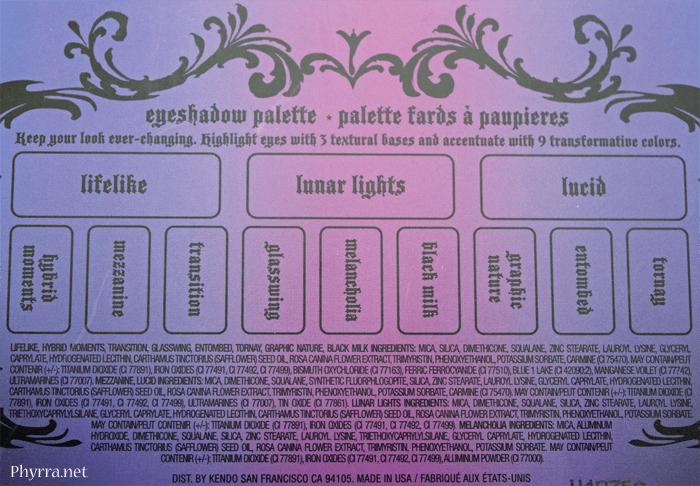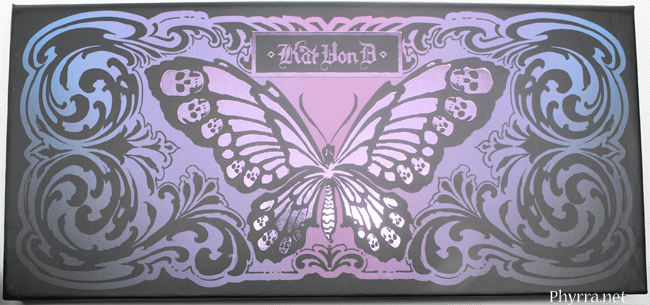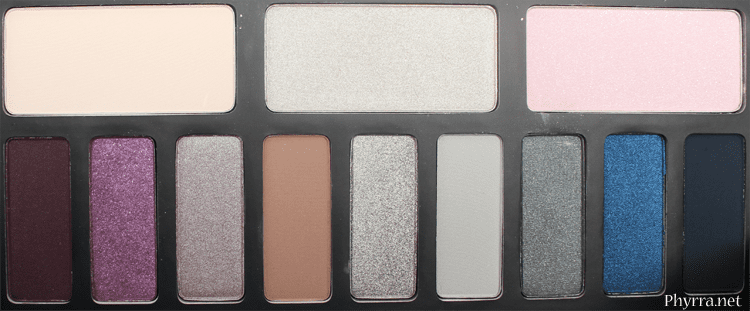 Amount
3 x 0.095 oz Eye Shadow in Lifelike (matte cream), Lunar Lights (pearl gray), Lucid (sparkle rose)
– 9 x 0.049 oz Eye Shadow in Hybrid Moments (matte deep purple), Mezzanine (sparkle violet), Transition (pearl mauve), Glasswing (matte caramel), Melancholia (pearl silver), Black Milk (matte gray), Graphic Nature (pearl charcoal), Entombed (pearl blue), Tornay (matte navy)
All swatches on Coastal Scents Shadow Worx primer. Swatch pictures taken in direct sunlight.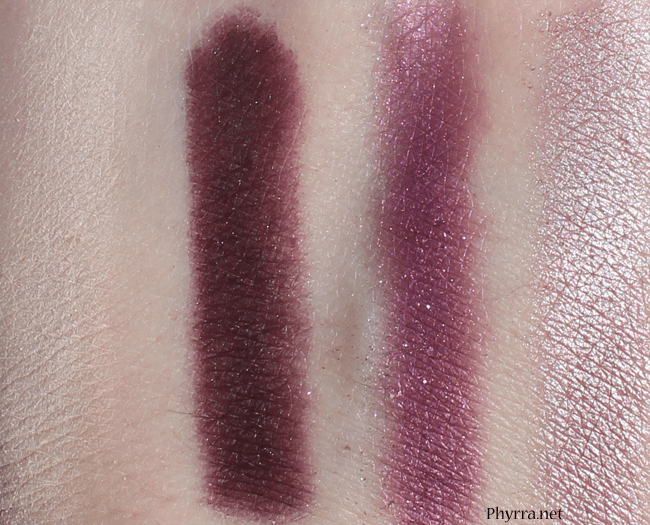 Lifelike
demi-matte creamy white
Hybrid Moments
deep plum purple matte
Mezzanine
sparkly violet (tiny bit of fallout, semi sheer but can be built up)
Transition
pale mauve pearl
Lunar Lights
light metallic grey, this is too shimmery for a base color in my opinion
Glasswing
matte caramel brown
Melancholia
metallic silver
Black Milk
light matte grey, really silky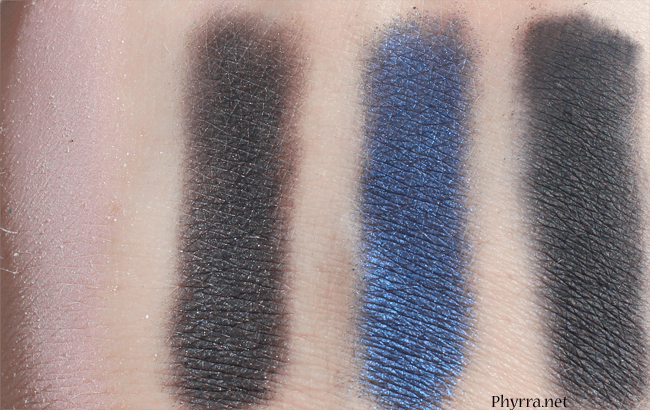 Lucid
pale pink with silver sparkles, love this
Graphic Nature
deep charcoal pearl
Entombed
deep navy blue pearl
Tornay
blackened navy matte
My Thoughts
I got sucked in by Chrysalis the packaging. The packaging is utterly gorgeous. The butterfly design with little skulls head, plus the shades of pink and purple across the front, it's all beautiful. It totally sucked me in. I wish the eyeshadows more closely matched the palette colors. The names of the eyeshdows are on the back of the palette, so that's nice, but I still wish they were printed beneath each shade. The palette is made of cardboard, which feels sturdy, and has a mirror in it.
Sadly, the palette doesn't come with a look book  with tutorials on how Kat would wear the colors. However, the colors are arranged into 3 sets of 4, to give you an idea of how to wear the shades together.
I don't necessarily feel like this is an entirely cool toned palette.  I feel like the purples are not purple enough, they're too plummy. So that disappointed me. I feel like Graphic Nature and Tornay are too similar; you can barely tell that Tornay is supposed to be blue toned, as it translates as a charcoal shade to the hand.
The shades that I like in the palette are Lifelike, Lunar Lights, Glasswing, Melancholia, Black Milk, Lucid, Graphic Nature and Entombed. Hybrid Moments is too plummy for my taste. I'm not really a fan of Mezzanine either, though I wanted to be. It does have pretty sparkles in it, but again, it's like a plum wine. I don't like Transition at all. I really like all the smoky grey shades and think that they'll work nicely together. I also like Glasswing, the caramel, since that's a color that I've used in my crease lately. I feel like they're all really useful shades.
I do feel like several of the shades kick up powder when you drag your brush across them, so if you don't dab at the palette carefully, you'll ended up with wasted product. If you're someone who rarely finishes a palette, like me, this may not be a dealbreaker issue for you. If you're someone who uses a palette to the last drop, you'll want to keep this in mind.
I do feel like this is a good value for the price because you're getting essentially  9 almost full size eyeshadows (if you count .05 oz as full size, since these are .049, so really close) and 3 nearly double sized shadows at .095. A typical Urban Decay eyeshadow is .05 oz for $18, while a MAC refill is $10 for .05 and a regular is $15 for .05. This palette breaks down to about $3.83 a shadow.
If you're a fan of Kat Von D eyeshadow palettes and you like greys, you might like the KVD Chrysalis palette. If you like plum purple, you might like this palette. I'm not completely sold that it's amazing. I am a little let down that the colors weren't as cool toned and the shades I prefer, but I'm still glad I picked it up on sale.
What do you think about the Kat Von D Chrysalis Eyeshadow Palette? Love it? Hate it? Have it? Let me know below!
Pros
Cruelty free
Some cool toned shades
Good value for the price
If you like smoky shades, you'll love the majority of this palette
Cons
If you aren't a fan of plummy purples, skip this
If you don't like cool toned palettes, skip this
If you can't stand powdery shadows, skip this