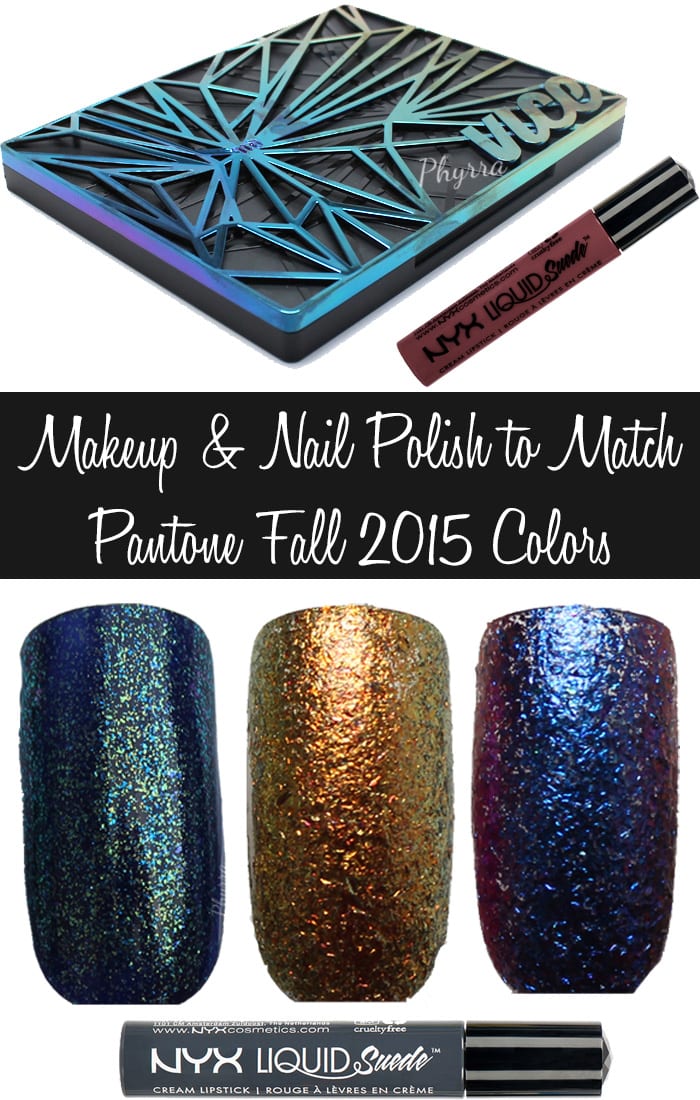 TGIF! Today I've got my Pantone Fall 2015 Makeup Picks. This was a requested video. I chose mostly indie colors and a few from Urban Decay. All of my picks are, of course, cruelty free. You can see the Pantone Fall 2015 Color Story here.
Pantone Fall 2015 Makeup Picks
This post contains a mix of press samples and products purchased by me.
Pantone Fall 2015 Makeup Picks
If you like this video give it a thumbs up and share!
Biscay Bay picks
KBShimmer Talk Qwerty to Me
Urban Decay Artic from the Vice 4
Makeup Geek Chameleon
KBShimmer Up and Cunning
Stormy Weather picks
Nyx Stone Fox
ABH Denim Smokey
Darling Girl Got Face
Sugarpill the Inventor nail polish
Sugarpill Soot & Stars
Amethyst Orchid picks
Fyrinnae Lost Lenore
Urban Decay Flashback from Spectrum
Nyx Sway
Reflecting Pond picks
KBShimmer Soul Deep
KBShimmer Moody Hues
Fyrinnae Shipwreck
Cashmere Rose picks
Hello Waffle the Blushed Collection
Hello Waffle Cushion-Cut
Urban Decay 1985 from the Vice 4
Cadmium Orange picks
Darling Girl Queen of Scream
Urban Decay Flame from Vice 4
Anastasia Beverly Hills Wine
Oak Buff pick
KBShimmer Pros and Bronze
Desert Sage pick
Urban Decay C-Note from Vice 4
Dried Herb pick
Marsala picks
Urban Decay Underhand from Vice 4
Fyrinnae Witchcraft
Nyx Vintage
To see my reviews on the following collections mentioned in the video
What are your makeup picks for the Pantone Fall 2015 colors?
Last Updated on