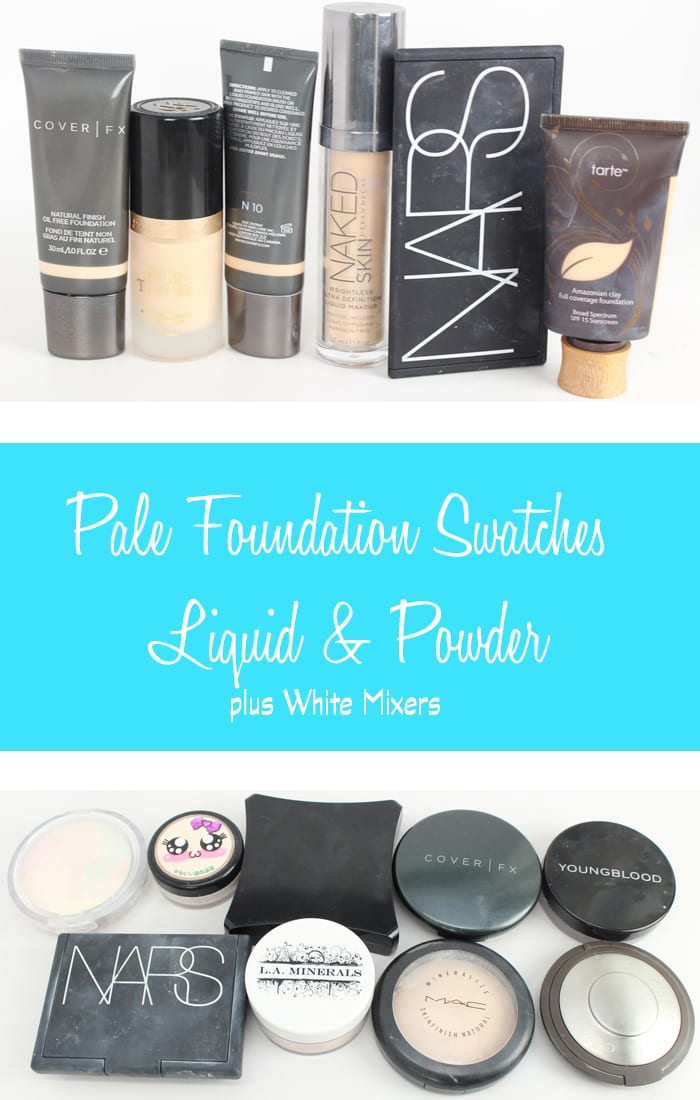 I wanted to share pale liquid and powder foundation swatches. I use the term pale loosely for some of these. I thought it would be helpful to show these foundations swatched together on my arm to give you an idea of how they compare to each other. All foundations are cruelty free except for the MAC foundation that I swatched, which was purchased when MAC was cruelty free. Almost every single item in this post is vegan, too.
This post contains a mix of press samples and products purchased by me.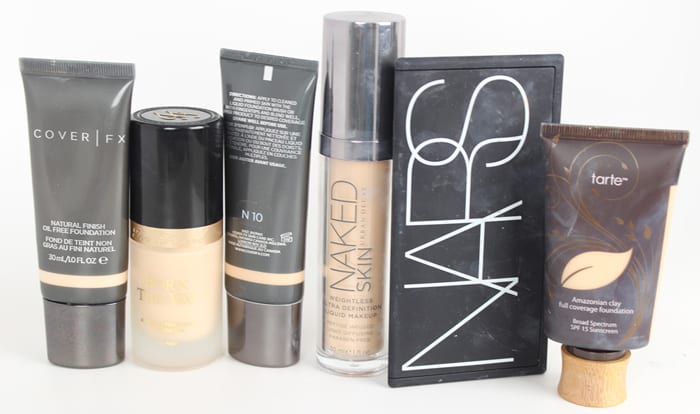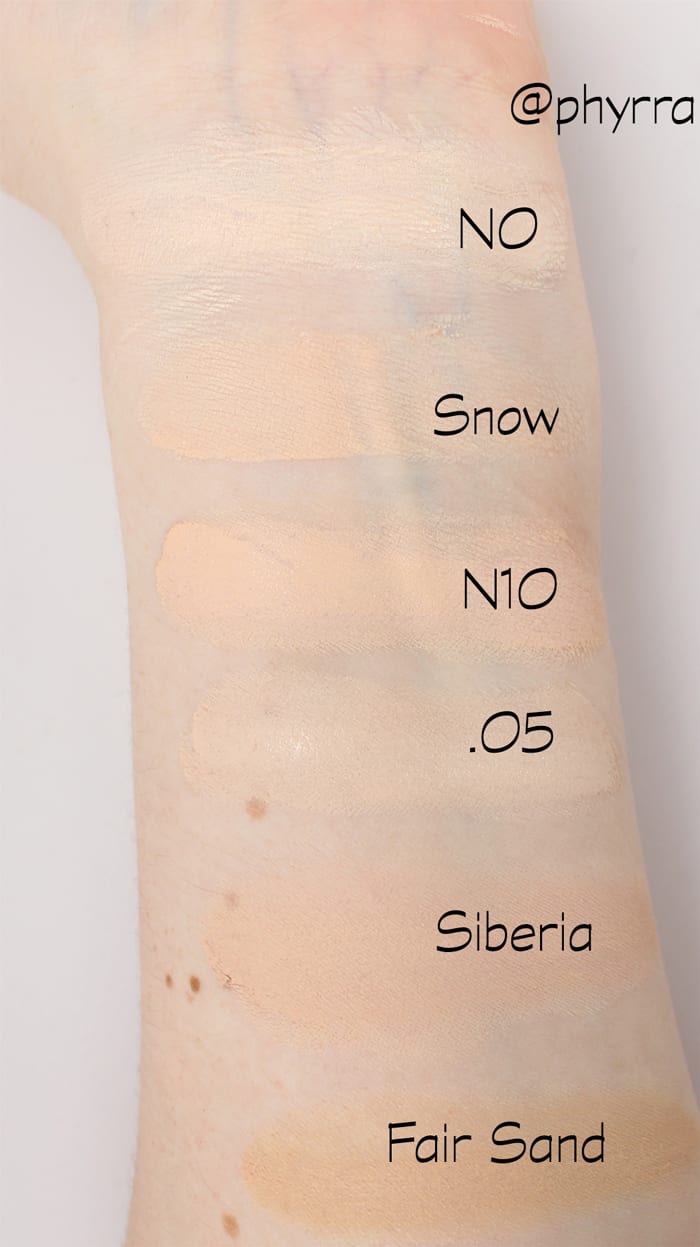 Pale Liquid Foundation Swatches Top to Bottom
Cover FX Natural Finish Oil Free Liquid Foundation in N0 (v) $40 – I love this foundation because I don't have to add a drop of white to make it match my skintone. It blends seamlessly in with my neck and chest, which is what I want to match with my foundation. It comes in an amazing range of 40 shades.
Too Faced Born This Way Foundation in Snow (v) $39 – This foundation adds more color to my face than N0, so makes me seem less starkly pale, yet I don't feel like it gives me the dreaded 'your face is darker than the rest of you' that my pale skin is prone to. It comes in 18 shades.
Cover FX Liquid Foundation in N10 (v) $40 – I thought showing N0 and N10 would be useful.
Urban Decay Naked Skin foundation in .5 (v) $40 – I like this one a lot and it's a pretty good match too, thought it might have a touch too much pink on my face. 18 shades available.
NARS Radiant Cream foundation in Siberia $38 – Siberia used to be a perfect match for me but as you can see this is now too dark on me. 20 shades available.
Tarte Amazonian Clay foundation in Fair Sand (v) $39 – This foundation comes in 27 shades. I think they're mostly 27 shades of beige, because this is the palest shade offered and it's darker than I have ever been. 27 shades available.
Shade Descriptions
N0 – For fairest porcelain skin with neutral undertones
Snow- Very Fair with Neutral-to-Pink undertones
N10 – For porcelain to light skin with neutral undertones
0.5 – very fair porcelain shade, with subtle pink undertones
Siberia – fair to light w/neutral balance of pink & yellow undertones
Fair Sand – fair skin with yellow undertone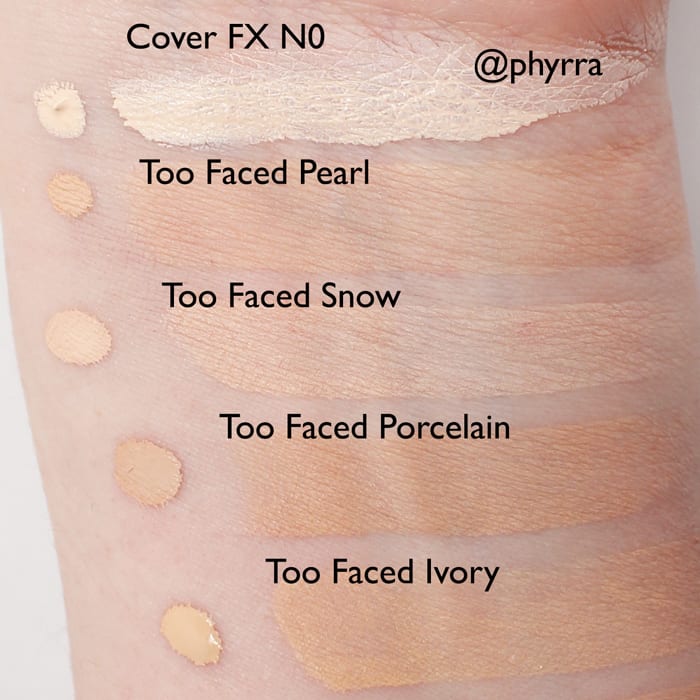 Swatches of the pale and light Too Faced Born This Way foundation. The lightest Born This Way is Snow then Pearl, then Ivory then Porcelain.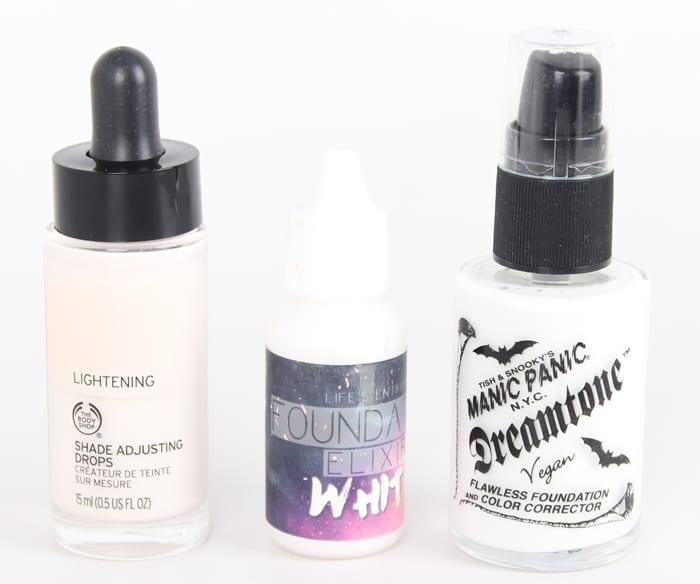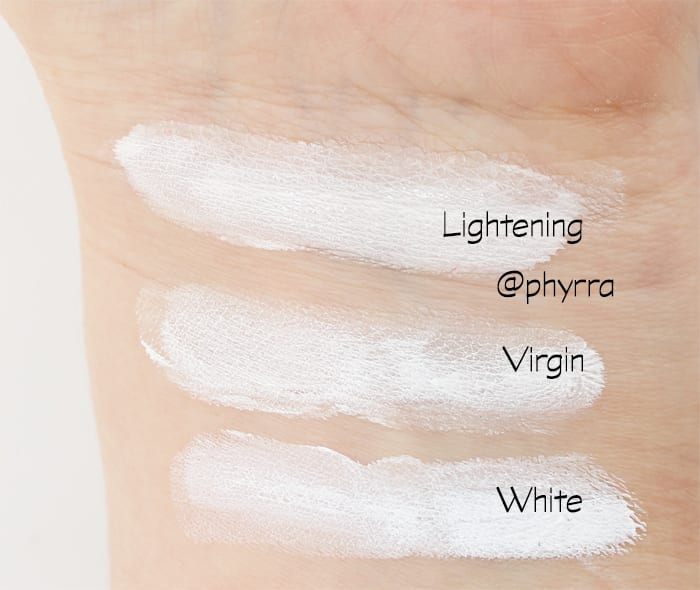 White Foundation Mixer Swatches Top to Bottom
The Body Shop Shade Adjusting Drops in Lightening (v) $20 – this looks like it has a hint of peach in the bottle but it swatches pretty white on me. There's also a dark version of this available.
Manic Panic Dreamtone foundation in Virgin (v) $9.95 – I love the container for this one. Also comes in Moonlight (pale) and Candlelight (dark).
Life's Entropy Foundation Elixir in White (v) $12 – I love the product but hate the packaging on this one. It's prone to too much coming out all at once. It mixes nicely with every foundation I've ever tried it with.
If you're looking for a white foundation mixer for loose powder, Meow Cosmetics makes Snow Lynx, a white powder you can use to lighten any powder foundation.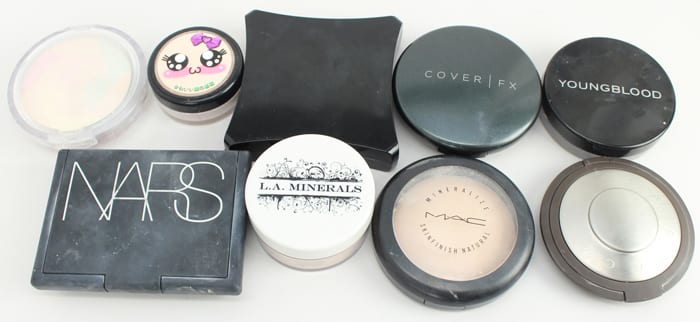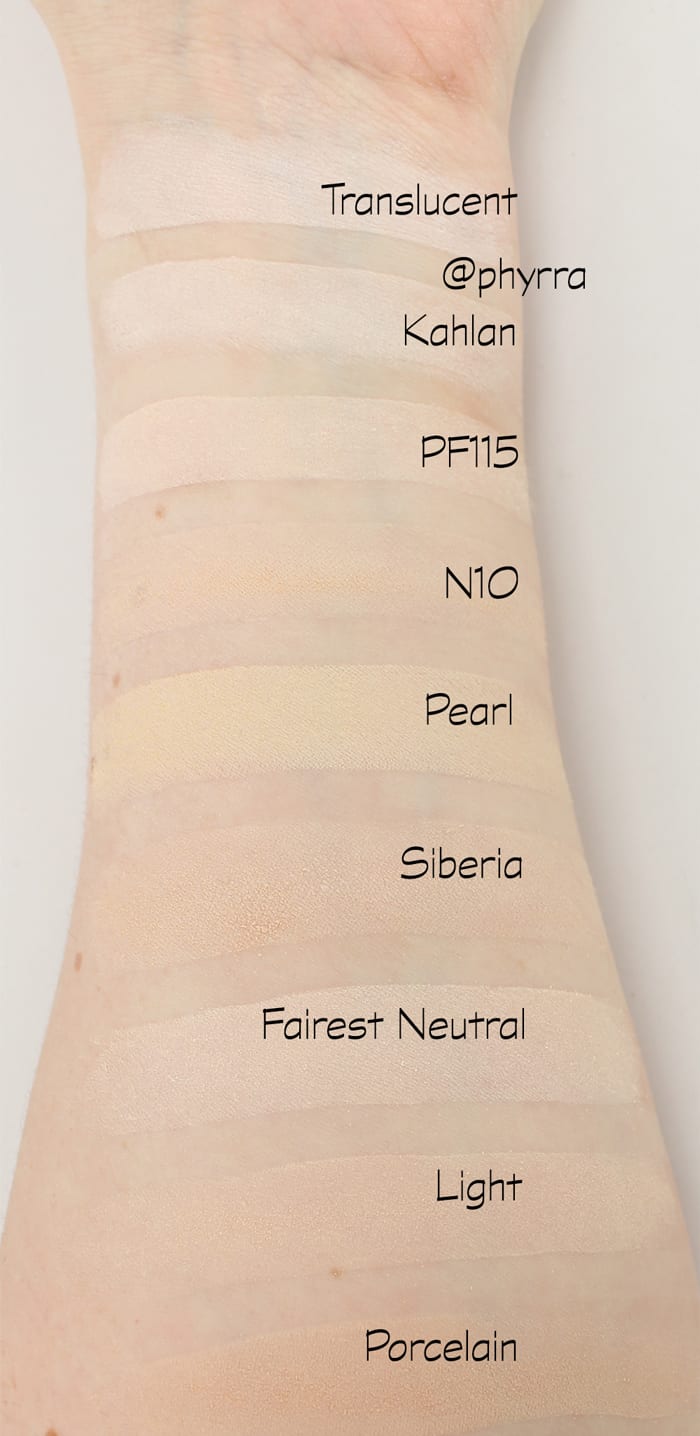 Pale Powder Foundation Swatches Top to Bottom
Physicians Formula Mineral Talc-Free Correcting Powder in Translucent $13.95 – so this matches me nicely! I love that aspect but it has NO lasting power. I HAVE to use a primer or this disappears in a few hours. This is currently the ONLY drugstore foundation option that works for my pale skin. 4 shades available.
Geek Chic Kahlan (v) $9.99 – This is a really nice pale mineral foundation. I love the name and the inspiration. 6 shades available.
Illamasqua Powder Foundation in PF115 (v) $40 – This is supposed to be medium to full coverage, and I'm not sure why but I never felt like it looked flattering on me. 13 shades available.
Cover FX Pressed Mineral Foundation in N10 (v) $36 – This works surprisingly well if I only hit my red areas. Available in a staggering 40 shades.
Youngblood Natural Mineral Foundation in Pearl (v) $44 – I love how this covers my redness. I definitely have to apply it with a light hand and avoid under my eyes. 16 shades available.
NARS Powder Foundation in Siberia $48 – So I think this was discontinued because the All Day Luminous Power Foundation SPF 24 replaced it. It used to be a great match for me but now it's too dark. Available in 15 shades.
LA Minerals NoHoGlo Mineral Foundation in Fairest Neutral (v) $19.99 – this is supposed to give you a North Hollywood glow in a formula for dry skin. 16 shades available.
MAC Mineralize Skinfinish Natural in Light (NOT CRUELTY FREE) – I used to love this stuff because it would even out my skintone. Swatched because I have had people request that I include MAC for comparison and this is the only MAC foundation I have left in my stash.
BECCA Perfect Skin Foundation in Porcelain $40 – way too dark. I should have returned this. Available in 15 shades.
Shade Descriptions
Translucent – Pink brightens, Green tones down redness and Yellow adds warmth.
Kahlan – Kahlan is our color for those with a pale yet still tan tint to their skin (pale neutral)
115 – for very light skin with neutral tones
N10 – for porcelain to light skin with neutral undertones
Pearl – for light warm skintones
Siberia – Light with neutral balance of pink and yellow undertones
Fairest Neutral – for pale neutral skin
Porcelain – fair ivory pink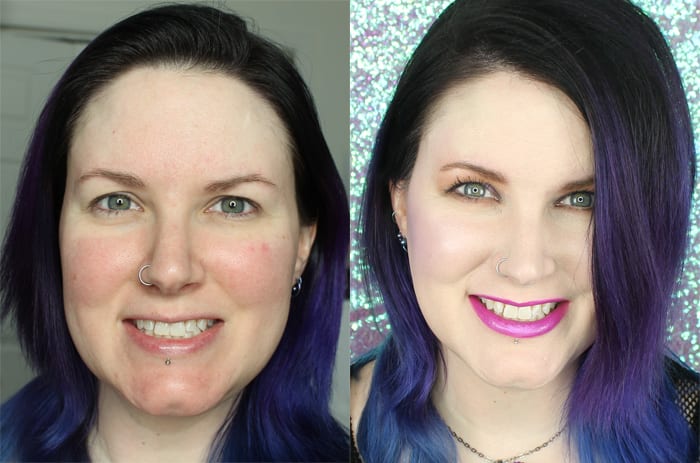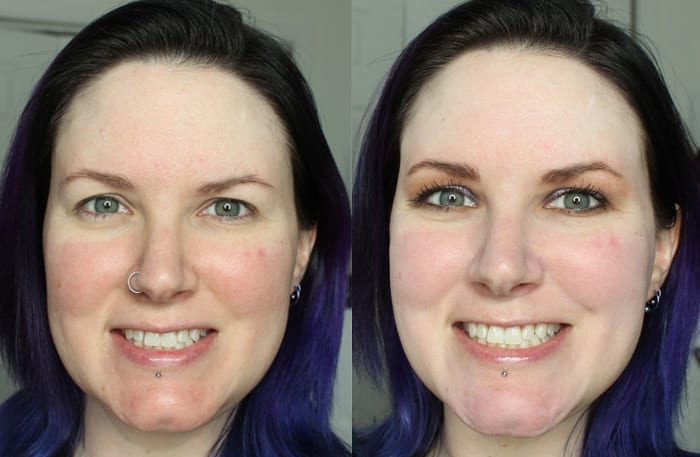 I prefer to stick to neutral or neutral leaning warm foundation shades so that the warmth counters my redness from rosacea. The redness makes my face look darker than the rest of me. The redness / blotchyness is something that I've always been embarrassed by, which is why I reach for foundation to cover it up. I've been hiding my skin since my teens.
In my experience, powder foundation is more forgiving and blends easier into my skintone than liquid foundation. Unfortunately for me, I find powder foundation harder to wear now because my skin leans dry. Most powder foundations suck all the moisture out of my skin and emphasizes the fine lines around my eyes. It's not flattering. However, since I had sensitive combo (slightly oily) skin most of my life, my first instinct is to always reach for powder if I'm in a hurry.
This isn't to say that I can't blend liquid foundations into my skin, just that liquid foundations are less forgiving with shade matches. The thing that I've found the most useful when it comes to liquid foundations is having a white foundation mixer. This lets you adjust a too dark foundation to be a better match.
Like I mentioned above, as far as I'm aware, there's only 1 cruelty free drugstore foundation that matches my skintone and that's the Physicians Formula Translucent. I find it much easier to find matches for my pale skin in indie or mid to high end foundations. If you're looking for the best budget friendly pale foundation, I'd definitely recommend checking out indie brands. I have a lot showcased in my best vegan foundations article. In general, drugstore foundations tend to let me down, both with shade range and lasting power, which is why I feel it's better to invest in a good quality foundation from either the department store or indie brands.
Several of my makeup artist friends have told me that I have good skin. I rarely feel like I do because of my rosacea. They have also pointed out that I don't need to apply foundation all over. I can just apply foundation to the redness to even out my complexion, rather than all over. This is something I need to do more often.
My forward facing camera on my Samsung Galaxy Note 4 had selfie mode turned on, so it made my skin look really smooth. The picture below was taken with my Canon T3i by Ray, so no retouching, but I still think my skin looks good. It looks even. I went out with minimal makeup and felt confident enough with only Hourglass Veil Mineral Primer and Urban Decay Naked Skin Concealer in Fair Neutral because I was having a good skin day.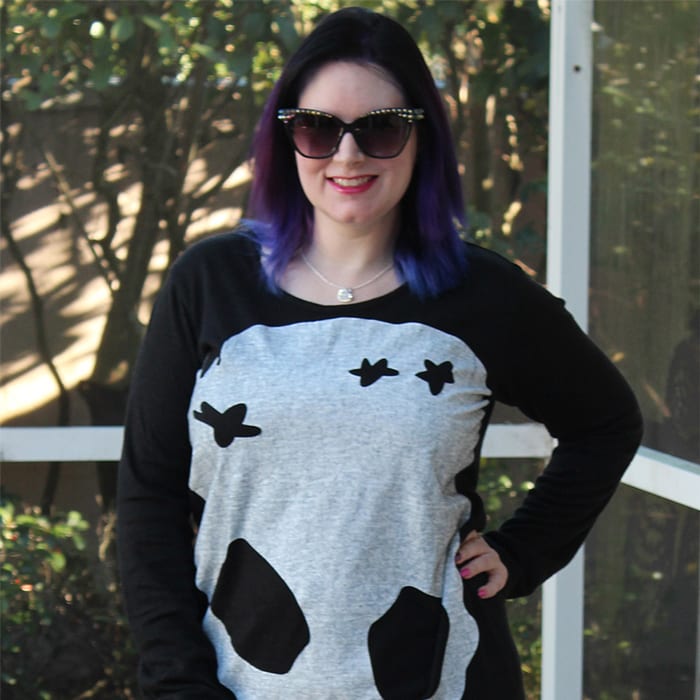 Good skincare is not to be underestimated, especially when you're pale. I recently bought Paula's Choice Calm Redness Relief 1% BHA Lotion (which contains salicylic acid, green tea, licorice root, allantoin and beta-glucan) and have been using it every night in my new winter skincare routine, and I'm waking up with a LOT less redness in my face. It's such a nice change. That means I can get away with Hourglass Veil Mineral Primer all over, then just a touch of concealer or foundation under the eyes and around the nose, which is practically unheard of for me. I'm hoping the trend for less redness continues.
Looking for more? Check out
What is your favorite cruelty free foundation?