Note – these swatches are from 2012 and do not match me now. See my Best Vegan Foundations post.
I wanted to do some more pale foundation swatches for you. I swatched along my jawline. My face has been freshly cleansed and moisturized, but nothing else was done to the skin. Because I had just cleansed it, you can see my pink overtone very strongly in the pictures. I used a cotton swab to make the swatch in each shade. You can see my previous light liquid foundation swatches here.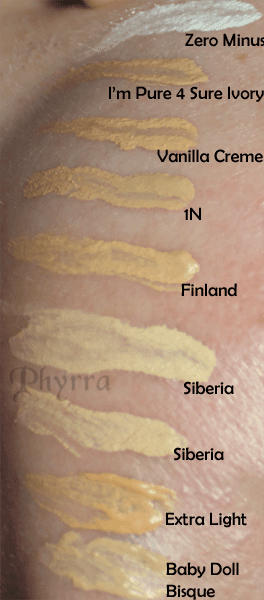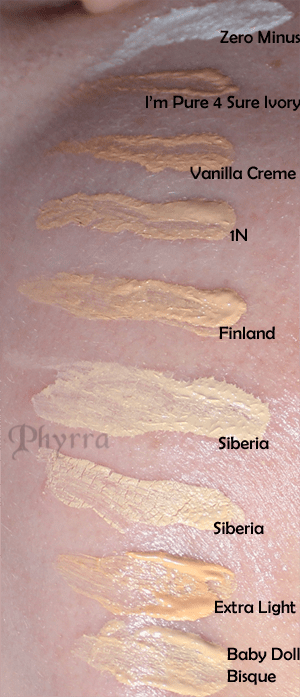 Foundations:
$45 for 1 oz – Face Atelier Ultra Foundation in Zero Minus
$34 for 1 oz – Benefit Hello Flawless Oxygen WOW Foundation in I'm Pure 4 Sure Ivory (review)
$36 for 1 oz – Too Faced Amazing Face Liquid Foundation in Vanilla Creme (review)
$35 for 1 oz – Mirabella Skin Tint Creme in 1N (review)
$42 for 1.9 oz – NARS Tinted Moisturizer in Finland
$42 for 1 oz – NARS Sheer Glow in Siberia (review)
$42 for 1 oz – NARS Sheer Matte in Siberia
$39 for 1.7 oz – Philosophy Hope in a Tinted Moisturizer in Extra Light
$28 for 1.2 oz – Rain Cosmetics Conceal Reveal Foundation in Baby Doll Bisque (review)
I feel like NARS Sheer Glow in Siberia looks fantastic on me.
I really like how Mirabella 1N looks but it is very full coverage for me.
I really like how Rain Baby Doll Bisque looks on me.
I love the finish with Too Faced Vanilla Creme and Benefit's I'm Pure 4 Sure Ivory, but they're a tad too dark for my taste. However, I can now mix in Face Atelier Zero Minus or Illamasqua Skin Base in 1 to fix that.
I go back and forth on loving and hating Philosophy Extra Light and NARS Finland.
You can see skin swatches of Illamasqua 1, 2, 4 and AU on me in my review from last week.
It's strange to me to see how I sometimes feel like 'oh yeah, these foundations work, they're just a bit dark so I color correct with powder or by mixing in another foundation' and other times I feel like 'these are too dark and don't work at all' to 'these work ok!'
What do you think of the jaw swatches? Have you tried any of these foundations? Which do you like?
To the best of my knowledge:
Face Atelier, Too Faced, Mirabella, NARS and Rain Cosmetics are cruelty-free.
Mirabella Skin Tint Creme sent for consideration. All other foundations purchased by me. All opinions are my own.