Quite a while back I purchased Obsessive Compulsive Cosmetics Lip Tar
in Belladonna. It's an ultra, ultra violet shade. Since I love purple, I had to have it!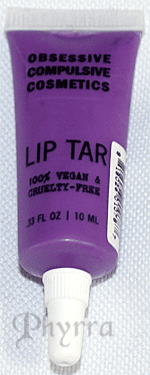 The Website Claims:
A high-opacity lipstick concentrate with unprecedented longevity. Flash a fabulous smile and a stunning splash of color with this lip formula that combines the longevity of a lipstick with the breezy application of a gloss. The rich pigment will drench your pout and the blend of essential oils, including hemp and peppermint, will soothe and soften the skin for a supremely comfortable finish.
No Parabens
No petroleum
No silicone
Hemp Oil: Rich in omega and gamma-lineolic essential fatty acids; extraordinarily moisturizing.
Peppermint Oil: A natural antibacterial and antimicrobial agent that allows OCC to create a product free of parabens and other synthetic preservatives.
Tocopherol Acetate: Rich in antioxidants; highly moisturizing.
100 % vegan and cruelty-free
Ingredients:
Ricinus Communis (Castor) Seed Oil, Cannabis Sativa (Hemp) Oil, Mentha X Peprita (Peppermint) Oil, Tocopherol Acetate (Vitamin E), Stearalkonium Hectorite, Propylene Carbonate
May Contain: Silica Dimethyl Silylate, D&C Red #6, D&C Red #7, D&C Red #27, D&C Red #30, FD&C Blue #1, FD&C Yellow #5, FD&C Yellow #6, Iron Oxides, Titanium Dioxide, Mica.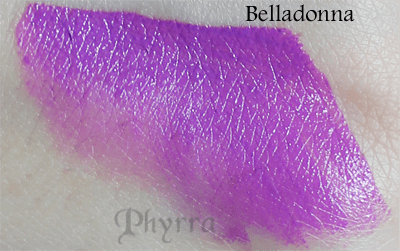 Price:
$16.00 for .33 oz from OCCMakeup.com and Sephora.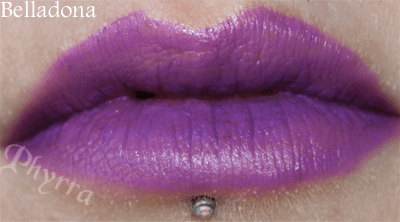 Does it live up to its claims?
Yes! It is very very important to use the TINIEST amount available. When I originally tried lip tars, I tried to apply it like a lip gloss out of the tube. Big mistake! Lots of feathering… coming off on my teeth… a huge mess! Yuck! Now that I know how to apply it, it's great.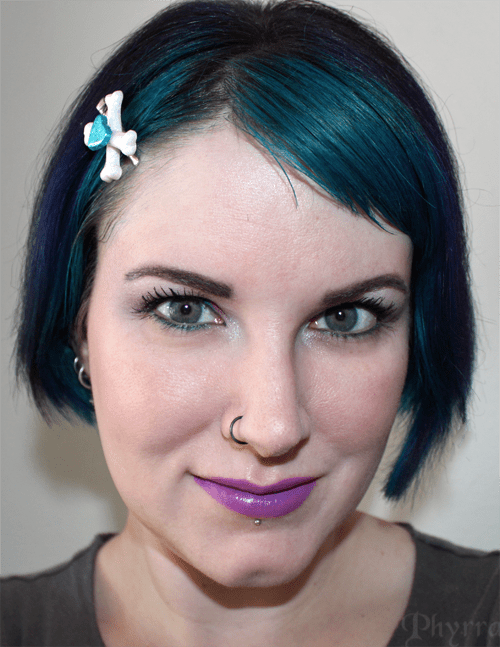 How I apply it:
Squeeze the lip tar slowly and gently to get the smallest bead of product on your brush.
I apply it to my bottom lip first, using the lip brush to work it around my lip line.
I blot my lips together.
I apply it to my top lip, working it around my lip line.
I sparingly dab and fill in any spots as necessary.
OCC Lip Tars can be worn on their own, or mixed with other lip tars to make unique colors.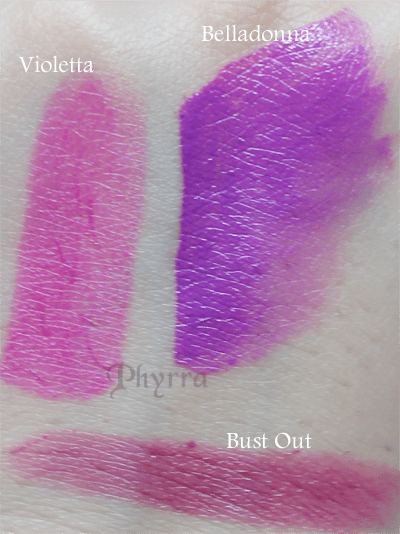 I've had people ask me how close is OCC Belladonna to MAC Violetta or MAC Bust Out? In my opinion, not close at all.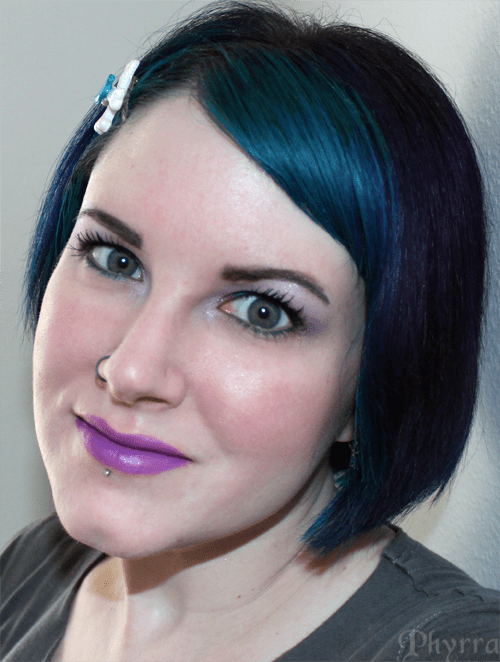 Would I purchase again?
Yes! If I ever run out, I will purchase this shade again! It's really an ultra flattering purple on my skintone. For $16 you get .33 oz of product. By comparison, a MAC lipstick is $15 for .1 oz. So you get more than 3 times the amount of product for just a dollar more. This is a great deal to me. Belladonna gets a 5 star rating!
What do you think of Belladonna? Would you wear it?
Product purchased by me. All opinions are my own.