Many of you emailed to ask about the vegan chocolate pecan pie that I had for Thanksgiving. It's a recipe from a friend of mine, so it is not my recipe. It is, however, super tasty.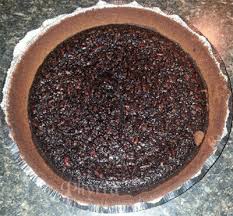 Ingredients:
1/2 cup sugar in the raw
1/2 cup brown sugar
1/3 cup dark chocolate cocoa powder
1 cup pecans
1 teaspoon vanilla
2 tablespoons flour
4 tablespoons almond milk
2 egg substitutes
8 tablespoons Earth Balance butter
1 9″ unbaked chocolate pie crust
How to Make:
1. Preheat the oven to 375.
2. Mix the ingredients all together.
3. Pour the ingredients into the pie shell.
4. Put the pie onto a cookie sheet and bake for 20 minutes.
5. Reduce the oven heat to 275.
6. Bake for another 20 minutes.
7. Check the pie center. If it's watery, bake another 20 minutes. If it's slightly soft, it's perfect.
8. Let it cool for 20 minutes, then serve.
I think my friend based the recipe off of her grandma's pecan pie and this one, as her Grandma's pecan pie was not vegan, but it was chocolate.