Friday night I was cordially invited to visit with Le Métier de Beauté in Neiman Marcus at International Plaza in Tampa. After finding out that Le Métier de Beauté is cruelty-free, I agreed to go. I asked Judi to accompany me. Le Métier de Beauté means "the craft (or art) of beauty", as in a master craftsman.

Helen, the awesome makeup artist who educated us.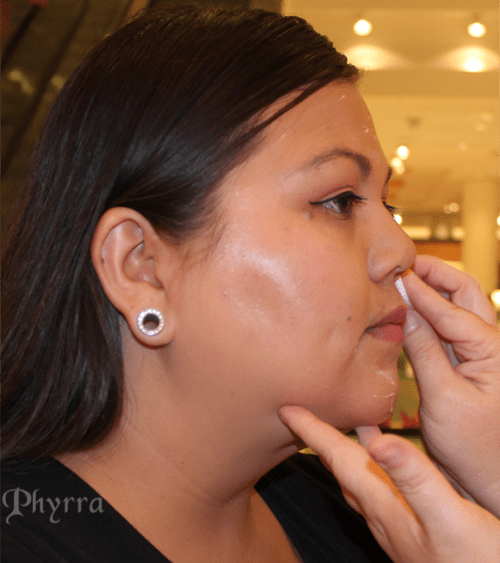 We were introduced to Le Métier de Beauté's 6 core skincare products, as well as a few new ones. We started with Daily Renew Cleanser ($50 for 4 oz.). It's a nice refreshing cleanser with a light citrus scent. That was followed by the Daily Refresh Tonic (a toner, $50, for 4 oz.). The tonic finished cleansing the skin and picked up dirt that the cleanser missed. There is also an eye cream, Revive Eye Concentrate ($175.00 for .5 oz).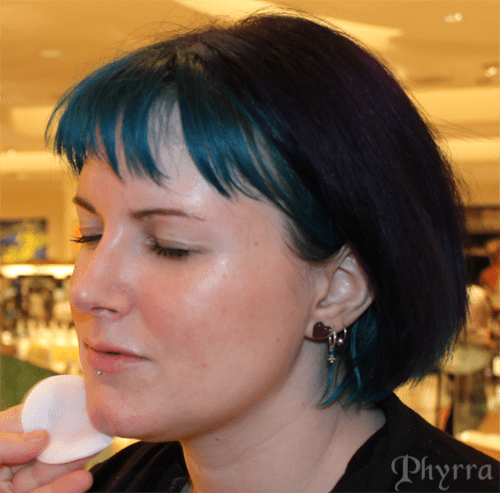 We got to check out the Revitalizing Anti-Aging Day Crème SPF 15 ($285.00 for 1 oz), the Replenishing Daily Solution SPF 30 ($225.00 for 1.7 oz) and the Rejuvenating Night Crème ($350 for 1 oz). All three formulas use the Syntoc Actif technology that penetrates through all of the skin to work from the inside out. Helen, the makeup artist who educated us on the products, explained about the patents that Le Métier de Beauté own for the delivery mechanism of the treatment. She said that the Syntoc basically pulls the retinol, encapsuled in Vitamin E, along with the other antioxidants down to the lowest layer of skin and work its way up from the bottom.
The Rejuvenating Night Crème is really a night treatment. It's something that you would use once to twice a week, which would let a jar last you for 6 to 8 months. If it's a product that really works and it lasts 6 to 8 months, that breaks down to roughly $44 to $59 a month. The other 5 nights a week you'd need to use another moisturizer, and they typically recommend the Replenishing Daily Solution.
One of the very interesting things to me about Le Métier de Beauté is that they don't advertise. They rely on word of mouth and bloggers!

After showing us the cleansers and moisturizers, we were ready for the main event! Judi and I were able to try out Le Métier de Beauté's new spa treatment kit, CHEM60 Pro-Peel and GLOW10ai Mask.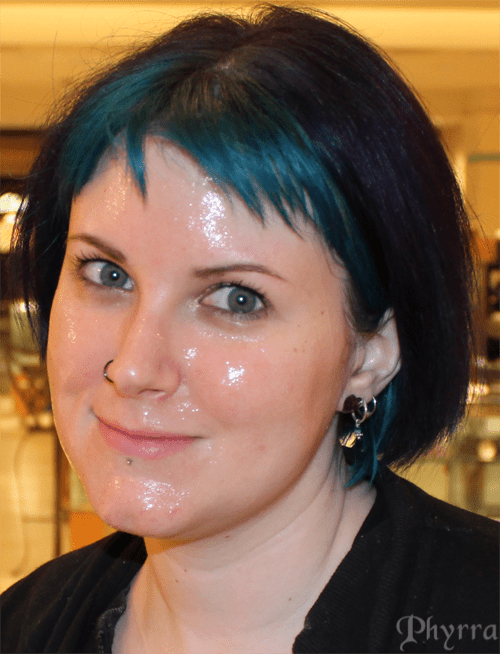 We did the peel first. The CHEM60 Pro-Peel uses the Syntoc Actif technology to help the salicylic and glycolic acids penetrate the skin's surface and peel off dead skin cells to reveal younger-looking skin.
The CHEM60 Pro-Peel claims to:
Diminishes the look of fine lines and wrinkles
Increases hydration and reveals smoother-looking skin
Is appropriate for all skin types, including sensitive skin and those with rosacea
Can be used up to 3 times a week
Only needs to be applied for 60 seconds, but can be left on for up to 5 minutes
After using it on my sensitive skin (and remember, I do have rosacea), I felt no ill effects. In fact, it got a bit warm, but that was it. It wasn't uncomfortable. It didn't tingle, sting or any of those things that I was worried about. My skin felt soft after doing it.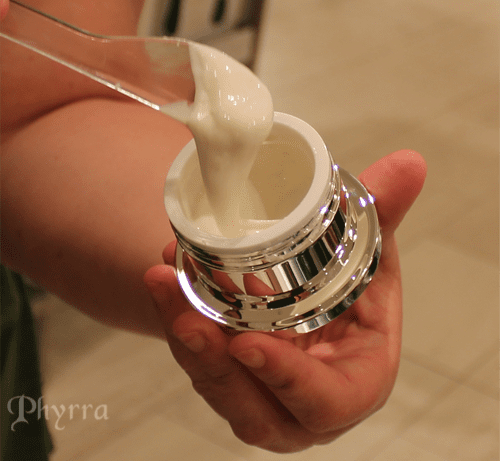 Next we got to try the GLOW10ai Mask. The mask is supposed to infuse the skin with a high concentration of antioxidants, vitamins, and hydrators, as well as help the skin to renew and rebuild, while strengthening the skin's overall appearance.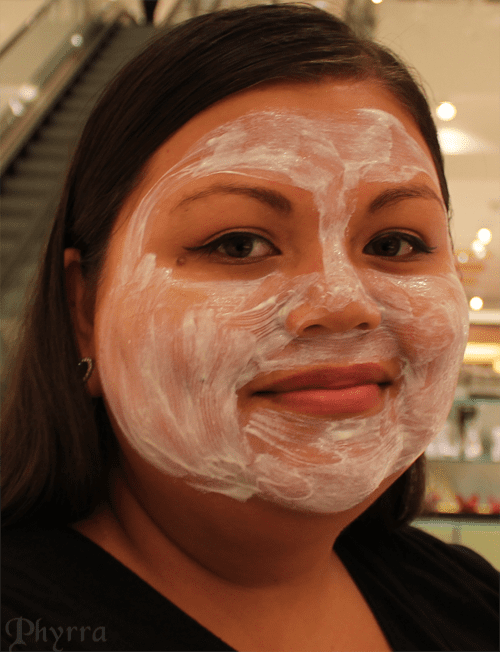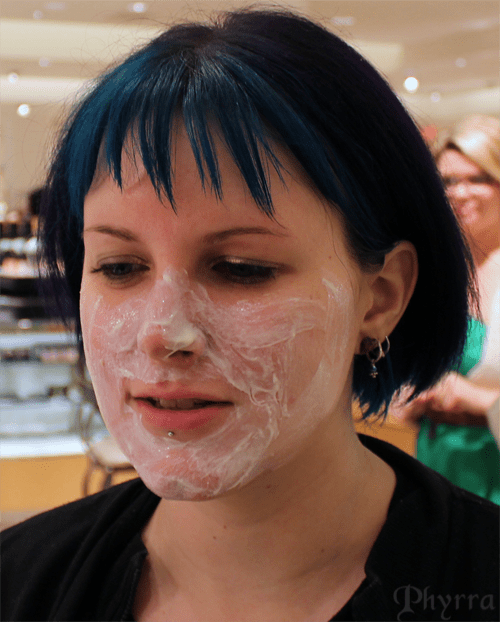 The GLOW10ai Mask:
A sophisticated blend of moisturizers helps revive appearance of damaged, dull-looking skin
The look of hyperpigmentation is noticeably lessened and improved
Irritation and redness caused by chemical peels, microdermabrasion and laser treatments are visibly diminished
Suppleness and smoothness are greatly restored, resulting in a fresh, hydrated surface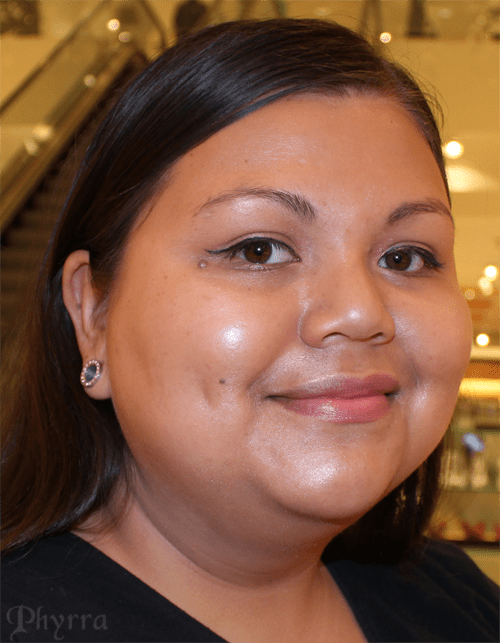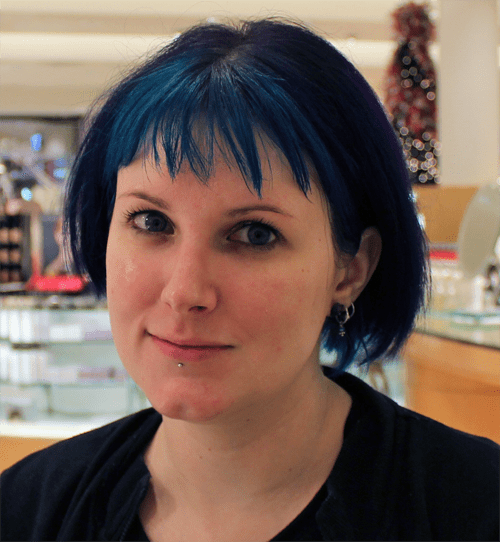 It is suggested to leave the mask on for 15-20 minutes. It's a milky white sticky mask that looks similar to glue. Judi and I left ours on for the full 20 minutes. I was able to peel mine off in 2 or 3 separate pieces. My skin felt pretty good afterwards. In fact, my face had no redness! Normally when I was my face, my skin gets red. Before I started using my rosacea meds, it would quite literally steam (it could fog up my glasses). The mask really seemed to remove any impurities left in my skin, leaving it radiant and soft.

Helen then wanted to do our makeup. Judi and I both came in wearing minimal makeup. I had on a MUFE aqua cream black liner, mascara, my brows, and a touch of foundation. Judi had on pretty pink eyeshadow, a cat eye, and foundation. She chose the Spring Eye Kaleidoscope for me, and applied it from the darkest color to the lightest, layering the colors one on top of the other. The result was soft and flattering.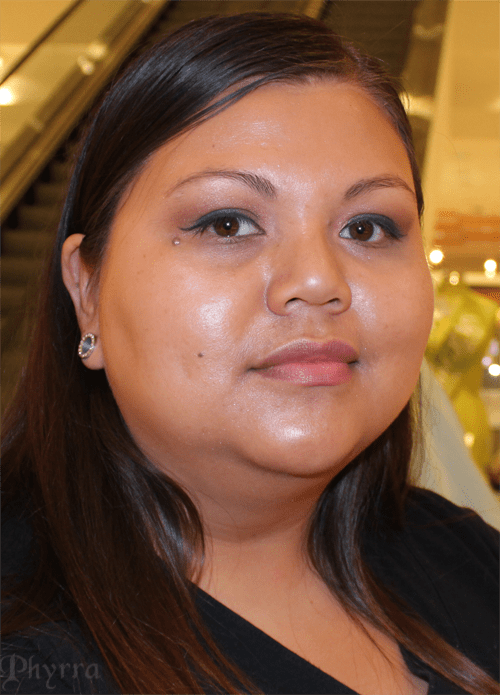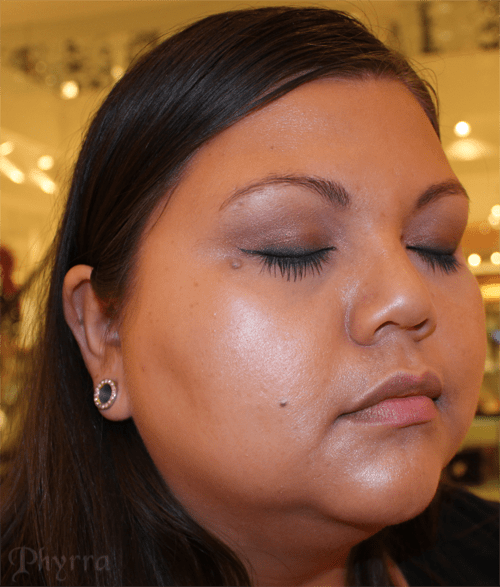 The Eye Kaleidoscopes are gorgeous and are $95 for .49 oz. They combine four hues that are designed to work harmoniously in concert—all in one stacking compact with a mirror. The packaging is gorgeous. They're seasonal, and they often sell out in the blink of an eye. You can also purchase colors individually from the core line for $30. Water Sapphire, Fire Lilly and Sequoia were gorgeous.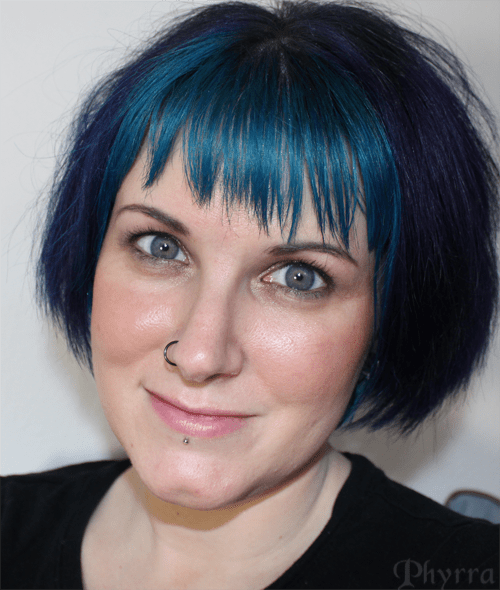 After doing my eyes, Helen put their Light Tinted moisturizer with SPF 15 on my face and then dusted a bit of powder. I felt like it was too dark for my complexion, and she did bring it pretty far down my neck. In fact, once I got home, Dave commented on how strange my face looked.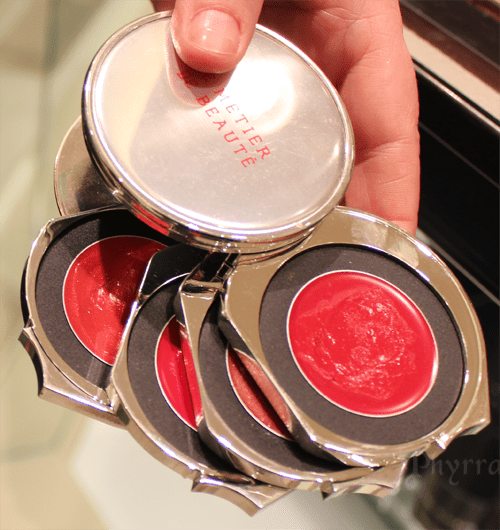 Helen used a gorgeous Fall collection on Judi and she worked from the lightest to the darkest colors on her eyes. Then she used a Lip Kaleidoscope to make Judi a perfect red lip.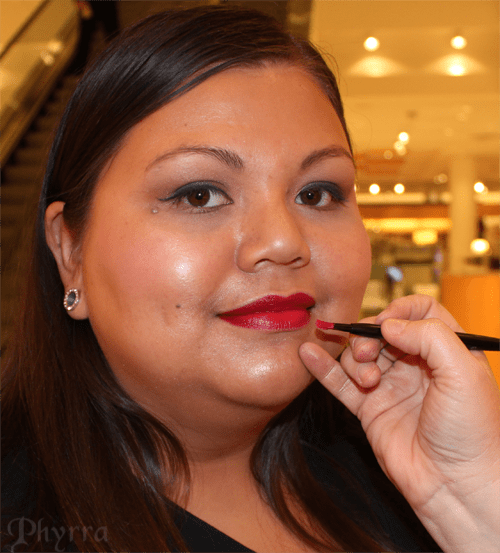 Helen said that the Mask and Peel set has sort of a Cinderella effect, you do it before you go out and you'll look radiant. We had the peel and mask Friday evening. I thought I looked great on Saturday, but I felt like I looked even better on Sunday, which was surprising. For the first time in a long time, I felt like I didn't need to wear much – if any – foundation.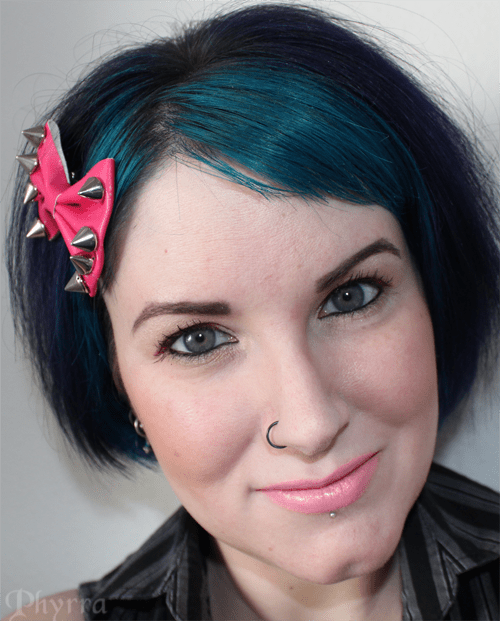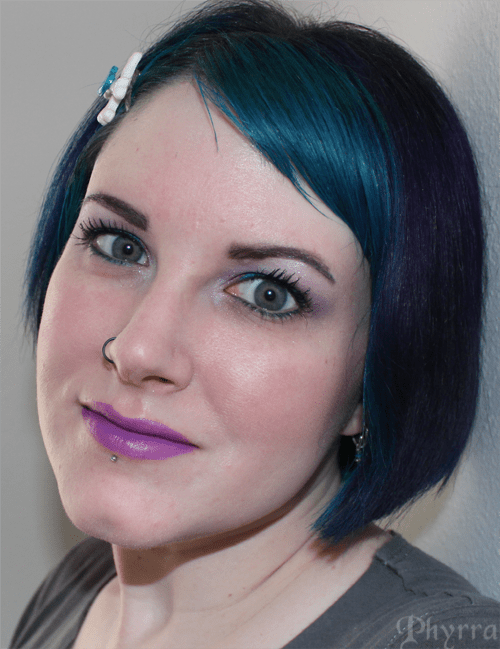 I normally retouch my photos to remove any blemishes on my skin. I didn't touch these images at all, because I wanted you to see the real skin. To me, my skin looks great, even with the blemishes.
The CHEM60 Pro-Peel and GLOW10ai Mask Set is $265. This set will give you 7 to 8 applications. If you apply it more sparingly, you might be able to get 12 applications out of it. I must admit, after using this set, I FINALLY feel like I've had a spa day that made a difference. All the previous facials and masks that I've tried have never yielded me results where I've seen my face look better for days afterwards. I'm thoroughly impressed with my results. Also? This makes me want to try more peels and masks. I think in the past (aside from when I've gone to a spa), I've only done one or the other at home. This Peel and mask are definitely gentle enough for my sensitive skin and I think if you have sensitive skin, it would be worth it to try this set. It's nice to get results without any pain!
I want to learn more about the patent technology that Le Métier de Beauté uses in their skincare products. From the samples that I've tried, their skincare products seem to work very well.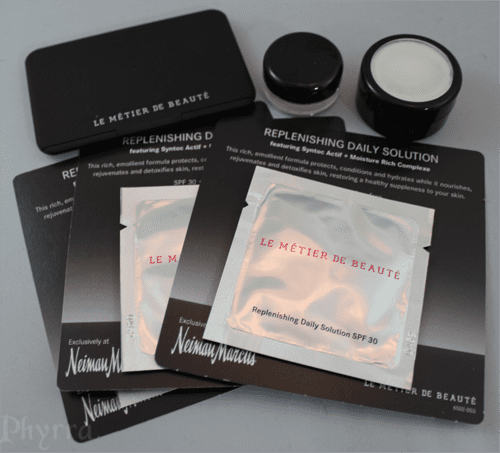 Helen was nice and provided us with some samples, including 2 uses worth of the peel and mask.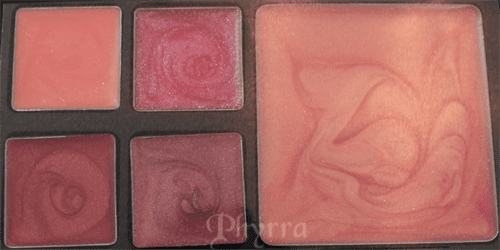 She also gave us a lip gloss palette. I liked the pink gloss she used on me, so I am looking forward to giving this a try.
Judi and I had a wonderful time at Neiman Marcus with Helen from Le Métier de Beauté. I hope you enjoyed reading about our Friday night.
How did you spend your Friday night? Have you ever tried Le Métier de Beauté? Do you love to use peels & masks?
Samples provided for consideration. All opinions are my own.