Since I missed the Tampa Nordstrom Trend Show this year due to being in Indiana, I was very excited when Judi asked me if I wanted to do the Nordstrom Beauty Event with her this past Friday evening. Judi, Genia and I were scheduled with NARS, thanks to Judi reserving for us!
If you've never been to a Nordstrom event, you're missing out! There's great music, a wonderful hostess, and lots of prizes. It's a really fun atmosphere!
We started the evening off by having facials with Chantecaille. Genia skipped getting a facial, though she got color matched!
We saw the upcoming Wild Horses palette, which is stunning. We also received samples of the Chantecaille Future Skin foundation. They matched me to Porcelain to try out, so I'm looking forward to that.
After my facial, my skin looks pretty good! You can still see my slight pinky overtone from rosacea.
Then we were whisked away to NARS!
They had the Pierre Hardy for NARS Collection available. Judi fell in love with boys Don't Cry.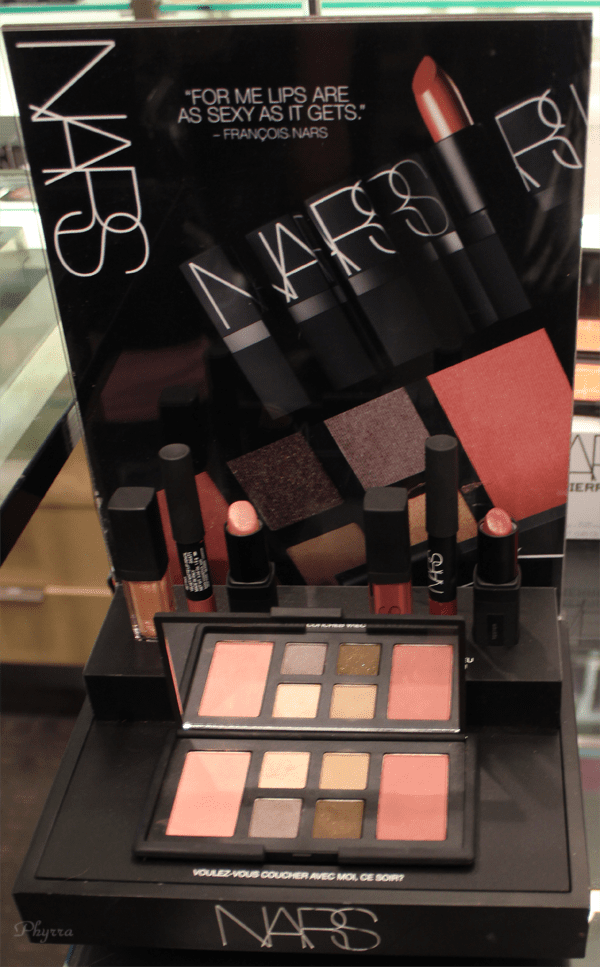 They also had Nordstrom NARS exclusives. I really wanted this palette but I talked myself out of it because I think I would only use the blushes, never the eyeshadows.
Judi, Genia and I all three got makeovers done.
Judi wanted to focus on how to contour her cheeks. I believe Laguna bronzer, South Beach Multiple, and Boys Don't Cry were used on her cheeks.
Judi got a dark, smoky eye with the Underworld eyeshadow. I think the Belissima duo was also used to help contour the eye.
Judi's finished look is stunning! The key is to apply the blush high on the apples of the cheeks!
Genia got her makeover done at the same time as Judi, so I was snapping pictures of the two of them.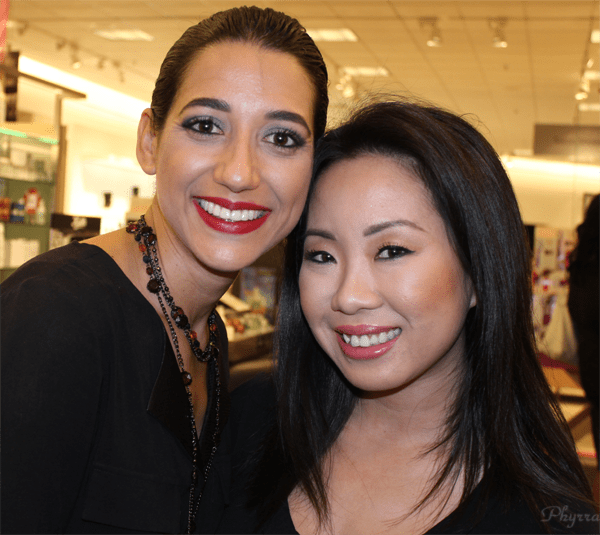 Genia's finished look is fun! They used a gold (I'm not sure which one) on her lid and NARS Bavaria along the lower lid.
While I was getting my makeover done, Genia went to get a blow out. Fabulous hair!
Starting my makeover by removing my eye makeup.
When asked what I wanted from the makeover, I said I wanted to make my eyes pop blue. My eyes are blue-green, so this can be tricky. We started with Isolde, which is a NARS duo that I recently purchased.
Isolde, despite being a coppery shade with gold sheen and a deep copper with brown undertones, which theoretically should make blue eyes pop, instead makes my blue-green eyes more green.
So we tried another tactic! We went for deep blues to make my eyes look more blue. This time, we started with a base of Abbey Road liner on the lid, smudged upwards. then layered China Blue, Outremer and Euphrate on the lid. A bit of the dark side of Isolde was added to the crease.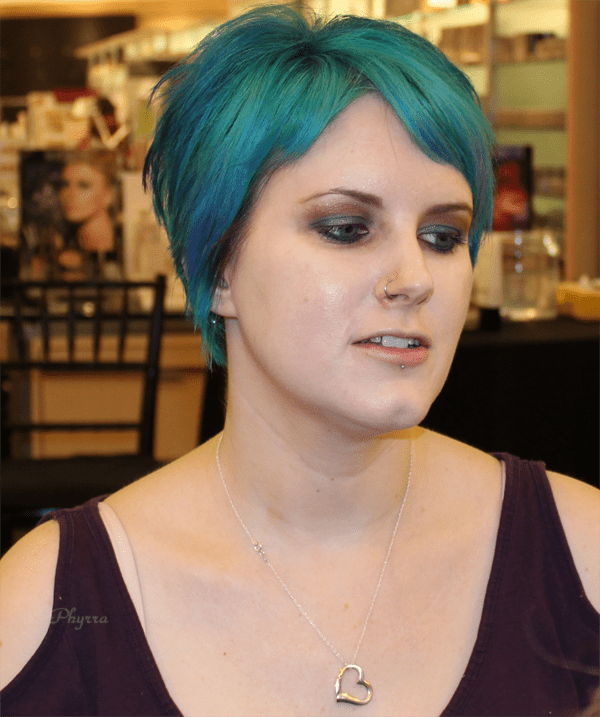 Nearly done! NARS Desire was used for blush and Schiap was used on my lips.
During the event, I got to meet E from Girly Things By E and Ember from Budget Splurge Beauty. I got to see my friend Sarah from Sweet Glamour Makeup, who is a super talented makeup artist.
Sarah is so adorable!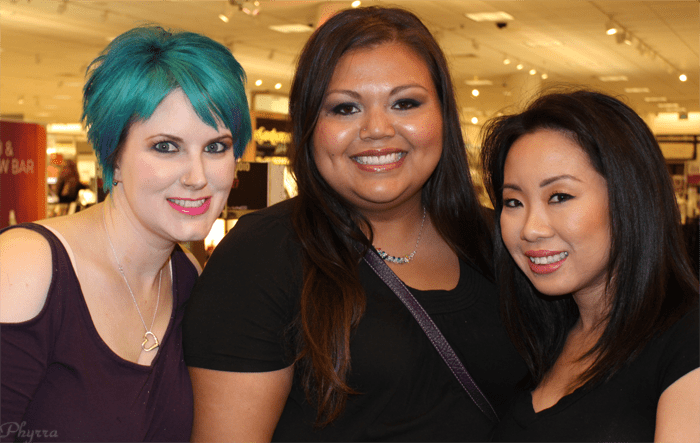 Here are the three of us after our makeovers!
I was advised to pick colors with blue undertones for my eyes to make them pop, so that's what I ended up purchasing.
I ended up purchasing:
NARS Larger than Life liner in Abbey Road (iridescent turquoise blue)
NARS China Blue (royal blue matte)
NARS Euphrate (frosted mint steel, though I needed to update my spreadsheet because I already owned Euphrate, oops, gotta exchange this)
and we received a mini NARS New Lover Velvet Gloss lip pencil. I have this in full size and really adore the color.
We had a wonderful time at Nordstrom's Beauty Event. Both Chantecaille and NARS were very welcoming and made sure that we enjoyed ourselves.  If you have a Nordstrom in your area, you need to go to one of these events! You just have to call ahead and schedule to get in. It's so much fun!
When was your last night out with the girls? What did you do?