Hi! Today I've got some gorgeous eyeshadows for you from Femme Fatale Cosmetics. Femme Fatale Cosmetics, aka FFC, is an Australian company that makes gorgeous eyeshadows, blushes, and nail polish.
Femme Fatale Cosmetics is a cruelty-free company.
Price
$5.85 for full size
$1.10 for sample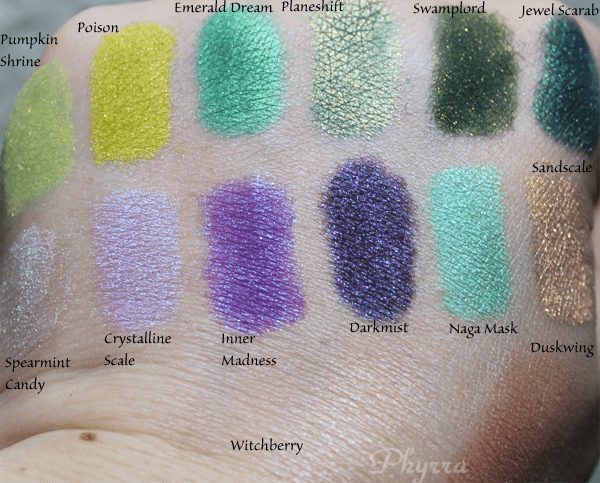 Pumpkin Shrine
a bright lime/grassy green with orange duochrome shimmer
My Take
bright yellow-green with orange iridescence
Poison
a vivid chartreuse green eye shadow with a scattering of golden shimmer
My Take
intense chartreuse with golden iridescence
Emerald Dream
a bright paris green bordering on teal with a very subtle golden green shine
My Take
bright grass green with subtle gold iridescence
Planeshift
a blend of pale jungle green and teal with slight grey tones, and striking golden shimmer.
My Take
pale green grey with strong gold iridescence

Swamplord
a rich mossy green with strong yellow tones and bold yellow/green shimmer
My Take
Deep, rich, velvety mossy green with yellow undertones and gold and copper sparkles
Jewel Scarab
a deep blackened teal blue with green shimmers and turquoise sparks
My Take
Deep blackened teal with turquoise sparks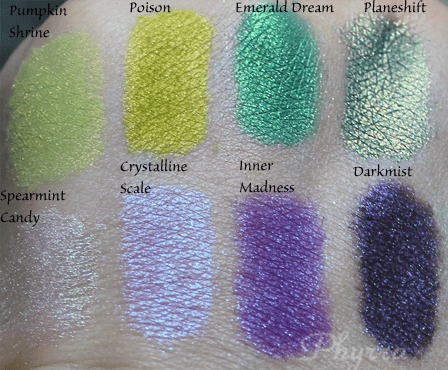 Spearmint Candy
a VERY pale lavender with a frosty silver/green/blue colour-shifting finish
My Take
palest lavender with strong silver blue green iridescence
Crystalline Scale
a delicate pale thistle purple with pink tones and a soft blue duochrome finish
My Take
Soft lavender with blue iridescence
Inner Madness
a bright mid-range cool-toned purple with a blue duochrome finish and blue/aqua sparkles
My Take
Bright violet purple with strong blue iridescence and sparkle


Darkmist
a deep red toned brown base with intense violet blue shimmer and teal sparkles
My Take
Blackened violet with blue iridescence and sparkle
Naga Mask
a soft turquoise with teal tones, and subtle blue shimmer
My Take
Seafoam green with blue iridescence
Sandscale
a soft fawn/taupe/sandy brown base with golden shimmer and silver sparkles
My Take
soft sandy gold with bright golden shimmer and silver sparks
Witchberry
a delicate vanilla-golden Illuminator with a very subtle violet duochrome
My Take
palest vanilla gold with subtle violet-pink iridescence
Duskwing
a soft apricot peach with coral tones and a scattering of golden shimmer
My Take
soft peach with coral undertones and subtle golden iridescence

I can't get over how amazing some of these colors are!
My favorites, if pressed, are Darkmist, Inner Madness, Poison, Swamplord, Sandscale, Duskwing and Witchberry.
Have you tried Femme Fatale Cosmetics? If not, what are you waiting for?