By request, I've got a quick simple tutorial for you with Darling Girl Cosmetics. I used Darling Girl Blue Flame, Mommie's Little Monster (I think, discontinued?) and Rainbow Brite. I forgot to write down what blush and highlighter I used but if I had to guess, I used Too Faced Candlelight Duo to highlight and MAC Azalea Blosso blush.

How to Achieve the Look
1. Apply Darling Girl Blue Flame on the lid and blend it upwards into the crease.
2. Apply Darling Girl Mommie's Little Monster into the crease and lower lid.
3. Blend Darling Girl Rainbow Brite onto the browbone and into the crease color. Then highlight at the inner corner with Rainbow Brite.
4. Line the upper and lower waterline with Anastasia Noir liner. Darken the roots of the lashes with Sugarpill Bulletproof. Add mascara.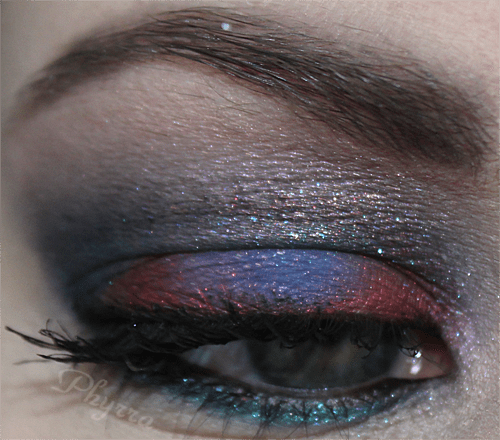 This shows off the gorgeous sparkle in the colors. Rainbow Brite really works well on top of anything.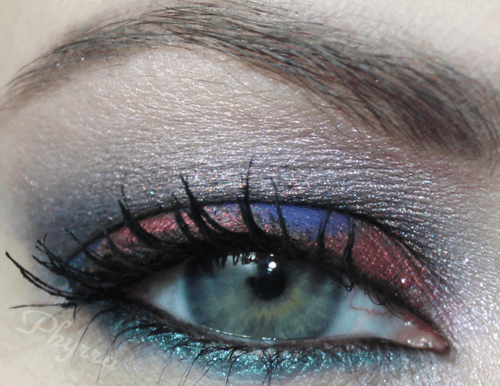 Eyes
Urban Decay Anti-aging Eyeshadow Primer Potion
Darling Girl Blue Flame – lid and crease
Darling Girl Mommie's Little Monster – to deepen crease and lower lash line
Darling Girl Rainbow Brite – to highlight browbone and inner corners of eye
Anastasia Beverly Hills Noir liner – waterline
Sugarpill Bulletproof – at the roots of the lashes
Anastasia Lash Genius
Urban Decay Big Fatty Mascara
Billion Dollar Brows Raven Brow Powder
Face
Performance Colors Light and Smooth foundation in Snowie
Lips
Urban Decay Revolution Lipstick in Native
If I had this to do over, I'd choose a dark burgundy or wine shadow for the crease, but the blue was definitely interesting when blended out.
What do you think of Blue Flame? Isn't it lovely?