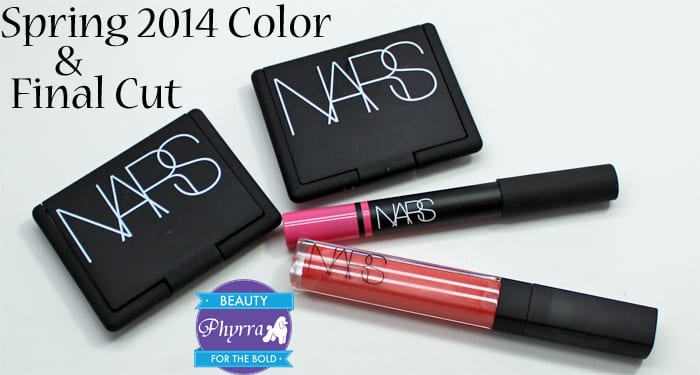 Good morning! Today I've got products from the NARS Spring 2014 and Final Cut Collections to show you. I was sent China Seas Eyeshadow duo and Bimini Larger Than Life Lipgloss from the Spring 2014 Color Collection. For the New Edge of Pink Final Cut Collection I received New Attitude and Villa Lante.
Pr sample.
NARS Spring 2014 and Final Cut Collections Review
If you like this video please give it a thumbs up and subscribe!
Cruelty Free Statement
NARS does not test on animals, nor do we have any other parties, such as suppliers, conduct any animal testing on our behalf. NARS uses only the highest quality ingredients which have a proven safety record and are widely used in the cosmetics industry.
(NARS does have a parent company that tests on animals, but they are cruelty free by my standards. Please see my cruelty free statement.)
Price
$34 – eyeshadow duo
$29 – blush
$26 – larger than life lipgloss
$25 – satin lip pencil
Product Availability
The Spring 2014 is available now at NARS Boutiques and at narscosmetics.com.
The Final Cut Collection will be available in February 2014. You can find them at Nordstrom.com on Feb. 1, 2014 and at NARS boutiques and on narscosmetics.com on March 1, 2014.
Products Currently Available Online to Purchase
Bimini Larger Than Life Lipgloss
China Seas Eyeshadow Duo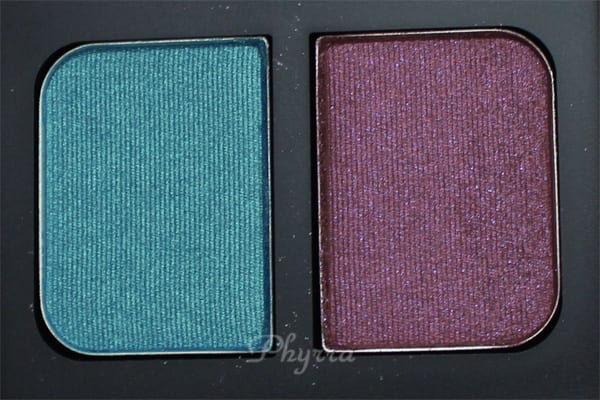 Spring 2014 Color China Seas Eyeshadow Duo – Iridescent turquoise with gold infusion / Iridescent plum
The iridescent turquoise was not as pigmented as I would have hoped but it will behave better on primer.
The iridescent plum reminded me of a red plum / burgundy shade. Very pretty!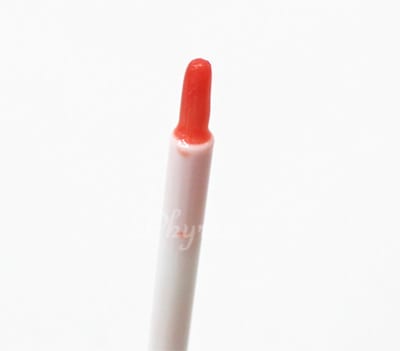 Spring 2014 Color Bimini Larger Than Life Lipgloss – Sheer pink guava
This was a peachy pink type shade to me. Love it!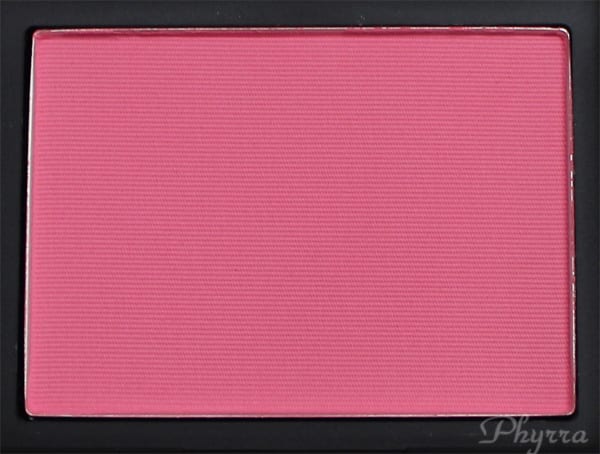 Final Cut New Attitude Blush – cherry blossom pink
This is a soft yet brightening pink on the skin. I love the blue undertones as they're flattering on my skintone. It gives your cheeks a nice glow. I like that it's a satiny matte finish.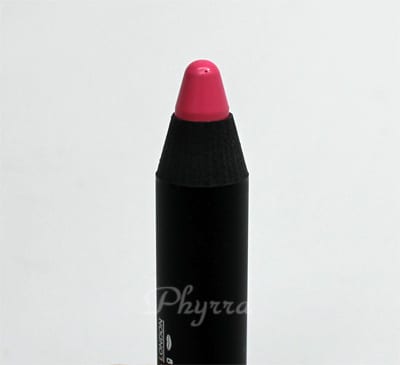 Final Cut Villa Lante – cherry blossom pink
This is a vivid  bright pink shade. I love the blue undertones as they're flattering on my skintone. Very pretty!
All products swatched on bare skin.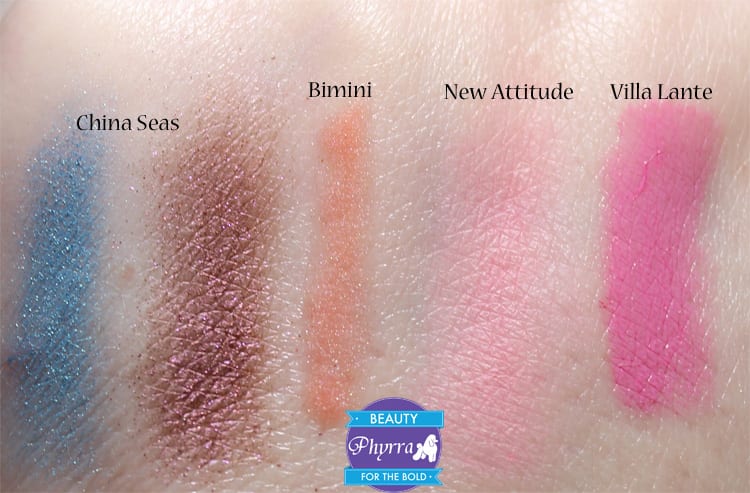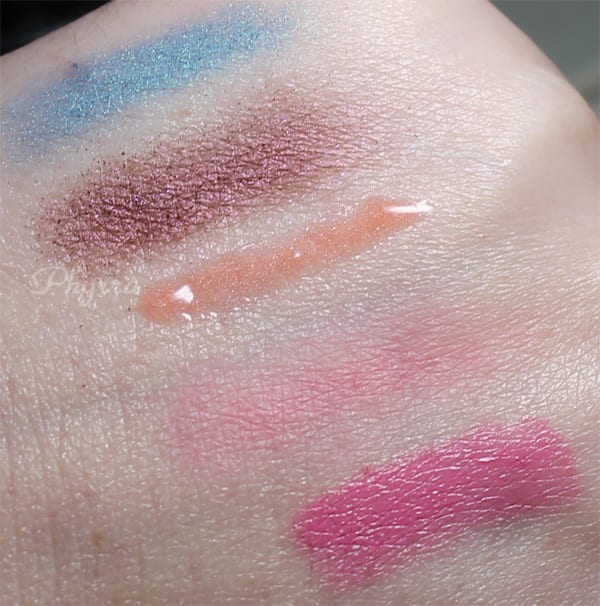 Eyeshadow Pros
Two pretty, unexpected shades
Eyeshadow Cons
The turquoise wasn't as pigmented as I had hoped it would be
Gloss Pros
Very pretty color
Love the texture
Gloss Cons
Shade may not be universally flattering
Blush Pros
Gorgeous pink that brightens the complexion
A good amount of product for the price
I love the satiny matte finish
Blush Cons
The blue undertones might not suit every skintone
Lip Pencil Pros
Gorgeous bright pink, suitable to a variety of skintones
Comfortable formula to wear
Lip Pencil Cons
Color may migrate or transfer slightly since it's not a matte formula.
Wear time isn't as long as the Velvet Matte lip pencils (which I adore)
Overall, I'm in love with the blush and the gloss. I like the lip pencil because it's a perfect bright pink on me. I'm a little disappointed with the eyeshadows but they're workable, especially if you layer the turquoise on top of NARS Eye Paint in Solomon Islands.
What do you think of the NARS Spring 2014 Color and Final Cut Collections? Love them? Need them? Let me know!
Last Updated on